Writing Sample for a Job
There can be many different requirements during a job application process, and an increasingly common one is submitting a writing sample for a job.
This may seem overwhelming, but with preparation and understanding of the brief, you will be able to complete it with ease.
It is important to note that only roles where writing is required will need a sample, so people are not likely to apply for the role in the first place if they do not like to write.
This article will look at the definition of a writing sample, when it is likely to be required and how to write one.
What Is a Writing Sample?
A writing sample is a document that will need to be submitted in addition to a job application form and CV, or sent separately in an email or after an interview.
The most common roles that would require a writing sample include communications, journalistic or media roles, and jobs that involve formal and corporate writing, such as:
Why Do Employers Ask For a Writing Sample?
Employers are looking at your spelling, punctuation and grammar skills, and your ability to write in a certain tone or style.
What Should Your Writing Sample Show the Employer?
There may be extra factors they look at, depending on the job role. For example, a sample for a sales position may need to show that you can write in a persuasive way and in a certain tone.
You need to show the employer you can write well, using correct grammar and spelling, while using a professional tone.
Some roles require different types of writing skills. You may need to write internal emails to all staff, or craft important letters to customers or partners.
The applicant needs to show they can adapt their skills to different tones and subject matters.
It is also an opportunity to show the employer you can write concisely and summarise detailed information.
How Long Should the Writing Sample Be?
One to four pages is an appropriate length for a writing sample. It needs to be short, concise and of interest to the reader, as opposed to a long paper.
Think carefully about the length and try and research online what the best option is for that particular employer.
You can use a relevant previous piece of work or tailor a new piece. As long as they fit the criteria, either option is allowed.
Types of Writing Samples
It is important to ensure the right writing sample is submitted for the job role. There are some writing types that will never be appropriate, and some that are more suited to certain jobs.
Some typical work samples are:
Policy briefs
Press releases or news features (including comment pieces)
Blog posts or online articles (professional)
Short academic papers
Sales pitches
These samples can be taken from academic coursework, work experience or personal documents (if appropriate) or be a completely new piece of work.
When choosing from previous pieces, try to avoid very old samples, as it may look like your writing skills are outdated, or that you have not written anything in a while.
Ensure the sample is as relevant as possible. A press release or blog post on something creative would not be appropriate for a role in sales or a technical position.
Avoid opinion pieces, particularly those that include personal, religious and political views.
If you'd like to include an excerpt from a longer piece of writing, this will work if it is in context, makes sense on its own and is a good example of your writing skills.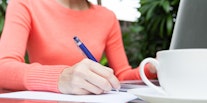 Writing Sample for a Job– What It Is and How to Write One
How to Create a New Writing Sample
If you do not have appropriate or relevant writing samples already written, you will need to write a completely new piece.
It's best to write something that shows the required writing skills relevant to the job, rather than including a sample that the employer will not be able to appropriately analyse.
When writing a new document, consider the following advice:
Read and learn the requirements and instructions – In the application, there will be a guide and instructions on what to include in the writing sample. Follow these carefully to ensure the brief is fulfilled.
Choose the best topic to write about – Decide on the most relevant topic that reflects the nature of the business and that will show your writing skills.
Research – Look up the company website – are there examples of writing samples? Check on forums and job sites for how to write the type of piece you want to submit.
Check the ad – Keep referring to the job application to ensure your writing sample fits the criteria
Tips for Submitting a Writing Sample
This part of the job process can really set your application apart from others. Following some simple tips for submitting your writing sample can help you to be successful.
Submit Your Best Work
Whether it is a previous piece of work or a new creation, ensure it is your best piece of work – one that is also relevant and up to date.
Rewrite an existing document if necessary and test it on peers and friends to see how it reads.
Edit and Proofread
As with all pieces of work, it is vital to carefully check your work. The employer is looking to see if you can write professionally and well – with no typos and with sound grammar.
Write an Introduction
Including an introduction to your writing sample for a job will show the employer why you have submitted that particular piece and will give some context to it.
Remove Sensitive Data
If the piece of work includes personal and sensitive data, such as real names, addresses, dates of birth and more, it is important to remove these before submission.
Final Thoughts
The requirement of writing samples for a job is becoming increasingly popular for employers and businesses to include in job ads.
It helps to remember that, if you are applying for a role that requires writing, you will already have a level of expertise in this, which is why you are applying.
With that in mind, there is no need to be overwhelmed. Follow the tips in this article, and you will be able to set your application apart with a good writing sample.
---