Best Virtual Credit Card Providers in the UK (2023 Review)
All products and services featured are independently selected by WikiJob. When you register or purchase through links on this page, we may earn a commission.
A List of the Best Virtual Credit Card Providers in the UK for November 2023
Comparison Chart for the Best Virtual Credit Card Providers in the UK for November 2023
Security Features

Biometric access, 3D Secure, Fraud protection

Cash Deposits

Bank transfers, retail stores, ATMs (where applicable)

Security Features

Biometric access, Card freeze/unfreeze, Contactless payments

Cash Deposits

Bank transfers, retail stores, Post Office (UK), PayPoint (UK), MoneyPolo, SOFORT, Giropay, IDEAL, Trustly

Security Features

Two-factor authentication, Dynamic CVV, Anti-fraud measures

Cash Deposits

Bank transfers, retail stores, ATMs (where applicable), Paysafecash, Rapid Transfer, Klarna, Trustly, Neteller, and other methods based on location

Security Features

Biometric access, 3D Secure, Transaction notifications

Cash Deposits

Bank transfers, ATMs, Sofort, iDEAL, Giropay, and other methods based on location

Security Features

Security platform for online transactions

Cash Deposits

Monthly account fee of $3.50.
Wallester is an Estonian financial institution and official Visa partner. Wallester Business provides companies with the solution to open an account and instantly issue an unlimited number of Visa virtual and physical cards, using which the company will be able to manage all corporate expenses with a single smart platform.
In fact, you start using this solution already now absolutely for free. On the Wallester Business platform today you can create an account with a free tariff plan including 300 free virtual credit cards, use all the functions, and understand how it works.
Pros
300 virtual cards for FREE
Top up with zero commission 
Instant issuance of an unlimited amount of cards
No card issuance fee, no card service fee
European BINs works perfectly with facebook, google, etc.
User-friendly app that allows you to monitor expenses, approve transactions and generate reports on the go.
Provides an API
Possibility to purchase a personal BIN
Fast registration and standard KYC, approval within 24h
Detailed reporting and analytics to track all transactions
Cons
Works with all companies from EEA and UK but others considered case by case.
Monese is another virtual credit card opened and operated via a mobile app. You will be delivered a physical card and then customers are able to set up a virtual card per currency. From there, you can choose to pay with a physical card or with Apple or Google Pay.
It is free to move money between Monese accounts, with a small fee to transfer funds to other bank accounts, both in the UK and internationally.
Features:
Free payments and transfers within the UK
Set up recurring payments
Send money internationally for free (Premium plan) or a small fee (Simple and Classic plans)
Budgeting tools – Set goals, record expenses, detailed transaction alerts, categorise payments
Save money in up to 10 pots
Cash deposits at any Post Office or PayPoint
Security – Log in with Face ID, Touch ID or Fingerprint Scanner, one-time codes texted to you for every online purchase
ATM withdrawals – £200 on the Simple plan, £900 on the Classic plan and unlimited on the Premium plan
Foreign currency card spending – £2,000 free on Simple plan (2% fee over that), £9,000 free on Classic plan (2% fee over that), unlimited with no fee on Premium plan
Skrill is slightly different to both Revolut and Monese. It's a prepaid virtual credit card with Mastercard, for one-off or ongoing transactions, but it also has a physical Mastercard product too.
It offers three levels of accounts:
Skriller – The basic account assigned to anyone who sets up an account
True Skrillers – Fully verified customers, must have deposited via credit/debit card or bank account, have downloaded and logged into the mobile app
VIP Skrillers – Additional features, premium rewards, lower fees, can have multi-currency accounts, a free physical card (this account also has silver, gold and platinum levels within it for even more offers/rewards)
Features:
Security – Make purchases and cancel your card at any time
Control – You can decide how long you would like the card to be valid for
Online-only usage, not valid offline or at ATMs
Free transactions – Purchases, receiving money into your account, sending money to international banks using transfers
Loyalty programme (Knect) – Earn points for transactions and trade them for cash rewards
Buy and sell cryptocurrency
The iCard Visa debit account is run by the Bulgarian National Bank. With the basic account, you receive one free physical card as well as one free virtual credit card.
Again, there are three accounts to choose from with iCard:
Standard – Free account, comes with a physical card, free transfers to other iCard account holders, one virtual card allowed, fully online bank, pay with Apple Pay
Infinite (€9.99 a month) – All of the above as well as free travel insurance abroad, 24/7 support via the app, Visa offers
Metal (€13.99 a month) – All of the above as well as up to 1% cashback on transactions, unlimited ATM cash withdrawals, extra offers
Features:
Used in over 30 European countries
Available in seven currencies – GBP, US Dollars, Euros, Swiss Franc, Romanian Lei, Bulgarian Lev and Croatian Kuna. You can have multiple virtual cards in one account but can order more physical cards in other currencies if need be.
Digitise your loyalty cards so they're all in one place
Virtual cards can be used for any transaction – Services, subscriptions, one-off purchases
Receive notifications of transactions and set spending limits
Freeze and unfreeze your cards in the app
Security – Fingerprint login
Pay with Apple or Google Pay
If you're someone who spends a lot on American websites or visits often, US Unlocked could be the credit card for you.
This prepaid virtual credit card is designed to by-pass extra fees that UK banks charge for overseas transactions and allow customers to reduce their fees for delivery when buying from the US.
US Unlocked works with reshipping partners as well as VPNs to allow you to receive US products and services in the UK.
There are fees for initial opening (15)andloading(currently3.50 plus 3.5%), 0.50pertransactionanda3.50 monthly maintenance fee; however, this can still be cheaper than the exchange rates on UK-based bank charges.
Features:
Apply with government-issued ID for verification online
Set up a virtual card for each vendor or purchase, including subscriptions
Set spending limits for businesses or categories
Pause subscriptions from the app
Given a US billing and shipping address
Currently working on a browser extension for desktop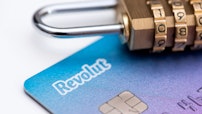 Top 5 Virtual Cards in the UK
Exploring Virtual Cards and Digital Banking in the UK
Paying by card, whether that's a debit or credit card, is now the most popular way to spend money in the UK. We've all got so used to tapping our contactless cards or phones (for Apple or Google Pay) on the card reader and purchasing our goods without having to type our PINs in during 2020.
However, sometimes even trying to find your card is an inconvenience. Virtual credit cards have slowly been making an appearance into the UK financial market, with more companies being regulated frequently.
Digital banking is rapidly on the rise too, with less of us doing traditional in-branch banking than ever before.
There is a lot of misinformation out there so we've compiled an article offering useful insights and advice, including the best virtual cards on the market right now. If you don't even know where to start, we've also included lots of information about what virtual cards actually are, how to get one and the many benefits of using them.
What Is a Virtual Credit Card?
A virtual card is exactly that, a card that doesn't have a physical piece of plastic in your wallet or purse. In the UK, virtual cards are predominantly debit or prepaid virtual credit cards, whereas the US operates more virtual credit cards.
The idea is that it is operated on an app on your phone when out and about and you pay securely for purchases online using random security codes, sent by the app or sometimes via text.
Security is a major issue for card users; with a virtual credit card, you are able to cancel any cards instantly if you suspect fraudulent behaviour and get a new card automatically. There is no need to wait up to five working days for a new plastic card to be delivered.
Also, virtual credit cards offer extra security by not disclosing any financial data to any online store you buy from. This means that should the store's servers be hacked or there's an internal data leak, your card details will not be stored.
You will use a one-off card number per transaction so there is no need to worry about remembering your card details as they change every time. However, you can have multi-use cards so if you shop on one website often, you would set up a card just for that website, such as Amazon.
However, if a physical store does not accept contactless payments, a virtual credit card will not work. For the most part, most high street stores accept contactless and many independent stores use mobile card machines, most of which do accept contactless payments.
What Are the Benefits of a Virtual Credit Card?
Convenience
You may no longer need to carry a purse or wallet around. With a virtual credit card, all you need is your phone and the banking app. You can check your spending as little or as often as you like, with multiple tools available in-app to help you manage your money.
Budgeting
Many virtual credit cards offer budgeting tools integrated into the app so you may be able to set spending limits per day or per shop, helping you to save money.
Virtual cards are great for recurring payments as they allow you to manage subscriptions by setting up a card for each one you have.
You will be able to monitor how many you have, which ones you don't use enough and if you've been overcharged at any point.
Security
Every time you purchase either from an online or physical store, your account details are completely invisible to the merchant. This means that should any data breaches happen to them, your data will not be accessible. Virtual credit cards offer that extra protection so you can shop safely online.
Speed
Not only do you not have to fumble around in a bag for your card, there is also the speed factor if you require a new card. This will happen instantly on the app without having to wait for a delivery, nor will your account be frozen so you're unable to spend.
Options
Many of these cards offer single- and multi-use cards for frequent visits to the same shop or website. Some also offer currency conversion on your cards so you will no longer have to pay a fee when spending in another currency or with an overseas company.
Final Thoughts
While virtual credit cards are fairly new to the market, they can be worth it for people who purchase online frequently. It is important to look at any hidden fees and do your research before applying for an account with any virtual bank.
It is also worth remembering that none of these are covered by the Financial Services Compensation Scheme, meaning your money is not safe if the company goes under.
However, for everyday, smaller purchases, virtual credit and debit cards are a great alternative if you prefer to do all of your banking via your phone.
Most virtual banks offer budgeting tools to help you manage your money, including setting spending limits on certain brands or categories, managing any subscriptions and setting goals for both income and expenses. As some are prepaid, you can only spend the amount on the card, which is great for those who have problems with budgeting.
Virtual debit cards will continue to rise within the financial market so it could be great to get on board first.
WikiJob does not provide tax, investment or financial services and advice. The information provided is for general reference and you should not rely on it to make (or refrain from making) any financial decisions. Personal situations will vary. Always seek independent financial advice when choosing how to manage your finances.
---