How to Make $1,000 a Day Online in 2023
Many people are no longer satisfied with a single salaried income. The cost of living is growing rapidly, so it has never been more critical to future-proof your income and ensure you have enough for retirement.
There are many ways for individuals to make money online. A target of $1,000 is ambitious yet attainable, provided that you cleverly cultivate multiple streams of income.
In this article, we have outlined eight of the best ways to reach this $1,000-a-day target.
What Is the Difference Between Passive and Active Income?
The fastest way to catapult yourself to a four-figure daily income is to focus on a mixture of passive and active incomes.
Most people are familiar with active income. Essentially, this is the method of earning money for your time. An active income may come from a salaried job, hourly paid role, or through freelancing or consulting services.
Those who are keen on diversifying their income will likely have multiple streams of active income.
However, if you work for 10 hours per day, you would need to charge $100 per hour to reach your goal. For many, this is entirely unrealistic, both in terms of the number of hours and the hourly rate.
Therefore, passive streams of income are crucial for you to meet the $1,000-a-day target.
A passive stream of income is generated after the work is complete. For example, many consider property investing to be a passive income.
The landlord purchases a home and rents to tenants who pay a monthly rental fee. The hard work is done when the property is purchased – apart from occasional maintenance – and the investor reaps the rewards in the months and years to come.
Building Multiple Streams of Income
Of course, building an income of $1,000 per day is very unlikely to come from just one investment or job opportunity.
Establishing multiple sources of income is the fastest, most secure way to reach this ambitious target of earning $1,000 per day.
For example, an individual may have a salaried job and provide consulting services remotely in the evenings for two active income streams.
In addition to this, they may choose to invest in cryptocurrency and run a blog, creating two incomes that are generally more passive.
What Skills Do You Need to Make $1,000 a Day Online?
You will be pleased to learn that there is no set path to earn $1,000 per day online.
The key is to play to your strengths.
Those who are already earning a high salary may choose to keep working in their job role, using various passive techniques to supplement their income.
However, those hoping to jump from a substantially lower starting point may decide to ditch their day job altogether, focusing on online methods as a way of reaching the $1,000-a-day target.
8 Ways to Make $1,000 a Day Online in November 2023
1. Invest In the Stock Market
Trading on the stock market is perhaps the oldest form of generating significant passive income.
It is a high-risk option, especially for those who lack expertise in the area. However, it can be extremely lucrative.
It might shock you to learn that a $10,000 investment in the S&P 500 index 50 years ago would now be worth nearly $1.2 million.
There are two main stock market investment options to consider:
Manage your own portfolio – You choose the assets to invest in, the amounts and the frequency at which you purchase. Many online platforms allow you to begin your investing journey with as little as $1.

Work with an expert – They will handle your investments for you. For those with large portfolios or little experience, this is probably the wisest move.
2. Create an Online Store
If you can create or source products that others would be interested in purchasing, building an online store is an excellent way to generate additional income.
Begin by choosing your niche and sourcing the stock for your store.
A website can be created relatively easily, using one of the many online store builders. Shopify is the most popular platform and is great for beginners.
Once your website is set up, you will want to create accompanying social media platforms and consider using paid advertising to get your site seen by the broadest possible audience.
Your online store will undoubtedly demand a high proportion of your time in the early stages. However, once you begin to reap the rewards of your efforts, you may choose to hire a staff member to oversee the day-to-day tasks, allowing you a far more passive income.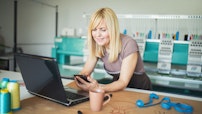 How to Make $1,000 a Day Online
3. Create Online Course Content
Creating content around a subject you are passionate about is a great way to earn an income. There are many ways in which you can do this.
YouTube is a great place to start, as it is free and extremely easy to open an account.
To begin making money from YouTube, you must have 1,000 subscribers and over 4,000 hours of viewed content. This might seem like a slow process, but you will quickly see the video views mounting as you build a loyal audience.
Once you have monetized your channel, you will begin earning revenue through adverts and sponsored content with brands.
Skillshare is an excellent company for those who want to earn by teaching others. The site charges its users a membership fee, and you will be paid in accordance with the number of views your courses receive.
Here you can teach others about any subject matter you wish, including topics as diverse as languages, mathematics or woodwork.
Medium is a blogging platform that offers its users the chance to share their articles without the hassle of setting up their own website. Again the payoff here can be slightly slower than many would prefer, but a great way to supplement your income.
Providing that your content is viewed regularly, you will continue to earn a passive income from all three of these platforms.
4. Build a Blog
Blogging is not an easy side hustle. However, it is fun and can be highly lucrative.
The key to writing a successful blog is to choose a niche that you are truly passionate about. All the blog posts must be around the same topic, showing your readers you have authority in the area you are discussing.
Whilst this doesn't have to be as narrow as 'gluten-free, vegan chocolate cake recipes', writing about cake one week and motorsports the next will not keep your readers' attention. 'Gluten-free baking recipes' would instead offer a happy balance.
To launch your blog, you will need to choose a name, purchase hosting and decide on a content management system such as WordPress.
Whilst this might seem daunting at first, you'll find plenty of free information and advice online.
Once your site's pageviews start rolling in, there are various ways you can begin to monetize the blog.
First, you can place adverts there, which generally attract a small revenue per view. You may also contemplate working with brands to create sponsored content. Where a brand aligns with the work you produce, they may pay you to promote their products or services on your website.
Another method of making money via a blog is through affiliate marketing. This is where you include links to products or services that you love, and when your readers purchase through these, you receive a small commission.
Of course, the more expensive the product, the more money you will earn from the sale.
5. Build Websites for Others
Building websites for others is a great way to offer high-cost freelance services.
It used to be the case that you could only offer website-building services if you had expert coding skills.
However, the emergence of platforms such as WordPress, Wix and Squarespace permits individuals to design, build and launch websites with no prior experience.
Before selling your web-building skills, however, it is advisable to learn about web-design best practices, accessibility and SEO, in order to provide a quality, reliable service.
There are a huge number of freelancing platforms that will help you find clients quickly.
Most beginners charge between $30 and $50 per hour for website-building services, which will rise quickly as your experience does. This makes building websites an extremely profitable side hustle.
6. Domain Trading
An alternative, and much less time-consuming way to generate additional income, is to buy and sell domains. This is known as domain trading.
Domain trading, or domaining, is where an individual will buy a domain name that offers value to a specific industry, selling later at a higher price point.
To be successful here, you must carefully consider the domains you purchase. Choosing something too narrow will reduce the number of clients it appeals to. Too wide, and potential customers will not be interested.
There are many online marketplaces where domains can be purchased and sold, helping you reach the $1,000-per-day target.
Be aware, however, that domain squatting, or cybersquatting, is illegal under the Anticybersquatting Consumer Protection Act (ACPA). This refers to purchasing the domain name of a trademark or brand, with the express intention of selling it for profit.
If you are unsure whether the purchase of a domain name would be considered domain trading or domain squatting, don't buy it.
7. ProfitFarmers - The World's First Free Crypto Trading Co-Pilot
ProfitFarmers is a semi-automatic copy trading platform that produces AI trading signals combined with education and advanced tools to trade better and no trading experience is needed. They are partnered with Binance.com exchange to buy/sell cryptocurrencies that are paired in BTC, USDT, and BUSD and offer an affiliate program to anyone who wants to promote their product.
Sign up now to use their platform for free and upgrade to their $21 trial offer for 21 days to access all their features!
Copy trading signals
Advance Features (Trade Guardian, Laddering Mode, Market updates, etc.)
Trade Doctor/Session with one of their trading expert
Pro trader 5x blueprint (helps you 5x your account)
And many more
8. Use a Bot for Trading Cryptocurrency
Cryptocurrencies such as Bitcoin have the potential to generate incredibly high returns, often significantly faster than is possible on the stock market.
Those interested in cryptocurrency trading may choose to use a crypto bot to handle their transactions.
The cryptocurrency market differs hugely from the stock market in that it never closes and can be enormously volatile. Using a trading bot can help mitigate some of the risk factors involved.
9. Ecommerce Dropshipping
Dropshipping is a relatively new phenomenon. It allows budding entrepreneurs to sell products to customers without ever holding a single piece of stock.
It is a great way to earn an additional income, especially for those with a very low initial budget.
Dropshipping can become extraordinarily complex, yet the basic business model is straightforward.
Essentially, a customer purchases a product from you as if you were a traditional online store. However, the difference is that you then buy the product from a third party, shipping directly to the customer.
This means you never touch the product, yet can make a very healthy income.
Dropshipping is attractive to many due to the flexibility it offers. You can begin working in any niche you choose, from anywhere in the world with an internet connection.
As you begin to see success with your dropshipping business, you can start implementing automation processes, making the income much more passive.
However, there are many drawbacks associated with dropshipping. The margins can often be small, meaning you must attract many customers to receive a significant income. Additionally, there can often be supply problems due to the very nature of dropshipping.
Final Thoughts
Earning $1,000 per day online is not easy but is achievable. Multiple streams of income is likely to be the only way to achieve this target, using a mixture of active and passive income sources.
Many passive income streams require a high percentage of your time initially but will pay for themselves in the months and years to come.
WikiJob does not provide tax, investment or financial services and advice. The information provided is for general reference and you should not rely on it to make (or refrain from making) any financial decisions. Personal situations will vary. Always seek independent financial advice when choosing how to manage your finances.
---