Inc Authority Review (2023)
What Is Inc Authority?
Inc Authority is a business formation company that has been in operation since 1989.
Despite being one of the longest standing filing companies, Inc Authority remains a small company with around 25 employees and several third-party partnerships.
It has helped hundreds of thousands of small business owners develop LLCs or corporations through its most popular services, including:
LLC filing
Corporation filing
Business funding
Registered agent services
Legal services
Who Is Inc Authority For?
Inc Authority is for any small business owner or entrepreneur wanting to set up an LLC or corporation, regardless of the industry.
It has packages and price points to suit all budgets and business needs.
Which Services and Packages Does Inc Authority Offer?
Inc Authority offers four packages:
Free
Starter
Executive
Tycoon
Free, Plus State Fees
Inc Authority states that it offers a free filing service in the hope that you see its efficient service and choose to retain it for future use.
The free package includes:
Company name availability
Preparation and filing
Registered agent services
S-Election form
Digital storage and delivery
Inc Care support
State and federal tax planning consultation
Business credit and funding analysis
There are also several add-on options you can purchase, such as:
Employee Identification Number – $49 (you can get this number for free through the IRS)
An operating agreement – $89
Inc Protection advisor – $197 per year
Starter Bundle – $399, Plus State Fees
The cost of the Starter bundle is quite expensive, considering it is supposed to be an entry-level subscription.
It also does not include registered agent services after the first year.
However, those business owners who want more than the basics may benefit from this package.
The Inc Protection Advisor offers extra support such as legal issues, tax and accounting, lawsuits, business licences and business funding.
If you think you will need additional support with these, then this bundle may suit you.
The Starter Bundle includes everything from the Free bundle and:
Operating agreement
Employee Identification Number
Record book and company seal
Initial meeting minutes and resolutions
Ownership certificates
Inc Protection Advisor
Executive Bundle – $499, Plus State Fees
This bundle doesn't have extra features that justify the $499 price tag and as such isn't widely recommended.
It includes everything from the Free and Starter bundle, as well as:
Business licence report
Website domain
Websites such as GoDaddy offer domain names for as little as $1.
Tycoon Bundle – $799, Plus State Fees
The Tycoon bundle is ideal for those business owners who need financial advice.
It includes everything from the previous three bundles and:
Express processing
BixCredit Express
Business credit coach
Multi-tiered credit building system
Business Credit Launchpad
D&B Credit Bureau registration
These courses and software are all designed to help you learn about raising credit and increase your credit score. However, the details are pretty vague, and it is unclear if these initiatives are run by accredited sources.
When seeking financial information, it is always best to speak to an accredited financial advisor from a reputable financial institute.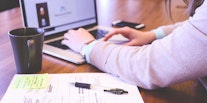 Inc Authority Review
The Pros and Cons of Inc Authority
Every service comes with advantages and disadvantages.
Inc Authority has a long-standing reputation of being an excellent business formation company, meaning that there are plenty of pros.
However, not every service is perfect, so there are also some cons you need to consider.
Pros
Free Formation Service
There are not many high-quality companies that offer free formation and filing services.
If that is the only service you need, then Inc Authority is not only efficient, but it can save you money too.
Good Customer Support
Many previous customers have commented that they have received follow-up calls after submitting their applications.
On the call, they were told about the next steps and had their questions answered.
The customer service team is also available weekdays 9 a.m. to 5 p.m. via phone and email.
All Paperwork Handled and Submitted
Paperwork can be overwhelming, especially when you are trying to launch a new business.
Knowing someone is checking everything and sending it to the right places removes so much stress and gives you more free time.
Tax and Planning Consultation
Choosing the wrong tax election can have legal and financial implications. Having access to an advisor is a great resource, as they can answer all your tax questions and help you decide on the right election.
One Year Registered Agent Service
Assigning a registered agent is a legal requirement of any LLC formation.
There are several advantages to using a designated service, including:
Its address is used for business correspondence, giving you some privacy
It is always available to collect your documents
Cons
Lots of Upselling
Inc Authority is a small company, and a majority of its services are through third-party partnerships, so there is always a risk of being bombarded with extra services.
The formation service is also free, meaning Inc Authority has to make money from additional services and products.
Before agreeing to anything additional, double-check that the service isn't free somewhere else.
The EIN and business name search, for example, are free through the IRS.
Can Get Costly
The bundles are costly compared to some of Inc Authority's competitors.
Yes, having everything taken care of by one company at one time is easier than having to search for each thing separately, but it doesn't always lead to the best quality or price.
Why Are Registered Agent (RA) Services So Important?
Assigning a registered agent is a legal requirement of any LLC formation. It is important to pick the right one because they are responsible for the collection and forwarding of:
Office federal and state correspondence
Tax notices from the IRS and local tax authorities
Lawsuits
Subpoenas for information
Court summons
Wage garnishment notices
Corporate filing notifications
Most business formation and filing companies offer registered agent services either as an add-on or included in the package.
Inc Authority offers a year of RA services with every bundle, including the free one. After that, the fee is $99, plus state taxes, per year.
Who Can Be a Registered Agent?
A registered agent can be any person/agency that you deem trustworthy enough to receive and deliver your documents and that meets the following legal requirement:
Be at least 18 years of age
Have a physical registered address in the state of operation
Lives in the state of your businesses operations
Approves of their address being made public – which is often why business owners choose an agency
Depending on your business needs, you can assign yourself, a friend, family membe or employee as the registered agent.
Why Should I Use a Registered Agent Service?
As it is a legal requirement to have an RA in every state your business operates in, choosing a service rather than an individual has several advantages:
Your documents are guaranteed to be received and promptly forwarded to you, regardless of the state.
They already have addresses in each state, making the registration process much quicker.
Each state has its own legislation and deadlines. An agent familiar with all states will be able to provide you with the correct information without you having to chase them for it.
It saves you from having to deal with legal documents that you don't fully understand, particularly if you don't have the budget for a lawyer.
RA services are usually included in an LLC formation package for free, so it makes sense to take advantage of it.
What to Look For in a Business Formation Service in 2023
When choosing a business formation company, consider:
The company's reputation – Are they known for being an efficient formation company with plenty of industry knowledge?
Reviews – What are past clients saying about Inc Authority on independent review sites? These sites are more reliable than client testimonials found on the company website.
Services offered – What services do they provide, and how are they packaged? Can you pick and choose what you want, or are the packages tightly structured?
Pricing – How do the prices compare to others? Can some services be done for free elsewhere? What is your budget?
Final Thoughts
Inc Authority has been in business for more than 30 years and therefore has a lot of experience and knowledge. It is also still one of the most popular choices, meaning it has adapted to new technology and legislation.
The free formation bundle is an excellent option for those just wanting the basics when setting up their LLC.
However, the paid bundles may not be worth the money, especially as some products are available for free elsewhere.
Before making your final decision, check:
What your business needs are
What services your business will benefit from
How the packages suit your budget
What other companies are offering
---