11 Jobs for High School Dropouts
There is often a stigma associated with not finishing your high school education.
Many people feel they are in the minority by dropping out of high school – according to the United States' census for around every 10 high school graduates, there is one person who did not graduate.
At first, many may think there are limited career options for high school dropouts.
In reality, there are several roles across various sectors are available.
This article outlines the 11 best jobs for high school dropouts, including their average salary, and how you can go on to build a successful career despite not graduating high school.
What Industries Can Someone Work in Without a High School Diploma?
Contrary to popular belief, a wide range of industries offer career options for those without a high school diploma.
Many vocational industries employ high school dropouts because the employers place greater value on candidates' skills and passion rather than educational attainment.
These include:
Construction
Farming
Food services
Retail
Sales
Transportation
Gardening
Arts
Theater
Music
In such sectors, a candidate's skills are as important, if not more so, as their education level.
Many roles in these industries look for candidates to demonstrate resilience – the ability to bounce back well from challenges.
In addition, good communication and time management are essential.
In these industries, on-the-job training is required, as all career options for high school dropouts start as entry-level roles.
The benefit of this is that it allows you to build your expertise and understanding of the industry you work in as you climb the career ladder or otherwise develop your career.
Showing a willingness and capacity to learn your trade or craft is what will lead you to senior roles – mastering the basics is often the best way to build a solid foundation for any career.
Developing this strong foundation in an entry-level role means you are well placed to progress your career to the next level.
Many high school dropouts work their way up from the bottom of the career ladder.
Their hard work and determination lead them over time to a successful and fulfilling career.
What Is the Average Salary of a High School Dropout?
The salary that a high school dropout earns varies by industry and sector.
Initially, it is likely low – the average starting salary of a high school dropout in an entry-level role may be lower than that of a college graduate, although not always – but as they work their way up the career ladder and become experts, their salary will increase.
Some roles specify interest and skills rather than educational attainment, such as those in the food industry.
In this situation, high school dropouts and college graduates could earn the same average starting salary.
It is important to remember that in any entry-level role, understanding the skills required for success in the role and demonstrating a willingness to learn are integral parts of building a fulfilling career.
As you progress in your job, your salary will increase over time no matter what level you started at – and you can always ask for a raise.
11 Jobs for High School Dropouts
Here are 11 career options that someone without a high school diploma could apply to.
1. Entrepreneur
Average salary: Variable
Many people drop out of high school due to their entrepreneurial spirit, ideas and creativity.
They recognize that achieving their goals and being a successful entrepreneur is not dependent on them attaining their high school diploma.
Instead, having an idea and understanding how you will make it a reality takes vision, dedication, hard work, resilience and a bit of luck.
Turning your ideas into a profitable business can create a significant source of income for you. It can also create career opportunities for others and further opportunities to expand your business in the future.
Many successful entrepreneurs, such as Richard Branson (founder of Virgin Group) and David Karp (creator of Tumblr), are high school dropouts. Their success shows through hard work and drive, you can turn your vision into a money-spinning reality.
2. Office Manager
Average salary: $47k, ranging from $32k to $70k
You are unlikely to land a role as an office manager the day after you drop out of high school but building your administration skills as an office administrator can lead to a more senior position as an office manager.
Plus, the average wage for an office administrator is $38k. Here is a guide to applying as an administrative office assistant.
Typical duties of an office assistant include:
Meeting and greeting visitors
Data input
Dealing with mail
Answering incoming calls
Communicating on admin matters with other departments
These roles require candidates to demonstrate a variety of soft skills, such as a strong attention to detail and a desire for accuracy.
By developing administrative skills as an office assistant, you learn how the office is run, making you a key and valued member of the office staff.
After some time, you will be well placed to take up more senior opportunities, such as managing the office, and the attached salary increase.
3. Construction Manager
Average salary: $107k, ranging from $56k to $165k
Careers within the construction sector can vary.
Most new entrants start at entry-level to learn a specific trade or type of work.
Many roles within the construction industry rely on applicants to demonstrate a solid work ethic and willingness to learn, rather than possessing a high school diploma.
These roles provide a life-long career option for high school dropouts.
Over time, as you develop your skills and capabilities in your chosen field, opportunities often open up for you to take more of a lead role in the construction project.
Many successful senior construction workers started their careers at entry-level. By mastering their skills in their chosen trade, they have built up their reputation and expertise, leading to a successful and often lucrative career in the construction industry.
Those who choose to specialize in a particular construction area can find their skills in demand.
These individuals are often able to command higher salaries due to their expertise.
Additionally, those interested in business may go on to set up a construction firm.
4. Equipment Operator
Average salary: $55k, ranging from $29k to $115k
Another career option for high school dropouts is to become an equipment operator.
The role involves preparing and using specific machinery, sometimes as part of a production workflow, other times to transport goods, like logs, or pave a road.
Equipment operation roles are usually found in construction or logistical industries, such as pavers, pile drivers and tampers.
Additionally, the term can also apply to switchboard and telephone operatives, logging equipment operators and some roles in the agricultural industry.
In all these jobs, attention to detail, concentration and the ability to problem solve are key skills for success in the role.
These roles suit those who are analytically minded, meticulous regarding detail and do not mind repetition.
There are various future career options open to machine operators.
Operators of specialist machinery can often find their skills to be in demand.
Some may choose to build a life-long career with one organization. Others move to different organizations or take up more advanced management-level roles.
5. Restaurant Manager
Average salary: $52k, up to $67k
If you do not mind putting in the hours, starting your career in the restaurant industry is an excellent way to progress to management-level roles.
Many roles within the food sector do not require candidates to have attained their high school diploma.
These roles rely on someone's capacity for and interest in learning through on-the-job training.
Those who show the commitment and capabilities to take on a more advanced role can progress to the role of a restaurant manager.
Management roles within the food industry draw on many skills, including leadership, teamwork, time management and strong communication skills.
Due to this, restaurant managers earn a good wage and often benefit from additional perks.
6. Care Assistant
Average salary: $27k, ranging from $20k to $36k
Care assistants support individuals to look after themselves by providing care in their homes or residential institutions. Their clients or patients may require extra assistance due to disability or incapacitation.
The ability to empathize and communicate with a range of people are essential for the role as a care assistant.
Additionally, keeping calm under pressure, demonstrating integrity and being able to solve challenges are required skills.
The role can be challenging. It best suits someone who is strong, with an inherently caring and sympathetic personality.
If you want to make a difference in society and have the mental stamina to cope with difficult situations, the role of a care assistant may be for you.
You can get specific qualifications in social work, so you do not need a high school diploma.
The role of a care assistant is one that many high school dropouts consider as a career option.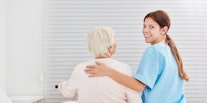 11 Jobs for High School Dropouts
7. Chef
Average salary: $53k, ranging from $30k to $90k
Many successful chefs are high school dropouts.
This career draws on a candidate's interest in food and creativity instead of their level of attainment at school.
Becoming a chef takes hard work, dedication and working unsociable hours.
High school dropouts start at the bottom of the career ladder, often as dishwashers or assistants.
They work alongside experienced chefs and learn their trade. Typical duties include food preparation, cleaning and tidying up the kitchen post-service.
Chefs work long hours, but the role can be fulfilling and lucrative for those who show potential.
Many find themselves taking on more responsibility in the kitchen when preparing dishes.
Some chefs aspire to run their own restaurant, so understanding the basics of how a kitchen is run provides a solid foundation in helping them realize their ambitions.
8. Delivery Driver/Cab Driver
Delivery driver average salary: $44k, ranging from $19k to $70k
Cab driver average salary: $32k, ranging from $19k to $50k
Job opportunities for delivery drivers usually do not require applicants to have attained their high school diploma.
In such a role, you will collect parcels or other goods and deliver them on time to the designated recipient.
If you get a commercial driver's license, you can drive larger vehicles across state lines and earn more.
To become a cab driver, while a high school diploma is common, it is not necessary.
You may become a self-employed cab driver, by investing in a car and a meter, or you may join up with a company or gig provider such as Lyft.
These roles require you to be reliable and organized, with good communication skills.
Driving roles can be good for high school dropouts looking for a regular and reliable position, which is potentially flexible.
9. Joiner or Carpenter
Average salary: $49k, ranging from $31k to $87k
Becoming a joiner can lead to a very lucrative and rewarding long-term career.
Typical duties involve crafting furniture or constructing and installing frameworks for buildings.
Entry into the profession is often based on gaining an apprenticeship through impressing the host with your willingness to learn.
An individual's skills and desire to learn are often considered more important than whether they have attained a high school diploma.
Creativity and attention to detail are also essential attributes.
When starting out in this profession, individuals work with experienced joiners. This hands-on role requires excellent spatial awareness, numerical ability and resilience.
Those who are successful in learning their trade are well-sought after by both businesses and individuals.
Many experienced carpenters command higher salaries due to the specialist nature of their profession.
Some go on to start up their own joinery businesses, employing others to deal with the running of the company while they focus on using the practical aspects of joinery.
10. Florist
Average salary: $29k, ranging from $20k to $43k
High school dropouts who are creative and have a keen eye for design can consider a career as a florist.
In this role, you will be responsible for creating floral arrangements and dealing with customers and suppliers.
Work settings can vary. Some florists work at an independent florist shop. Others are part of a wider floristry team, like at larger hotels.
As this is a people-centered role, individuals should have strong interpersonal skills.
Being organized and demonstrating a friendly and empathetic nature are also essential attributes.
11. Sales representative
Average salary: $58k, ranging from $29k to $128k and may have commission-based bonuses
Many companies looking to take on sales representatives consider an individual's ability to influence and negotiate rather than whether they have gained their high school diploma or not.
Successful sales representatives are paid well, mainly through commission paid on the products they sell.
If you are a people person, enjoy meeting others and have strong interpersonal skills, then a career in sales should be high on your list of career options.
Future opportunities in sales include progressing to area manager or team leader. These roles allow you to develop your people management and leadership skills and earn more.
Frequently Asked Questions
High school students drop out for a variety of reasons.
Some are forced to due to family or personal circumstances that make it difficult to continue their high school education.
Others make a conscious choice to end their high school career before attaining their high school diploma because they have careers in mind where skills outrank educational attainment, and they want to get started on their chosen career as soon as possible.
Whatever the reason, it is essential to remember that there are many career options open to high school dropouts.
Many of these career options can lead to a successful and, in some cases, lucrative long-term career.
It is only hard if you do not like hard work.
There are several career options for those without a high school diploma.
All roles tend to be at entry-level. These entry-level positions offer candidates the chance to get a role without prior experience and the opportunity to expand their skill set.
Over time they can advance their career into more senior roles. Many require candidates to demonstrate hard work, commitment and the willingness to learn.
As you develop your experience you can progress up the career ladder into more advanced and senior positions.
These will command a higher salary, increasing your job satisfaction and career prospects.
High school dropouts have many options open to them.
The first step is to think about what you enjoy doing, which will suggest the type of work you want to get into.
It is essential to consider your skill set and personal circumstances when looking at your options, such as the number of hours you can work due to any family commitments.
Several industries, such as those in construction, food services, sales, employ high school dropouts. Doing your research into companies in these sectors can help narrow down your options.
This can lead you to identify suitable career options that meet your interests and match your skills and experience.
Do your research into the sectors you think you would enjoy working in.
Carefully read the descriptions of any jobs that interest you and look at the role requirements.
Consider the skills that you have and identify any skill gaps you may need to develop before applying.
Consider taking up voluntary opportunities to build any skill gaps.
Once you are clear on the roles you want to apply to and what skills you have, you can then draft your resume.
Make sure to tailor your resume to the positions you are applying to – and do not forget the cover letter.
Above all, be confident in your skills and strengths. Be willing and able to demonstrate to potential employers your commitment to working with them.
Final Thoughts
Despite what many may think, there are lots of career options for high school dropouts.
Those willing to start in an entry-level position, develop new skills and remain committed to succeeding in their chosen industry can enjoy a lifelong and rewarding career without ever gaining a high school diploma.
---