11 Skilled Trade Jobs
What Is a Skilled Trade Job?
Although there is no official definition when it comes to what exactly a trade job is, it is generally considered to be a job which requires some sort of manual activity.
There are varying levels of skill required for trade jobs, from labouring work, which is considered to be relatively unskilled, to specialised positions which require high levels of knowledge and expertise.
People who work in skilled trade jobs do not usually hold a degree, but instead undergo extensive, ongoing training.
This is usually in the form of college courses or on-the-job training such as apprenticeships.
Examples of a skilled trade job include:
Plumber
Electrician
Mechanic
Bricklayer
Chef
What Are the Advantages of a Skilled Trade Job?
There are many advantages to seeking a career within the skilled trade industry.
For many, a large part of the appeal is the opportunity to earn money as you learn.
Many of the trades which people choose to learn will include some sort of apprenticeship or part-time college course with a work placement.
Often, individuals will choose a skilled trade job because it will mean that they do not need to attend university and are able to avoid the subsequent debts accrued from student loans and course fees.
It also means that, for those who do not want to stay at school long-term, they may be able to leave education and begin learning a trade straight away.
Other advantages include:
Many skilled trade jobs are continuously in demand, so there is less likely to be a shortage of work.

Individuals who prefer to work physically often find that skilled trade jobs are more appealing than other sectors such as office work. The opportunity to learn a trade with a hand-on approach means that paper-based learning is at a minimum.

With a skilled trade job, there are always opportunities to learn. Practices, procedures and techniques will change and develop, meaning that people within the skilled trade industry are always learning and building on their knowledge and expertise.

After training is complete, many people enjoy having the option of setting up business for themselves. The opportunity to become self-employed and use the skills that they have gained to train others often appeals to those who want to be their own boss.
What Are the Top Skills You Will Need for a Skilled Trade Job?
While there is no requirement to have a degree or similar within a skilled trade job, there are some personal skills which are beneficial to working within this industry.
Many individuals working within the skilled trade industry will have to regularly be in customer facing situations.
This could be when providing quotes for a project or when dealing with a customer who has questions regarding a process.
Having good social skills is vital in ensuring that each customer receives the best possible service.
Whether you are a mechanic who finds that a simple job has suddenly become more complicated, a bricklayer with a client who wants to change their original requirements or a plumber faced with a leak that suddenly got a whole lot more complicated, adaptability is vital.
Being able to think on your feet and adapt to a situation will help you to keep your head with difficult customers and find ways to finish challenging projects.
Much of the work that skilled tradespeople do is done independently, so it is vital to have good organisational skills.
Ensuring that projects, paperwork and equipment are kept organised will mean that you are always ready for any eventuality.
While there is no requirement to be a mathematical genius, basic numeracy skills are essential.
This is especially true for those who wish to take the skills that they have learned and set up a business of their own.
Even if you do not decide to explore the self-employed route, mathematics will be required for many of the jobs within the skilled trade industry.
For example:
Builders need to use mathematical skills to calculate the quantity of building materials needed for a job.
Carpenter will use skills such as measurements and angles to ensure that their products are finished to a high standard.
Mechanics are often required to provide quotes to customers before completing jobs. They will need to correctly calculate the materials needed and the length of time required to complete a task before being able to estimate a cost for the customer.
A career within the skilled trade industry will mean that you are always learning.
Whether it is finding a new way to complete an unexpectedly challenging project or keeping up to date with new skills and technology, there will always be things to learn.
There will be some trades that also require regular training and safety courses, where you will learn new skills and the best practice policies for subjects within your chosen trade.
For example:
Individuals working within the food industry (chefs, cooks, kitchen assistants etc) will be required to keep up to date with their food hygiene certifications and allergen training.
Plumbers who deal with gas safety will need to complete regular gas safety certifications so that they can safely work with central heating systems and gas appliances.
Top 11 Skilled Trade Jobs in Demand in 2021
1. Electrician
Whether it is fitting a new-build development with their essential light fixtures, or helping to solve a problem when it occurs, electricians are always in-demand.
Due to the nature of this job, training and relevant qualifications are required in order to make sure that things are done safely and effectively.
Many electricians will study at college alongside a work placement which will give them hands-on experience as well as vital theoretical knowledge.
Important skills for an electrician:
Communication
Attention to detail
A methodical approach
2. Plumber
If you have ever had a leaky toilet or a burst pipe, it is likely that you will have called a plumber to fix it.
Plumbers deal with every aspect of pipes and water supply within a home or business as well as installing new plumbing systems on building sites, so are required to have a wide range of knowledge as well as problem-solving skills.
Some plumbers will go on to qualify as being 'gas safe', which will also mean that they are able to work with central heating systems and gas appliances.
Important skills for a plumber:
Problem solving
Communication
Manual strength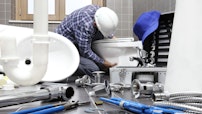 Top 11 Skilled Trade Jobs in Demand (2021)
3. Dental Hygienist
A dental hygienist is essentially there to help avoid the need for dental treatments in the future. They deal with hygiene visits such as teeth cleaning, plaque removal and generally looking after dental health.
Generally, somebody who is considering a career as a dental hygienist will train via a university course or apprenticeship alongside college training.
Important skills for a dental hygienist:
Communication
Manual dexterity
Maintaining concentration for long periods of time
4. Roofer
Wherever there is a house or building of any kind, there is a roof. Roofers are there to ensure that a new roof is completely watertight, working on newly built projects as well as maintaining the roofs on existing buildings.
The majority of individuals choosing a career in roofing will do so through on-the-job experience, although there are college courses which will teach the theoretical basics as well as offering work placements for practical skills.
Important skills for a roofer:
Good balance
Physical strength
Communication
5. Carpenter
Carpentry may seem as though it is a dying trade, but in reality it is just as important today as it ever has been in the past.
From creating wooden structures and supports for housing projects, to designing and building bespoke furniture pieces, a carpenter is skilled in every area of woodworking.
Carpenters are often involved in restoration projects, where it would not be appropriate to replace parts of a building with modern materials.
Important skills for a carpenter:
An eye for detail
Mathematics
Customer service
6. Welder
Welders predominantly work within industrial, manufacturing and construction settings, joining metals and repairing damage using a combination of heat and gas.
Most individuals will start in their chosen industry as an unskilled welder, performing basic tasks and learning on-the-job before becoming more knowledgeable and skilled over time.
Apprenticeships are popular in this particular field.
Important skills for a welder:
Independent working
Comprehension of technical documents
Mathematical skills
7. Licensed Practical Nurse
A licensed practical nurse is involved in many aspects of patient care. They will often be the ones to take a patient's medical history and deal with the day-to-day needs of the people in their care.
They may also be required to perform basic medical procedures such as taking blood and dispensing medication which has been prescribed by a doctor.
To become a licensed practical nurse, individuals are required to complete a diploma in practical nursing which teaches via a combination of theoretical knowledge and practical skills within a clinic setting.
Important skills for a licensed practical nurse:
Quick thinking
Communication skills
Empathy
8. Landscape Design Architect
If you have ever admired a beautiful garden or area of parkland, it is likely that it was designed and created by a Landscape Design Architect.
This career path is particularly suited to individuals who enjoy spending time outside and consider themselves to be green-fingered.
Many of those who embark on this career path will do so via on-the-job training, learning every aspect of the role; from design and sourcing materials, to construction and creating the final result.
Important skills for a landscape design architect:
An eye for detail
Good written communication skills
Knowledge of the environment
9. Head Chef
Whether it is in a restaurant, care setting or any other form, the head chef is responsible for every aspect of the kitchen.
They will oversee junior chefs in food preparation, organise the menus and liaise with other staff to ensure that all food served meets relevant quality and food safety standards.
There are many colleges which specialise in culinary training, but many individuals who have a passion for food will start their career as an apprentice or junior cook and work their way through the ranks, gaining skills and experience along the way.
Important skills for a chef:
Communication
Time management
Attention to detail
10. Building Inspector
A building inspector is someone who ensures that all relevant safety requirements are followed while buildings are being constructed.
They have knowledge of areas such as fire regulations, conservation and accessibility, and will monitor the progress of a building site to make sure that relevant regulations are being followed.
Although many building inspectors will hold qualifications in building related subjects, it is possible to learn the skills needed through on-the-job training.
Important skills for a building inspector:
Problem solving
Communication
Confidence
11. Mechanic
Everyone who drives a vehicle will need to use a mechanic at some point, whether it is for routine maintenance or to fix a problem which has occured. This is why there will always be a demand for experienced and thorough mechanics.
Those who are looking to enter this career field, usually do so through either a part-time college course or an apprenticeship.
On-the-job training is popular with mechanics as it gives the opportunity to physically see and deal with issues in a way that couldn't be achieved through a full-time educational facility.
Many will find that they start with the basics such as common service issues and general maintenance before learning more specialised techniques.
Important skills for a mechanic:
Thinking outside of the box
Customer service
A methodical approach
Final Thoughts
When choosing a career, it can be difficult to know which direction to take.
College and university courses may seem like the obvious choice, but a career within the skilled trade industry can open up a world of opportunities for the individuals who choose this path.
Jobs within the skilled trade sector are often highly rewarding, very stable and financially secure, giving the opportunity to continuously gain new skills and build a business for themselves.
---