How to Make Money on YouTube Like a Pro in November 2023
If you're eager to explore ways to earn money on YouTube, look no further!
Discover these 6 effective strategies to monetize your channel and leverage your creative endeavors.
While generating income on YouTube may not have been your initial motivation for launching a channel, you'll be pleasantly surprised by the numerous opportunities available.
Fortunately, there exist several imaginative avenues for those seeking to master the art of making money on YouTube.
How Do YouTubers Make Money?
Some YouTubers start making videos with a huge following already in place, but there are others who begin without being influencers or coming from a position of fame.
Making money on YouTube this way is easiest when you have expertise that targets a niche audience – for example, gaming or make-up tutorials are areas in which you can develop and share your unique skills.
The great thing about making money on YouTube is that you can even start earning money as a teenager.
To make a lot of money on YouTube, it helps to visualize yourself as a brand and build a business of multiple income streams, with YouTube being just one of your tent poles.
What Are the Key Skills Needed for Making a Successful YouTube Channel in 2023?
Luckily, to make money on YouTube, no formal qualifications are needed – all you have to do is create or collate content. The key skills needed to succeed are based on creativity and the ability to communicate your charisma on camera.
There is a lot of competition online, so you need to be particularly good at researching and creating new content, as well as packaging it attractively to capture viewers. It helps to have a flair for the dramatic and a willingness to put yourself out there.
Self-promotion (without losing perspective) is a skill you need to excel at. You have to be able to express what makes you and your content unique.
Another skill you need is time-management, as you will need to post consistently and keep your content as fresh as possible.
A certain nimbleness is required; you want to make your channel interesting and entertaining – so you will also have to think of ideas ahead of time, as well as be able to respond spontaneously to new topics and other trending stories.
Communication skills and the ability to build a connection with your audience are vital; you need the viewers to engage with comments and likes to get your channel better rankings. Have a clear understanding of your target audience and the gender/age you are catering to – you can pull this info from your YouTube analytics as you progress.
How Much Do YouTubers Make?
If you are wondering how much money do YouTubers make, you should know that most people who upload to YouTube don't make very much at all, and for some it's just a side hustle.
For those who want to earn big figures, YouTube must be approached like you would an important job, investing lots of time and energy.
What you earn can vary hugely; the average YouTuber makes $7.60 per 1,000 views. The exact amount depends on a variety of factors – such as the number of views you get and how many ads are displayed through your videos.
Passive income is often the entrepreneur's dream; it refers to making money while you sleep – because you've set up your business in a way that doesn't require your constant attention.
It takes time to get to that level, though – and you can't take your eye off the ball completely, as there will always be fresh competition from new up-and-comers.
How to Make Money on YouTube in 7 Steps
There are various ways to monetize your YouTube accounts. If you want to make a six-figure income, you will need to become an expert on most of these.
Here are the seven of the best:
Step 1. Become a YouTube Partner
This involves advertisements, either before your videos or banner ads during. This is a tempting way to monetize, but there are some prerequisites: you need to live in an eligible country, have 4,000 video-watch hours in the past 12 months, at least 1,000 subscribers and an active Google AdSense account.
To check if you are at the point where you can tap into this monetization source, look for a green '$' next to your videos. You are then able to apply for the YouTube Partner Program – once accepted, you can set ad preferences and start the monetization process.
Step 2. Add Affiliate Links
If you add links to your video descriptions to recommend specific products, you can ensure you earn a commission by making these 'affiliate links'. These are exclusive URLs that track traffic coming directly from your site to the advertiser's site.
When someone on your channel or site clicks a link, you will get paid a certain amount in commission. This is usually if they make a purchase after clicking through to your advertiser, but sometimes you will get paid for leads too.
Step 3. Harness the Power of Brand Placement and Sponsorship
Some YouTubers sell or promote specific products in their videos. In doing this, you already have to be established to a certain degree, but there is a fair amount of leeway for you to negotiate with.
Product placement can be just a short mention in passing – or can refer extensively to the item or brand in question through an in-depth product tutorial.
Brands looking for exposure may send you free products, and the bigger deals will also pay per view.
As with affiliate links, it is considered good practice to let your viewers know that you are getting financial incentives for promoting and endorsing.
Step 4. Get Your Fans to Fund You
Sometimes known as crowdfunding, this is when you get your fans to support you financially.
YouTube has a built-in version called Super Chat, which operates like a tipping jar that can be used during live streams.
If you have built up loyalty, you can also ask users to pay and subscribe to channels where they get exclusive content and rewards from you.
Some examples of this could be access to additional commentary or premium behind-the-scenes footage – anything with added value that appeals specifically to your fans.
Step 5. Sell Your Apparel and Merchandise
Selling apparel and merchandise like T-shirts, bags and mugs can help promote your brand as well as make you money.
If you are already a member of the YouTube Partner Program, you can get access to its merch shelf and related features (though there are extra criteria you have to meet, such as having 10,000 subscribers).
Merchandise not only increases your exposure while making you money, but it also deepens the relationship between you and your fans in the real world. They will feel closer to you when they wear or use your products and likely influence their friends to take an interest too.
Step 6. Create Digital Products
Another way to ensure passive income and build trust or rapport in your brand is to create products like e-books and learning resources. You only need to write or create these digital products once and then you will get income from them indefinitely.
An audience of even a few thousand can generate a decent amount of revenue with some high-end courses and they generally require minimal updates and maintenance.
You may even find down the line that, if you host in-person events and live workshops, a loyal consumer base of your digital products will lead to a guaranteed audience.
Step 7. Sell Your Services
If you are an expert in your field, you can leverage this and sell services like consulting, coaching and paid speaking gigs. These sorts of services can work over several different niches and are not limited by anything other than your time and creativity.
Often people are willing to pay an hourly rate or purchase an entire package that would involve some digital products as well as your individualized time.
Over time, you might become so skilled that you could sell bespoke video-editing services (or complete YouTube management) to other businesses.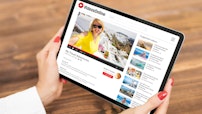 How to Earn Money on YouTube (2023)
How to Create a YouTube Channel and Make Money: Step-by-Step Guide
Learn the Basics and Do Your Research
You can start watching and researching competitor videos on YouTube with just a Google account, but to upload videos you need to create a YouTube channel.
It helps to know useful basics of the platform you are using; for example, YouTube allows you to create annotations and end card programming that help drive your audience to merchant sites. You need to be careful to follow the YouTube community guidelines too and steer clear of content that's inappropriate or hateful.
You need to do a lot of fact-finding at the start. Create a niche channel based on market factors you can capitalize on – for example, you might have noticed that the Covid pandemic has led to more online workout videos. Pay attention to topical issues and notice what the best YouTubers and influencers you look up to are focusing on.
Work out where the market trends are heading in the future too. For example, are make-up tutorials leaning toward a more natural look in 2021 and beyond? Make sure you are posting regularly and on a consistent schedule, so your followers know when to expect your content.
It's worth noting that you should enjoy creating videos and putting in the hard work because it can take a lot of time to see your results at the start; you only get to cash out after you first attain a balance of $100.
Get the Right Gear
When you're starting out, all you really need is some video editing software and a computer or a decent phone.
If you focus on natural light, you can avoid buying expensive lighting equipment at the beginning. It helps if you have great technical skills, but you can learn as you go too.
Produce and Edit Content
If you can lean on an experienced friend to act as a producer, that can be a helpful start. You could also search for freelancers who are looking to expand their portfolio and might be willing to edit your content – or even help you learn the ropes.
The amount of content to create is important to get right – too much and you might turn your audience off. Too little and they may move along to someone else. Follow the lead of YouTubers you admire and respect.
You will find that working on YouTube will increase your general computer skills, which is great because they might be useful in other contexts too as you develop your career.
Create a Monetization Strategy
For beginners, a good strategy is to spend time assessing and analyzing what other YouTubers are doing. Don't worry if you are in a very small niche (in fact, that is better for you as you can capitalize on it). Just be open to learning from other content creators, even if they're in a different field.
As a beginner, you can also experiment – try making videos for various interests or in different styles and analyse which perform best in viewership.
Once you settle into a niche, another great strategy is to start collecting email addresses of your viewers, as you can then start to build deeper relationships; offering a taste of your digital products can be a great way to incentivize viewers to share their details with you.
Increase Traffic to Your Channel
It is brilliant when you get lots of organic traffic – or if a video you made goes viral – but for increasing traffic in a strategic way, YouTube ranking factors are important to consider.
These include how well your title, description and video content match a viewer's query and how long you hold their attention after they hit play.
As well as keeping an eye on the traffic you are generating, make sure you have a clear 'call to action' for your viewers. For example, you might tell them to 'like and subscribe' or direct their attention to a pop-up YouTube card that will send them to your revenue-makers.
Create a Marketing Funnel
A marketing funnel refers to the multiple steps you take a customer through to make sales from them.
You can prove your value and build trust with your consumer this way. In YouTube terms, it can help to have a blog alongside your video channel to funnel people along, getting their email addresses along the way.
This means you can put affiliate links on both your video channel and your blog, which should increase your commissions. It also helps to embed your videos into a blog to get more views, increasing your search engine optimization (SEO).
In general, you should spread the word about your channel and related campaigns through as many avenues as you can master; other forms of social media are free and effective ways of growing your audience.
Final Thoughts
Making money on YouTube is easiest when you have multiple platforms that all link together. If you start a blog with a high-end marketing funnel and build your email list too, you will be in a strong position.
If you have an authentic voice and a unique style, viewers will appreciate you and create a loyal fan base for your videos.
Get creative and channel your entrepreneurial drive into a YouTube business that makes you money and brings you passive income for years to come.
WikiJob does not provide tax, investment or financial services and advice. The information provided is for general reference and you should not rely on it to make (or refrain from making) any financial decisions. Personal situations will vary. Always seek independent financial advice when choosing how to manage your finances.
---