The Best Online Incorporation Services in 2022
All products and services featured are independently selected by WikiJob. When you register or purchase through links on this page, we may earn a commission.
Founded in 2004, Incfile is an online incorporation service that has been used by over half a million businesses, and with a free package available, it is easy to see why they are so popular.
You can incorporate as an LLC, S-Corp, C-Corp or Non-Profit.
There are several packages available, with tiered pricing. The fees are transparent – aside from the state fees, what you see is what you pay, unless you arrange any add-ons or extras.
All packages include:
Company name verification
Preparation and filing of incorporation articles
Free registered agent for one year
Processing next business day
Online access to support documents and online order tracking
Free tax consultation
Lifetime support and company alerts
The Silver package is free (plus state filing fees).
The Gold package costs $149, plus state filing fees, and offers the inclusion of an EIN, IRS form 2553 (to become an S Corporation for tax purposes), operating agreement, online dashboard access, banking resolution, a business banking account, as well as unlimited phone and email support. All this is alongside the services provided in the Silver package.
The Platinum package is priced at $299, plus state filing fees, and includes everything in the Silver and Gold packages, with the addition of contract templates and expedited filing, as well as a domain name and business email address for a strong online presence.
Customer support is available between 9:00 a.m. and 6 p.m. CST, and customer reviews of the service are overwhelmingly positive – with many mentioning the transparent fees and excellent customer service as big selling points.
The Silver package is a great option for businesses that want to get incorporated quickly and easily, with no 'bells and whistles' or complicated add-ons – and with the standard turnaround at just 15 business days without paying extra for the expedited service, it is not a lengthy process either.
Designed to be both quick and affordable, the Swyft Filings standard package offers completion in less than 15 days – and there is a money-back guarantee if you are unhappy with the service.
The company was founded in 2012. The Swyft Filings customer reviews are over 90% positive, with a customer support team that is responsive and helpful, available between 9 a.m. and 6 p.m. Monday to Friday on live chat, email and telephone.
The Basic package offers preparation and filing of documents at just $49, plus state filing fees, while the Standard package (which is the most popular) includes an EIN, operating agreement, and custom organizational minutes for $149, plus state filing fees.
The Platinum package offers the same as the Basic and Standard, as well as an electronic version of the documents and FedEx tracking, alongside a business website and web hosting for $299, plus state filing fees.
The system is simple and easy to use, with step-by-step guidance at each stage in the application. The progress bar at the top is a handy addition so you can see how much more you have to complete (it takes about 10 to 15 minutes in total to apply).
As well as lifetime support from a personal business specialist, there is a wealth of useful information and education on business, from guides to blog posts, available on the website.
As one of the oldest companies on this list, Inc Authority is relatively small and family-owned.
Based in Reno, Nevada, Inc Authority works with a number of third-party providers to offer a broad range of services for the new business and entrepreneur, alongside more traditional online incorporation.
The Starter package is one of the more expensive in the list at $399, plus state filing fees, but offers a lot more in terms of basic services, including:
Business name checking
Custom state filing articles
Operating agreement (for LLC) and bylaws (for S-Corp)
Record book and custom company seal
Ownership certificates
EIN
Tax consultation
One year of support from Inc Success advisor
Initial meeting minutes and resolutions
The next package is the Executive, which costs $499, plus state filing fees; in this package, you can get a business license report and a website domain, as well as everything in the basic package.
The Tycoon package is the top-level offering, and for $799, plus state filing fees, in addition to everything in the Starter and Executive package, you get express processing, a business credit coach, D&B Credit Bureau Registration, a business credit coach and access to a multi-tiered LaunchPad.
There is a free package available, where you will only have to pay state filing fees, and it includes filing, tax consultation, a business and credit funding analysis and a year of registered agent services. With the Entry package, you can also add an EIN for $49 and operation agreement drafting for $89.
All plans can benefit from expedited filing for $49 – this might be beneficial, as the filing time can be longer than other services unless the fee is paid.
The customer support and named business advisor is a great part of this service, and one of the main reasons that Inc Authority has so many great customer reviews.
The Inc Authority service is most useful if you want to get access to third-party services – especially credit agencies.
Founded in Texas in 2015, ZenBusiness offers streamlined services designed for start-ups, including legal needs, website domain support, and of course, filing of incorporation articles.
The Starter package is $49, plus state filing fees. With this, drafting and filing of incorporation documents, an annual report service, registered agent provision and an operating agreement template is included.
The Pro package adds an EIN, a CPA assessment and a banking resolution template to the Starter options, for $149 plus state filing fees.
In the Premium package, rush filing is added with help in getting an online presence established – a business domain name including privacy, a business website and an email address for $249, plus state filing fees.
The fees for services provided by ZenBusiness are transparent and simple to understand, which is why they have a lot of positive feedback.
Customer service is available through the telephone, email and via live chat between 8 a.m. and 8 p.m. CT weekdays. They are also available on some weekends between 10 a.m. and 7 p.m.
Completing the necessary forms to use the ZenBusiness takes just a few minutes and is simple and straightforward. It is convenient too; with all the information you need to fill out – the details included.
The standard completion time for filing is anywhere between two and four weeks, unless you take the Premium package option, so it is about average in terms of timing.
ZenBusiness is a popular choice for many new business owners because of the simplicity and support available.
Northwest offers top-notch customer support because it is family-owned and operated – and while it could be considered pricier than some of the other options, the service provided by Northwest is one of the best on the market.
The default package, when you sign up for the online incorporation service, is free for you to do-it-yourself (DIY).
For a one-time payment of $225, plus state filing fees, Northwest provides:
LLC name availability check
Preparation and filing of articles of authorization
Operating agreement
Fast filing as standard (usually just a couple of days, depending on the time it takes to get from the state).
One year registered agent service
There is also a monthly service available, known as the VIP service. This offers payment between $30 and $70 per month (depending on state fees) and allows you to pay off the state fees and the incorporation costs within a year.
With this package, you can get an EIN, and still receive support even after the payments have ended.
There are several add-ons that are provided by Northwest, and that for some businesses will be useful – including corporate supplies, a certified copy of the articles of organization, and S-Corp election status.
Northwest is a great service for new business owners who are looking for ongoing support from a smaller business that really cares.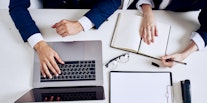 Five Best Online Incorporation Services in 2021
What Should You Look For in an Online Incorporation Service?
Online incorporation services are designed to make it easy for entrepreneurs and new business owners to register with the state.
Deciding to start your own business can be complicated, with so many things to think about – and registering with the state can offer your new venture legitimacy.
Choosing the right business formation service will reduce the amount of paperwork that you will need to supply as a new business to become incorporated, whether you are becoming a Limited Liability Company (LLC), an S Corporation, a C Corporation or a Not for Profit.
Traditionally, becoming incorporated was a time-consuming and expensive process, needing business owners to hire an attorney, complete reams of forms and wait months.
With an online service, all you need is a few basic details that can be completed at home (or in the office) to get incorporated.
Some online incorporation services will just prepare and file your incorporation documents directly with the relevant secretary of state, while others will provide extra services such as acting as a registered agent, legal consulting, tax, financial consulting and even compliance reminders.
Things to Consider When Choosing an Online Incorporation Service
Organization Type
Knowing how you are going to set up your business, whether you are looking to form a Not for Profit, an LLC, or an S-Corp or C-Corp, will help you determine which online incorporation service is right for you.
Most will have similar processes and offerings whichever type of business you are creating, but some are more specific.
Almost all online incorporation services are set up for LLC and S Corporation creation.
Price
Even with free services, there will be a fee to get incorporated with the state, and the exact amount will vary depending on where you are located.
State filing fees can be anywhere from $35 to $275, with annual or biannual fees to consider afterwards.
Each online incorporation service will have a fee structure, and what is most important is that these fees are transparent.
You are likely to find that the services provided are in tiers with escalating costs; the lowest cost and lowest tier will be a basic package, with add-ons as you move up the payment brackets.
While it might seem best to go for the lowest price (or the free service), be aware that you might end up paying more in the long run when adding in other services (such as registered agent coverage).
Ease of Use
Part of the benefit of using an online incorporation company is that it is meant to be easier – so the less complicated the form you need to fill in, the better.
For most of the online services listed below, it is a matter of minutes to complete the details needed to get the paperwork created and filed, so you shouldn't find them too complicated.
Many services provide extra information about each step, so you understand why you need to provide certain details, and why it is important.
Time to File
Another benefit of using an online incorporation service is that it should speed up the time it takes to file.
The time to file can depend largely on the time it takes for the secretary of state to look at the documents – but an online service should be able to prepare and file within a couple of days.
In most cases, incorporation should be complete within 15 business days, but it is known that it can take up to 30 (six weeks).
It is also worth noting that some incorporation services will provide an expedited service for an extra charge.
Customer Service
The availability of real-life help is something that new business owners will look for in any service – unless you are a seasoned entrepreneur.
Customer service availability, whether through email, live chat or over the phone, should be a consideration.
Look out for when the service is available – many are only open during normal business hours.
Online Reviews
Any service that you are considering should have reviews that you can check – and online incorporation is no different. Look for the positive and the negative reviews to make sure that the service they can provide is right for you.
Other Resources
Alongside the basic document preparation and filing, you will often find that these companies can provide services that are geared towards helping a new business.
One of the most important resources to consider is the allocation of a registered agent. This is a requirement of incorporation, and is the person or entity appointed to receive business mail and other documents.
Businesses owners can be their own registered agents, but it is sometimes better to outsource this to reduce the amount of junk mail and ensure that all necessary documents are kept safe.
Some offer the creation of an Employer Identification Number (EIN) which is useful if you will be employing other people.
The other services that might be offered, like financial and tax consultation, legal services or even website creation and social media support, can be a draw if you want to focus on working in the business, rather than working on it – and some business incorporation services can provide extras – at an additional cost.
Frequently Asked Questions
An incorporation service is a business that provides a way for a business to become incorporated. Incorporation services can be used to create an LLC (Limited Liability Company), an S or C Corporation, and even a non-profit.
To conduct a business legally – and with adequate personal protection – creating your business as a legal entity and meeting specific requirements is necessary.
This is something that you can do yourself, but if you want to use an incorporation service, you can expect to pay a fee on top of the state filing fees.
Deciding which incorporation service to use for your startup is a personal choice – most businesses have specific needs that make it more obvious which company is the best option.
Most online incorporation services provide a broadly similar service, with some minor differences. The first consideration that you will need to make is what type of company you want to create, whether that is an LLC or a Corporation.
In most cases, a startup company will be more suitable to becoming an LLC, because they are simple, easy to use and efficient. You might want to consider things like pricing, the services that are offered, and what other benefits the incorporation service can offer.
It can be difficult to choose between online incorporation services because they mostly offer the same basic services. However, there are slight differences that can make a difference for you.
For example, you might be conscious of cost, so want the basics done without a lot of initial outlay. There are incorporation services that make no charge for the basic documentation to be completed (like Incfile), you will only have to pay the state fees. However, you might want to consider the costs for other services that you might need to add – like a Registered Agent, for example.
Other considerations you might want to make are how fast the incorporation documents will be filed, and any ongoing costs you might have to pay to keep the business operating.
For most types of business, incorporating in Delaware is considered the best option. It is a state where sales and income tax are low, the requirements for business filings are less stringent than others, and the Court of Chancery offers much more protection for businesses and business owners.
You can incorporate your business in Delaware if you live there, or if you operate your business there. You can also incorporate your business in Delaware by instructing a Registered Agent in the state.
It is worth considering that Delaware is more suited to larger businesses with all the structured support, so smaller LLCs and corporations might find it more complicated to incorporate there.
Every state has different fees for incorporating a business, and most states charge a different rate whether you are looking to incorporate an LLC or Corporation.
Mississippi is the state with the lowest incorporation fees, charging $50 for both LLC and Corporations. Apart from New York, the most expensive state to incorporate in is Massachusetts, where you will need to pay $275 to register a corporation and $500 to incorporate an LLC.
When looking at the cost of incorporation in each state, you need to consider other costs of doing business, like franchise fees, annual minimum tax, annual and initial filing costs, and other fees (known as maintenance fees). These can also vary from state to state.
Remember that the cheapest state to incorporate might not be the cheapest overall, when you consider sales taxes and maintenance fees, as well as things like regulations.
The cheapest way to incorporate is to do it yourself. It is not a complicated process – all it takes is an online form to be filled in and sent to the Secretary of State – and there is no cost for getting the application form.
As a business owner, you might consider there to be better ways to use your time – so delegating this to an incorporation service might be a consideration. If you want to go with an incorporation service, there will be a charge – but this might be less than the cost to your time.
The cheapest state to incorporate is in is Mississippi, with both LLC and Corporations costing just $50.
The more expensive states might cost more than $700, like Nevada, New York, Massachusetts and California.
Incorporation can be completed online, either by completing the application form yourself or by using an online incorporation service. Agents and third-party software can also be used to complete the application online.
You can also incorporate via post by printing off the application form and filling it in by hand if needed.
Incorporation in California follows the same basic steps of incorporation in other states. You should start by checking to make sure that the name you want to use for your business is available – there are several tools available online that can help.
You will need to file Articles of Incorporation with the Secretary of State and appoint a Registered Agent to receive all the official business documentation.
Businesses that want to incorporate in California need to comply with the various tax requirements, like getting an EIN, paying the annual minimum tax, and following filing procedures including payroll tax.
Form SI-550 is the Statement of Information, and it must be filed with the Secretary of State. This needs to happen within 90 days after filing Articles of Incorporation.
You will need to include:
The name of the corporation
The 7-digit entity number
The street address of the business and the addresses of any officers.
Registered Agent details
The type of business
This needs to be filed annually in a six-month window to update any changes to the Secretary of State.
The SI-550 can be completed online or printed and mailed, and it costs $25.
Online incorporation service fees can vary. Most companies offer a set of packages at different price points, offering different services such as bookkeeping, and storage for legal documents.
The initial cost of the incorporation service needs to be considered alongside the state fees for incorporation, and you might be expected to pay more for expedited delivery of documents.
The packages offered start with a basic package that offers incorporation, and this can range from $0 to $79 in most cases. However, the more you need support in creating your business, the more the cost can escalate – and add-on services might have a monthly or annual cost instead of a one-off fee.
A single person can be a shareholder, an officer, and a director of a corporation, and this is allowed throughout all the states.
Single-person corporations still need to follow all the relevant rules of creating a corporation, such as submitting the right reports, paying taxes and recording minutes.
If a person sets up a business and then works for the business, they can be considered owner-employees, taking directors' drawings and being paid a salary (and being taxed on both). If you are paid a salary for the work you complete in the business, then you are considered an employee.
If the business you have created is an LLC, then you are not able to be an employee – all the business income is considered your personal income and you will be taxed as such.
Online incorporation is the act of making a business a legal entity. To do this, you must file Articles of Incorporation or Articles of Organization with the Secretary of State and pay the relevant fees.
As part of your online incorporation, you will also need to follow regulations and rules about taxes and reporting.
The best website to use to open your LLC depends on the needs of your business; almost all of the online incorporation services offer a similar level of basic service – filing the documents needed to get incorporated.
Things like affordability, the level of service offered, what the customer service levels are like, and the type of business you are incorporating will feed into your decision-making.
The top five online incorporation services include Incfile, Swyft Filings, Inc Authority and Zen Business – all offer a great level of service without too much upfront cost.
Final Thoughts
When it comes to online incorporation services, the options are almost endless – and the most important facets of the services provided will be different for you than for other entrepreneurs.
The best choice for your business should include good pricing, be easy to use and offer ongoing support – and all the choices on this list fit that bill.
It is probably the additional services offered, whether that is financial or different business incorporation, that will make the difference for you.
Choosing the right online incorporation service should make the process simple, fast and straightforward, with transparent fees.
---