The 12 Best Credit Cards in the UK in 2023
All products and services featured are independently selected by WikiJob. When you register or purchase through links on this page, we may earn a commission.
A list of the Best Credit Cards in the UK for November 2023:
These are the best credit cards in the UK from well-known banks and financial institutions, grouped by their main features.
Read on for more details on the 12 Best Credit Cards in the UK for 2023:
Best All-Round Credit Cards
All-round credit cards offer something for everyone. They are the best credit cards in the UK if you need a good deal on both balance transfers and purchases.
Pros
300 virtual cards for FREE
Top up with zero commission 
Instant issuance of an unlimited amount of cards
No card issuance fee, no card service fee
European BINs works perfectly with facebook, google, etc.
User-friendly app that allows you to monitor expenses, approve transactions and generate reports on the go.
Provides an API
Possibility to purchase a personal BIN
Fast registration and standard KYC, approval within 24h
Detailed reporting and analytics to track all transactions
Cons
Works with all companies from EEA and UK but others considered case by case.
Wallester is an Estonian financial institution and official Visa partner. Wallester Business provides companies with the solution to open an account and instantly issue an unlimited number of Visa virtual and physical cards, using which the company will be able to manage all corporate expenses with a single smart platform.
In fact, you start using this solution already now absolutely for free. On the Wallester Business platform today you can create an account with a free tariff plan including 300 free virtual cards, use all the functions, and understand how it works.
Pros
As an all-round card, this offers a really substantial interest-free period for both balance transfers and purchases
no fees for foreign transactions and balance transfers
Cons
The APR outside of the introductory rate is pretty high in comparison to other similar cards
The monthly fee could be a problem when other cards do not charge any fee
Fees: £3 per month
Representative rate: 23.7% APR
Credit rating required: Good/excellent

Although the Santander All in One credit card does charge a monthly fee, it also offers a competitive APR and some good perks that make it a great choice for an everyday, general-purpose card.
Introductory rate:
0% on balance transfers for up to 26 months
0% on purchases for up to 20 months
Rewards/perks:
No balance transfer fees
No foreign transaction fees (as long as you pay in local currency)
Up to 15% cashback when you sign up to Retailer Offers
Pros
A great introductory period for both purchases and balance transfers without charging fees
The rewards can add great value for a Tesco customer
Cons
If you aren't a Tesco customer, the rewards won't be of value to you
Fees: None
Representative APR: 19.9%
Credit rating required: Good/excellent
No fees, a lower APR than comparative cards, and a good interest-free period make this a great choice for an all-round card.
If you are a Tesco Clubcard customer, there are extra perks too.
Introductory rates:
0% on balance transfers for up to 12 months
0% on purchases for up to 12 months
Rewards/perks:
No balance transfer fees
Extra Clubcard points for every £1 spent both in-store and elsewhere (enhanced rate for Tesco purchases)
Pros
One of the longest 0% balance transfer introductory periods
Great perks if you use Virgin Group products
Cons
The APR isn't as low as other cards
The balance transfer fee can add extra cost if you are moving money across to it
Fees: None
Representative APR: 21.9%
Credit rating required: Good/excellent
A card from Virgin Money offers discounts on Virgin Group products and lengthy introductory rates for both balance transfers and purchases.
Introductory rates:
0% on balance transfers for up to 23 months – 2.9% balance transfer fee
0% on purchases for up to 20 months
Rewards/perks:
Discounts on Virgin Experience Days, Virgin balloon flights and wine
Pros
No monthly or annual fee
A decent balance transfer introductory period
Quick application process
Fees: None
Eligibility checker: Yes
Immediate decision: Yes
This card is designed to be useful for everyday purposes, including purchases and balance transfers.
Quick application process and an eligibility checker available.
Introductory rate:
0% interest on balance transfers for up to 18 months
0% interest on purchases for up to 3 months
Rewards/perks:
Representative rate:
20.9% APR variable
20.9% p.a. (variable) on purchases
Pros
Low APR
Lengthy interest-free period
Simple card with no bells and whistles
Cons
No special bonuses
2.95% balance transfer fee is higher than most other cards
Fees: None
Representative APR: 19.9%
Credit rating required: Good/excellent
This is a simple, no-nonsense card that offers interest-free introductory periods on both purchases and balance transfers.
Introductory rates:
0% on balance transfers for up to 20 months, 2.95% balance transfer fee
0% on purchases for up to 20 months
Rewards/perks: None
Pros
Good length introductory period
0% interest period for purchases
Cons
Despite being a card designed for balance transfers, there is still a balance transfer fee
Fees: None
Representative APR: 19.9%
Credit rating required: Good/excellent
This balance transfer card has a long introductory interest-free period to give you the best chance of paying off the debt. It also has a relatively low APR after that period.
Introductory rates:
0% on balance transfers for up to 23 months, 1.5% balance transfer fee
0% on purchases for up to 9 months
Rewards/perks: None
Pros
A popular choice for those with limited eligibility for other credit
A great option for building credit
Cons
Steep APR
No introductory rates for purchases or balance transfers
Fees: None
Representative APR: 34.9%
Credit rating required: Low/poor
This is a card for people looking to build (or rebuild) their credit.
With a lower credit limit, it should be easier to make and manage repayments to demonstrate your responsibility to future lenders.
Introductory rates: None
Rewards/perks:
Manageable credit limit of £200–£1,500 (subject to status)
Two optional credit-limit increases a year if you meet requirements
Pros
Every purchase can make you money
Cons
No introductory interest-free period for purchases or balance transfers
Fees: None
Representative APR: 22.2%
Credit rating required: Good/excellent
American Express offers credit card holders quite a few perks – and its cashback offer is better than anything else on the market at the moment.
Introductory rates: None
Rewards/perks:
5% cashback on all purchases in the first three months (up to £100)
0.5% cashback on spends up to £5,000
1% cashback on spends of more than £5,000
Access to Amex global assist services
Pros
Brilliant offers for those who shop in M&S
A low APR
Reasonable introductory offers
Cons
Hefty balance transfer fee
The rewards aren't useful if you aren't an M&S customer
Fees: None
Representative APR: 19.9%
Credit rating required: Good/excellent
The Marks & Spencer Reward Plus credit card offers a relatively low APR and a huge swathe of rewards for shopping, especially valuable for M&S customers.
Introductory rates:
0% on balance transfers for 6 months, 2.9% balance transfer fee
0% on purchases for 6 months
Rewards/perks:
500 points (worth £5 at M&S) sent with card
Choose paperless billing for a further 1,000 points
2 points earned for every £1 spent at M&S in the first year
1 point for every pound afterwards
1 point for every £5 spent elsewhere
Pros
Excellent for students just learning to manage credit
A low APR rate
A card made for those with no credit history
Cons
Must have a student account with HSBC
Must prove enrolment on a college or university course lasting more than two years
Fees: None
Representative APR: 18.9%
Credit rating required: Poor/none
For a student with no credit history, getting a credit card is difficult unless it is made for students.
This one is tied into a student bank account from HSBC with a low credit limit and APR.
Introductory rates: None
Rewards/perks:
Manageable credit limit from £250
Earn cashback through Visa Offers
Pros
Simple, straightforward credit card for foreign currency purchases and cash withdrawals
Cons
No perks or benefits added
Some other cards with more bonuses also offer fee-free travel spending
Fees: None
Representative APR: 19.9%
Credit rating required: Good/excellent
The Halifax Clarity card is designed for regular travellers who often make purchases in a foreign currency.
Introductory rates: None
Rewards/perks:
No foreign transaction fees
Worldwide fee-free ATM withdrawals (although the ATM operator might charge a fee)
All spending converted to sterling on your statement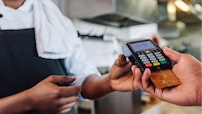 Top 12 Credit Cards in the UK
What Is a Credit Card?
A credit card is a way to spend money that you don't have, by having access to a set limit of funds provided by a bank or other financial institution.
Credit cards can be used to make purchases (much the same as a debit card) and then the money spent has to be repaid, either in full or in monthly instalments.
Unlike a loan or a mortgage, the amount of credit available on a credit card is usually relatively small, depending on circumstances like your current financial situation and your credit report (which describes your financial history).
You can spend up to the amount set as your credit limit. If you do not pay off the balance within the statement period, you will have to pay interest on what remains.
This means you may end up paying back significantly more than you borrowed.
Things to Consider Before Applying for a Credit Card
When you are deciding on the best credit card for you, there are different criteria that you can use.
You may come across unfamiliar terminology. The short glossary below explains the most common terms:
Annual fee – This is the cost of using the credit facility and is separate from other fees. Sometimes this is a monthly fee.

APR – This stands for 'Annual Percentage Rate', which describes the interest rate over a period of 12 months. You could consider this the actual cost of borrowing. If the APR is 20%, a balance of £100 over 12 months would mean you will repay £120. No interest is charged, however, if the balance is paid in full and on time.

Balance – The money you owe to the credit card company or bank.

Balance transfer – Moving the balance from one card to another, usually to avoid high-interest charges and to take advantage of 0% introductory rates to pay off debts. This usually comes with a balance transfer fee of between 1–2% of the balance to be transferred.

Credit limit – This is the maximum amount that you can spend on a credit card. Usually, the higher your credit score, the higher your credit limit.

Credit score/report – Your credit report is a collection of all the information regarding your financial history. It shows what credit you have used and how well you have managed your credit accounts – including any missed payments or other issues. Your credit score is a number based on the report and is used by the credit card companies to help them decide on your eligibility.

Cash withdrawals – Although a credit card can be used for purchases in the same way as a debit card, withdrawing cash from a credit card is expensive. There are fees per transaction and generally higher interest too.

Default – If you miss several payments, a default will be registered. This usually means you have 14 days to pay the amount in the default notice. Defaults are recorded on your credit file and remain there for six years. They can also have a negative effect on your ability to gain credit in the future.

Foreign transaction fees – If you use the card to shop abroad or online in a foreign currency, you may be charged a fee in the form of a percentage rate. Sometimes there may be a transaction fee too.

Interest-free – An amount of time (usually in an introductory period) when no interest is applied to balances. To make the most of the interest-free period, pay the balance before the rate reverts back.

Minimum payment – Every credit card has a minimum monthly payment that must be made if there is a balance. This usually consists of a percentage of the balance as well as any interest or fees. The minimum monthly payment will be on the statement. It is worth remembering that you will be paying significantly more (and for significantly longer) if you only pay the minimum monthly amount.
What Types of Credit Cards Are There?
Not all credit cards are the same, and this can make choosing the right one for your situation difficult. Knowing about the different types will help you narrow down your options. It will help you pick the best credit card too.
0% Purchase Credit Cards
Some cards offer an introductory 0% interest rate on purchases.
These cards are great if you are planning a big purchase, such as a holiday or a car, and want to spread the cost over several months rather than paying it off all at once.
Using a credit card for bigger purchases has the added benefit of protecting your purchase and preventing fraud, as well as giving you more time to pay.
Remember to pay the balance before the introductory rate ends, otherwise you will end up paying interest as well.
0% Balance Transfer Credit Cards
Consolidating credit from multiple sources (like other credit cards, store cards or personal loans) means one payment will go out.
Cards that offer a balance transfer facility will usually have an introductory period with 0% interest to make it faster for you to clear the balance.
Make sure that you can clear the balance before the end of the introductory period or be prepared to move the balance to another balance transfer card so that you avoid the interest charges.
Credit-Building Cards
If you have no credit history (for example, as a student) or a bad credit history that you want to improve, a credit-building card is the best option.
They are usually more accepting of poor credit and offer manageable credit limits so that you can demonstrate you are able to meet your payments.
Credit-building cards usually have a much higher APR than other credit cards.
Business Credit Cards
A business credit card can be used to make purchases for a business and may offer extra cards to a specific account so that employees can charge things like expenses.
As they are made for businesses, they can offer a much higher credit limit than personal credit cards.
Reward Credit Cards
Reward cards are often provided by retailers in their banking arm, and the rewards tend to come from earning points on spending.
You can earn a certain number of points for every pound spent, and these can either be converted into vouchers towards shopping in that store or converted for use with other retailers (depending on the provider).
These cards may also have bonuses upon opening an account.
Cashback Credit Cards
Similar to a reward card, a cashback card offers a percentage of your spending back to you as cash.
Usually, this is less than 1% of the total spend, but there are some cards that offer more than 1% – and you can find introductory offers with up to 5% cashback available.
Student Credit Cards
As the name suggests, these are credit cards aimed at students.
As most students will not have any credit history, student cards that are tied into student bank accounts are more relaxed regarding eligibility.
However, you will need to prove that you are enrolled on a 2+ year course at college or university.
Student credit cards will have a manageable credit limit like the credit-building cards, but as they are tied to a bank account, they usually have a much better APR.
Travel Credit Cards
Foreign transaction fees can make it expensive to use a credit card abroad, so for frequent flyers, a card that is designed for travel is an attractive option.
Travel cards will not charge fees for using the card for purchases abroad, and they often come with other travel-related perks like travel insurance or air miles.
Reasons to Get a Credit Card
The obvious reason to get a credit card is to borrow money, but there are some other savvy reasons why having a credit card could be a good idea:
Credit Score
If you are looking to build (or rebuild) your credit score, then a well-managed credit card can make all the difference.
Making regular payments, on time, and keeping below your credit limit will have a positive effect on your credit history, making you more eligible for other credit in the future like a loan or even a mortgage.
Cheap Borrowing
Taking out a 0% interest credit card can be a less expensive way to borrow smaller amounts of money – as long as the balance is cleared during the 0% period.
If you don't have a 0% period, then the higher APR will cost you considerably more in the long run, and in some cases, a loan might be a better idea.
Rewards, Cashback and Extra Features
Credit card companies want you to choose them when you are considering a new credit card, so they offer enticing rewards. Some of these can boost your bank balance in different ways.
Whether it is cashback, points, air miles or discounts, reward credit cards offer you something back for spending money you were going to be spending anyway.
This is not an excuse to go on a shopping spree. Keep in mind that you will have to pay back what you have borrowed, as well as fees and interest.
Extra features with some cards might include lower fees, insurance or even gift cards.
Fraud Protection
Credit cards offer greater protection against fraudulent transactions than debit cards, thanks to Section 75 of the Consumer Credit Act.
If you notice suspicious activity on your credit card or a transaction you do not recognize, simply report it to the lender and, usually, you won't have to pay the amount owed.
Can You Apply for a Credit Card Online?
There are several ways that you can apply for a credit card, but the fastest and often the simplest is by using an online application process.
If you are applying for a credit card from a bank, you can go to your local branch and apply in person. Some credit cards accept postal applications; you can download and print an application form, pick one up from a branch or ask for one to be sent to you.
A telephone application process will consist of a call handler going through the application form for you during the call.
Online applications are faster.
You can usually find out if you have been accepted for the card immediately upon completing the application, and the card itself will normally be with you in about 10 days.
It is often faster to apply for a credit card offered by your bank as they already have the relevant information they need to make a decision.
If more information is needed, the decision may take a bit longer, around 5–10 days, depending on when you apply.
Applying early in the week means you have a greater chance of getting the application reviewed faster.
To make the most of your application, remember that the information you provide needs to be accurate.
You also need to be sure that the card you are applying for is suitable – multiple applications for credit in a short time can have a negative impact on your credit rating.
This can be avoided by using an eligibility checker to perform a soft search on your credit history to discover the likelihood of you being accepted.
Do You Need to Send Identification Documents if You Apply for a Credit Card Online?
An online application uses several resources to check your identification and credit – these include the electoral roll, which confirms your address, and credit reference agencies.
It is often simpler and quicker to pass identification checks when you apply for a credit card from the bank that you already have an account with, as they should hold a lot of the information.
There may be instances, however, when further details are needed to confirm your identity.
To prove your income for affordability purposes, the credit card company may request copies of:
Your driving licence or passport
Utility bills
Bank statements
These further checks can delay the application.
Any further documentation usually needs to be posted to the credit card company or taken into a branch, if you're applying through a local bank.
In some cases, the documents can be scanned and uploaded to a secure document storage facility.
What Information Do You Need to Apply for a Credit Card Online?
To prevent fraud and ensure that you are suitable for credit, card companies need some information from you.
It is important that you have all the details to hand when you fill out the application form – this will make it much quicker.
Name (and Name Changes)
Establishing your identity and credit history through credit reference agencies requires your full name – and any name changes that you may have had (such as through marriage).
Date of Birth
To be eligible for credit, you must be over 18. Your date of birth will also help to identify you.
Nationality
If you're applying for a UK credit card, credit is usually only available to UK residents.
Current Address and Address History for Three Years
Your address history should be easily confirmed through the electoral roll.
The credit card company may also need to know your previous addresses if you have moved within the last three years.
Employment Status
Some credit card companies will not lend to people who are not full-time employees, while others are happy to take on people receiving certain benefits or working part-time.
Salary
As responsible lenders, credit card companies need to make sure that people applying for credit can afford repayments – and to do this, they ask for the applicant's income.
Final Thoughts
When considering a credit card, there are many different options available and the best way to decide which one is right for you is to really think about why you need it.
There are always more options available to those who have a higher credit score, so to see if you are likely to be accepted you can check your credit report for yourself using a facility like Experian or Equifax.
Most credit card companies now offer an eligibility checker which performs a search on your credit file without adding any more information.
Several credit applications in a short space of time, whether you are accepted or denied, can have a negative effect on your score.
When considering credit cards, remember that you are liable to pay back any spending plus interest and fees, so be sure you can afford at least the minimum monthly payments.
It is always much better to pay the balance in full and on time, especially if you are taking advantage of a 0% interest introductory offer.
Failure to keep up your repayments will reduce your credit score and make it much harder to get credit in the future. Defaults stay on your credit history for six years.
WikiJob does not provide tax, investment or financial services and advice. The information provided is for general reference and you should not rely on it to make (or refrain from making) any financial decisions. Personal situations will vary. Always seek independent financial advice when choosing how to manage your finances.
---