A List of 10 Key Competencies
Competencies: A Definition
Key (or core) competencies are specific qualities that a company's recruiters consider desirable for employees to possess.
They are often used as benchmarks to rate and evaluate candidates during the recruitment process, especially when reviewing application forms and at interview.
During the recruitment process, you will likely be asked competency-based questions, and the recruiter will use your answers to determine your suitability.
You should therefore identify the key competencies of any given role at the beginning of the application process, and match your skills and experience to them.
Often, you will be given 'essential criteria' that will outline the competencies the company has identified as key.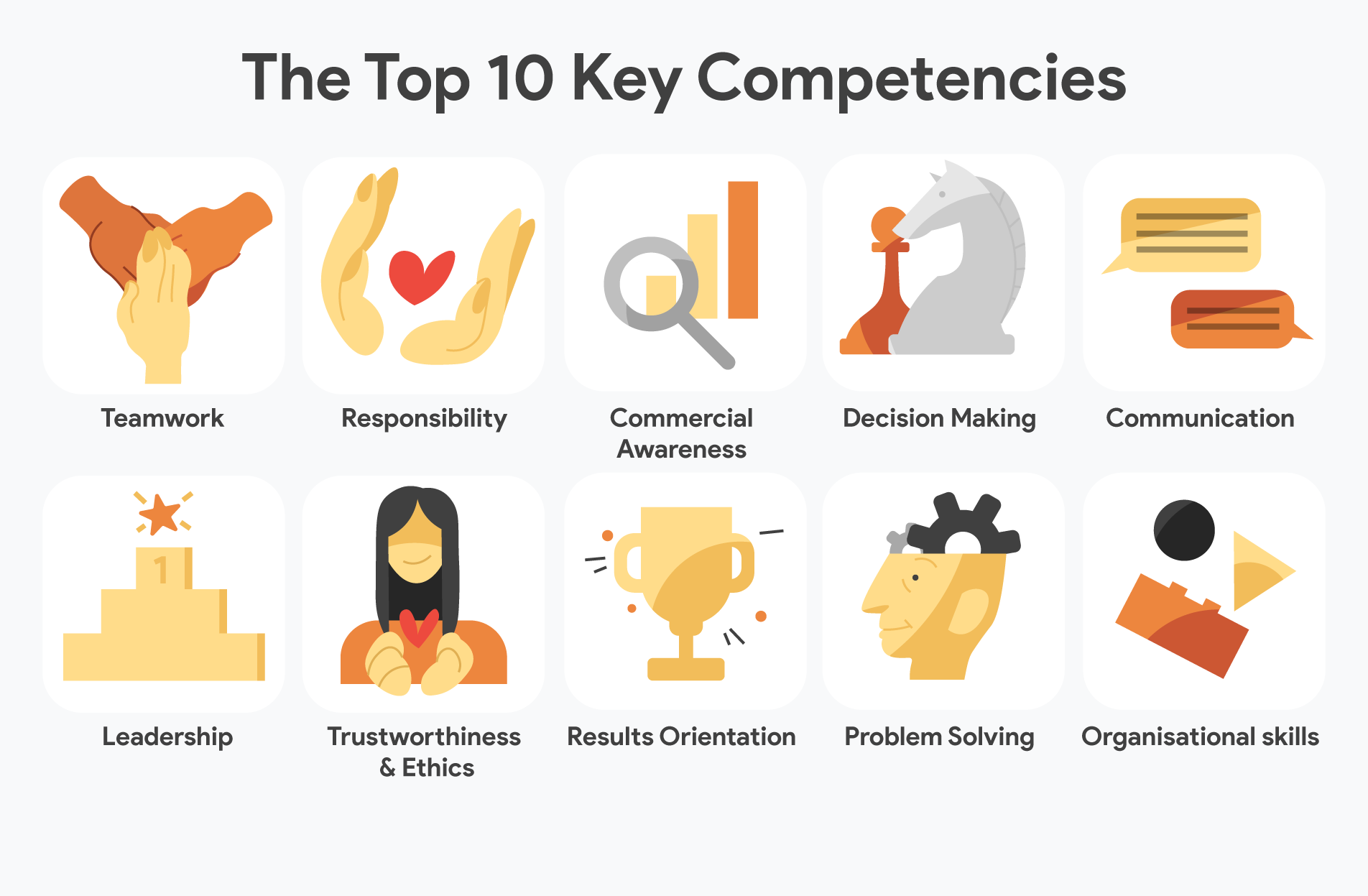 Here is a list of the top 10 examples of core competencies that employers use when recruiting candidates:
Also Awesome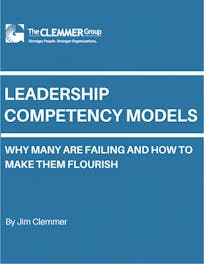 Leadership Competency Models
Why Many Are Failing and How to Make Them Flourish
Used effectively, leadership competency models become a roadmap to dramatically higher leadership effectiveness. Dozens of studies have shown that 50-70% of organization improvement initiatives like customer service, leadership development, quality improvement, etc. have failed. The implementation of leadership competency models is clearly heading toward the same cliff.
Download the Free eBook Now
Top 10 Key Competencies
Vital for the majority of careers, because teams that work well together are more harmonious and more efficient.
Even if you work alone or remotely, it is still important that you are able to communicate ideas and see the bigger picture of how your work will be used by others in the organisation.
Being able to work well in a team shows that you value others, can show empathy and have the maturity to realise that no work is standalone.
Employers will be assessing whether you are able to work with others towards a common goal and graciously share credit.
Working in a team requires excellent communication skills and problem-solving abilities, which you will need to demonstrate in any examples you give. See below for further details on both those traits.
The ability to take on a certain level of responsibility is necessary for most jobs. Candidates that are good at taking responsibility are comfortable making decisions or taking ownership of their work.
At senior levels, the responsibility that an employee is expected to bear will be greater, but even in entry-level roles, the recruiter will want to see examples of how you have handled responsibilities in the past.
This will give them a good indication of how you work under stress, how you resolve issues and your work ethic in general.
Are you looking to improve your interview skills? Then get professional assistance with FlexJobs!

In a 30-minute, fully confidential mock interview, you will have time to practice real interview questions, improve your confidence and be fully prepared to perform well during your interview.

Your interview coach will ask real interview questions, provide helpful feedback and offer support.

You will also be given a post-interview report and futher resources.

Coaching starts at just $89
An employer wants to know that you understand how their business works. Only then can you really understand your role within it.
Most simply put, it is about staying up-to-date with your industry and business in general. This includes marketing trends, customer demographics, technical advances, and the successes and failures of competitors.
To improve your commercial awareness, keep abreast of the latest industry news and fully research your chosen company and its competitors.
Get as much work experience as you can, so you can demonstrate to an employer that you understand the role.
An employer will want to see that you can make the best possible decisions in the shortest amount of time, by gathering information, seeking opinions, analysing all possibilities and coming up with an effective solution.
Decisions can often be very complex and the possible outcomes very serious, so recruiters will examine whether you can explain the reasons behind your decisions.
Excellent communication skills are essential in any role. What employers really want to know is that you can convey information in a way that is confident, professional and easy for others to understand, whatever their level.
This might involve communicating information to colleagues, dealing with customers or negotiating successful contracts.
Generally, employers are looking for good written and verbal communication skills. Sometimes they will scrutinise your presentation and listening skills too.
WikiJob also produces a psychometric tests app, available for both Apple and Android, which includes 8 verbal tests, with a timer and worked solutions.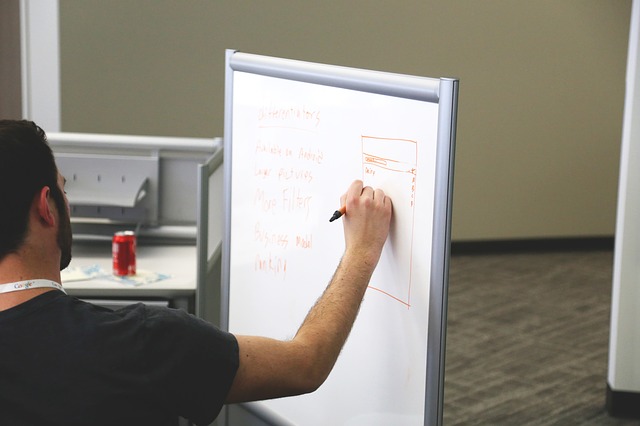 Leadership abilities are especially important if you are looking to progress into a management position. Even if not, employers still want to see that you are the type of person who can progress in their company and motivate others.
Leadership will involve skills like delegating and setting deadlines, but it is also about your leadership style. You will be assessed on how you communicate with others, how you build relationships and how you handle conflict.
A person who is trustworthy and aligned with the ethics of the business will build better relationships with existing staff members and enhance teamworking efforts.
They will also be able to build real relationships with customers, who will trust that they have their best interests at heart.
Demonstrate your trustworthiness by being honest and open in your application, and show good moral judgement if asked about difficult workplace scenarios.
If a person is results-oriented they are focused on their goals and understand the steps needed to achieve them. They will also have the motivation to see projects through to fruition and motivate others to do the same.
Being results oriented is also about knowing how to set goals with steps that are realistic and achievable whilst also being ambitious enough to increase levels of motivation.
Demonstrate this competency by thinking of real-life examples of when you stuck to a task despite overcoming problems, met a deadline or managed budgets.
It's important to demonstrate that, when a problem arises, you are able to stay calm under pressure, research possible causes, identify trends and choose the most relevant solution.
You are going to encounter problems at work, and employers want to see how you will deal with this. The more senior you are, the more problems you will likely have to resolve.
For some roles, problem-solving is a key aspect, such as analysts, law professionals and customer-service-based roles.
10. Organisational skills
In any business, being organised is highly prized. An employer will be looking at how you achieve results by prioritising workload, effective time management, showing efficiency with resources available and monitoring progress.
Final Thoughts
Key competencies are important benchmarks for assessing a candidate's suitability for a role.
Competency-based questions, whether in an interview or on an application form, will focus on the key traits outlined in the job description.
It's important to make sure you have identified these, and can evidence them with relevant examples from your prior work, education, or hobbies and travel.
---