Best Jobs for Sociology Majors
Sociology involves studying different cultures, social groups and the behavior of humans.
The field specializes in finding solutions to complex questions in our society through critical thinking, data analysis and research.
At the end of their degree, a sociology graduate will have a range of practical and transferable skills that will be useful in many industries.
Many people don't realize the benefits of studying sociology and wonder how many sociology jobs are available. However, not all sociology graduates go on to work as a sociologist, and the skills and specializations available to a sociology major are so diverse that many related careers are available.
Sociology major jobs can be in mental health, education, government, criminal justice, charity and social work, research, media, and more.
Why Study Sociology?
If you are interested in people, society, government and policy, then a degree in sociology is the right path for you.
Studying humans, their behavior, their social groups, their culture and the government around them is both interesting and informative.
Additionally, as a sociology major, you will have access to a range of social topics in:
Aging
Crime
Education
Families
Gender
Health
Population
Poverty
Racial and ethnic relations
What Is a Sociology Degree?
Sociology is an area that has seen a lot of demand as well as a lot of competition. In the US, four different kinds of sociology degrees will lead to jobs:
Associate degree
Bachelors degree
Master's degree
PhD
Associate Degree
An associate degree, while not leading to the highest pay bracket, is a good starting place.
It is a two-year foundational program offered through community and online colleges and will lead to jobs as a:
Caseworker
Community outreach advocate
Youth worker
Several assistant positions in public services
Bachelor's Degree
A bachelor's degree in sociology will give you access to a variety of professional opportunities and careers and, according to payscale.com, an average salary of $60,454.
Initially, you would take general courses, and then after your first year, you can take electives and specialize in an area that interests you.
Universities typically offer two types of bachelor's degrees in sociology – a Bachelor of Arts (BA) or a Bachelor of Science (BS).
A BS program focuses more on research theories, data collection, methodologies and analysis.
A BA in sociology takes a more interdisciplinary approach with a greater focus on liberal arts.
Master's or PhD
For many jobs in sociology, especially those in social services, a bachelor's degree is sufficient, although further qualifications will give you an edge over the competition.
For a job as a sociologist or a career in administrative leadership (as a civil servant or in public research) a master's level qualification is required as it provides you with advanced skills and knowledge with a focus on ethnographic research, quantitative approaches and a global understanding of the world.
You can also customize and further specialize during your master's degree if you have an interest in a particular area.
You may also need further study if you choose to branch out your sociology bachelor's degree with another career, such as counseling, that requires further qualifications.
For higher-level positions that involve leadership roles in government, conducting research in the field or a teaching position in a university, a PhD-level qualification will be necessary.
You will typically have a focused program of study in a niche area and the PhD program will take about three to five years to complete.
What Skills Will You Have After a Sociology Major?
Skills learned through a sociology degree are very marketable and transferable. These skills are used in a variety of fields and:
Help you to see the world in different ways
Allow you to engage with lots of different types of people
Ensure you think critically about different situations
Some of the top skills of sociology majors are:
Statistics
Cross-cultural understanding
Data collection
Analytical skills
Strong writing skills
Research skills
Critical thinking and problem solving
What Jobs Can You Get With a Sociology Degree?
A sociology degree opens up many paths, and it is a good idea to consider the type of career you would most enjoy (social, corporate, legal, government, academia, etc.).
A corporate career with a background in sociology would involve jobs in human resources, business development, sales or customer services.

A social services career would involve working closely with other individuals or communities and helping them by providing advice, social support or therapy.

A legal or government career with a sociology background would lead to work in legal advice and assistance (family law, immigration, employment law, civil rights, etc.), public policy, and advice.

An academic career in sociology is a good option if you enjoy research and teaching.
According to the Bureau of Labor Statistics, the most common employers for sociology majors were in research and development and educational settings.
Common sociologist positions include roles in high schools and post-secondary settings, statisticians, survey researchers, policy analysts and demographers.
Before you choose your career path, some questions to consider are:
What skills and tasks am I good at and enjoy doing?
Do I want to pursue graduate study?
What type of work environment and pace of work appeals most?
Do I prefer working in the private or public sector?
What are some goals I would like to achieve through my career?
Top 10 Jobs in Sociology
Sociology opens the door to many career paths. Below is a list of the current top 10 sociology careers you can pursue with a major in sociology.
All wage and job prospects information is gathered from the US Bureau of Labor Statistics.
1. Community Health Worker
Average salary: $38,370
Community health workers work with individuals and groups who are typically not well served by the medical system to receive the care they need.
This often includes individuals from marginalized groups, such as ethnic minorities, individuals facing hardship and immigrants.
A sociology major would be well equipped for this job, although they may need to pursue further job-related training to work as a community health worker.
A sociology major would also have the advantages of understanding cultural differences, having cultural awareness and sensitivity to the diverse issues faced by their clients.
A sociology major would have all the background training and skills to excel in this position and the job outlook prospects for 2019–29 show a growth of 13%, which is much faster than the average.
2. Community Service Manager
Average salary: $67,150
The role of a community service manager will vary based on where you work, but often includes developing ideas for social programs, providing objectives for community service projects, and identifying and procuring resources and funding to execute programs.
The community service manager is also involved in conducting the program as well.
A sociology major with a bachelor's degree is well trained in all the aspects required for this position.
The job outlook for 2019–29 for a community service manager has a predicted growth of 17%, which is much faster than the average growth of jobs, so it is a career worth considering.
3. Guidance Counselor
Average salary: $57,040
A guidance counselor works with all ages and levels of students in elementary school, secondary school, college and university, supporting them in their academic career and social environment.
A sociology trained guidance counselor uses their knowledge of the sociology of learning to help students with their goals.
Their skills also allow them to effectively communicate with families and understand the many different backgrounds students come from, and to support them with their achievements.
A master's level qualification in school counseling (or related) is required in addition to a bachelor's qualification in sociology.
Job prospects for guidance counselors look good, with a predicted growth of 8% in 2019–29.
4. Human Resources Specialist
Average salary: $61,920
A sociology background would be ideal for an HR professional. The job mainly involves dealing with other people and HR is responsible for recruiting, training, conflict resolution and support for company employees.
To be competent, the HR specialist needs to be able to communicate clearly and provide support in the workplace, and this can include interacting with people of different ages, backgrounds and ethnicities.
A good understanding of diversity training and interpersonal skills are core skills of a sociology graduate.
HR requires a bachelor's degree; however, further training and experience might be necessary and will vary based on the position and employer.
Jobs' outlook for HR specialists looks to be faster than the average with a growth of 7% predicted.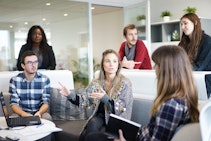 sociology major jobs
5. Market Research Analyst
Average salary: $63,790
Understanding the market, consumer behavior, and communicating findings and recommendations to the client are key components of market research.
Conducting market research is an area that is well in demand as corporations try to understand their consumers better.
The job outlook for this field for 2019–29 predicts growth much faster than the average at 18%.
While it is not a career that immediately suggests sociology, the strong research and data analysis skills and a knowledge of social trends and behavior that a background in sociology provides are an ideal skill set for a market research analyst.
However, strong math skills are essential and some positions might also require a master's degree.
6. Mental Health Therapist
Average salary: $49,610
Mental health therapists provide support to patients who suffer from a variety of social, emotional and psychological issues that hinder their daily lives.
Completing a master's degree in counseling will be required. However, a Bachelor of Sociology is a great starting point as it will provide the initial skills to be successful.
Sociology majors often end up choosing this career as they have a strong interest in understanding and supporting individuals to improve society.
Further on-the-job training (such as a residency or internship program) is also required.
Job prospects for the field are very promising and predicted to grow 22% for the period 2019–29, which is much faster than the average.
7. Policy Analyst/Officer
Average salary: $59,312
Policy analysts can work in both a public capacity for the government or in the private sector. Salaries can vary widely depending on the industry and organization and can be well above the figure noted above.
The main job of a policy analyst is to research the various issues that affect the public and provide recommendations to address these problems.
Having a background in sociology will help analysts understand the diversity of the issues faced and have cultural awareness, as well as giving them a toolkit of strong data analytical skills that allow them to assess the effectiveness of legislation on various social groups.
Job prospects appear to be stable.
8. Probation Officer
Average salary: $54,290
Probation officers work alongside the legal system to evaluate offenders and to determine the best course of treatment and repercussions.
They provide the resources required for rehabilitation, ongoing monitoring of their progress and the support needed to reintegrate back into society.
A sociology bachelor's qualification with a specialization in criminology and psychology would be ideal for work in this position.
Additionally, a sociology major's interpersonal skills and awareness of cultural situations would set them up for success in this profession.
Candidates will be required to pass written and oral psychological exams before employment.
Job prospects for the field also appear to be stable.
9. Social Worker
Average salary: $50,470
Social workers work with a diverse range of clients to help individuals, couples, families, communities and many different groups improve their lives and understand the challenges they face.
A background in sociology will give the social worker the tools and knowledge of interpersonal relationships, social structures and social inequalities faced in these situations, and a bachelor's degree is sufficient qualification.
However, if you want to become a clinical social worker, you will need to complete a master's degree. You will also need two years of supervised experience and have to be licensed by your state.
Job prospects are good and predicted to grow by 13%, which is faster than the average.
10. Sociologist
Average salary: $83,420
Sociology majors who continue their studies and complete their master's or a PhD in sociology can pursue careers in research and teaching, usually within a college or university setting.
Their in-depth knowledge and skills will be used to teach other students, conduct research and analyze new data, publish books and journal articles, and sometimes even provide policy advice.
Job prospects in the area are expected to remain stable.
Final Thoughts
Choosing a sociology major is the right decision for students who are keen to be active citizens interested in initiating change in society.
The current economic outlook remains uncertain, but career prospects for sociology majors in the US will continue to be in demand.
The employment outlook for sociologists is projected to grow around 4% from 2019 – 2029 which is the average pace for all occupations. And many of the top sociology jobs are predicted to grow faster than the average.
These predictions may increase further.
For example, the business sector might be more inclined to rely on market research to understand the changing needs of their consumers after the current global crisis.
There may be many more marginalized groups and individuals who require the support of social workers, mental health workers and community managers.
Sociology is a field that shows a lot of promise as it equips you with analytical skills and other transferable skills that are useful for understanding many different people, social structures, industries and a changing employment landscape.
It is a competitive field so further study or training is recommended as it will open the door to more opportunities and career progression for you.
---