10 Highest Paying Jobs for Animal Lovers
All products and services featured are independently selected by WikiJob. When you register or purchase through links on this page, we may earn a commission.
Which Career Paths Care For Animals?
As an animal lover, a career revolving around the care of animals may sound exciting. Working with animals is a rewarding experience, contributing to both the general care of animals and the emotional well-being of animal carers.
Watching animals learn and grow their confidence over time is reason enough for most animal carers to stay in the industry. Fortunately, animal lovers have plenty of opportunities to make a living doing what they love.
With an increasing global focus on animal well-being, organizations are always encouraging people to become animal professionals. As a result, there are plenty of incentives for people to make animal care a part of their life.
Jobs involving animals vary greatly. While there are opportunities to work with various species as a caretaker or a biological professional, some positions require expertise in a specific animal species.
There are also varying entry levels for careers involving animals. It is possible for you to enter a career with few or even no qualifications and build your experience from the start of your career.
However, some jobs (such as marine biologists) will require extensive educational experience, sometimes as much as (or more than) professionals who work exclusively with humans.
Types of Animal-Centered Careers
Animal Rescue
Animal rescue may be conducted in various ways since there are multiple environments in which animals may need to be rescued.
This career path consists of rescuing and caring for animals from unsafe environments. These include hostile natural environments, hostile urban environments and even hostile home environments.
Different qualifications will be required depending on the nature of the animal rescues involved.
Animal Study
There are plenty of avenues available for the biological and behavioral study of different animal species.
With one to two million animal species available for study, there is an overwhelming opportunity to specialize.
Specialists will be required to know about different environments based on their field of study. In addition, they'll often need to provide their expertise during animal rescue programs and veterinary scenarios.
Animal Breeder
Animal breeders are responsible for producing animals for various purposes and generally specialize in one species.
The purposes for animal breeding include:
Show competitions
Sports
Companionship (pets)
Military use
Farm work
An animal breeder's required experience will differ depending on the animals they work with.
Animal Training
Like breeders, animal trainers are responsible for conditioning animals to behave effectively in different environments.
They also specialize in one species and usually train the animals for specific purposes.
Some trainers may focus on developing particular behaviors in animals that a general trainer may not be equipped to train.
Veterinary
Veterinary disciplines administer medicine and medical practices on a variety of animals. This career path can lead you to many environments depending on the specialty you choose.
The medical welfare of animals can be applied in different environments, including wildlife areas, clinics, zoos, farms and more.
Each vet will also have a specific range of animals to administer.
Vets are also responsible for health research, disease control and euthanasia.
While the field of animal care is growing in popularity, it is important to note that not every career path promises lucrative job opportunities.
While animal practices pay well, most animal specialists usually stay in their profession out of passion for the job.
Top 10 Highest Paying Jobs for People Who Love Animals
1. Veterinarian
A veterinary path is one of the highest-paying animal-focused careers. A vet role typically requires extensive academic qualifications and demands the same medical devotion as health professionals for humans.
There are many avenues available for veterinary practice – specialists have the option to work with a wide range of animals within different environments.
For example, veterinarians may choose to work with larger animals, domestic animals, exotic animals or even endangered species. It is also possible to focus on one particular animal, becoming a specialist and possibly improving your salary.
Vets may also choose a research-oriented career path, studying diseases and producing medicine. This career path will require work in various environments and may even involve travel.
There are many different veterinary practices, each providing unique experiences and challenges:
Companion animal veterinarian
Zoo veterinarian
Military veterinarian
Veterinary dermatologist
Veterinary surgeon
Mixed practice veterinarian
Veterinary technician
Wildlife veterinarian
Average Salary
£71,000
Requirements
Doctoral degree in veterinary medicine
Relevant veterinary license
2. Wildlife Biologist
Wildlife biologists are responsible for studying and collecting examples of animal behavior and biology within various habitats.
They generally find employment within an academic body, federal government programs or private-sector organizations.
A wildlife biologist's duties are largely dependent on their designated programs and include the following:
Complex data analysis
Conducting censuses
Studying ecosystems
Tending to endangered species
Studying wildlife disease and viral activity
Public presentation on studies
Conducting research papers and scholarly articles
Depending on their work environment and current programs, wildlife biologists have the opportunity to apply vast knowledge to the care and conservation of animal welfare.
Average Salary
£47,000
Requirements
Bachelor's degree in animal or environmental-related studies (minimum)
Doctoral degree in related studies (preferred)
3. Zoologist
A zoologist is dedicated to studying animal behavior in both the wild and captivity. They identify how certain species interact with an ecosystem, taking into account different variables that might affect them.
A zoologist is required to travel frequently, gather data, and monitor and manage wildlife.
Further responsibilities include the following:
Monitoring the diet of wildlife
Observing their physical nature
Tracking migration patterns
Tracking animal life cycles
Identifying threats such as diseases or invasive pests
Given the vast amount of available data and environments, there are specific fields of zoology that require specialization, including the following:
Cetologist – Specializing in marine mammals (e.g. dolphins and whales)
Herpetologist – Specializing in reptiles and amphibians (e.g. frogs and snakes)
Teuthologist – Specializing in mollusks (e.g. slugs and snails)
Mammalogist – Specializing in land mammals (e.g. monkeys and bears)
Average Salary
£52,000
Requirements
Bachelor's degree in zoology and wildlife biology (minimum)
PhD in related studies (for independent research positions)
4. Conservation Officer
Conservation officers (also known as 'peace officers' or 'environmental technicians') act as law enforcement within natural environments. They often have jurisdiction over natural trails, parks, forests or areas where wildlife may be at risk.
Conservation officers have lawful authority to detain criminals who pose risks to natural habitats and environments. They often patrol outdoor areas that attract local visitors and tourists.
Average Salary
£46,000
Requirements
Bachelor's degree in criminal justice, fish and wildlife management or any related course
Civil Service certificate
Law enforcement training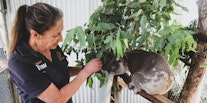 10 Highest Paying Jobs for Animal Lovers
5. Conservational Biologist
A conservational biologist is a scientist interested in conserving natural habitats, animal species and ecosystems.
This career path has many fields available for specializing and requires you to consistently interact with nature and wildlife.
A conservational biologist is responsible for the extensive research of biotic interactions, attempting to extend the life span of certain species.
Furthermore, they are also responsible for conserving planet resources within water, land and air environments.
Average Salary
£46,000
Requirements
Bachelor's degree in ecology, environmental science or any related science (minimum)
Doctoral degree in related studies (for research and teaching)
Relevant certifications (wetland conservation, soil conservation, range management, etc)
6. Animal Nutritionist
An animal nutritionist uses their assessment of an animal's overall status to create and administer a particular diet.
This career path requires a strong background in science, as you must implement various scientific practices, such as animal behavior (ethology) and biochemistry.
An animal nutritionist's duties include creating nutritional and lifestyle plans for animals in different environments.
Environmental placement may vary depending on their responsibilities. For example, a pet specialist will experience a different work process to a farm specialist.
Average Salary
£39,000
Requirements
Bachelor's degree in animal sciences or related studies (minimum)
Postgraduate degree in related studies (preferred)
7. Marine Biologist
A marine biologist must research and collect data on ocean wildlife and ocean environments.
This career path focuses exclusively on marine wildlife and involves collecting vast amounts of previously unrecorded data. It is an exciting, rewarding career path for animal lovers to embark on.
A marine biologist's duties include studying the behaviors of the sea population and assessing the conditions of habitats. This will often consist of assessing the impact of human activity on ocean environments.
Average Salary
£36,000
Requirements
Bachelor's degree in marine biology (minimum)
Doctoral degree in marine biology (for faculty positions)
8. Pet Sitter
A pet sitter provides relief for pet owners on a busy schedule by taking care of their pets within a designated schedule.
Pet owners are responsible for a pet's diet, exercise and emotional well-being. They will act as a stand-in owner, applying absolute focus to the pet and their needs.
Their duties include:
Feeding
Exercise
Cleaning
Grooming
Administering medicine
Providing consistent attention
Average Salary
£30,000
Requirements
There are no certifications required to be a pet sitter. However, experience is always preferred.
9. Animal Control Officer
Animal control officers are responsible for maintaining public safety by handling animals that pose a risk to the public or are at risk from the public.
They are generally employed by a federal or local government and must enforce regulations relevant to the animal control department.
An animal control officer must work with animals from many environments, ranging from wildlife to domestic.
Their duties include:
Animal rescue
Investigating animal cruelty
Capturing dangerous animals
Providing necessary animal supervision
Average Salary
£24,000
Requirements
High school diploma (minimum)
Bachelor's degree in criminology or an animal-related field (preferred)
10. Zookeeper
A zookeeper will generally focus on a specific section of a zoo, building relationships with a particular species, such as gorillas, hippos or elephants.
A zookeeper's responsibilities include feeding the animals within their care, cleaning the simulated habitat and educating visitors about the various species.
As a zookeeper, you will have the opportunity to consistently learn and work with animals in a controlled environment.
Average Salary
£21,000
Requirements
It is possible to enter this position without qualifications and expand your career with work experience.
However, there is a growing trend of zookeepers attaining bachelor and postgraduate degrees for animal-related studies.
Frequently Asked Questions
No. Many animal-centered jobs only require experience and can be started at entry level.
However, many research and health administration career paths will require you to have at least a bachelor's degree in an animal or biology-related field.
The best courses for animal-centered jobs involve animal, biology or environmental studies.
Here is a list of the most popular degrees for animal careers:
Animal science
Zoology
Animal behavior
Marine biology
Environmental science
Equine studies
Veterinary technology
Veterinary nursing
Generally, veterinary and animal biology careers offer the most lucrative salaries in animal care.
However, the top 10% of workers in other animal careers can earn equally lucrative salaries.
If you would like the opportunity to be constantly involved with animals, then jobs such as zookeeping or pet sitting may satisfy you the most.
Careers requiring constant contact with animals also include animal training, animal study and breeding.
Practicing veterinarians are required to have achieved a degree from a Doctor of Veterinary Medicine (DVM) program.
After achieving a doctoral degree, you must then qualify for a veterinary license.
Final Thoughts
Working with animals is one of the most rewarding career paths anyone can pursue. While it may be tricky to find lucrative opportunities in this career path, depending on the area you choose, your dedication may lead to you eventually earning as good a salary as other high-profile professions.
However, many animal lovers find the opportunity to work with animals rewarding enough and will happily take working in close proximity with animals for a lower salary.
Working with animals has been scientifically proven to benefit people's mental well-being – just one of the reasons for the increase in animal-focused careers.
There has also been an awareness of the Earth's climate and its effect on natural habitats worldwide. With the growing knowledge of climate change, animal professionals are needed more than ever to provide research and respite for the world's many species and environments.
---