Essential Business Roles Within Any Organization
All products and services featured are independently selected by WikiJob. When you register or purchase through links on this page, we may earn a commission.
Whether you are starting your career in a new sector or you are trying to progress your career after years of experience, knowing and understanding the different roles in your organization can be vital for your career progression.
You may feel that there are some roles in large organizations that are superfluous to requirements, but it is a proven fact that clearly defined job titles make it much easier to establish who is responsible for what.
This clear definition of roles and responsibilities makes it much easier for management teams to establish who is overachieving and who needs additional help and support.
It helps businesses put plans into place that is designed to improve efficiencies and benefit from business growth.
But what are business roles, and why are they so important?
What Are Business Roles?
Business roles define your organizational structure.
Typically broken down into three distinct areas (executive, managerial and operational), having a clear definition of roles means that employees know what is expected from them.
Not only does it help employees identify how their position directly impacts their employer's success, but it helps to shape a career development pathway that is ideal for those with ambitions to progress.
What Are the Benefits of Having Clearly Defined Business Roles?
From a logistical perspective, having clearly defined business roles makes it much easier to set expectations.
Employees know what they need to do, and other colleagues are well aware of individual responsibilities and limitations.
This means that collaboration between employees is far more effective and tasks are completed seamlessly.
So what are the different types of business roles?
Business roles can broadly be broken down into three distinct areas; these take you from the very top of your organization to the recruits just starting their careers.
Executive Business Roles
These are the job roles where individuals take full responsibility for the running of the company.
These workers are under significant pressure to simultaneously combine the day-to-day management of the business with short-term and long-term strategies to prepare for future growth.
They also have to be hugely reactive to outside influences (such as societal, political, economic) and understand how national and international policies can impact the business.
As you may expect, these leadership roles are less about hands-on work and more about ensuring that the right people are in place to manage smaller responsibilities.
Managerial Business Roles
The term 'managerial business role' can have two very distinct variations.
There is the role of the middle manager, and there is also the role of the supervisor.
Both have quite different expectations, and as such, each role is clearly defined.
Middle Management
Although middle managers are often derided for seemingly having little purpose, the reality is that those working in middle management business roles play an intrinsic part in liaising between C-suite executives and frontline workers.
Middle management responsibilities include:
Seamlessly communicating the impact of frontline operations with the executive team
Communicating the wider business goals to all employees
Ensuring that the right systems and processes are in place
Supervisory Management
In contrast, supervisors are about leadership and helping to ensure that individual teams are working to the best of their ability.
If you're working in a supervisory business role, your responsibilities could include:
Helping your team to succeed
Delegating tasks to individuals.
Identifying training needs
Implementing career development pathways and spotting career potential
Operational Business Roles
This is also known as the grassroots element of any organization. These are the roles of the individuals working on the ground.
This could be shop workers working within a retail outlet or it could be warehouse operatives working within a manufacturing plant.
At this level, you may have more than one individual working in the same business role, especially if you are a large organization.
Equally, if you are a smaller firm, your operational business roles could be carried out by only one or two employees.
In essence, the operational side of your business is the people who do the work that you specialize in.
25 Essential Business Roles Within an Organization
Now we know what the general hierarchy is within many traditional business models, let's break these down further.
Here is a list of 25 business roles that are essential to many organizations:
The Important Executive Business Roles
1. Chief Executive Officer
The CEO is the person who takes full responsibility for the overall running of the business.
The CEO is responsible for long-term strategic planning, and everything that the CEO does drives changes to enhance business growth.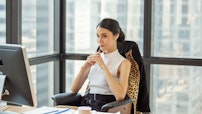 25 Essential Business Roles Within Any Organization
2. Chief Operating Officer
The COO works closely with the CEO, taking responsibility for the day-to-day running of operations.
The COO's main responsibility is to put the CEO's strategy into practice and ensure that the business has everything it needs to function correctly.
3. Chief Financial Officer
The CFO may be responsible for driving investment opportunities, and they work closely with the entire finance team.
They could also work alongside a financial controller (or hold dual roles), where they are responsible for the budgets, the cash flow and any assets.
4. Chief Marketing Officer
The marketing department will project your brand vision. Therefore, the CMO will take responsibility for the entire department.
They will need to create marketing strategies, campaigns and lead a team of experts to help raise the profile of the business.
5. Chief Technology Officer
If a business is built upon the latest technology then a CTO would run the operations.
The CTO works alongside the IT department to ensure that all systems and infrastructure is in place to enable the company to work efficiently.
Many CTOs will take the responsibility of implementing automation or AI into your business.
To find out which jobs fit your personality best, visit our partner CareerFitter and take the Career Test for FREE.
6. Executive Assistant
The role of the executive assistant is to provide all the required administrative tasks required by the senior team.
This could be scheduling appointments, taking meeting notes or writing reports.
7. President
This business role is similar to that of the CEO. It's an overarching responsibility for the entire organization.
As a business grows, you may find that you have a CEO and a president. In this scenario, the president would be the person that the CEO reports to.
8. Vice President
The VP works closely with the president to establish the strategy and communicates them with the middle management team.
It is an operational, hands-on role that facilitates the transition between what the management teams require and what the operational teams are capable of.
The Important Managerial Business Roles
9. Product Manager
These are the employees who take responsibility for the development of your product line.
They will be responsible for customer analysis, product purchasing and establishing effective distribution lines.
10. Purchasing Manager
The purchasing manager may be responsible for purchasing specific stock that your business sells.
They will build strong relationships with suppliers to establish effective pricing strategies.
The purchasing manager may work closely alongside the product manager.
11. Project Manager
Project managers may work closely with multiple departments to ensure that specific projects (as devised by the senior management team) are carried out on time and within the budget.
12. Finance Manager
These are the people who are responsible for managing a team of accountants or bookkeepers.
They will collate a series of reports such as projections of profit/loss and ensure that all company expenses are reported accurately.
13. Marketing Manager
This is the person who will handle the marketing campaigns for the company.
They may take responsibility for internal and external communications and will report directly to the CMO.
As marketing is a varied profession, if you have a large team, you may have marketing managers responsible for individual specialisms such as SEO, content, digital, design, etc.
14. Office Manager
This is an all-encompassing role that takes responsibility for ensuring that all of the general operations are working effectively.
As well as providing administrative support to the entire middle management team, the office manager may undertake specific tasks for individual departments such as marketing or human resources.
15. Regional Manager
If you have multiple locations across different towns, cities or states, it is impossible to oversee each brand individually.
The regional manager will take responsibility for a select number of locations and will work with those branches to ensure that they are working to the directives set out by the Executive team.
16. Human Resources Manager
The HR manager is responsible for the development of internal policies and workforce plans.
They will lead talent acquisition plans and ensure that everyone is working as effectively as they can.
They will also be responsible for ensuring that the business adheres to all local, state and federal regulations.
17. Quality Control/Safety Manager
If you are working in a manufacturing or production sector, then your QC or safety manager will have important responsibilities.
This person will ensure that your business is fully compliant with all regulations and will collate a series of reports to ensure that your business can show its compliance.
The Important Operational and Production Business Roles
18. Sales Representative
Businesses relying on sales often need sales representatives to help boost the sales of specific products or services.
These employees will need to build strong relationships with individual customers and help to facilitate loyalty amongst shoppers.
Often, sales representatives may receive a commission in exchange for facilitating and improving sales.
19. Customer Service Representative
If you're working in a public-facing role, you may wish to employ a customer service representative.
This is the person who will help work closely with customers to facilitate seamless transactions.
Their role may include returns, refunds and trouble-shooting. Everything is based on creating an exceptional customer experience.
20. Administrative Assistant
Admin assistants or receptionists are often the first points of call for visitors coming to your office.
As well as greeting guests, answering phones and scheduling appointments, they often play an important role in making sure that they are portraying the right impression of the company.
21. Business Analyst
In the world of big data, the business analyst is there to help you understand data and predict trends.
This information can be used by HR and marketing teams, as well as the executive staff to make changes to the business strategy, using the data as tangible evidence to justify any decisions.
22. Marketing Specialist
Within your marketing team, you will likely have different specialists taking responsibility for individual roles.
These people are those who are talented in key areas of marketing and collaborate carefully with other members of your marketing team.
23. Human Resource Personnel
Individual HR staff will be asked to complete tasks, such as:
Performance reviews
Identify training needs
Checking compliance matters
Managing any internal staff disputes
The HR team will also be the department responsible for ensuring that everyone is paid accurately and on time.
24. Accountant
The accountancy team will be responsible for balancing the financial accounts of the company.
They'll be responsible for making sure that all sales are logged correctly and that profit/loss and balance sheets are available for the finance manager and the CFO to use.
25. IT Technician
If your business relies upon technology, you'll likely need an IT specialist to ensure that all of your IT systems are working correctly.
Your IT specialist will provide on-hand technical support to keep everyone up and running.
Final Thoughts
When it comes to defining the essential business roles for your business, you must consider your size and sector.
As a smaller business, many of your employees may naturally hold dual roles, which could blur the boundaries of responsibilities.
It is important to be clear on business roles so that your business can function as effectively as possible.
By taking the time to create clear distinctions in your business job titles, your employees will know what they are expected to do and to whom they should report.
From an executive management perspective, this gives you greater clarity over which departments (or individuals) are thriving and are directly impacting your business growth.
From an employee perspective, it also means that your employees feel comfortable that there is a clear career progression pathway available to them.
If you are a small business looking to expand, breaking down essential corporate positions into these three distinct areas (executive, managerial, operational) may give you strategic insight into how you can progress and develop your business.
---