10 Best Jobs for a Midlife Career Change
All products and services featured are independently selected by WikiJob. When you register or purchase through links on this page, we may earn a commission.
It's not unusual to get to a point in your career where you start thinking about a career change.
If you have worked in the same role since graduating from college, what was once fresh and exciting can start to feel boring and mundane.
Careers can and should be flexible.
We spend most of our lives at work, so it is only right that you feel happy and fulfilled at the office. There is no guarantee that what interested your 18-year-old self when you chose your college major will still be of interest in your mid-40s.
Your hobbies may have changed somewhat, or you may be considering adjusting your health and stress levels.
It is thought that today's millennial generation (born 1980–2000) will change jobs up to five times during their career.
As millennials make up a significant part of the workforce, it stands to reason that midlife career changes will become increasingly common.
Why Do People Seek a Midlife Career Change?
There are many reasons why you may be looking to change your career.
It could be as simple as wanting to work in a career that matches your lifestyle choices, in a role that works better alongside your outside interests and hobbies. Or you may have been forced into a midlife career change due to job loss or relocation.
Your lifestyle may have changed significantly since you took your first steps on the career ladder. Or you may be looking for a switch between part-time or full-time hours.
You may even be considering a midlife career change to remain professionally satisfied – perhaps your existing role isn't giving you enough opportunities to upskill yourself.
Whatever the reason, you have more choices than ever before.
What to Consider When Making a Midlife Career Change
If you are considering making a midlife career change, there are a few things to think about:
Will a career change provide you with financial stability?
Will it help you to use new skills and to feel professionally challenged?
Do you have the experience or transferable skills to help you enter a new job role?
Will you need to undertake any specific training or gain any professional licenses to enter your chosen profession?
Will your chosen career change be relevant in the next 10 years as technologies, preferences and ways of working change?
You may find that some positions offer an easier transition than others.
Thanks to new technologies, many job roles have emerged over the past 10 years which are distinctive yet retain similarities to other professions.
For example, roles in social media management can be undertaken by people with marketing qualifications, and data analyst roles are now commonplace within human resources teams.
If you know what your soft skills are as well as your technical skills, you can start to identify those job roles that may be ideally suited to you.
If you are considering changing your job, you may wish to speak to a career counselor.
You could even look at some of the job roles listed on our career horoscopes pages for inspiration.
Top 10 Jobs for a Midlife Career Change
This list is by no means exhaustive. It offers a starting point for understanding what opportunities are available if you are looking to change your career.
Your choice of career change may depend on your skills and expertise, as well as the potential salary of the new career you are considering, and any prerequisites for the role.
1. Administrative Assistant
Typical salary: $15.56 per hour
Requirements: n/a
Required skills: Organization, written skills, communication, project management, record keeping
If you are looking for a stable job that offers a positive home-life balance and minimal stress, an administrative assistant role could be for you.
Businesses employ admin assistants to undertake the administrative tasks that they don't have time to do. These are wide-ranging and may include answering the phone, filing paperwork and ensuring deadlines are met.
The role could also involve working with teams of people to ensure that everyone has what they need to work effectively.
There are opportunities for career progression within administrative roles.
For example, you could work closely with IT or finance departments to input key data into a system (data entry). Through this type of role, you can gain opportunities to learn leadership skills and understand how to delegate.
This is a good choice for a midlife career change if you are happy to start in an entry-level role but are keen to find ways to progress your new career.
2. Business Consultant
Typical salary: $70,000 per annum
Requirements: Master's degree
Required skills: Communication, problem-solving, analytical thinking, critical thinking
If you're looking to make a midlife career change but you want to remain working adjacent to your existing profession, then business or management consultancy could be the right approach for you.
This is a job where you can share your expertise and insights with other businesses. You will help them to identify new opportunities for business growth and make recommendations to help them succeed. You must therefore possess extensive experience in your chosen profession to have the credibility to tell others what to do.
Business consultants typically work independently at home and can manage their hours. It's a popular choice for those who are looking for a positive work-life balance.
They may go into businesses for short periods to identify strengths and weaknesses.
It's an ideal career for those who are analytical or problem solvers. This role requires effective communication skills and the ability to collaborate closely with other people.
3. Data Analyst/Data Scientist/Statistician
Typical salary: $75,000 per annum
Requirements: Bachelor's degree
Required skills: Programming, math
We now live in a world where 'big data' is king. If you have an affinity for math and you can understand how to interpret data to predict trends, you can work in a variety of sectors and industries.
Professions such as marketing, human resources, healthcare and sports all use data analysts and statisticians to help them make informed decisions.
The wealth of possibilities arising from data analytics is still in its infancy, so this is an opportunity for you to take your existing knowledge and convert it into something new.
These are roles requiring technical skills and may be particularly relevant to those with a computer science major.
You may also need to look at upskilling yourself further with courses in data science or business analytics.
4. Financial Planner
Typical salary: $62,000 per annum
Requirements: Professional license, finance major
Required skills: Math, data analytics, people skills, communication, problem-solving, sales
As a financial planner, you'll work closely with people to help them make positive financial decisions. It is a good career choice for those who consider themselves a 'people person'.
You'll need to have specific knowledge of a variety of financial variations such as mortgages, pensions, insurance, stocks and bonds, taxes, and risk management. This means that there is ample scope to specialize in a key area and focus your attention on that specialism.
Most financial planners tend to be self-employed and in control of their workload and priorities. However, setting up can be daunting and you may need to have a client list to work from until you get established.
It's a good choice for those with sales experience. It's also popular amongst psychology graduates who understand how people behave and why.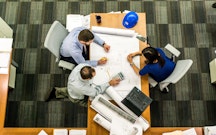 10 Best Jobs for a Midlife Career Change
5. Project Manager/Coordinator
Typical salary: $86,000 per annum
Requirements: n/a
Required skills: Project management, organizational capabilities, record keeping
As a project manager or coordinator, you'll be tasked with the administrative side of getting projects done. This job role is ideal for keen organizers who can ensure that tasks are completed on time and within budget.
There is plenty of career potential within project management. Not only can you stretch yourself with larger projects, but you can also develop leadership skills.
A key area of project management is building a network of professional experts who can help you to complete projects effectively. You'll learn how to delegate, how to keep projects on track and you'll be heavily involved in financial/contractual matters as well.
This is hugely popular as a midlife career change because it can make the most of the organizational skills you will have developed throughout your working life.
6. Realtor
Typical salary: $78,000 per annum
Requirements: State license
Required skills: Negotiation, people management, communication, creative thinking
As a realtor, you'll be responsible for buying and selling properties. This could be on behalf of businesses and corporate clients, or it could be working with individuals to help them find their dream home.
You get to build a network of close contacts and be involved in finding properties and creating contracts.
Realtors often come to the profession late in life because it's a job that offers greater flexibility.
This is a good choice if you have exceptional negotiation and people-management skills. It's also popular for those who can think creatively about how to sell a property and want to work closely with clients.
7. Social Media Manager
Typical salary: $44,000
Requirements: Background in marketing or business analytics
Required skills: Communication, design, problem-solving, data analytics
Whilst social media may seem an 'easy' job role, it's much more than simply posting on Facebook and writing a few tweets.
Brands understand that social media is the most effective way to reach out to and communicate with their target audiences.
Social media managers will spend time creating effective strategies that work alongside the overall business and marketing goals of an organization. They'll be responsible for working alongside marketing and sales teams and will have to provide comprehensive insights into which areas of social media are providing the most effective return on investment.
It's a great midlife career choice for those who have worked in communication roles and understand how to positively garner an audience's attention.
8. Teacher
Typical salary: $14.78 per hour
Requirements: State teaching license
Required skills: Communication, organization
As a teacher, you'll be responsible for sharing your knowledge and helping young people to develop new skills and passions.
There is a wealth of opportunities within the academic world. You could choose to work as an elementary school teacher or in a high school.
If you have experience working within a specific profession, you could even work as a lecturer at a university or community college.
Salaries will depend on your experience.
You'll spend much of your time planning lessons, communicating directly with students (or their parents) and marking report cards. You'll have responsibility for helping students identify what they are good at and can make a significant difference in their lives.
If you have a desire to help people, teaching can be an extremely fulfilling and rewarding career choice.
9. Web/Software Developer
Typical salary: $78,000 per annum
Requirements: n/a
Required skills: Coding, design, project management, IT
As a web or software developer, you can choose between working independently at home or as part of an in-house team or agency. This is a growing industry and you can find opportunities for work throughout the United States.
You'll be responsible for building new websites, apps or computer programs.
It's a creative role that requires insight and experience in coding and the key functions of an effective website or piece of computer software.
If you've previously worked in an IT or project management role, or you've worked closely with marketing or creative design teams, this is a possibility for you to use your existing skills in a new, exciting way.
10. Writer/Editor
Typical salary: $51,000 per annum
Requirements: n/a
Required skills: Creative writing, grammar, communication, organization
If you have a flair for words and an understanding of what makes a great story, you could consider a midlife career change as a writer.
These days, being a writer isn't just about writing the great American novel. It can be about providing effective content for businesses, for example.
You may find yourself working on blog posts, web copy, PR or marketing material, or you could go down a more 'traditional' route into journalism.
As a writer, you'll have the opportunity to work from home regularly. You'll also have the chance to work alongside marketing and PR departments for companies, helping them to draft compelling copy to showcase their strengths and attract new customers.
Although you do not need any specific qualifications to work as a writer, you may benefit from experience in communications departments.
Those working in HR or sales may find they can easily transition to marketing/PR roles where writing is a key component of the job.
Top Tips for Making the Most of Your Midlife Career Change
Step 1. Think About Your Interests and Abilities
If you are considering making a career change, it's wise to spend time researching your opportunities before taking the plunge.
You want to find a job that matches your natural capabilities. If you're a born problem-solver, try and remain within that context – it will help to ease the transition and give you a greater chance of success.
Step 2. Don't Be Afraid to Retrain or Gain New Qualifications
Heading back to school can be exciting, particularly if you are keen to retrain in a completely different area.
Look at what courses are available and see if there are any which work around your existing job.
You could also speak to your employer. If you are keen to upskill yourself and you're looking to change career as part of a bid for professional development, your employer may sponsor you to complete a qualification such as an MBA specialization.
Step 3. Talk to Others About Your Options
Choosing to change your career is a big decision. Make sure that you talk through your options with your family or close friends, and that you are deciding to make a change for the right reasons.
You may be keen to move into a new job because you are disillusioned with your existing employer rather than the job itself.
Seek out independent advice from a career counselor or a recruitment consultant. They'll be able to identify your key skills and make suggestions for alternative careers that match your existing capabilities.
It is also a good idea to ask for an informational interview with someone already working in the role or with the organization you are hoping to work for, to find out more about the job you are interested in.
Step 4. Take Time to Decide
Take enough time to decide what you want to do. Perhaps you want to work independently or maybe you're looking to work as part of a large team.
Think about your drivers and motivations.
When you know what inspires you, then you can start to find the right midlife career change.
---