Incfile Review
All products and services featured are independently selected by WikiJob. When you register or purchase through links on this page, we may earn a commission.
What Is Incfile?
Founded in 2004 and headquartered in Houston, Texas, Incfile helps entrepreneurs turn their businesses into limited liability companies (LLC).
To date, Incfile has assisted more than 500,000 businesses to register and operate as LLCs.
It has more than 27,000 positive public reviews, and it is one of the most popular registered agent services in the US.
The most common services are:
LLC registration
Non-profit
S corporation
C corporation
Preparation and filing for Articles of Organization
Registered agent services
Who Is Incfile For?
Incfile is for anyone wanting to form an LLC. However, the features and services offered are more suited to small business owners or those on a budget.
Incfile also helps with S corporation, C corporation and nonprofit formation.
What Services and Packages Do Incfile Offer?
Incfile services fall under three packages:
Silver Package – Free, Plus State Fees
The Incfile Silver package is an excellent starting point for any new business forming an LLC, C corporation or S corporation.
It is also ideal for those who want to file their LLC fast and with minimal costs. Most competitors charge up to $100 for their registration services, making it budget friendly.
It's marketed as being free, but state taxes will apply. These fees go directly to the secretary of state and are mandatory for all business registrations.
The amount of tax varies between states. Kentucky, for example, only charges $40, while Massachusetts charges $520.
Included in the package are:
Prepared and filed Articles of Organization
Unlimited business name availability search
Statement and Resignation of the Organizer
One full year of registered agent services
Phone and email support
Online order status and tracking
Business tax consultation
Lifetime company alerts
Electronic delivery of state filing documents
Online access to incorporation documents
Next day business processing
You also have the option to add on business contract templates, employer tax ID number, operating contract, and business website and domain name.
If you're forming a nonprofit, S corporation or C corporation, you will receive all of the above plus IRS form 2553 preparation.
Gold Package – $149, Plus State Fees
The Incfile Gold Package is perfect for those looking to get all the basics of setting up a business done efficiently and correctly.
It offers expedited shipping and includes 25 legal templates written by a lawyer.
It includes all the features from the Silver Package, as well as:
Employer Identification Number
Custom Operating Agreement
Express shipping
Banking resolution
S corporation tax form preparation
Corporation bylaws
Organizational meeting minutes
Customized corporate kit
Platinum Package – $249, Plus State Fees
This package offers a fully comprehensive service for creating and maintaining your LLC, nonprofit, S corporation or C corporation.
It is ideal for any business owner who wants to set up as quickly and efficiently as possible, with ongoing support.
The Platinum Package is also suitable for those who may not have access to, or the funds for, a lawyer.
The package includes all services from the Incfile Silver Package and Gold Package, as well as:
Expedited document filing
Sample document library
Domain name
Business email
Business contract templates
The Pros and Cons of Incfile
As with any service, there are pros and cons. However, what may be a disadvantage to one person may not be for another.
You must decide what your business needs are and which registered agent service best suits you.
Below are some of the most common pros and cons of Incfile.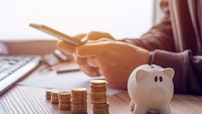 Incfile Review
Pros
Incredibly Affordable
There are not many companies that will allow you to create your LLC for free. This allows those with the smallest budgets to get started.
Name Availability Search
Choosing your business name is incredibly important. Name availability search allows you to find the best one without worrying if it is already taken.
All Paperwork Handled and Submitted
Incfile also has an organized and accessible dashboard for you to upload and store your documents. This allows you to stay on top of deadlines and future requirements.
One Year Registered Agent (RA) Services
Rare to many LLC formation services is the year of free RA services. These services are a legal requirement for all LLCs and help facilitate the smooth running of your business.
Excellent Customer Service
Incfile offers unlimited phone and email support, as well as a time order tracking tool so you know when you'll receive your final documentation.
Tax and Planning Consultation
Whether you choose Silver, Gold or Platinum, you will receive an hour-long business tax consultation with a certified professional. The tax system can get very complicated, and setting up the right business type and knowing your tax limits saves a lot of time, stress and money.
Cons
Mixed Reviews
Not every business is perfect, and there are bound to be some unhappy customers.
The most common negative review is that you don't always get through to customer support on your first attempt. On some occasions, you may need to send a follow-up email.
Some States May Have a Longer Turnaround Time
Each state has its own rules and regulations and may, therefore, take longer to process your application.
What Is a Registered Agent?
A legal requirement for becoming an LLC is that you need to assign a registered agent.
This registered agent can be a person or agency who has been assigned to receive:
Office federal and state correspondence
Tax notices from the IRS and local tax authorities
Lawsuits
Subpoenas for information
Court summons
Wage garnishment notices
Corporate filing notifications
Who Can Be a Registered Agent?
A registered agent can be any person/agency that you deem trustworthy enough to receive and deliver your documents and that meets the following legal requirement:
Be at least 18 years of age
Have a physical registered address in the state of operation
Lives in the state of your businesses operations
Is okay with their address being made public
Depending on your business needs, you can assign yourself, a friend, family member or employee as the registered agent.
Advantages of Using a Registered Agent Service
While some smaller business owners may opt to use an individual they trust, there are advantages to using a registered agent service such as Incfile:
Your documents are guaranteed to be received and forwarded to you in a timely manner.
It gives you, the business owner privacy, as the agent's address is publicly registered and used for correspondence.
Registered Agent services are usually nationwide, allowing you to expand your business more efficiently. You need to assign an RA in every state you operate within. Using an RA service makes this step easy and stress-free.
Additional services usually include informing you about any paperwork you need to take action, ensuring you aren't fined for non-compliance or missed deadlines.
Each state has its own legislation and deadlines. An agent familiar with these will be able to provide you with the correct information.
It saves you from having to deal with legal documents that you don't fully understand, particularly if you don't have the budget for a lawyer.
What to Look For in a Registered Agent Service
When choosing an RA service, consider the following:
Trust – You will depend on the RA to deliver all your legal documents to you promptly. As such, they should be 100% trustworthy.
Positive reviews – Good client testimonials are essential, but you should also consider third-party review sites. These reviews tend to be more honest.
Location – Your RA service should have registered offices in every state you intend to do business in.
Knowledge base – You should choose an RA service that prides itself on being number one in the industry and has extensive knowledge in their field.
Additional services – Consider what is offered in the packages and how it compares to other RA services.
LLC Formation services – What services do they offer, what services do you need and how do they compare to competitors?
Frequently Asked Questions
Incfile offers filing solutions to create different types of LLCs, including:
Domestic
Foreign
Sole proprietor
Multi-member
Series
Restricted
Anonymous
L3Cs
Both S-Corporations and C Corporations can be created using Incfile, as can all four types of non-profits (public charities, professional and trade organizations, foundations and organizations for social advocacy), which means Incfile is suitable for starting schools, churches, museums and hospitals.
Incfile offers competitive pricing on a tiered package structure, and with the Silver package costing $0 (plus state filing fees), it is among the cheapest on the market.
With all packages, Registered Agent service is available for the first year as part of the service (with a $119 annual charge after the first year).
You can choose what type of LLC entity you want to incorporate, and there are extensive resources designed to make it much easier for you to manage your business, especially if you are an entrepreneur.
With the Silver package costing just the state fees to incorporate a business, Incfile is worth using for cost efficiency alone.
However, it also offers unlimited email and phone support, as well as great customer reviews. The online storage option for your formation and other documents is also helpful for most businesses, and it takes the hassle out of finding a good, local Registered Agent as well.
You have nothing to lose by using the Incfile service.
All Incfile packages give businesses the opportunity for one year of Registered Agent for free.
After the first year, there is an annual charge of $119, and you can either choose to use Incfile for this (and pay the annual charge) or choose another Registered Agent. You will need to inform the Secretary of State if you do decide to change, of course.
Incfile is cheaper than LegalZoom on the basic (Silver) package, and it offers a more complete formation service that can file the next business day, and if you want to add an operating agreement to the basic package on Incfile then it is cheaper than it is on LegalZoom.
LegalZoom does offer more specific legal help like contracts and copyright applications, so it would be a better choice for businesses that work in the legal sphere more regularly.
There are three different packages that you can choose when you incorporate your business through Incfile. Each one of these packages does not include the state fees that you will have to pay when you file – these differ from state to state.
The Silver package is the basic collection of filing help, costing nothing except the state filing fees. The Gold package has more benefits and additional services, and it costs $149. The Platinum package offers a lot of different added services – including next-day filing – and that costs $249.
The filing fees need to be paid upfront, but there are several add-on services that you can choose to use which are paid monthly, such as the bookkeeping service.
Several other online incorporation businesses offer a similar level of services to Incfile, including:
LegalZoom
Rocket Lawyer
SwyftFilings
Inc Authority
Northwest Registered Agent
ZenBusiness
Incfile is the cheaper option, especially with the basic package, and the website is considered to be easier to navigate and simpler to use.
ZenBusiness offers good value, and their Registered Agent service is always free, which might be a consideration for businesses that do not want to nominate their own Registered Agent.
Both ZenBusiness and Incfile are well thought of by their customers and clients, getting great feedback from their experience and because of their excellent customer support.
Incfile offers a service that helps businesses to dissolve their LLC by filing the correct paperwork with the Secretary of State.
The service costs from $149 as well as state fees, and for that cost the correct Articles of Dissolution will be completed and filed. This makes it one less headache to deal with in the tricky times of winding down a business.
The Incfile Registered Agent service is free for the first year, and you will be sent a reminder email when it comes to the time to renew the service.
You can choose to renew for the annual cost of $119, but if you do not want to use the Incfile Registered Agent you can choose to appoint a new one. Just decline the renewal in email and notify the Secretary of State about who you are appointing instead.
If you would like some help with this, Incfile is happy to provide it if you email customer services.
Filing with Incfile on a Silver or Gold package usually takes three to four days, and with Platinum, it can be done the next business day. However, the filing process at the State level can take three or four months, and that is where the holdup could be.
Incfile suggests that you begin the process of starting your business about six months before you want to launch so that you have time to get everything you need sorted, filed and ready to go.
Final Thoughts
Creating an LLC, S corporation, C corporation or nonprofit is a big career step that needs to be set up correctly from the start. A good registered agent service will allow you to do this.
Compared to its competitors, Incfile's free Silver Package offers everything you need to get started.
It has an excellent reputation, and the paid subscriptions further facilitate your business operations.
The cons of Incfile are minor compared to the pros, making it one of the best in the industry.
Before making your final decision, decide which services your business will benefit from and what your budget can accommodate.
---