Bank Accounts for Your Small Business
Pros
Different business accounts depending on turnover
Generous opening incentives – $500 bonus if you deposit $2,500 within 20 working days
Access to big bank features such as a rewarding credit card and extensive banking network
Can link to personal accounts
Cons
Low transaction limits before fee charges
Minimum balance: $2,500 for the first 60 days to receive the $500 bonus, $1,500 afterward to avoid fees
APY: 0%
Transaction limits: 100 per month, unlimited electronic deposits, $5,000 per month cash deposits
Fees: No fees if $1,500 minimum balance is maintained
Chase is a branch of the JP Morgan family and boasts over 4,900 branches and 16,000 ATMs worldwide.
Pros
High monthly transaction limit
Large branch network
No fees for stop payments, cashier's checks and business services
Additional services include payroll, HR and business tax services
Cons
High monthly service charge or high balance to waive fees
Low-interest rate fees
High over-transaction limit fees
Minimum balance: $25 to open
APY: Variable and dependent – you need to contact a banker for rates
Transaction limits: 500 per month – excess fees $0.50 per item and $0.30 per $100 cash
Fees: $40 per month – waived with an average balance of $500 (simple business accounts) or $25,000 or $40,000 combined balance.
Wells Fargo boasts 7,400 locations and 13,000 ATMs in 32 countries.
Its Platinum Business Checking Account is best for businesses that handle a lot of cash, as the first 500 transactions and $20,000 cash deposits are fee-free.
Pros
Unlimited domestic ATM fee reimbursement
First set of 50 checks free of fees
Additional services include money market and savings accounts, and full suite of cash management services
Minimum balance: $1,000 to open
Transaction limits: 200 per month – $0.30 per item afterward
Fees: No monthly service fee
Axos was the first digital bank in the US. Having begun trading in 2000, it now has over $11 billion in assets.
Pros
No monthly service fees
50 mobile checks per month
Additional services include credit card processing, payroll servicing and invoicing
Cons
Not available in every state
No interest-earning accounts
Minimum balance: None
APY: 0%
Transaction limits: 150 per month – $0.50 per item afterward
Fees: $5 for a paper statement
US Bank is the fifth-largest bank in the US, having been in operation since 1863 and specializes in supporting small businesses.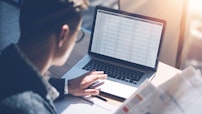 Top 8 Bank Accounts for Your Small Business
Pros
Overdraft available
Free automatic in/out payments
Deposit up to £20,000 in cash at your local post office – £3 charge
Integrates with Xero, FreeAgent and QuickBooks
Option to include £2 per month euro business account and £5 per month US dollar business account
Cons
No face-to-face banking or financial advice
Monthly fees: None
FSCS protection: Yes, up to £85,000
Additional information: £7 per month toolkit that includes invoicing, auto-matching email integration and VAT record
Starling is one of the UK's best digital banks and considered one of the best for small-business banking.
Pros
No fees for card payments in the UK or overseas
Access to Tide Mastercard
Integrates with FreeAgent, Sage, Xero and QuickBooks
Free account comes with the ability to schedule payments
Cons
No face-to-face banking or financial advice
Fees include £0.20 fee per bank transfer and £1 for cash withdrawal
Monthly fees: Free for a basic account, £9.99 for a Plus account and £49.99 for a Cashback account
FSCS protection: No
Additional information: Plus account comes with one free expense card; the Cashback card includes all features and £0.05 cashback
Tide is another fast-growing digital bank based in the UK.
Pros
Overdraft available in app
Monitor cash flow
Spending insights
Visa Commercial Card available for a £32 annual fee
Cons
No international payments
£3,000 cash transaction limit and 0.5% fee for every £100 exceeding that
Monthly fees: Free for 18 months, then £6.50 per month
FSCS protection: Yes
Additional information: To keep up with fintech, HSBC has launched the Kinetic Current Account, which can be accessed through the banking app and is designed for small businesses.
Pros
Side Hustle plan includes 30 transactions per month and three invoices, and you can connect one to three other institutions
Professional plan comes with unlimited transactions and invoices, and the option to connect four or more external institutions
Professional plan also has an accountant log-in option
Cons
No face-to-face banking or financial advice
No integrations but does have own bookkeeping tools
Not a financial institute so no access to additional funds
Monthly fees: £3.60 per month for the Side Hustle plan and £12 per month for the Professional plan
FSCS protection: No
Coconut is not a bank, but a specially dedicated digital business current account designed to help you manage and streamline your finances.
What Is a Business Bank Account?
Regardless of the stage of your business, having a business bank account is essential for your financial operations.
Business bank accounts follow the same concepts as a personal account – money in and money out – but they often come with additional services such as:
Business and financial advising
Invoicing
Running payroll
Helping with taxes
Business accounts sometimes come with a service charge and transaction fees.
As most financial institutions offer business banking services, they may also offer joining bonuses and incentives.
What Are the Advantages of Having a Business Bank Account?
Looks More Professional
If you run a business that sends out invoices, it looks more professional if that document has an official business name.
It also provides a layer of trust between you and your customer as their money is going to a legitimate business account rather than a personal one.
Easier for Tax and Accounting
As all your business transactions are in one place, it is easier for your accountant to offset expenses and assess how much tax you need to pay.
It also saves time as neither party needs to work through a year's worth of both personal and business transactions.
Additional Resources
Not every business account offers the same package, but most provide additional services such as HR, payroll and relationship managers.
Build your Business's Credit Rating
Building good credit allows you to access more funds either through loans or credit cards.
There are credit cards that help you build credit but managing your finances through a current account shows you are a responsible business person.
Who Needs a Business Bank Account?
In the US, if you are operating a business under a different name or as a separate legal entity such as an LLC or C-corp, you are required to have a business bank account.
In the UK, limited companies are legally required to separate their personal and professional finances.
Sole traders, freelancers and contract workers do not need a separate account as they are their business. However, if they want to keep their finances separate and enjoy the advantages of a business bank account, self-employed people can open business accounts.
Sole traders, freelancers and contract workers should also consider a business account if they offset a lot of business expenses, such as travel.
What Do You Need to Open a Business Account?
For businesses in the US:
Employee Identification Number (EIN) or Social Security Number (if sole proprietor)
Business formation documents
Ownership agreements
Business license
Personal photo identification for account signers
May need a minimum deposit
For businesses based in the UK with a turnover under £6.5 million, a clearly defined ownership structure and with all owners operating in the UK:
For proof of identification, one of the following:
Full and valid UK or foreign passport
National Identification photocard
Full UK paper driving license
Full UK or foreign photocard driving license issued by UK or member states of EU and EEA
For proof of UK address, one of the following:
Full UK paper driving license
Full UK or foreign photocard driving license issued by UK or member states of EU and EEA
UK or foreign bank/credit card statement – less than three months old and not printed from the internet
UK mortgage statement – less than 12 months old and not printed from the internet
Council tax bill, payment book or exemption card – less than 12 months old
Utilities letter or bill – less than six months old, not printed from the internet, and ideally not a mobile phone bill
For proof of business, all of the following:
Companies House registration number
Business details – turnover, tax information, other capital
Details of directors or partners – full name, date of birth, address, National Insurance number
Depending on your employment status, you may not need to show all of the above.
For example, sole traders and freelancers may not have many business details or a registration number.
How Do I Find the Best Business Bank Account?
The best business bank account depends on the size of your business and its needs. Every business owner looks for something different.
First, you need to consider what type of income and transactions your business generates.
Most accounts have different fees for different transactions. You need to find an account that charges the least for the type of transactions you complete the most.
You need to assess:
Monthly fees
Transaction fees
Check fees
Automated payment facilities and fees
Overdraft availability and charges
Added extras
Access to additional funds
Integrations with accounting software
In summary, the best one is the account that ticks all or most of your boxes.
Top Tip
When choosing your business bank account, select the one that suits your needs for the next 12 months, not where you see the business in three to five years.
Each year reassess your finances and goals and switch to a different account if you need or want to.
This ensures that your account is serving you and your business. You can also take advantage of any signup bonuses or incentives.
Final Thoughts
Having a separate business bank account is essential for certain types of businesses.
Even if you're a freelancer or sole trader, it may be worth opening a business bank account to keep your expenses and transactions separate to your personal current account.
If chosen incorrectly, however, a business bank account can end up costing you more money in the long term.
Before making your final decision, thoroughly assess your business needs and finances to see which bank account is best for you.
---