Best Credit Cards for Credit Building
A list of the Top UK Credit Cards for Credit Building in November 2023:
Description of the Best UK Credit Cards for Credit Building in November 2023
21.9% APR variable
Credit Limit up to £1,500
No annual fees
The Amazon Platinum Mastercard offers certain benefits:
£20 Amazon gift voucher when you open the account
0% interest for three months – If you miss a minimum payment, the offer is void
1.5 Amazon Reward Points for every £2 you spend on Amazon
0.5 Amazon Reward Points for every £2 you spend elsewhere
£10 Amazon gift card for every 1,000 points
To qualify you to need to have lived in the UK for at least one year, have a regular income and be over the age of 18.
29.5% APR variable
£250–£1,500 credit limit
60 second eligibility test
The Chrome credit card is designed purely for those trying to build credit and was the winner of MoneyFacts Credit Building Card Provider of the Year four years in a row (2015–2018).
They do not offer any benefits or rewards but will increase your credit limit after five statements if you manage to keep up with your payments.
You can apply for this card so long as you have a UK address, are not suspected of fraud and have no legal reason why you cannot get credit, such as bankruptcy.
19.9–34.9% APR depending on your circumstances
Credit limit up to £8,000
This credit card is highly dependent on your circumstances. However, once the APR is set, it will not change.
Depending on your situation, you may also be entitled to:
18 months 0% balance transfer
12 months 0% interest on all purchases
27.5% APR variable
£200–£1,500 credit limit
Similar to the Amazon credit card, Tesco also offers rewards on any spends:
Five Clubcard points for every £4 spent in-store
One Clubcard point for every £8 spent elsewhere
There is also the offer to increase your limit if you maintain payments. You can keep up with your credit score by setting monthly notifications.
To apply for this credit card, you need to have a UK address for at least three years and an annual income of at least £5,000.
33.9% APR variable
Credit limit from £50–£1,200 depending on your circumstances
0% interest for three months
£20 cashback each year if you make your payments
As a reward, Barclaycard has a price promise whereby your interest rate drops by 3% after the first year if you made all your payments and a further 2% after the second year.
To apply for this credit card, you need to have no more than one CCJ and have not declared bankrupcy in the past six years.
You need an annual income of £3,000 and a permanent UK address for at least two years.
37.9% APR
Maximum initial credit limit of £1,200
This card does not have any rewards and benefits. However, Aqua does offer extensive support options such as flexible payment dates and text message reminders, making it a useful credit card for building credit.
Aqua will consider applications from those who are self-employed, unable to prove they have a regular income and have had any CCJs.
34.9% APR variable
Credit limit £200–£1,500
Likely to not award you if you have no UK credit history
Capital One does not offer any rewards or benefits with this credit card. However, it does offer credit increases if you maintain your payment plan.
The company also states that you have a higher chance of being accepted if you are on the electoral roll and have some credit history – even if they are CCJs.
34.9% APR
Maximum credit limit of £1,200
App-based credit card
56 days interest-free period
This is the first credit card by Zopa. Rates and limits are determined by the individual's credit score.
To help build credit, Zopa has a tool called 'safety net', which keeps a portion of the credit limit locked away in case of emergencies.
There are also zero charges for overseas use.
However, if you want to apply, you need:
An annual income of £10,000
Two active lines of credit (for example, overdraft and phone contact)
To be a UK resident for at least one year
39.9% APR
£150–£1,500 credit limit
0% balance transfer for six months
Similar to the Chrome card, Vanquis will increase your limit every five statements if you have kept up with your payments.
To apply, you need to be 18 or over, living in the UK and not legally restricted from getting credit.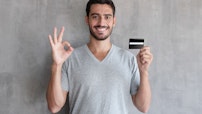 Nine Best UK Credit Cards for Credit Building
What Is a Credit-Building Card?
To obtain credit, such as a loan or mortgage, you need to prove to the lender that you can maintain your payments.
The method by which we assess this is called a credit score.
The score considers how well you pay back any borrowed money and if you pay your bills on time.
However, there are some instances where you will not have a good credit score or a credit score at all.
Examples of these are:
You have had a bad employment history
You have had a poor credit experience
You have not had time to build up your credit history
A credit-building card is a low-limit credit card designed to help you create a credit history.
They are usually less favourable than regular credit cards as they come with higher interest rates and fewer rewards.
Is It Worth Getting a Credit-Building Credit Card?
You should consider getting a credit-building card if you:
Have not lived in the UK for that long and want to start creating a credit score
Are a student or recently turned 18 and want to build up a good score from the start
Have had a history of poor money management
Have experienced periods of unemployment
Are self-employed or are incapable of providing your income
Are planning for the future, and one day intend to take out a mortgage or loan
It is not the only method of building credit; however, it is effective if you keep up with all your payments.
Building credit takes time and requires you to show that you can make sensible financial decisions that will work in your favour.
Card Features to Look for and Avoid
When choosing a credit card for bad credit, you will not find many that offer rewards such as air miles or cashback on all spends.
Credit building cards are functional and are there to serve a purpose. However, it is still a competitive market; therefore, there are some features to look out for.
The most important is the APR.
Many credit card companies will offer different rates depending on circumstances. The better your credit score, the lower the APR.
Find cards with the lowest or fixed APR rates and apply to those first.
Many credit cards might also offer 0% windows either on interest or balance transfers.
These windows offer some breathing space for you to work through or transfer other debts. The longer the window, the better it is for you.
Even those with good credit scores often take advantage of 0% windows by opening a new card and transferring their existing balance over.
If you have any CCJs, check which companies accept those applicants; some will accept one CCJ, others if it has been over a year.
You will also need proof of address and income.
The final feature to look for is any hidden costs or fees. The standard late payment fee in the UK is £12. Are some cards charging more or less? Do some providers offer flexible payment days?
For those with bad or no credit scores, the choices are small. However, taking the first bank that will accept you is not a sensible financial choice.
Thoroughly assess everything the credit card offers before making your applications.
Tips for Building Good Credit With Credit Building Cards
Do not withdraw any cash as they come with high withdrawal fees
Pay your bill on time
Clear the entire outstanding amount if you can
Keep your credit utilisation ratio low
Keep your account open as long as you can
Only have one or two accounts open at any time
Check your credit score regularly
Use this card for what it is, a chance to prove you can make smart money decisions
Final Thoughts
While having a poor credit score is not ideal, it should not be lifetime punishment. Sometimes, events happen beyond our control, and sometimes we make mistakes.
Money-lenders are now realising this and are providing an opportunity to rewrite credit histories.
Regardless of the credit card you choose, to achieve a good credit score:
Always make your minimum payments
Pay as much as you can, when you can
Take advantage of money management tools
Seek help if you need it
Set financial goals and stick to them
WikiJob does not provide tax, investment or financial services and advice. The information provided is for general reference and you should not rely on it to make (or refrain from making) any financial decisions. Personal situations will vary. Always seek independent financial advice when choosing how to manage your finances.
---