Best Online Business Ideas
Why You Should Start an Online Business
The rise of technology and accessibility to the internet has caused online businesses to grow exponentially over the last decade.
As of January 2021, the internet's population consists of 4.66 billion users.
Because of this, the barrier of entry to creating an online business has become considerably lower.
With such a wealth of options, you may have questions about the viability and requirements to run an online business successfully.
Are Businesses Easy to Set Up?
Despite the lower barrier of entry, creating an online business requires a considerable amount of initial work.
Some online businesses are easier to start than others, and most require little-to-no starting capital.
Can You Make Money?
Yes. It is entirely possible to make money from an online business. There are numerous ways to monetize your online platforms.
Who Should Start an Online Business?
Anyone can start an online business as long as they have the necessary knowledge and tools. Avenues exist for everyone.
What's the Difference Between an Online and Physical Business?
The main distinction between the two is access to traffic:
Online businesses have superior customer reach to physical businesses since customers don't physically visit a web platform.
Best Online Business Ideas 2023
1. Creating a Niche Website
Many platforms allow people with little coding knowledge to design and create their monetizable websites.
Popular niches include:
Sports gear blogs
Entertainment blogs
Online pet stores
Traveling blogs/vlogs
How to Start
Conduct thorough research on your niche
Use a web-building platform to design your website
Create your content
Use SEO to improve your site's performance
Join affiliate programs
Regularly publish content to increase engagement
Why Niche Websites?
Along with growing a platform, creating a niche website also allows you to earn passive income.
2. Blogging
Blogging revolves around creating consistent written content around a niche theme.
With a growing audience, bloggers can join affiliate programs to promote related products and services.
Popular Blogging Ideas
Lifestyle
Pets and animals
Career advice
Makeup
Fashion design
Photography
Film and TV reviews
How to Start
Identify the theme of your blog
Choose your blogging platform
Write and post your first blog
Promote your blog through social media
Continue to blog consistently to build a following
Why Blogging?
Blogging provides opportunities to invest in a creative endeavor with the potential to build an audience and make passive income.
3. Digital Products
Digital products are items that are sold without handling any physical products or purchasing any material.
These products include:
Digital images
Photographs
CV templates
Ebooks
Educational PDFs
How to Start
Research the demand for a digital product
Create your digital product
Choose your preferred pricing
Publish the product on online platforms.
Promote your product on online platforms
Why Digital Products?
With digital products, you can sell items without the constraints of storage.
Furthermore, with little-to-no production costs, profit margins are often high.
You can even automate your trading process, creating a venue for passive income.
4. Print-on-Demand
With print-on-demand, an individual can create a design on an item of clothing or kitchenware to have them printed and sold.
Types of Products
T-shirts
Coffee mugs
Key chains
Office utensils
Rugs
Themes
Sports
Memes
Poetry
Inspiration
Personal brands
How to Start
Decide on a niche
Search Google for trends and activity on that niche
Choose which products you would like to sell
Create the design for the products
Advertise the products on your available channels
Why Print-on-Demand?
This industry offers the unique ability to sell customized products without ever handling or storing them.
5. eCommerce
eCommerce is the activity of purchasing and selling products or services over the internet.
Examples of eCommerce Businesses
Dropshipping
Subscription content
Wholesaling
Freemium software
White labeling
How to Start
Decide on a product or service to provide
Research and evaluate the demand for the product or service
Study your potential competition
Choose your preferred platform
Create a business plan
Promote your business on different platforms
Why eCommerce?
Unlike brick-and-mortar stores, eCommerce businesses don't require you to pay overheads or keep physical stock.
As well as larger customer outreach, you also have complete control over your working hours.
6. Subscription Boxes
Subscription boxes are niche-based products packaged and delivered to subscribers over a regular period.
Examples of Subscription Boxes
TV series related action figures
Vegan snacks
Exotic condiments
Drawings and posters
How to Start
Choose a niche
Choose a subscription box model (discovery or convenience)
Create an online platform
Create a business operating model that works for your subscription box theme
Promote your brand
Why Subscription Boxes?
Subscription boxes provide you with the opportunity to create a growing audience and recurring revenue from your interests.
Since the subscription model works on a monthly basis, it provides an avenue of consistent and steady income.
7. Amazon FBA
Fulfillment by Amazon (FBA) provides the opportunity to sell products on Amazon without worrying about storage or shipping requirements.
Business Models Supported by Amazon
Private labeling
Wholesaling
Arbitrage
Dropshipping
Handmade products
How to Start
Research and decide products you would like to sell
Create a business model
Set up an Amazon merchant account
Create your online store
Advertise your products on other online platforms
Why Amazon FBA
Amazon FBA is one of the most lucrative and accessible online businesses to start and run from little-to-no cost.
8. Course Creation
If you have extensive knowledge of a particular subject or hobby, you can create specialized courses around your expertise.
Platforms designed to support online course creation include the following:
Udemy
Skillshare
Teachable
Podia
Thinkific
How to Start
Research and observe the demand for your expertise
Research which platform best suits your style of teaching
Create a list of learning outcomes to advertise with your course
Create a structure for your course.
Decide on a price model
Film and upload your course
Why Course Creation?
The online education industry is said to reach up to £267 billion by 2026.
This trend indicates that the opportunity to start online courses remains readily available for the foreseeable future.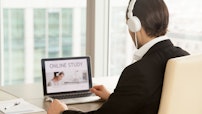 Best Online Business Ideas 2021
9. Affiliate Marketing
Affiliate marketing is an advertising model where individuals receive commissions from companies for promoting a product or service.
Types of Affiliate Marketing
Unattached affiliate marketing (affiliates that have no attachment to the product)
Affiliates clearly have a relationship with the product
Affiliates claimed to have used the product before
How to Start
Choose a platform to post your content
Create your content
Use SEO to optimize your platform
Apply for an affiliate program
Promote the product on your platform
Why Affiliate Marketing?
Affiliate marketing is a low-cost advertising model for both the company and the affiliate.
It takes no capital to become an affiliate and only requires that you build your audience.
10. Web and App Development
Web and App development is the process of designing and building applications for various clients.
Types of Web and App Developers
Front-End Developers
Back-End Developers
Full-Stack Developers
Examples of Web and Apps
Unique blogging websites
Browser-based gaming websites
Productivity applications
Gaming applications
How to Start
Choose a development focus
Use online courses to learn programming languages
Practice making websites or applications
Add designs to your portfolio
Find clients on developer platforms
Why Web and App Development?
Website and application development is one of the most in-demand jobs on the market and will only rise in the foreseeable future.
11. Freelancing
Freelancers are self-employed individuals who provide a product or service to numerous clients.
Examples of Freelance Work
Graphic design
Writing and editing
Computer programming
Fashion design
Jewelry trading
Photography
Web and app development
Search Engine Optimization
Accounting
How to Start
Choose a craft that you are interested in or good at
Search platforms where you can provide your services
Build a portfolio
Reach out to clients and build a reputation
Why Freelancing?
Once you've developed sufficient time management skills, absolute control over your time becomes the most rewarding aspect of freelancing.
12. Consultancy
Consultants are required to provide clients with information, solve problems and help the client's business operate effectively.
Examples of Consultancy Businesses
Social media consultant
Financial consultant
Digital marketing consultant
Fitness and well-being consultant
How to Start
Create a platform that showcases your expertise
Advertise your services on relevant platforms
Reach out to potential clients through email
Build a reputation among your clients
Why Consultancy?
Becoming a consultant allows you to provide value to clients already willing to pay for your service.
You also gain the opportunity to build a reputation in a field of your passion.
13. Podcasting
This form of media allows individuals to broadcast long-form or short-form audio recordings consisting of conversations or monologues.
Examples of Podcasts
General history
Physical health
Mental health
Botany
Biology
Philosophy
Self-development
Lifestyle and motivation
How to Start
Decide on podcast theme
Consider the format of your podcast (how long will it be? Will there be more than one person?)
Purchase necessary equipment
Choose preferred podcasting platform
Why Podcasting?
Podcasting allows you to explore and talk about topics you enjoy with potential audience growth and regular income.
14. Vlogging
Vloggers create short videos to post on platforms (generally social media) for a particular audience.
Essentially, it is blogging in video form.
Types of Vlogs
Lifestyle vlogs
Informational vlogs
Musical performances
Street talent vlogs
How to Start
Decide on your vlogging content
Purchase a video recording device
Buy an editing software
Create and upload your vlogs to your preferred platform
Why Vlogging?
Vlogging is one of the best ways to build engagement towards an existing platform.
There is little to no cost to start; you simply need a video recording device and an internet connection.
15. Website Flipping
Some entrepreneurs will invest in a website to improve it and sell it at a higher price. This process is called web flipping.
Channels for Website Flipping
Brokerage firms – Private platforms that connect buyers to sellers
Closed groups and markets – Platforms including Investors Club, Empire Flippers and certain Facebook groups
Public marketplace sites – Sites like Flippa
How to Start
Research profitable niches
Build or buy a website
Evaluate the site's growth potential
Create a strategy to generate traffic
Optimize the website for monetization
Why Web Flipping?
Once you invest in a website, you will have obtained a digital asset to develop over time and create substantial profit.
How to Start an Online Business
Step 1. Determine Your Niche
Your niche can be anything revolving around hobbies, education, products and more.
However, to ensure success, the niche must be in demand.
Step 2. Research the Market
You must thoroughly research your product or service before placing them on the market.
It is vital that you understand your potential audience and your competition.
Step 3. Learn the Legislation
You must meet the necessary legal requirements of your business to prevent future complications.
Consider these questions:
Does your business require a license to operate? Do you need to attain permits? Are there regulations specifically for your nature of business?
Step 4. Evaluate the Viability of Your Business
It is important to consider the viability of your services or products.
Consider how it compares to services and products online that are similar.
Step 5. Define Your Brand
Your brand is how your audience and potential customers will recognize your business.
You will need to think about your logo design, business name, and other images and graphics that relate to your business.
Step 6. Choose Your Platform
Your platform will be where you will establish your online presence.
There's an abundance of platforms to choose from, including eCommerce sites, media streaming sites, blogging platforms and web builders.
Step 7. Grow Your Business
To optimize your online business, it is vital that you learn to utilize digital marketing techniques like the following:
Social media marketing
Email marketing
Search Engine Optimization
Paid Advertising
Final Thoughts
As technology grows, it has become more accessible for the average person to start their own online business.
There are now more tools than ever to aid people with little tech experience in creating platforms for their business.
With so much access to software, online platforms and a growing internet population, now is the best time to take the opportunity to start a business of your own.
---