11 Best Money-Making Apps in 2023
All products and services featured are independently selected by WikiJob. When you register or purchase through links on this page, we may earn a commission.
Best Money-Making Apps in 2023
Here is our list of the top 11 apps for making a little side money during 2023.
It features a range of app styles, from investment apps like Acorns and M1 Finance, reward apps like Dosh and Earny, and exercise for money app Sweatcoin, so you should be able to find an app that's the right fit for you.
This is possibly one of the most well-known freelance websites around.
It is a worldwide market place which means that there are ample freelance writing job opportunities available.
You must bid for each opportunity you want, with a stand-out proposal so the client chooses you.
However, to get the best use out of Upwork, you need to have most of your work through it, else the fees may not be worth it.
You can develop long-term business relationships, and once you earn above certain thresholds with each client, the fees reduce.
The types of work that can be found on Upwork span a wide range of categories, including:
Web and Mobile Development
Design and Creative Services
Writing and Content Creation
Marketing and Sales
Administrative Support
Customer Service
Data Science and Analytics
IT and Networking
Legal and Consulting
Engineering and Architecture
Ideal for: Shoppers who have a little spare time to answer surveys or watch short videos.
Swagbucks is a loyalty and customer rewards program that allows its members to earn points for completing surveys, watching videos and shopping online.
These points can be redeemed in the form of gift cards to your favorite stores or as cashback via PayPal.
Gift cards are available for over 100 retailers, including Amazon, Target, Walmart and Starbucks.
Cost: Signing up to Swagbucks is free. You only need a Facebook account or a valid email address.
How you earn money: Gain rewards by answering surveys and polls, watching videos, playing online games, browsing (using Swagbucks' Yahoo! powered search engine), or shopping online (through back cash rebates). Rewards are earned in the form of Swagbucks (SB) points.
Advantages:
Shopping at a list of over 1,500 retailers can earn you SB points
Members also gain access to deals and coupons
Watching 20 minutes of video earns two SB points
The Swagbucks daily poll enables you to earn one easy SB point every day
You can redeem as little as $3 worth of points, so you don't need to wait long to gain your rewards
How much you can earn: 100 SB points is equal to $1 in rewards. The website states that most members earn between $50 and $200 a month by using the app. There are no risks. Save losing your time to earning SB points.
Ideal for: Shoppers who want to gain no-effort cashback on purchases they intend to make simply by linking their cards.
Dosh is a cashback app that allows you to gain points when you spend using linked cards. You can earn when you shop, travel or dine with any of Dosh's partnering companies.
These include Pizza Hut, ASOS, Walmart, Dunkin, Sephora, Disney +, Philosophy, GNC, Backcountry, Proactive and many more.
Cost: The account is free to set up; however, Dosh takes a cut on your transactions.
How you earn money: When you spend with partnering brands, you earn dollars as cashback. As you make purchases in shops or restaurants, money is accrued in your Dosh wallet.
Advantages:
Dosh has over 1,000 partners, so you can earn cashback on a wide range of purchases
Gain $5 of credit for linking your first card
The app does not store your card information
The 'Earn from Fuel' scheme lets you earn cashback every time to fill up your car with partnering providers
$5 is up for grabs as referral credit
How much you can earn: The amount of money you earn with Dosh depends upon how much you spend. Stores tend to offer 2 to 5% cashback on purchases, though some may offer a rate as high as 10%.
Hotels have even better cashback rates, so if you use Dosh for travel purchases, you could gain up to 40% cashback.
Once your wallet reaches a value of $25, you can transfer your funds to your bank, PayPal or Venmo account.
Ideal for: People who are new to investing and want a simple money management platform that also encompasses credit and spending.
M1 Finance is a finance app that helps you invest, borrow and spend. It comprises three platforms:
M1 Invest lets you build a custom portfolio of stocks and funds or select from 80 expert portfolios. It also allows you to invest in fractional shares. You can set up automated trades to your own investment schedule.
M1 Borrow provides a flexible line of credit at a low rate. It is convenient and fast, with no application and no payment schedule (borrowing can be completed in three clicks). With a margin account, you can borrow up to 35% of the value of your portfolio at a rate as low as 2%.
M1 Spend means you can control your finances seamlessly, transferring money between the Invest and Borrow platforms, as needed. You can make purchases with an M1 Visa debit card, and M1 Plus account holders can benefit from cashback and a high APY.
Cost: The basic M1 platform is free, but one year of access to M1 Plus costs $125.
How you earn money: Get returns on your money by using M1 to improve your money management and invest your extra funds.
Advantages:
Get 2% loans through M1 Borrow
M1 offers a 1% APY checking account, with no minimum balance required
It provides smart money transfers to optimize your money
You can add custodial accounts for your children
Earn 1% cashback on debit card purchases
How much you can earn: The amount you earn using M1 Finance will depend upon the size of your existing portfolio but investing wisely is a great way to optimize your funds and ensure they are accruing compound interest.
Ideal for: Individuals who are new to investing, as the app is user-friendly and has additional resources and support.
Acorns is a subscription app that allows you to invest your spare funds in stocks, bonds, exchange-traded funds and asset classes. It accepts investments from as low as $1.
Cost: Acorns offers three subscription plans: Lite (for $1 a month), Personal (for $3 a month) and Family (for $5 a month). The cheapest plan provides an investment account alone. The personal plan includes an investment, retirement, and checking account. The family plan provides the above, plus an investment account for your children.
How you earn money: Earn money by investing your change (or larger amounts) and creating a diverse investment portfolio.
Advantages:
The platform has articles and videos to increase your knowledge of investing
Acorns has bank-level security, two-factor authentication and 256-bit encryption
You can use the app to set up a retirement plan
You have access to qualified advisors via the Acorn support team
Disadvantages:
As with any form of market investing, it is possible to lose money over the short term
How much you can earn:
The amount you can earn using Acorns depends upon the amount you are investing in and the services you choose to make use of. Investing is what you make it, but Acorns increases accessibility and provides an easy introduction.
Ideal for: Those who regularly shop online. Earny takes the hassle out of the price comparison and refund process.
Earny works as a personal assistant, notifying members of money-saving opportunities.
It enables users to track products so they can buy items at the lowest prices, get refunds for late deliveries, and to earn cashback through referring friends or making purchases online.
It also finds better prices for items you have purchased and claims back the difference on your behalf.
Cost: An Earny account is free, but Earny takes 25% of the money you make through refunds and referrals.
How you earn money: Save money by shopping when prices are optimal, reporting price adjustments to receive refunds, logging delayed Amazon parcels, and referring Earny to your friends. Earny deals with the claims and notifies you when money has been refunded to your account.
Advantages:
Earny is good for finding Hotel deals, as it has over 5,000 partners
You can easily add Amazon items to your watchlist, so you secure the best deals
Gain cash back through referrals
Earny has two-factor authentication and data masking for your security
How much you can earn: With Earny, you can automatically earn up to 20% cashback when shopping online.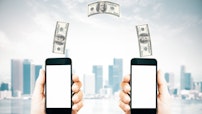 10 Best Money-Making Apps 2021

Ideal for: Keen shoppers who want to earn rewards from their purchases.

Rakuten is a rewards app that enables you to earn points as you shop with over 2,500 partnering brands.

Points can be redeemed against Rakuten purchases on Kobo, TV, or Viber (its book, TV or communication platforms, respectively) translated into gift cards or paid out through PayPal.

Cost: A Rakuten account is free. You get a $10 credit when you join.

How you earn money: Select a partner shop via the Rakuten app. You'll be redirected to the website, where you shop as normal. When your purchase is confirmed, your points will be automatically added to your Rakuten account.

Advantages:
You can also collect points via Rakuten TV or Rakuten Kobo
Rakuten has a browser extension that you can download to ensure you never miss out on points
Members enjoy bonus perks such as exclusive discounts, giveaways, and early releases
Disadvantages:
You'll only receive payouts every quarter
Payouts cannot be received by bank transfer, only via cheque or PayPal
How much you can earn: You'll receive 10 points for every $1 you spend on Rakuten purchases. The rate may differ for partnering brands.
Ideal for: Keen walkers and fitness fanatics who rack up a large number of steps. Smash your step targets and make money for your labor.
Sweatcoin allows you to make money from the steps you take. Exercise is converted into 'sweatcoins,' which can be used to purchase goods, services and experiences through any of Sweatcoin's partners.
Cost: Sweatcoin is free to use.
How you earn money: The Sweatcoin app, once active on your phone, tracks the number of steps you take daily. Steps earn you sweatcoins (digital currency). These sweatcoins can be cashed in when making purchases from over 300 brands.
Advantages:
The app encourages you to exercise more and reach your daily step goals
No financial commitment and no risk
Redeem sweatcoins against products you love, whether that's sports equipment, exercise classes or a vacation
Disadvantages:
Items tend to cost around 20,000 sweatcoins. It takes a long time to build up credit using the app, so you'll likely need to wait a while for your reward
How much you can earn: You earn 0.95 Sweatcoins for every 1,000 steps. Unfortunately, rewards collected using Sweatcoin cannot be redeemed as cash.
Ideal for: Gamers who want to earn some money doing what they enjoy. Mistplay is set up well for those who want to use their credit to invest in new games, as it offers a solid range of gaming gift cards.
Mistplay is a loyalty app that enables you to earn money by playing games on your phone. Retailers such as Amazon, Xbox, Nintendo, GameStop, PlayStation, Google Play and iTunes have partnered with Mistplay to provide gift cards in exchange for Mistplay units.
Cost: Misplay can be downloaded for free from the Google Play store. You get 15 free units when you sign up.
How you earn money: Through the platform – play games to specific milestones to earn units. These units can then be put towards gift cards or translated into Steam credit.
Extra units can be earned by making in-app purchases.
You achieve Mistplay' status' by spending the minimum amount every month.
Advantages:
Discover your personalized game library
Automatically earn 100 bonus units when you reach 200 points
Unlock badges to gain more units
Mistplay's in-app social experience lets you play with friends
Enter weekly contests for prizes
How much you can earn: Every 1,500 units earned on Mistplay represents $5. The amount you can earn will depend upon the time you have to devote to playing the games to add to your unit total.
Ideal for: Making a little extra cash via a method that requires minimal thought.
Slidejoy is a great app for passive earning. The app rewards you for displaying ads on the lock screen of your phone. It pays out in the form of gift cards for retailers such as Amazon, Walmart and Google Play.
Cost: Slidejoy is free to download. Sign up with your email or Facebook account.
How you earn money: Set up your Slidejoy account and select your preferences. Your lock screen will be replaced with Slidejoy's, featuring adverts. As you swipe to interact with or dismiss ads, you'll earn Slidejoy carats.
Advantages:
Earn carats by simply unlocking your phone
Slidejoy Pop, a website feed, rewards you with one carat for every link you engage with
There is a low $2 payout threshold
There is an option to donate your earnings to charity
Disadvantages:
There is no longer a PayPal option for your payouts
Only available on Android
Daily earnings are low
How much you can earn: 1,000 carats equal $1. The carats you earn by swiping are credited to your account the next day. You won't make a lot of money; however, you may be able to earn enough for a gift card every few months.
ProfitFarmers is a semi-automatic copy trading platform that produces AI trading signals combined with education and advanced tools to trade better and no trading experience is needed. They are partnered with Binance.com exchange to buy/sell cryptocurrencies that are paired in BTC, USDT, and BUSD and offer an affiliate program to anyone who wants to promote their product.
Sign up now to use their platform for free and upgrade to their $21 trial offer for 21 days to access all their features!
Copy trading signals
Advance Features (Trade Guardian, Laddering Mode, Market updates, etc.)
Trade Doctor/Session with one of their trading expert
Pro trader 5x blueprint (helps you 5x your account)
And many more
What Is a Money-Making App?
Money-making apps are becoming an increasingly popular way of earning additional funds.
They enable users to make money online via their smartphones by performing simple tasks such as completing surveys, investing existing funds or earning cash back on purchases.
The level of return depends upon the approach chosen and the level of time investment; however, these apps can generate a useful boost to your income.
Money-making apps are available for anyone to use. All that's required is the spare time to engage.
With daily smartphone use at a high (the average is over four hours), users can easily benefit by switching some of their screen time from social media to a money-making app.
What Are the Different Types of Money-Making Apps?
Apps that can be used to generate profit come in different forms.
The app that's right for you will depend upon your financial situation, interests and preferred money-making approach.
Here are the different types of money-making apps on offer:
Task-based apps – These apps facilitate earning money through performing tasks, such as filling in surveys or meeting exercise goals, for financial reward.

Investment apps – Investment apps help you to grow your earnings by investing your spare money and providing passive income.

Reward-based apps – Reward-based apps provide financial benefits such as reward points, vouchers or cashback on your purchases.

Gaming apps – If you spend a lot of time playing games on your phone, switching to a money-making gaming app could be a seamless choice. These apps pay out small amounts of cash for reaching game milestones.
Things to Consider When Choosing a Money-Making App in 2023
While money-making apps can easily facilitate a side-hustle, make sure you are investing your time on the right method through a legitimate and trusted app.
There are a multitude of apps out there, each with different requirements, limits and payout methods.
When selecting a money-making app as your side-hustle, consider the following factors:
Payout method – How are you reimbursed for your time? Does the app exchange the points you earn for gift cards, or is there a PayPal credit or bank transfer option?

Payout limit – How many points do you need to earn before you can convert them into cash credit or translate them into a gift card? Apps with high payout limits can leave you feeling unmotivated, as it takes a long time to accrue usable credit.

Earning rate – What value is attached to the points earned in the app? Do the points have a high value, or will it take time to earn above $2? How many points are on offer, and are they easy to collect?

Effort – How time-consuming will earning through the app be? How much effort is involved? Is it a realistic choice that will fit with your lifestyle?

Risk – What level of risk is involved? Can you afford to take the risk? Would a low/no risk app be better suited to your needs?
Final Thoughts
Money-making apps are a great way to earn extra cash or rewards for relatively little effort.
The best-suited apps complement your lifestyle and pay you for activities you already undertake or can comfortably accommodate in your schedule, for example, shopping online, doing your daily steps or completing a quick survey.
Your choice of money-making app should be a low commitment but pique your interest, so you stay motivated to engage without it becoming a chore.
Whether you choose a rewards-based app, gaming app or investment app, consider any upfront cost or risk, along with the payout method, payout limit and earning rate, to ensure the app is the right choice for you.
These apps won't make you rich but, once you get going, you'll be able to earn a little extra money to spend.
WikiJob does not provide tax, investment or financial services and advice. The information provided is for general reference and you should not rely on it to make (or refrain from making) any financial decisions. Personal situations will vary. Always seek independent financial advice when choosing how to manage your finances.
---