Best 10 Online Jobs for Teens
More and more people and companies are seeing the benefits of allowing people to work from home.
This cultural shift offers an ideal opportunity for an already tech-savvy generation of young people to find ways to monetize their online presence.
Simply put, there are several ways for a teenager to legitimately make money online.
If you are the parent of a young person or are a teenager/young adult yourself, read on to discover how those endless hours spent scrolling, taking pictures and updating statuses can be turned into potential earnings.
Reasons to Work as a Teen
Whether in high school or college, you may want to look for a job for several reasons, including to:
Get money
Develop independence
Combat boredom
Learn life skills
And, on top of those, online jobs have upsides including:
No commute or transport costs
You can earn from doing something you enjoy
Is It Legal to Employ Teenagers for Online Jobs?
Yes, it is perfectly legal to employ teenagers to work online, in most areas.
You may need a work permit.
Keep in mind the age limits for the sites you are using to look for online work as each site operates under its own restrictions.
Popular sites include:
Facebook/Instagram – users must be 13+
Fiverr – users must be 13+
Upwork – users to be 18+
Clickworker – users must be 18+
Note: you must be 18+ to have a PayPal account in your name. Those under 18 can only have an account if it is held in the name of a parent or guardian as a subaccount.
Many online jobs can also pay by direct bank transfer, so you only need a bank account for them to pay you.
Be aware – most online work is freelance and freelance work is not subject to the same regulations as other types of work, meaning that rates of pay can vary significantly.
In the UK, self-employed children and teens do have to pay income tax, after the tax-free allowance is exceeded. They will only have to pay National Insurance after they turn 16.
In the US, as well as holding a permit, entrepreneurial children and teens will also have to pay income tax if their self-employed net earnings are $400 or more.
If you are employed in the US you will have to pay taxes for earnings of over $1,100. (This is changeable year-on-year).
If in doubt, check with your state or the HMRC what tax you might owe from working and if you need to file a tax return.
How to Spot a Genuine Opportunity
It may be incredibly tempting when you are young to grab at any opportunity to make some quick cash, but keep the tried and tested saying in mind:
If it sounds too good to be true, it probably is.
To help yourself stay safe, research the company – does it have a website and does it look genuine?
Read reviews online from places other than its site, such as Google, Trust Pilot or Glassdoor.
If you are approached online by a business or see an ad, have a look at what the company's social media presence is like. Almost all businesses nowadays have some social media accounts.
A lot of messages are exchanged daily on apps like Instagram looking for brand ambassadors or offering a 'great online opportunity'.
Being a brand ambassador can be a legitimate position (more on that below) but you must vet these opportunities.
Teens should know all about looking at follower counts and feed quality; nevertheless, here is a tip:
If these messages come from accounts that have one or two followers, no profile picture and an account less than a week old, they are most likely fake.
Use reputable job sites to search for opportunities.
Red Flags
In addition to the above advice, serious red flags should arise when coming across certain types of ad.
Ads That Are Seeking Models
Although genuine modeling jobs do exist, watch out if your point of contact only provides cell phone information and asks you to meet them alone, in a hotel or motel.
Risks include exploitation and kidnapping.
Do not trust this type of setup and take every precaution to safeguard yourself, preferably by ignoring these kinds of ads.
If you are genuinely interested in modeling, approach legitimate and well-known agencies and take a family member with you to your meeting.
Jobs That Require Money Upfront
Be very wary of people who ask you for money before you start working for them.
Some MLM (multi-level marketing) schemes require you to purchase a starter kit of products, but it is not usual to make a profit when working with this type of scheme.
You can easily check what is the norm by asking questions in its online forums or looking on its website.
Keep in mind your own needs and budget, and do not spend money you do not have on products you may not be able to sell.
'Get Rich Quick' Schemes
Tempting as they may be, 'get rich quick' schemes rarely deliver what they advertise and are best avoided.
Ads that contain a series of buzzwords such as 'e-commerce', 'forex trading', 'UX' or 'Woo commerce' with little actual information of the job or requirements are often the signs of a scam.
Forex and stock trading can be legitimate, if risky, ways to make money, but supposed job advertisements that use such terms and give no actual job descriptions are usually scams.
Similarly, ads that promise untenable results such as:
'My mentor, Mr. X, changed my life and made me a millionaire. Contact him today'
are never genuine. These often appear in comment threads on social media and should be reported as spam.
As a teen, there are many ways to make money online. Almost none are going to make you an overnight millionaire, but they may offer you some financial freedom and transferable skills for work and life.
Top 10 Online Jobs for Teens
1. Tutor
Not everyone has academic flair and some students need a helping hand. Apps like Zoom and Microsoft Teams are making it increasingly easy to deliver live tutorials via video link.
Parents are often looking for reliable tutors for their children, so if you have an impressive academic record and lots of patience, you could consider tutoring or mentoring a young person that is struggling.
You can ask around in your network to see if anyone you know has a younger sibling or cousin who needs some extra tuition, if you do not want to work for a stranger.
The benefits of tutoring include:
You can usually choose your own hours (although they must fit within the other person's schedule too)
The pay is often negotiable
You can feel good that you are helping someone to achieve their goals
Pick one subject you are particularly good at and understand well to try tutoring in first.
2. Social Media Manager
It goes without saying that this job suits someone who is social media savvy.
There are also a lot of free marketing courses out there that can explain the basics.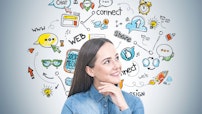 Top Ten Online Jobs for Teens
If you are organized, with good spelling and grammar, already spend hours on social media, can tell a great story and create eye-catching images, this could definitely be the role for you.
If you also know your post scheduling from your weekly insights and your Reels from your pinned posts, then chances are you could be an asset to a business that needs help with its socials.
Some places advertise when they want a social media manager; some places do not even know they need one.
If you notice a local business has a lackluster social media presence and you have a track record of getting high engagement and making popular accounts, consider reaching out to them.
3. Online Customer Service Advisor
Unlike most of the other options in this list, this job will most likely require you to work set hours.
If you have a reliable internet connection, the availability to agree to set hours, patience and good problem-solving skills, you should consider a customer service advisor role.
With the rise in online shopping and closure of physical stores, the need for online customer service advisors is set to grow.
4. Etsy Crafter
Selling your handmade crafts on Etsy can be a fun and productive way to turn your hobby into a business.
From selling paintings to hand-made soaps, natural lip scrubs to macrame decorations, Etsy offers an easily accessible platform for small, independent sellers – all you need to do is decide what you want to make to get started.
Your time and creativity are the only limitations.
Simply open an Etsy account and brush up on your sales skills to get started, and do not forget to advertise.
5. YouTuber
YouTube channels do take time to monetize, as you must become part of the YouTube Partner Programme, which requires a minimum subscriber count (currently 1,000).
But this job has the possibility to be very profitable.
Successful YouTubers have a niche target audience. Whether that is makeup tutorials, arts/crafts, gaming, pranking siblings – even narration/reaction channels have gained huge popularity – you need to choose a niche that suits you.
An outgoing personality, a willingness to put yourself out there plus a unique look can help propel people to YouTube stardom.
Be prepared to self-promote a lot, particularly during the early stages
Getting people to like and subscribe is key
Keep content fresh and post consistently
Ask questions during your videos to encourage your audience to comment and engage; more comments, likes and subscribers equals better rankings for your channel
6. Blogger
If you have a passion for telling engaging stories and a flair for the written word, consider becoming a blogger.
There are often opportunities for bloggers advertised online as well as a large blogging community on sites like Facebook.
Search for groups to find tips on how to get started from people who have been there themselves.
This online job would be great as a tie-in to your studies, especially for those studying writing, literature, travel and tourism, childcare, or those with an interest in health and wellness.
These kinds of blogs are among some of the most popular.
If you cannot find a role as a paid blogger for someone else, you can set up your own, with the option to monetize it using ads (either pay-per-click or pay-per-view).
There is usually a small hosting fee to pay, but if you can drive enough traffic to your blog through great content and successful marketing, your blog can provide you with a regular, passive income from something you enjoy.
7. Survey Taker/Reviewer
You can get paid to take surveys online.
Companies do this as part of their market research programs and ask individuals to provide honest information based on a series of questions.
You can sign up to more than one site and surveys are usually made available based on certain demographics (for example, age or location) and are available on a range of subjects, often relating to health, lifestyle, transport and retail.
Some companies also pay people to review their products and write about them. If you have a popular blog or YouTube channel (as mentioned above), companies may pay more or send you free items.
Payment varies for this and you will have to take a lot of surveys to make a decent income, but it is a relatively easy way to earn a few dollars and requires almost no special skills or expertise.
8. Website Tester
As a website tester, you are paid to test and evaluate a website, sometimes across different platforms (such as mobile or desktop) and provide feedback.
Testers are typically paid around $10 per site, so it is not hugely lucrative and can be time-consuming.
It is, however, relatively straightforward – especially if you are interested in gaining experience for your resume within IT, computer programming, analytics or UX.
By signing up to a website-testing site, users will usually be sent available testing jobs which they can accept – this means that sometimes there will be more people bidding for jobs than there are jobs available, so you are not guaranteed regular work.
Reputable sites include Userlytics and UserTesting.
Payments are usually made by PayPal, which you must be 18 to use.
9. Brand Ambassador/Influencer
If you already have a large following on social media, some companies will pay you to promote them online.
These companies will offer their ambassadors free or discounted products and paid promotion opportunities.
This is similar to being paid to write a review (as talked about above).
Sometimes you can also monetize your audience by offering them promotional or affiliate codes, special URLs that give you money each time they are used, and even recruiting others to join you in working for the company.
Basic marketing knowledge is a prerequisite of this type of role, alongside a successful social media presence and an image/lifestyle that falls in line with the brand you are promoting.
This type of opportunity is usually gained by brands reaching out; but if you have a strong social media presence, gather your assertiveness and reach out to brands you would want to promote or that you know have ambassador programs.
10. Gamer
It is not news that many young people love to play video games. But the Internet can provide ways to turn your love of gaming into a way to earn cash from home.
One route into this is to seek out ads for games testers or quality assurance testers (if you are bilingual, this is often an advantage).
For those with more outgoing personalities, YouTube gaming channels are some of the most popular.
You can also consider streaming gameplay and tutorials for others by joining a site such as Twitch, where successful gamers have lots of opportunities to monetize their hobby, including via sponsorships, merchandise sales, subscriptions and brand partnerships.
Final Thoughts
Teens and young adults can be an asset to the workplace. They are, after all, the full-time workforce of the future.
They have also grown up immersed in a world of ever-changing technology and social media that gives them a solid foundation for embracing online working opportunities.
Although there are countless, legitimate online jobs out there, keep in mind there are also scammers and those with ill intentions on the internet.
Do not take risks online, especially ones that you would not take in a physical workplace.
Also, keep in mind that if you are earning money online, there may be implications when declaring income taxes – so please seek advice from an expert or contact your local DOL for information.
The Internet is full of opportunities to earn money, and most teens have the availability, skills and adaptability to use these opportunities to their advantage – so stay safe online and start earning today.
---