Best 20 Highest Paying Entry-Level Jobs
What Are Entry-Level Jobs?
Whether you are changing careers or graduating, it is most likely the job you take will be entry-level.
These roles are often lower-level positions that require less experience and responsibility. In some cases, the role will resemble an assistant, rather than the actual role you want.
But this is only temporary.
Other roles will require on-the-job training or guidance from senior members until you familiarize yourself with the environment.
The best entry-level job for you will depend on your interests, skills, goals, level of education and values.
For anyone considering an entry-level position, here are some tips to help.
What to Consider When Looking For an Entry-Level Position
Entry-level jobs are not always lucrative, so it is important to look beyond the paycheck.
When looking through job adverts, consider:
Compensation Beyond the Salary
What is the overall employee benefits package?
In an era where wellness is a workplace value, employee benefits can include paid-for lunches, gym memberships or on-site fitness centers, walk-to-work schemes, and flexible working hours
Factoring in those bonuses and incentives will improve your salary figure.
The employee benefits a company offers will also tell you a lot about its values.
A company with a lot of benefits cares about its employees. One without does not.
Scope for Professional Growth
Does the company mention employee training and development in the job description?
If not, it is something you should ask about if you get an interview.
You want to have access to every opportunity at the beginning of your career; you want employers that support your ambition and will encourage your growth.
Workplace Culture
Do you want to work somewhere with a work-life balance, or would you be better suited to a fast-paced environment?
For you to succeed at your job, you should work somewhere that shares your values and where you can comfortably show your personality.
How to Find an Entry-Level Job
Once you have decided what you do and do not like, the best ways to find an entry-level job are:
Use the keywords 'entry-level' and 'development program' in your job search.

Attend job fairs and recruitment days – Your high school/college career counselor will have that information.

Network – Follow and engage with recruiters and your desired employers on social media, attend networking events and make an effort to speak with as many people as you can.

Follow up – Send an email the following day reminding them who you are, thanking them for their time, and briefly explain that you are looking for employment.

Take advantage of interning and work experience opportunities while you are studying.

Showcase your talent – This works especially well for creative and communication roles. You can start blogs talking about your chosen industry. Building successful social profiles is great for PR, marketing and copywriting.

Volunteer – Dedicate some of your time to charity by offering to do your desired job role. Administrative assistant resumes can benefit from volunteering. Equally, those wanting to go into healthcare consider volunteering at shelters or care homes.

Start putting your resume together – Your resume should always be tailored to the job description but planning the layout and deciding on the most important information will save time later.

Practise interview skills – Regardless of your experience and age, the interview process can be stressful. Take some time to research common interview questions and how to answer them, the recruitment process so you know what to expect, and prepare questions you want to ask so you don't panic later.

Apply for jobs – All the preparation won't mean anything if you don't apply for any jobs. You may find that entry-level jobs still ask for at least one year of experience. Do not let that stop you as your knowledge and a small amount of experience may be enough.
The more jobs you apply for, the more familiar the process will become, and the more aware you will be of what it is you want and do not want.
Top 20 Highest Paying Entry-Level Jobs
1. Junior Web Developer
Average salary: $54,000
Job growth rate: +13%
A junior web developer is responsible for assisting the senior developers in creating client's websites. They are involved with the entire creation process, including having a say in the overall design and functionality.
Junior developers will be given smaller tasks to work on before being allowed to create the main features of a website.
Statistically, most web developers have a bachelor's degree in computer science related field.
However, many coding courses teach you everything you need to know to create a website.
2. Computer Programmer
Average salary: $55,036
Job growth rate: -7%
A computer programmer writes mobile applications and computer programs. They update software and improve overall functionality.
As an entry-level programmer, and depending on the company's size, you may take on an assistant role to help the senior programmer with their work.
At smaller companies, you might be given more responsibility and given higher-value tasks.
The most common route to being a computer programmer is with a bachelor's in computer science or computer programming. But there are also courses available that teach essential skills such as Java, C# and JavaScript.
3. Software Engineer
Average salary: $86,536
Job growth rate: +21%
An entry-level software engineer will work alongside mid and senior-level engineers to develop, test, and update software.
They are usually assigned general, routine tasks to familiarize themselves with the tools a software engineer uses.
The most common route is a bachelor's in computer science, followed by an internship and a certification in their chosen specialization (web development, mobile, embedded systems development).
4. Real Estate Agent
Average salary: $57,162
Job growth rate: +7%
A real estate agent is responsible for the renting, buying and selling of private and commercial properties.
Real estate agents may work for themselves or an agency or broker. Regardless of their employment status, agents are responsible for their schedule, budgets, marketing and communications.
Real estate agents also usually receive a commission from all of their sales and rentals.
To become a real estate agent, you need a high school diploma and to sit a real estate license exam.
If you wish to further your career, you can join the National Association of Realtors (NAR) and take courses in the fields and specialties that appeal to you.
5. Customer Service Representative
Average salary: $45,157
Job growth rate: -2%
Depending on the company, a customer service representative is responsible for:
Listening to customer queries and complaints, and solve them as efficiently as they can
Provide information about products and services
Handle returns
Take orders and process payments
For this role, you need a high school diploma and an excellent skill set, including communication, time management and computer skills.
6. Business Analyst
Average salary: $39,966
Job growth rate: +9%
Entry-level business analysts assist seniors in analyzing company budgets, creating and maintaining databases, and assisting in implementing different practices.
The most common sectors for a business analyst are finance and market research.
Entry into the role includes a bachelor's degree in finance or business and an internship while at college.
7. Paralegal
Average salary: $38,253
Job growth rate: +12%
Entry-level paralegals usually work in a lawyer's office, directly with a lawyer.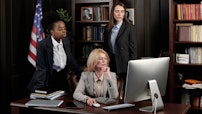 Top 20 Highest Paying Entry-Level Jobs

They assist with paperwork, administrative tasks, and other office duties.

They may also be tasked with helping the lawyer prepare for trials, take notes during hearings, and arrange interviews with witnesses.

To become a paralegal, you need an associate's or bachelor's degree in paralegal studies or something similar. Some paralegals then choose to go to law school and train as licensed lawyers.
8. Marketing Assistant
Average salary: $44,505
Job growth rate: +20%
A marketing assistant's role varies from day to day. Some tasks include:
Manage and update a company's website
Produce promotional material for company or clients
Co-ordinate content for various platforms
Research competitors and trends
Compile reports on current campaigns and future options
Communication jobs are very competitive, and most marketers have a bachelor's degree in marketing, business or communications, as well as internships.
9. Public Relations Assistant
Average salary: $30,000
Job growth rate: +6%
The role of public relations assistant is to:
Manage and organize budgets
Monitor and manage social profiles of company or clients
Improve the reputation of company or clients
Work with press and media to secure interviews and coverage
Like the marketing assistant, most PR assistants have a bachelor's in public relations, communication and business.
During your education, you can also choose to specialize by studying at specific colleges.
For example, Fashion Institute of Technology if you want to work in fashion PR, or take specialized modules.
10. Event Planner
Average salary: $33,051
Job growth rate: +7%
An entry-level event planner will assist the senior event planner plan, create and run events. Almost every industry hosts some sort of event such as:
Award shows
Fashion shows
Conferences
Recruitment drives
Conventions
Weddings
Celebration day fairs
The planner is responsible for organizing all elements of an event, from meeting with the client to ensuring the event runs smoothly to make sure all invoices are paid.
Entry-level positions will usually require a bachelor's degree in communication, hospitality management or business.
11. Administrative Assistant
Average salary: $14.18 per hour
Job growth rate: -7%
Administrative assistants are responsible for routine administrative duties such as:
Organizing schedules
Making travel arrangements
Managing budgets and finances
Maintain databases
While some administrative assistants do have a bachelor's degree, it is not always necessary; a high school diploma is often more than enough.
What the employer wants to see is that you have a strong skill set and can demonstrate:
Timekeeping
Good personal appearance
Attention to detail
12. Teaching Assistant
Average salary: $12.22 per hour
Job growth rate: +4%
This is a fun job for those who love to teach.
As an assistant, you can reiterate what the teacher has taught without having the same level of responsibility.
Other responsibilities include:
Keeping a record of attendance and grades
Help plan lessons by gathering resources
Enforce classroom rules
To be a teaching assistant, you need to have completed at least two years of college or hold an associate's degree.
Depending on the state you work in, you may have to take additional courses and licensing.
13. Social Worker
Average salary: $21 per hour
Job growth rate: +11%
Social work involves administrative duties, offering counseling and meeting with those often in dire situations.
A social worker's main role is to improve the wellbeing of their clients. The situations you may have to face are:
Domestic abuse and violence
Child neglect
Substance addiction
Victims of assault
Homelessness
While skills such as resilience and empathy are paramount for this role, social workers have a bachelor's degree, with most having a master's.
The common academic areas are social work, psychology and mental health counseling.
14. Licensed Practical Nurse
Average salary: $42,385
Job growth rate: +11%
An LPN works as an assistant to doctors and registered nurses.
They help maintain a high level of care to patients by:
Advising them on medication
Suggesting lifestyle changes
Checking vitals and changing bandages
Keeping records up to date
To become an LPN, you need to complete an approved educational program which usually takes around one year to complete.
Following that, you need to take the National Council Licensure Examination (NCLEX-PN) to get your license.
You can also take specialized courses such as IV Therapy which is reflected on your license.
15. Dental Nurse
Average salary: $38,964
Job growth rate: +11%
A dental nurse is responsible for:
Giving the patient support
Preparing tools such as filings
Sterilizing the equipment
Maintaining dental records
Assisting the dentist
To become a dental nurse, you need to complete a dental hygiene program. This can sometimes be started in your last year of high school.
Some programs allow you to complete an associate's degree, but the certificate is enough for entry-level positions.
16. Biomedical Engineer
Average salary: $59,982
Job growth rate: +4%
A biomedical engineer's job role varies from designing artificial organs to developing software designed to improve healthcare.
To become a biomedical engineer, you need a bachelor's degree in biomedical engineering or something similar.
This course needs to be accredited by the Accreditation Board for Engineering and Technology (ABET).
If you want to specialize in a specific area of biomedicine, then an ABET-approved master's degree is recommended.
17. Civil Engineer
Average salary: $70,019
Job growth rate: +6%
A civil engineer designs, builds, supervises and maintains construction projects. They work on several infrastructures, from tunnels to damns to airports to sewage treatment.
Beyond designing, civil engineers also work in education and research.
To become a civil engineer, you need a bachelor's in civil engineering or one of its specialties, such as structural engineering and geotechnical engineering.
This degree needs to be accredited by ABET for you to get your professional engineering license.
Civil engineering apprenticeships are also common for this industry.
18. Editorial Assistant
Average salary: $36,021
Job growth rate: -7%
The editorial assistant is responsible for the support-related tasks for an editor. They may be responsible for:
Writing texts for print and digital
Proofreading and fact checking
Processing paperwork
Communicating with authors and customers
Attending work-related events and meetings
A bachelor's degree in English, journalism or communications, as well as internships or proof of your writing and editing skills, will help you become an editorial assistant.
19. Copywriter
Average salary: $25 per hour
Job growth rate: +8%
Whether you are freelance or employed, the industry you work in will determine what copywriting you do.
Copywriting involves writing promotional pieces for brands. These can be Facebook adverts, Instagram comments, blog posts, website content, newsletters or advertorials.
If you are an entry-level freelance copywriter, your biggest challenge will be getting clients. For those in-house or at agencies, being a junior copywriter may mean you are more of an assistant than a writer.
Most copywriters have bachelor's degrees in communication, English and advertising.
However, if you have proof of your writing skills and proof of how much money/promotion your copy generated, employers may overlook your educational background.
20. Graphic Designer
Average salary: $32,660
Job growth rate: +3%
A junior graphic designer helps create images and graphics under the supervision of a senior designer.
They may be responsible for researching ideas, helping put pitches and presentations together, and creating campaigns.
A graphic designer is similar to copywriting in that you can be freelance, in-house or agency.
While all you need to be a graphic designer is an understanding of the software you use and artistic talent, most graphic designers do have a bachelor's degree in graphic design or design and visual communication.
Final Thoughts
Entering the world of employment can be exciting and daunting. There may be that fear that you haven't done enough or that you are not experienced enough.
But entry-level jobs are supposed to be that – entry-level.
If a job description labeled entry-level asks for evidence of success and two or more years of experience, then that is a company you do not want to work for.
They expect too much from a beginner, and it suggests a hostile work environment.
Before applying, remember:
Your values and goals
What the company is offering beyond the salary
How much will this job allow you to grow
---