Careers Fair
Careers fairs are useful for a range of students - those starting their degree and looking for work experience opportunities, as well as recent graduates looking for full-time employment or a graduate scheme. Also, they give large companies much needed time to advertise themselves and recruit new people.
What Is a Careers Fair?
Careers fairs (also known as jobs fairs or recruitment fairs) are a useful resource for candidates to use to find out about potential employers. They are typically organised in a large hall where potential employers will set up booths with members from their human resources (HR) team along with new employees, to tell those attending about their company, their application process and anything else they might want to know.
Those attending a careers fair will be free to ask any questions they wish to prospective employers and take notes on their answer, as well as being able to take any promotional material or freebies that are offered by the firm. In addition, there will usually be talks held by either companies attending or the organiser of the fair itself - often on a range of topics such as how to apply and acquire certain jobs.
The talks can be useful in terms of general advice surrounding writing a CV or how to prepare for an assessment centre. That said, if you are solely going to a careers fair to apply for a specific company, such talks will not be as useful to you unless you need to know about such topics.
Careers fairs are typically held within universities for their students at both undergraduate and postgraduate level, though there are plenty of other careers fairs organised by external companies such as Jobs Fair. However, such fairs will not run very frequently and so it is vital that you remember to go to at least one before applying to the company you wish to work at.
Why Should I Go to a Careers Fair?
One of the main reasons why you should go to a careers fair is for research. If you are unsure of where you want to work, or what you want to work as in later life, the companies at careers fairs provide huge amounts of information and experience about different sectors. Simply asking people what it is like in a certain profession or within a certain company will allow you to get a bigger picture of what it is like to work in that area, allowing you to make an informed choice about your career path.
If you have already decided where you want to work, then a careers fair is still extremely useful for networking with the staff. When you do apply for a particular company, it can be a great advantage to know someone there who can help guide you through the application process. Recruitment, especially at the top firms such as the big 4 and magic circle firms, is often dependent on who you know, and so connecting on LinkedIn with them afterwards is a good idea. Be sure to get their permission to do so at the careers fair beforehand.
Tips for Careers Fairs
Don't stay silent. Many people may be shy during a careers fair and simply listen to others; more often than not, this represents a wasted opportunity. Make sure to ask plenty of questions to potential employers as well as general requests to connect on LinkedIn. The best attendees will prepare their questions the night before and do enough research on specific companies so that they can impress them.
Example questions may include:
What is the working culture like at your firm?
Do you have any opportunities to work abroad during your training period?
What is available in terms of career profession at your firm?
What is your CSR policy?
Make sure your questions are not ones that can easily be found online and avoid any questions relating to salary.
Act professionally. Careers fairs can often be hectic. Nevertheless, ensure that you dress professionally, as you might be meeting your future employer or interviewer. Formal attire demonstrates that you are a competent and motivated individual with a passion to get ahead in your career with their help.
Follow up after. Those who have set up booths at a careers fair will have met a lot of people that day, so they will forget you instantly if you don't follow up afterwards. Make sure that you request to contact them on LinkedIn, or in substitute of that email them asking for further information so that you can keep in touch. If done, they will hopefully be able to help you later on when you actually apply for the firm.
While the internet does provide a lot of information on different careers and companies, this is not a substitute for the personal experience that you will have when you attend a careers fair. Even if you can't attend, try to get a friend who can and get them to write notes for you.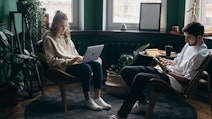 Virtual Career Fairs
What Is a Virtual Career Fair?
A virtual career fair is an online version of the traditional career fair – and in the same way, you can 'meet' and interact with employers in one place.
Virtual career fairs make it easy for attendees to visit from wherever they are. No traveling, no need to polish your shoes and a more relaxing way of finding out about potential employers and the roles they are recruiting for.
This simple and convenient way to interact with potential employers is held on an online platform.
Some virtual fairs are hosted by colleges and universities, for students and graduates to consider their next steps after education. Other virtual fairs might be hosted by online recruitment agencies or job boards.
Some larger employers may provide online recruitment events, but these are not the same as a virtual career fair as they usually only have one employer in attendance.
For many job hunters, a virtual career fair offers a simple way to learn more about recruiters and employers in one place; with a simple-to-use interface and an opportunity to upload details regarding experience, education and aspirations.
As these are usually hosted by educational bodies, they are often attended by students. However, virtual career fairs can be attended by anyone in any location, across the world.
For careers that lend themselves to remote working, location is not relevant, but for some employers, your location would be particularly important.
What to Expect When Attending a Virtual Career Fair
When you attend a virtual career fair, you will have the opportunity to learn about various employers, their culture and organisation, as well as any openings and vacancies they have.
These 'booths' are usually separate from the main area, and you can enter each employer's room whenever you want to during the event.
The virtual fair might only last for a few hours, or it could be for a full day. During this time, there will be employers available in the booths for general conversation that you might be able to join in with, or you can request a one-on-one conversation if you prefer. Some recruiters like to have audio and/or video calls with attendees.
You are likely to be asked to complete profile information so that potential employers can find out more about you – this might include similar details to a job application.
There will often be work-related information and help such as a resume clinic as well as webinars and live panel Q&A sessions that could be useful for you.
The layout of the virtual career fair will seem like an online version of the physical fair – depending on the platform used. In most situations, it will have the following:
Lobby – The home page, often including the event details and a place to register (fill in your profile information).

Main Hall – This is usually the root of all the navigation to and from different 'booths' and where you can click to enter an employer's room.

Employer Booths – Here you will be able to read the employer bio, find out about their vacancies, access any videos or other information, and begin a conversation with a representative.

Information Desk – This is usually a chat function with the organizers, and where you need to be if you have any questions about the platform (such as issues with technology).
Of course, for many attendees, the 'employer booths' are the most important part of the fair, and when you enter their room, you will have a great chance to meet and introduce yourself to the recruiter.
This is done initially using a chat request and is presented like an online discussion forum.
There might be an open discussion where attendees are asking questions, or you may want to request a one-to-one conversation so that you can ask more specific questions and sell yourself.
How Are Virtual Career Fairs Hosted?
Virtual career fairs can be hosted in several ways, but they almost all require the following technology:
Devices – While you might be able to log in to the virtual career fair using a smartphone, it might not be the best way. Using a tablet on a stand, a laptop or a PC allows you to be seen more easily when you are asked to have a video chat. Make sure whatever device you use has enough charge, of course.

Good internet access – Due to the nature of the event, having reliable and fast internet access is important. Having a text-based conversation is difficult enough with a patchy connection, but if the employer wants to have an audio or video call with you, you need to make sure that your internet connection is up to the challenge.

Updated browsers – If you are not running the latest version of your internet browser, you might want to consider updating before the fair to ensure that you can access all the available features.

Video/audio – Some employers might ask you for a video call, and this means you need to make sure that you have access to a camera and microphone. A webcam should be fine for this, and you might want to use headphones for extra clarity.
Throughout the fair, the hosts will be available to help if you do run into any tech problems, so do reach out if something goes wrong.
Top Tips for Attending a Virtual Career Fair
Before the Fair
1. Your Event Profile
Your event profile is like a shop window into your employability. Employers will have access to this information when you enter their room, and they might use some of the fields as search parameters to invite attendees for a virtual conversation.
Making your event profile stand out is important, so take your time to fill out all the required information to showcase your ability, education and experience.
2. Research the Employers
When you register for a virtual career fair, you will be able to see the recruiters and employers who will be in attendance.
It is a good idea to research the employers beforehand to get an idea of which ones could be of most interest to you during the event. You can then make a plan of where you want to go first.
3. Check Your Tech
If you can log on before the start time, this is a good chance to make sure that everything is working as it should.
Although the very nature of a virtual career fair makes it more likely technology will fail, if you are sure yours is working well, you will be more confident in all your conversations with prospective employers.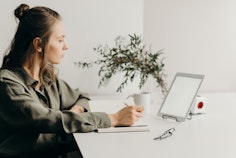 How to Attend a Virtual Career Fair
4. Attire and Surroundings
While the beauty of a virtual career fair is that you do not need to suit up, it is a good idea to wear something professional.
This is not only important for the chance of a video call, but it might also prepare you mentally to be in smart clothing throughout.
Make sure that wherever you are attending the virtual fair from is quiet and you are not likely to be disturbed, and that the background is neutral where possible.
During the Fair
5. Be Present
Although you can log in and out as you choose during the fair, you must give it your full attention when present.
It might be tempting to flick between it and social media, coursework, housework or your current job – but to present yourself well, you need to concentrate on the task at hand.
Give the fair your full attention, especially when you are in conversation with employers and recruiters.
6. Be Professional
When you enter an employer's 'booth', you will often need to initiate the conversation.
To make a good first impression, having an appropriate 'elevator pitch' to use as an introduction is a great idea to not only sell yourself but as a simple way to start talking if you feel a bit nervous.
Remember that even though you are communicating through text, you need to communicate professionally, using full sentences, good spelling and correct grammar. Read all your messages through before pressing send.
7. Offer More
When you are in conversation with an employer, it is a good idea to discuss the next steps with them.
They might suggest that you apply for an advertised role or give you some direction on what to expect.
Offer to send through a resume and ask if they would be happy to connect with you on LinkedIn.
8. Take Opportunities
There is more to a virtual career fair than just having conversations and meetings with prospective employers – there are often opportunities for learning and development outside of the employer booth that you should take notice of.
These include webinars, Q&A panels and discussions, as well as help with employability like resume clinics and interview tips.
In virtual career fairs, the freebies and goody bags that often come with attendance are sometimes replaced by competitions with prizes that can include cash.
After the Fair
9. Follow Up
If you can, following up with employers and recruiters the following day will ensure that you remain uppermost in their mind when they are considering applications – and this is also a great way to demonstrate your keen professionalism.
If you can, connect with them on LinkedIn (ensure you ask permission before doing so) and be sure to follow their business on other social media platforms too.
If discussed in the meeting, this might be a good opportunity to send them any further information like a resume or portfolio. Be sure to thank them for their time.
10. Apply for Roles
If you have found some interesting opportunities, then apply for them as soon as you can after the fair.
Getting straight into the application demonstrates enthusiasm and will get the recruitment process started straight away.
What Are the Key Differences Between In-Person and Virtual Fairs?
There are many similarities between virtual career fairs and their physical counterparts, but there are also some important differences to bear in mind.
Being proactive and taking the initiative to start a conversation with a prospective employer is important – in a physical event you might be able to loiter around a booth and wait to be noticed, but in a virtual event you need to initiate that conversation – which is where a succinct pitch can give you some confidence.
There are no capacity constraints in a virtual career fair, and unlike a physical fair, you will not have to stand around in a queue.
Live sections like webinars and Q&As might have audience limits, of course, but they may well be recorded for you to catch up later. While there are no physical queues, recruiters and employers will be speaking to other attendees, so you do have to be patient to connect.
The nature of a virtual career fair allows attendees to come and go as they please, unlike a physical location. This can be used to your benefit so that you can still attend around other commitments, but it is important to make sure that you have the time, space and concentration to devote to the process.
As part of the event login process, you will usually fill in a profile with information about your previous job history, education, any relevant experience and qualifications – and this makes it much easier for the recruiter or employer to assess your initial suitability for a role in the organisation.
This is something that is not always possible in a physical career fair – and it can be a pivotal part of your discussion.
Final Thoughts
A career fair (whether attending in person or virtually) can be a great way to get access to many employers at the same time and learn about their culture, organisation and recruitment process.
Usually held in physical locations including colleges and universities, a traditional job fair allows attendees to meet representatives from local businesses and discuss career opportunities.
Virtual career fairs have the same basic premise but offer much more in terms of flexibility. Attendance does not require travel; it just needs a good internet connection and some basic audio/visual equipment.
The virtual career fair allows you to connect quickly with recruiters and can even allow for phone calls and video calls for that personal touch.
Communicating mainly through text allows attendees to make the initial contact through a well-considered 'elevator' pitch – selling themselves from the first contact.
During traditional and virtual career fairs alike, there is so much information available from each employer. You can find out about the roles available and the recruitment process, as well as wider information about the company culture, organisation and what they are looking for in staff.
A career fair is a great way to build connections on platforms like LinkedIn and learn more about businesses in general on social media and news outlets.
To make the most of a virtual career fair, be sure to be in a quiet, neutral place where you are not going to be disturbed, so you can give it your full attention. Take part in all aspects of the process so that you can get the most out of the career fair and use the time to learn all you can.
Following up after both traditional and virtual career fairs is an important part of creating a great professional impression that could encourage a recruiter or an employer to keep you at the forefront of their mind when looking at applications.
---