Best Travel Credit Cards in the UK
A list of the Top Travel Credit Cards for November 2023:
Description of the Best Travel Credit Cards for November 2023
Below is our pick of the 9 best travel credit cards. Where interest rates are stated, these are representative examples only.
The exact terms and conditions of your offer will depend on your financial circumstances and credit history.
Almost all credit card providers offer eligibility checkers that allow you to see your likelihood of being offered the card without affecting your credit score.
Backed by Visa, the Barclaycard Rewards credit card is a great option for overseas spending.
It offers 0% on foreign transactions worldwide, provided these are made in the local currency. Cash withdrawals also come with no fee attached.
A major bonus of the Barclaycard Rewards card is that, as long as you clear your balance each month, there is no interest applied to cash advances (withdrawing cash).
Standard interest rates are competitive, with a 22.9% APR. Whilst there is no interest-free period available, users will receive 0.25% cashback on every purchase they make, credited annually.
To be eligible, you must be 21 years or over, earn an annual salary of £20,000 and have a good credit history of at least four years.
Regular travellers that use their card a lot for purchases may find the Santander All in One credit card a good fit.
Any transactions made in the local currency are fee-free, and you will also receive 0.5% cashback on every purchase made.
Cash withdrawals are, however, subject to a 3% charge plus interest until repaid in full.
As a bonus, the card currently offers 0% on purchases for the first 20 months, with a 23.7% APR thereafter. This is true as of March 2021.
There is a £3 monthly charge for the Santander All in One card, but you can also earn up to 15% cashback with certain retailers, so it is a question of whether the rewards are worth the cost for you.
To be eligible, at minimum you must be 18+ and have an income of at least £7,500 a year.
The Halifax Clarity credit card comes with no foreign usage fees and 0% interest on purchases if balances are repaid in full every month. A representative 19.9% APR is applied to any outstanding balances beyond that.
Interest rates do apply to cash withdrawals, so be aware of this if opting for this travel credit card.
Halifax Clarity is backed by Mastercard, so it provides a good level of financial security.
You can also use the Halifax eligibility checker before you apply without affecting your credit score.
There are no added perks here, but Halifax Clarity does rate well in customer reviews, so you can be assured of its credibility.
If you are looking for a travel credit card but are worried your credit score may make you ineligible or be dented if you are denied, you might want to consider 118118 Money.
Backed by Mastercard, it offers zero fees on all foreign transactions worldwide, including cash withdrawals, with no interest if you pay your statement in full by the due date.
As it is designed for those wanting to improve their credit history, you will typically get quite a low initial limit, and you need to keep on top of your balance as, at 34.0%, the APR is higher than average.
That said, it is a straightforward card that can save you money when used wisely.
Another to carry the Mastercard logo, the Post Office travel credit card does not come with any introductory offers, but it does give you peace of mind when spending overseas.
As with the best travel credit cards, there is 0% on foreign transactions worldwide, with no interest on balances paid in full each month.
Cash advances do, however, come with a 3% transaction fee and are subject to the card's 24.9% standard APR.
Depending on your eligibility, you could be offered an initial credit limit of up to £6,000.
peer lending company** founded in 2005.
Its credit card allows for fee-free transactions made abroad, with exchange rates set by the card network Visa.
Cash withdrawals are best avoided, as these will incur a £3 transaction fee.
Zopa's interest rates are high, with a 34.9% APR, but this will only apply if you fail to pay off your balance each month.
Given its £2,000 maximum initial credit limit, it is a card aimed at those looking for minimal fee-free spending.
Akin to the challenger banks, it offers an innovative app with a range of tools to manage your finances.
With a competitive APR of 9.9–18.9%, depending on eligibility, the Natwest credit card is a good option if you need a little longer to repay your debt without accruing hefty interest.
Backed by Mastercard, it comes with all the standard protection and can be used for purchases worldwide at no extra cost. A 3% fee and an APR of 16.9% do apply to cash withdrawals, though.
There is no introductory offer or rewards scheme, but with eligibility criteria stating an annual salary of over £10,000, it is an accessible card for those on a lower income.
Again, you can check your chances of being approved without affecting your credit score with the Natwest eligibility checker.
The last on this list of the best travel credit cards comes from Metro Bank.
With this card, you get 0% on transactions and cash withdrawals made within the EU, making it a good choice for those that travel a lot throughout Europe.
If you travel outside of this zone, the other options are better suited, as a 2.99% foreign usage charge applies anywhere else in the world.
Clear your balance in full each month and you will pay no interest, with a lower-than-average 14.9% APR applied to any balances outstanding.
When travelling overseas, many people prefer the security of using credit or debit cards over carrying large amounts of local currency.
Whilst it may be a safer option, it can be a costly affair, with hidden fees and charges eating into your travel allowance.
One way to avoid this is to use a travel credit card.
These are designed to save you money with low, transparent costs or, in many cases, no costs at all when using them abroad.
What Are Travel Credit Cards?
Travel credit cards work in the same way as standard credit cards, but with some key cost-saving differences.
As with standard credit cards, they allow you to borrow money from the card provider to pay for goods and services or withdraw cash advances.
Like any form of credit, they're issued on a repayment agreement.
Lenders will run a credit check before offering a card, associated spending allowance and conditions, so you do need a decent credit score to be eligible for the best deals.
Where travel credit cards differ is in the charges they apply to overseas transactions.
With a standard credit card, you will typically pay a non-sterling transaction fee of 2–3% when making a purchase abroad. You will also be charged a similar amount for ATM withdrawals.
Additionally, standard credit cards usually offer poor exchange rates.
With travel credit cards, those fees are either lower or absent, and exchange rates are far more favourable.
Some also offer additional perks like travel discounts, insurance and cashback rewards.
As a result, travel credit cards often prove a more cost-effective way of spending overseas.
What Are the Benefits of Travel Credit Cards?
On top of their money-saving features, travel credit cards have several other benefits.
If you are a regular traveller or are planning on an extended period of time overseas, they save you the hassle of trying to predict your spending and exchanging enough money into local currency to tide you over.
If you travel a lot for work purposes, you may also be able to connect your card to your business accounting software, making it easy to log and track expenses.
There is also a safety aspect. A travel credit card means you do not have to carry around large sums of cash and, as with standard credit cards, they generally offer greater protection against fraudulent activity, as well as covering your consumer rights on large purchases.
What to Look for in a Travel Credit Card
Not all travel credit cards are advertised as such. Some may be offered as standard cards, but hold the same benefits for overseas spending.
This can make choosing the right one tricky, especially since different providers offer different features.
Here are some key things to look out for:
Foreign usage fees – Naturally, this is the major feature you are looking at. Ideally, you want a card that offers 0% on non-sterling transactions and cash withdrawals.

Cash advance interest rates – Withdrawing money with a credit card is called a cash advance. Although you may not be charged a fee to withdraw cash from an ATM, it is important to note that you may pay interest on your withdrawal amount from the day you take it out until you have paid it back. This fee can often be high, so check the percentage interest rate here.

Exchange rates – Obviously these fluctuate, but you can check those offered by each provider against current market rates to assess how competitive they are.

Introductory offers – If you are going on a once-in-a-lifetime trip, it is a bonus to have 0% interest on purchases for an extended period. This gives you the chance to repay your debt without incurring additional cost. If offered, introductory periods can vary greatly, so look for one that will give you ample time to clear your balance.

Standard APR – If you clear your balance every month, interest will not be applied to your account. However, if you do not think this will be feasible, it is important to look for a card with a lower APR (annual percentage rate) to avoid your debt getting out of control.

Annual fees – Some travel credit cards may charge an annual (or monthly) fee to maintain your account. If this is the case, weigh this against the value of the card's benefits to determine if it is worth the cost. Ideally, look for a card without an annual fee, particularly if you are not a regular traveller.

Added perks – Whilst not a necessity for travel credit cards, it is always nice if your provider gives you extra perks like cashback, reward points or discounts. As many issuers are otherwise on par with what they offer, these could be the deciding factor when it comes to making your final choice.

Card network – Travel credit cards are issued by financial service providers, but backed by credit card networks that handle the transactions. For full security and peace of mind, look for cards bearing reputable network logos, like Visa, Mastercard and AMEX.

Eligibility – Finally, always check the eligibility criteria before you apply. If the provider turns you down because you do not meet the criteria, it will be damaging to your credit score.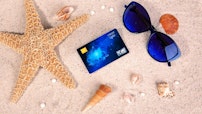 8 Best Travel Credit Cards in the UK
Tips for Using Travel Credit Cards
Step 1. Avoid Withdrawing Cash
As mentioned, though most travel credit cards offer 0% on cash withdrawals, you will likely pay interest on your withdrawal amount.
Rates are often high and can add to your debt significantly, so it is best to avoid cash withdrawals wherever possible.
Only use this facility if you have no other option, such as if a vendor only takes cash.
Step 2. Pay Using the Local Currency
Whenever you make a card transaction overseas, you are usually given the option to use either your domestic or the local currency.
If you opt for your domestic currency, something known as dynamic currency conversion will be applied.
This is when the merchant uses exchange rates from their own service provider.
These rates are generally poor and leave you unnecessarily out of pocket.
Always choose to pay in the local currency as your credit card provider's rates will be fair.
Step 3. Steer Clear of Large Purchases
Unless your travel credit card offers 0% on purchases for an extended period, it is best to avoid using it for costly items.
APR tends to be higher on travel credit cards, and if you do not clear your balance quickly, you could run into financial difficulty.
Use your travel credit card only when you know you can afford to pay it back and seek alternative funding for any major costs.
Conversion fees on your normal debit card may be worth it in comparison to the long-term credit card interest on a large purchase.
Step 4. Consider a Prepaid Travel Card
If you are wary of borrowing, you could look at a prepaid travel card as an alternative.
These allow you to pre-load your card with funds whilst offering the same low or no foreign transaction fees as typical travel credit cards.
The downside here is that once you have spent all your pre-loaded money, there are no additional funds available, so you will need a backup option for emergencies.
This is a similar downside to converting money into the local currency before you go because you have to judge how much you are likely to spend before you leave.
Final Thoughts
Whether you are a regular traveller looking to cut costs or are simply after a way to save money on your next holiday, travel credit cards are a good option.
They can generally be applied for in minutes, and take much of the hassle out of overseas spending.
Do remember: credit cards are a form of debt, and you should never spend more than you can afford to repay.
The information provided here is not intended as financial advice, and you should always consider your personal circumstances carefully before taking out any form of credit.
WikiJob does not provide tax, investment or financial services and advice. The information provided is for general reference and you should not rely on it to make (or refrain from making) any financial decisions. Personal situations will vary. Always seek independent financial advice when choosing how to manage your finances.
---