How to Make Money From Affiliate Marketing in 2023
All products and services featured are independently selected by WikiJob. When you register or purchase through links on this page, we may earn a commission.
Pros
One of the most comprehensive trading programs available.
You will get access to expert technical analysis and market knowledge.
The course aims at equipping students with adept money management abilities and strategies.
It is a well-structured and transparent course.
Thomas Kralow is a highly regarded trader and has tried multiple long-term strategies that have been successful. Under his mentorship, you will have an inside knowledge of these.
You can start with a Free webinar
There are lots of students testimonials and authentic program reviews
The learning program was recognized by Nasdaq, Daily Express, and The Bloomberg
Cons
Even though you receive a diploma, it may not be recognised by a company like a bachelor's or master's degree will be. If you are looking to take the course to find future employment, then you may be better off pursuing a degree.
Thomas Kralow offers a great range of courses. You can choose from the basic program, the standard program or the shortened program.
The trading school also offers a great range on how these courses are delivered. You can choose either an assisted learning style, an assisted plus learning style or the standard learning approach for each course.
As of today, Thomas is one of the most recognized financial market experts out there, with an audience of more than 1M+ followers across the platforms. His expert opinion is regularly featured in market overviews of Yahoo Finance, Forbes and Business Insider. Also, the learning program itself is recognized by Nasdaq, Daily Express, and The Bloomberg. It all proves the high credibility of Thomas is really an expert in the field.
Apart from that, you can find more and more testimonials from his students, who share their experiences and results after graduating. For example, here is a video of Thomas, speaking with one of his VIP students - Adel, where he shows his trades and talks more about the process itself.
Price
How much you pay depends on which course you choose to take.
For the basic program, the standard course learning style costs $123.
This is a one-time payment made at the beginning.
If you want the assisted course, you will have to pay $369, and if you want to take the assisted plus course, you will have to pay $899.
The complete course is understandably more expensive. For the standard program, you can expect to pay $1,280 for tuition upfront.
This can be broken down into monthly payments, but you will have to pay more if you choose this option. If you choose to pay monthly, the standard course costs $395 a month, making it $300 more expensive than the one-time payment.
As for the shortened course and standard learning style, a one-time payment will cost $1,180 or $375 a month for four months.
For the assisted program complete course, you can choose a one-time payment of $2,960 or $875 per month for four months. If an experienced student wants to opt for the shortened course, they can expect to pay $2,780 upfront or $825 a month for four months.
Finally, for the most comprehensive package, you will be asked to pay a great amount of money for Kralow's assisted plus services.
For the assisted plus program complete course, you can either pay $19,980 upfront or $6,125 for four months. You will save a total of $4,520 if you make the one-time payment.
For the shortened course, but with the assisted plus option, you can either make a $18,880 payment upfront or a payment of $5,845 a month for four months.
If you are unhappy with any of the services offered, then the Thomas Kralow academy will refund any customers within 30 days of your initial purchase.
20% Discount By using our link to purchase the learning program, you will get a 20% discount which is an amazing opportunity for such a comprehensive learning program.
Structure, Content and Length
The basic program offers students 20 lessons, with 19 interactive quizzes and seven practical assignments. This is a program that takes place over 21 days and is a perfect introduction for absolute beginners.
If you are looking for something more comprehensive, then the complete program offers much more depth than the basic program. There are a total of 202 lessons that are separated into 16 sections.
As well as this, there are over 145 quizzes on the complete course that are designed to help you apply your knowledge to real-life trading scenarios. You can also challenge yourself with the 82 specific practical assignments.
The complete course has excellent reviews and is considered to be the equivalent of a university-grade course. Like an undergraduate course, students who pass their final exams will receive a recognised diploma.
If you do not feel you have the time to dedicate to the complete program, Thomas Kralow also offers a shortened program. It is very similar to the complete program, but it cuts out the tutorials from the first section that are designed for beginners.
The shortened program is best for traders who have some knowledge prior to taking the course.
As mentioned above, you also choose your learning style.
The standard course allows students to interact with each other. There is also customer service support that is available for 24 hours, seven days a week. Those who are best suited to independent learning will favour this style.
The assisted course included expert guidance from a Thomas Kralow advisor. You will not be left alone to work through the content, and you will get help from someone who knows the course material well.
This learning style is marketed as 60% independent learning and 40% assisted learning. Those who choose this learning style will also get access to 30 days of real money-trading support after graduation.
The assisted plus course is the most expensive option, but it comes with all extra features, including access to the mentorship of Thomas Kralow.
If you opt for the assisted plus course, you will spend 60% of your learning time under the personal guidance of Kralow. Only 10% of this course is spent independently. You will also get access to a range of other advisors.
Extra features include comprehensive trading algorithms, a strategy proposed by Kralow, private communication with some of the best advisors available and a 20% discount on all other products and services.
Special Offers
Unfortunately, the Thomas Kralow trading program does not offer a free learning solution, as all the programs have been tailored either by himself or other trading experts.
A valuable piece of information that you can get is to watch his WEBINAR - "Professional Trading Methods" completely for free.
Last but not least, recently Thomas made a course about Crypto, which you can buy relatively cheap, only for $97.
In less than 3 hours, you will learn about:
What is Crypto & Blockchain?
Best long-term crypto investing strategies!
What are the Consensus Mechanisms and why crypto is here to stay?
Buying crypto now (how and where to buy it safely?)
How to analyse the charts and understand the cycles?
How to know when's a good time to buy?
How to know which coins to buy?
How to use Dollar Cost Averaging?
How to find the BEST MOMENT to sell your crypto and take profits?
Where to find crypto-related news and updates?
How to manage your crypto portfolio?
What NOT to do when buying crypto?
How to keep your crypto safe?
Pros
High-win rate signals
Time-saving auto-trade features
Advanced Trading features: Break-Even Stop-Loss, Laddering, Advanced Trading Terminal, Trade Guardian, Market Updates and more
Transparent signals reports
Trading Education
30-day money-back guarantee
Free account available
24/7 trading support
Cons
No mobile app yet
Only works with Binance.com only (more cryptocurrency exchanges will be added soon)
Fee: Create a free account or upgrade to premium to access all features starting from $399
ProfitFarmers is the most unique trading bot on the list.
It's a platform that combines trade signals with copy-trading and advanced automation. So it's actually much more than just a bot.
It's an all-in-one crypto trading co-pilot that does the hard work for you.
Here's how it works:
ProfitFarmers AI generates trading signals
Its team of crypto traders review the trades and send the best trade plans to its members
You copy a signal and adjust according to your preferences and risk tolerance
You choose which features you want to enable (Laddering Mode, Break-Even Stop-Loss, etc.)
The bot executes the trade for you
The ProfitFarmer's algorithm dynamically scans the market 24/7 for trading opportunities based on dozens of factors, which are then sifted by professional cryptocurrency traders before the trade appears in the dashboard for members to take.
It's a combination of AI and human intelligence. The result? 78% win-rate on completed signals.
In 2021, completed signals resulted in a profit nearly four out of five times.
Whether you are just starting out or already have years of trading experience, every trader can benefit from the simplicity and convenience the platform provides.
You also get professional help through its crypto market analysis, trading education and a 24/7 customer support team.
ProfitFarmer offers a free version of its platform, which means you have the chance to try and take advantage of its cool features without paying a cent.
Some of the great features, like a moving stop loss and higher take profit targets, are locked behind a pro account.
What are you waiting for? Sign up with ProfitFarmers now!
Pros
Self-paced video format
Lifetime exclusive support group access
Detailed insights with practical application
Profitable patterns backed by examples
Single payment with no recurring subscription
Cons
No forex or crypto, UK stocks only
No free trial
Best for: UK stock trading
The UK Stock Trading Course comes endorsed by many industry experts and teaches you how to trade UK stocks.
Michael Taylor is a well-known expert in the market and is often invited to speak at trading events and has written for the Financial Times. He has traded for a living since 2016 and set up the course in 2020 to fill the gap in quality trading education for UK stock traders.
Michael offers plenty of free content for those interested in starting to trade UK stocks with books, video lessons and free tools.
For those who want to progress to becoming a six-figure trader, he offers his paid tuition with The UK Stock Trading Course with 8+ hours of content.
The course costs £597 and comes with lifetime access and all future content additions free.
So far, the course covers:
How to setup and scale your trading business
Risk management and effective position sizing
Advanced stop loss strategies
Reading Level 2 to get better prices
How to use direct market access to beat market makers
Finding and trading 'in play' stocks
Profitable patterns backed by examples
It's clear why Michael's course is a top choice for many traders and his reviews are outstanding.
Pros
Choice of bitcoin trading courses available to suit different topics and needs
Members' chatroom
Live class training available
Watch live trading
Cons
Courses require expensive monthly, annual or one-off payment for access
No free trial
Bulls on Wall Street was conceived as a community to improve ongoing education for traders back in 2008. Designed to leverage the innovations in social media to make sharing best practices and new strategies easier, it is a popular destination for beginner traders as well as those who have some experience and want to learn new things.
Although the courses might be considered quite pricey, payment plans are available on almost every course, and there are some Swing Trading courses you can buy on-demand if there are specific topics like options or retirement trading that you want to learn about.
The 60 Day Trading Bootcamp was established in 2012 as a full coverage trading program, teaching everything that you will need to become a sophisticated and successful trader. This course is a combination of homework, seminars, and videos on everything from the basics of trading instruments to strategizing, reading the market, and making decisions based on trends and market sentiment.
As with other courses offered by the Bulls on Wall Street team, the amount you pay for the course also offers you access to the community where you can continue to learn from more experienced traders – including the founders.
Other courses include a free beginner's course that comes with a trading kit you can get by signing up to the email mailing list, and there are courses specifically designed for swing traders and day traders.
One of the newest offerings includes a Crypto Day and Swing Trading course, with content that focuses on diverse ways to trade digital currencies. There are more than 100 lessons included, taking you from complete beginner to confident trader and giving you access to the crypto trading room too.
Pros
Free trial available
Daily live streams and market analysis
Insights from trading mentors
Community of fellow traders to discuss ideas with
Online video library for education
Cons
Requires monthly subscription (different tiers) to maintain access
May not offer much value to advanced traders
Successful trading is about more than just signals – and that is what Nick McDonald had in mind when he created Forex Signals in 2012. After discovering that there was no resource for traders to interact, discuss the market, and learn from each other, he decided to build a transparent and inclusive community – and Forex Signals was born.
Now with more than 500,000 members learning from three world class mentors, the Trading Room includes access to educational videos, a chat function with other members and the mentors, trading signals and live streams, trade discussions and access to leading trading tools.
There are three levels of access to the Trading Room. Every level of access includes pro trading video academy, daily live trading sessions and a real time global news stream, analysis of trade sentiment and weekly hot picks.
The Apprentice costs £77 and allows access for one month at a time.
The Committed costs £39 a month and gives six months access. At this level, you also get some direction from the mentors, as well as a one-on-one with a mentor and exclusive brokerage access.
The Professional membership is billed annually, costing £36 per month, and gives members a direct line to mentors and the Trend Surfing Expert Advisor.
Pros
Daily Live sessions
Tons of educational material, video courses and tests to complete your knowledge
RM referral structure where anyone can become an entrepreneur and transform RM into your own income source with partnership payouts of up to 1 Million Dollars a month
Cons
Monthly subscription to retain access to all features
Price: $199 for All-In-One package, $150 for standard packages
RM believes that anything can be easily learned, as long as you know the right approach.
Its main goal is easy and understandable education.
RM provides its users with online educational courses for forex, Options and Crypto trading with a bunch of interactive videos and tests and wants you to learn in an exciting way.
RM's live sessions are like watching your favorite YouTuber or Twitch streamer. But with RM you will learn how to trade, gain new financial knowledge and possibly improve your financial situation.
Packages offered include:
All-in-One: $199.50 per month
Forex package: $149.50 per month
Options package: $149.50 per month
Crypto package: coming soon
When purchasing a subscription you get full access to all the educational materials and features offered by RM.academy.
For more experienced traders, RM.academy offers a referral scheme to allow you to bring in new clients, create your own network and receive partnership payouts from all your active referrals.
As your number of active referrals grows, your level within the academy grows too. The higher the level, the higher your monthly payout. Each level has a fixed monthly payout amount of up to $1,000,000.
Review Referrals section in order to have a better idea on how much exactly YOU can make! Or jump straight to creating an account and giving RM a test drive, before buying a package!
Pros
Learn at your own pace
Video lessons cover a wide range of topics
Both free and paid-for courses are available to suit different preferences
Cons
Requires paid subscription to maintain Trading Room access (various tiers available)
Providing a trading education that is designed to take you from the basics of cryptocurrency through to the advanced strategy, How to Trade has a wealth of world-class educational resources.
There are more than 50 free trading lessons, designed by globally recognised mentors, and when you complete them, you will receive a certificate.
You can expect the free courses to include both forex and stocks education – from a basic introduction through to charts, technical analysis, indicators, risk management and psychology.
Alongside the free courses, there is premium content that comes with membership of the Trading Room.
There are three different membership levels, with increasing benefits as the price goes up.
Every level includes access to the Trading Room, all the premium content in the modular video academy, daily live trading sessions, trade sentiment analysis, weekly hot pick analysis, real time global news stream, live interactive workshops and access to pro trader tools.
The different pricing structures are as follows:
The Apprentice – £77 per month, billed monthly. Includes one month access to the Trading Room.
The Committed – £39 per month, billed six monthly. Includes six months access to the Trading Room. This also includes exclusive brokerage access and one-on-one with a mentor.
The Professional – £36 per month, billed annually. Includes a year's access to the Trading Room, all the features of the Apprentice and Committed subscription, but also a direct line to the mentors, the Trend Surfing Expert Advisor, and a license key to Forex Tester 5.
Pros
Low minimum investment from €1
User-friendly platform
Useful educational resources for beginners through to experts
Range of deposit and withdrawal options
Choice of digital assets available
Available via web and mobile app
Cons
Fiat deposit and withdrawal fees may apply depending on method
Crypto deposit fees below certain thresholds
Crypto withdrawal fees
Not available to US clients
BitPanda was founded in Vienna in 2014 with a vision to build a digital platform that allows simple and user-friendly access to the markets for everyone.
Now one of the fastest-growing fintechs in Europe, BitPanda has reimagined investing with simple and easy-to-use financial products that allow for trading everything with as little as one Euro.
Through BitPanda, you can trade more than 100 digital assets, such as cryptocurrency, stocks, ETFs and precious metals, with several base currencies available and more deposit options than other trading platforms thanks to the inclusion of electronic wallets like Skrill and Neteller.
Fees for buying and selling crypto are about 1.49% and there are deposit fees, depending on currency and payment methods. For verified accounts, there are no trading limits on BitPanda.
There are two types of accounts available on BitPanda – a normal trading account and a business account.
BitPanda offers a great level of education through the BitPanda Academy. This is a completely free and regularly updated eLearning platform.
The Academy has a series of lessons on personal finance, with specific subjects like assets and liabilities, budgeting and saving, and some basic knowledge on investing.
The trading lessons are divided by the level of trading, with a series of lessons from beginner through to expert.
Here you can find self-directed learning on cryptocurrency, blockchain technology, wallets and mining pools, as well as dApps, proof of work and order types.
The learning is delivered through simple articles that are also available via video on their YouTube channel, and at the end of the lesson, there are recommendations for further reading and other sources of information.
One of the easiest ways for bloggers and digital nomads to make money is through affiliate marketing.
They recommend specific products or services and receive a commission for each subsequent sale that is directly attributed to their recommendation.
When you're reading a blog post or an article or scrolling through your social media feeds, you may not realize how prevalent affiliate links can be. But once you learn to spot the tell-tale signs, you'll start to see them everywhere.
Affiliate relationships are increasing in popularity because they are mutually beneficial to both the blogger and the company. With little to no effort, bloggers generate a passive income, and companies benefit from increased sales.
What's more, affiliate links are quick and easy to set up and require little technical know-how.
What Are the Benefits of Affiliate Marketing?
The growth of e-commerce has meant that small and independent brands can easily compete against multinational corporations.
While they may not have the same buying power as larger retailers, smaller firms can quickly build relationships with brand ambassadors and customers to generate additional sales. By offering a financial incentive, bloggers and influencers can be enticed into reviewing and endorsing specific products to their audiences.
The accessibility of affiliate marketing is what makes it so popular. You do not need to have millions of followers to be influential.
Anyone can register themselves with an affiliate program and generate links to products they genuinely like and use. They can build their own website or share the links via their personal social media pages and receive a passive income stream.
In many circumstances, people use affiliate links to help fund their hobbies.
Let's take the sewing community as an example. Affiliate marketing is rife within this niche hobby, where many people will meet in online forums or social media groups to discuss their recommendations and suggestions.
Many sewists may sign up for affiliate programs to share pattern recommendations or fabric choices with their friends. By sharing details of their favorite patterns, fabrics or photos of items they have made, they can generate funds for new designs or materials.
Affiliate marketing is hugely popular because it's so quick and easy to do. There's little to no risk involved – after all, it doesn't cost anything to set up, and if it doesn't work, you haven't lost anything.
It's also self-generating. Once you've shared your affiliate link, you don't need to do anything else. It will take care of itself without needing to monitor its performance.
Instead, you can sit back and watch the dollars roll in!
How Does Affiliate Marketing Work?
There are three distinct types of affiliate marketing. Let's look at each in turn to see how they differ.
Affiliate Network
These are third-party businesses. They easily connect businesses (merchants) with affiliate marketers. These networks will have data analytics that you can use to see which products are selling well.
You can use this information to inform your affiliate-marketing strategies. A popular example of an affiliate network is the Amazon Associates program.
This style of affiliate marketing is often used by bloggers who want to use affiliate links to recommend specific products that relate to their chosen niche.
For example, there are thousands of bloggers who write about home renovations. They may use affiliate networks to source and recommend products that they use within their renovation projects.
Affiliate Program
This is very similar to the affiliate network way of working. The merchant takes control of the program. They will typically provide an affiliate referral link to the marketer, who shares that link with their audience.
When a customer buys an item via that referral link, the marketer receives a small commission.
However, unlike affiliate networks, the merchant is in complete control of the whole process. They set the rules, the commission rates, and they also manage the entirety of the program. Affiliate programs are popular amongst hobbyists (like the sewing example discussed earlier).
Affiliate Partnership
This offers mutual benefits to both parties. Within an affiliate partnership arrangement, your affiliate program and another affiliate program will jointly agree to promote each other's services and products to your audiences.
Affiliate partnership relationships are a beneficial way to reach a broader (yet completely relevant) audience and improve your credibility.
Your audience will be confident that you are only working with partners that you trust, rather than taking affiliate earnings from anything or everything.
An example of an affiliate partnership is something such as a brand ambassadorship role, where you work with an influencer to promote your products, and your business actively promotes that ambassador.
A Step-by-Step Guide to Getting Started With Affiliate Marketing
Although it is quick and easy to jump straight into affiliate marketing schemes, it can be challenging to make a significant impact.
Successful people who earn good passive incomes through affiliate marketing take their time. They strategize, and they think carefully about how they can be seen as a trusted influencer. They also establish the best possible ways to continue to make as much money as possible for minimal effort.
Here are a few step-by-step pointers to help you get started.
Step 1. Choose Your Niche Carefully
The first thing you need to do is to think about what interests you. For example, if you're starting out as a blogger or have visions of becoming a brand influencer, you need to consider your chosen audience.
Will you focus on a hobby area such as cooking, fashion, art or home improvements? Or are you seeking to expand upon your expertise within your current profession? Perhaps you want to be known as an expert or a guru within your business community.
To earn a successful income via affiliate marketing, you need to think of it as starting a business. You need to put time and money into it.
But you also need to know if it is a profitable area. You need to do your due diligence and see what your potential competition is doing.
Are there lots of people writing about the same content? Can you differentiate yourself from them? Are there relevant products that you can tap into through affiliate schemes? Take as much time as possible to research what is already there and find any apparent gaps in the current marketplace.
Step 2. Decide What Type of Business You Are Looking to Create
Affiliate marketing can occur in many forms. It may be through written blogs (in which case, you need a dedicated website). It could be via video tutorials (you need to set up a YouTube account).
Or it could be via your social media presence – perhaps you need to pay attention to your Instagram grid.
Think carefully about what you want to achieve and whether it's the right place for your audience. For example, you may dream about the creative side of Instagram. Still, if your niche focuses on a business audience rather than a consumer audience, you may be better off using a different platform.
You should also think about your existing skills. For example, there's no point in setting up a YouTube account if you don't know how to work a camera and you have no video-editing skills.
Once you know what you want to do and are confident that your audience will be making the most of the same platform, you can press ahead to the next stage.
Step 3. Set Yourself Smart Goals and Hold Yourself Accountable
It can be very easy to dive straight in and then be disheartened when things do not go to plan.
If you want to make money from affiliate marketing, you need to plan and strategize. It would help if you thought about what you want to do and how you plan to do it.
The SMART acronym (specific, measurable, achievable, realistic and timely) is a helpful guide to setting your aims and objectives. This can keep you on track and help you decide whether you are moving forward and achieving success or whether you need to take a step back and look critically at what you are doing.
Step 4. Create Engaging Content First
It may be tempting to delve straight into the affiliate marketing links. After all, that's the way you want to make money. But affiliate marketing takes time to come to fruition.
So, if you are choosing to write a blog or even record videos for YouTube, you need to focus first and foremost on your content output. After all, no one will trust you and listen to your recommendations if you don't get your content right.
Your content needs to be interesting. It needs to align with modern SEO techniques so that it can be found within a search engine.
And it needs to match up with what your intended audience wants to hear. At the end of every article or every video, your audience should walk away feeling that they've learned something new – that they had a reason for visiting your website and feel better informed after listening to what you have to say.
This approach will create a level of trust between you and your audience. Once they begin to advocate for you, they will start to pay close attention to the products you are endorsing.
Only when this relationship has been built up can you start to make money through affiliate marketing.
Step 5. Pay Close Attention to Your Community
Successful affiliate marketers can earn thousands of dollars because they engage in careful dialogue with their audience. They listen to what their readers or watchers are saying, ensuring that their content aligns with their audience's wants and needs.
Your community will be responsible for you making money through affiliate marketing, so their opinion should be more important than anyone else's.
You may naturally find that by engaging directly with them and providing them with content they want to consume, they will be more likely to visit your site regularly. They will recommend you to others. And they will share your content on your behalf.
This will help you to build a bigger audience naturally. It will improve your trust and respect within your community and provide you with organic growth.
Remember that your ability to make money relies on having a large audience. Therefore, the bigger your reach, the more opportunities there will be for others to use your affiliate links and generate your commission.
Step 6. Research the Different Affiliate Options
Earlier in this article, we mentioned the difference between affiliate networks, affiliate programs and affiliate partnerships.
You need to pay close attention to the differences between each one. Some may naturally align to specific sectors or niche communities better than others. You also want to look into the commission schemes and the terms and conditions of each.
You need to know when you will receive payments – will it be quickly, or will you have to wait up to 90 days?
Once you start making money from affiliate marketing, will your money come through each month or in lump sums?
You should think about these things carefully if you are preparing for your affiliate marketing funds to become your predominant income.
Step 7. Consider Affiliate Management Plugins
We all dream of having an income that takes care of itself with minimal input. If you are serious about monetizing your website, why not consider some affiliate plugins?
These are helpful tools that will automate the process for you. For example, if you are planning on selling advertising space through banner ads/headline ads on your website, signing up with a tool such as Google AdSense will manage all of the hard work for you.
Similarly, if you are building your website via WordPress, there will be various plugins that you can use to automate and streamline the monetization of your website.
An added benefit of affiliate plugins is that if your affiliate link expires or you have an updated link, you can easily update every page simultaneously. This will save you from having to trawl through every page on your website and manually update each link.
Step 8. Focus On Optimization
You could have the best-looking website on the internet. And you could be publishing unique content that promises to give audiences everything they are looking for.
But if your website or your videos cannot be found through search engines, you'll never be able to make money through affiliate marketing. So, your biggest priority should always be SEO techniques.
Whether you are focused on Google or YouTube searches, you need to pay close attention to your:
Search terms
Keywords
Tags
Descriptions
Captions
A top tip is to conduct regular audits of your analytics. For example, can you check what your best-performing content is? Which articles have your visitors spent the longest time reading? Which has the highest click-through rate? You should be paying close attention to these analytics, as they will tell you a lot about what is working and how you can continue to make improvements.
You may wish to upskill yourself with the latest SEO techniques. Numerous online courses will help you to improve your knowledge. Or you could outsource the work to a trusted SEO specialist.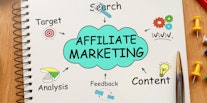 How to Make Money From Affiliate Marketing
Essential Tips to Help You Get Started With Affiliate Marketing in 2023
As an affiliate marketer, you rely on other people to act on your recommendations to supplement your income.
Therefore, you should always put integrity, honesty and trust at the heart of everything you do. Without the goodwill and positive feeling from your audience, you have nothing. Therefore, you must always consider your audience above all else.
Be Genuine
If you're working in the bloggersphere or have a significant social media presence, it's important to remember that your audience can turn on you just as quickly as they can build you up.
Your business (and your income) will rely on them trusting in what you say. If you do something that goes against what your audience stands for, they will soon hold you to account.
With this in mind, you need to be genuine in everything that you publish. Your affiliate links should be relevant, and they should be something that you are proud to endorse.
If somebody buys a product based on your say-so, but they have poor results, they will be more likely to think badly of you rather than the product manufacturer.
So, you should only ever recommend products and take a commission from items that you genuinely believe in.
It can be tempting to chase the dollars and fill your website full of affiliate links to enhance your income. But if that starts to affect the quality of your content, your audience will simply move elsewhere and follow someone else.
Include Disclosures
It is also wise to include affiliate disclosures within your content. If you are making money from a product, that should be made clear to your audience to make an informed decision.
The inclusion of your disclaimer will not only improve your credibility amongst your audience, but it is also a legal requirement. The Federal Trade Commission regulates affiliate marketing.
The regulation ensures that all product endorsements are transparent and differentiate between paid and unpaid content. Therefore, your disclaimers should be conspicuous on your website.
You may wish to have a dedicated page explaining your approach and have a prepared statement that you include on all web pages that feature affiliated links.
Make Sure Your Links Are Relevant
Don't go overboard with affiliate links. It can be tempting to litter your site with them. After all, the more you have, the more money you can earn.
But the reality is that less is more. As we've already mentioned, your audience will be coming to you because they want to hear what you have to say. If they feel that they are only there to be sold to by a salesperson, they will quickly lose interest.
You may find that it's more beneficial to have fewer affiliate links to higher-priced, big-ticket items than lots of links to low pay points. The result may still be the same – the net income from your affiliate marketing may be similar, but you'll regain the trust and advocacy of your audience with fewer, more relevant links.
Know Where to Put Your Links
A few strategies can help you determine where to place your affiliate links to help you make money.
As a general rule, you should include your relevant links near the top of your article. As with any copy, you cannot guarantee that your audience will continue reading to the end. Therefore, you want to have all relevant information near the top of the page, where it is more likely to be seen.
Make Your Content Work Harder
You also want to use your content carefully. If you are referring to a specific product, what search terms are commonly used with that item?
With affiliate marketing, it's not just about using your SEO to direct people to your site. It's about being able to maximize opportunities for people searching for specific products. Thanks to keyword searches and content optimization plans, you can successfully insert relevant keywords into your posts, which will aid your visibility and help you to generate organic traffic.
Get the Experts In
A final tip is to outsource to the experts. Some of the top affiliate marketers make thousands of dollars through a passive income because the very best people manage them. They rely on experts to handle their SEO. They outsource content to copywriters to cope with a high-paced publishing schedule. And they rely on social media teams to keep all channels up to date.
They may even hire a specific affiliate marketing expert to manage any affiliate partnerships or research new opportunities. As you start to make money from affiliate marketing, you should reinvest some of that income into your business.
Think carefully about how you plan to grow and what you want to achieve. With more help, you can scale up your brand and make more money while working fewer hours.
It Is Possible to Make Money, but It Is Hard Work
Earning money from affiliate marketing is one thing. Earning an income from affiliate marketing is very different.
Some people may only make a few cents or a few dollars from their affiliate marketing links. Others may earn enough money that they don't have to do anything else.
The difference between those who make money and those who earn an income is that the latter have treated their affiliate marketing strategies as a business. They've understood that it takes time and dedication. They've focused on building a brand, and they have found a community they can tap into.
Affiliate marketing is an excellent option for those who have a vision and focus on what they want to do. It's not something that requires any specific skills or qualifications.
In that respect, it's accessible to all. But effective affiliate marketing involves an understanding of what today's fickle audiences are looking for. With new bloggers and YouTube stars emerging every day, there is no guarantee that audiences will remain loyal.
We are currently in the 'boom' phase of affiliate marketing.
As a relatively new income stream, it's almost impossible to know how audiences may change in the future. Therefore, it's difficult to predict trends and understand whether this is a long-term income stream or whether this could naturally peter out in the next few years.
As a short-term income stream, affiliate marketing can be extremely profitable. However, any marketers will need to consider their longevity and strategize how they plan to remain successful.
Final Thoughts
It is possible to make money from affiliate marketing, but it takes time and dedication to turn it into an income stream.
Knowing your audience and being able to deliver content that they engage with and find useful is a key first step. Learn about SEO techniques to drive them to your online platform and hopefully they will click on your affiliate links and start to earn you a commission.
---