How to Make Money From Affiliate Marketing
One of the easiest ways for bloggers and digital nomads to make money is through affiliate marketing.
They recommend specific products or services and receive a commission for each subsequent sale that is directly attributed to their recommendation.
When you're reading a blog post or an article or scrolling through your social media feeds, you may not realize how prevalent affiliate links can be. But once you learn to spot the tell-tale signs, you'll start to see them everywhere.
Affiliate relationships are increasing in popularity because they are mutually beneficial to both the blogger and the company. With little to no effort, bloggers generate a passive income, and companies benefit from increased sales.
What's more, affiliate links are quick and easy to set up and require little technical know-how.
What Are the Benefits of Affiliate Marketing?
The growth of e-commerce has meant that small and independent brands can easily compete against multinational corporations.
While they may not have the same buying power as larger retailers, smaller firms can quickly build relationships with brand ambassadors and customers to generate additional sales. By offering a financial incentive, bloggers and influencers can be enticed into reviewing and endorsing specific products to their audiences.
The accessibility of affiliate marketing is what makes it so popular. You do not need to have millions of followers to be influential.
Anyone can register themselves with an affiliate program and generate links to products they genuinely like and use. They can build their own website or share the links via their personal social media pages and receive a passive income stream.
In many circumstances, people use affiliate links to help fund their hobbies.
Let's take the sewing community as an example. Affiliate marketing is rife within this niche hobby, where many people will meet in online forums or social media groups to discuss their recommendations and suggestions.
Many sewists may sign up for affiliate programs to share pattern recommendations or fabric choices with their friends. By sharing details of their favorite patterns, fabrics or photos of items they have made, they can generate funds for new designs or materials.
Affiliate marketing is hugely popular because it's so quick and easy to do. There's little to no risk involved – after all, it doesn't cost anything to set up, and if it doesn't work, you haven't lost anything.
It's also self-generating. Once you've shared your affiliate link, you don't need to do anything else. It will take care of itself without needing to monitor its performance.
Instead, you can sit back and watch the dollars roll in!
How Does Affiliate Marketing Work?
There are three distinct types of affiliate marketing. Let's look at each in turn to see how they differ.
Affiliate Network
These are third-party businesses. They easily connect businesses (merchants) with affiliate marketers. These networks will have data analytics that you can use to see which products are selling well.
You can use this information to inform your affiliate-marketing strategies. A popular example of an affiliate network is the Amazon Associates program.
This style of affiliate marketing is often used by bloggers who want to use affiliate links to recommend specific products that relate to their chosen niche.
For example, there are thousands of bloggers who write about home renovations. They may use affiliate networks to source and recommend products that they use within their renovation projects.
Affiliate Program
This is very similar to the affiliate network way of working. The merchant takes control of the program. They will typically provide an affiliate referral link to the marketer, who shares that link with their audience.
When a customer buys an item via that referral link, the marketer receives a small commission.
However, unlike affiliate networks, the merchant is in complete control of the whole process. They set the rules, the commission rates, and they also manage the entirety of the program. Affiliate programs are popular amongst hobbyists (like the sewing example discussed earlier).
Affiliate Partnership
This offers mutual benefits to both parties. Within an affiliate partnership arrangement, your affiliate program and another affiliate program will jointly agree to promote each other's services and products to your audiences.
Affiliate partnership relationships are a beneficial way to reach a broader (yet completely relevant) audience and improve your credibility.
Your audience will be confident that you are only working with partners that you trust, rather than taking affiliate earnings from anything or everything.
An example of an affiliate partnership is something such as a brand ambassadorship role, where you work with an influencer to promote your products, and your business actively promotes that ambassador.
A Step-by-Step Guide to Getting Started With Affiliate Marketing
Although it is quick and easy to jump straight into affiliate marketing schemes, it can be challenging to make a significant impact.
Successful people who earn good passive incomes through affiliate marketing take their time. They strategize, and they think carefully about how they can be seen as a trusted influencer. They also establish the best possible ways to continue to make as much money as possible for minimal effort.
Here are a few step-by-step pointers to help you get started.
Step 1. Choose Your Niche Carefully
The first thing you need to do is to think about what interests you. For example, if you're starting out as a blogger or have visions of becoming a brand influencer, you need to consider your chosen audience.
Will you focus on a hobby area such as cooking, fashion, art or home improvements? Or are you seeking to expand upon your expertise within your current profession? Perhaps you want to be known as an expert or a guru within your business community.
To earn a successful income via affiliate marketing, you need to think of it as starting a business. You need to put time and money into it.
But you also need to know if it is a profitable area. You need to do your due diligence and see what your potential competition is doing.
Are there lots of people writing about the same content? Can you differentiate yourself from them? Are there relevant products that you can tap into through affiliate schemes? Take as much time as possible to research what is already there and find any apparent gaps in the current marketplace.
Step 2. Decide What Type of Business You Are Looking to Create
Affiliate marketing can occur in many forms. It may be through written blogs (in which case, you need a dedicated website). It could be via video tutorials (you need to set up a YouTube account).
Or it could be via your social media presence – perhaps you need to pay attention to your Instagram grid.
Think carefully about what you want to achieve and whether it's the right place for your audience. For example, you may dream about the creative side of Instagram. Still, if your niche focuses on a business audience rather than a consumer audience, you may be better off using a different platform.
You should also think about your existing skills. For example, there's no point in setting up a YouTube account if you don't know how to work a camera and you have no video-editing skills.
Once you know what you want to do and are confident that your audience will be making the most of the same platform, you can press ahead to the next stage.
Step 3. Set Yourself Smart Goals and Hold Yourself Accountable
It can be very easy to dive straight in and then be disheartened when things do not go to plan.
If you want to make money from affiliate marketing, you need to plan and strategize. It would help if you thought about what you want to do and how you plan to do it.
The SMART acronym (specific, measurable, achievable, realistic and timely) is a helpful guide to setting your aims and objectives. This can keep you on track and help you decide whether you are moving forward and achieving success or whether you need to take a step back and look critically at what you are doing.
Step 4. Create Engaging Content First
It may be tempting to delve straight into the affiliate marketing links. After all, that's the way you want to make money. But affiliate marketing takes time to come to fruition.
So, if you are choosing to write a blog or even record videos for YouTube, you need to focus first and foremost on your content output. After all, no one will trust you and listen to your recommendations if you don't get your content right.
Your content needs to be interesting. It needs to align with modern SEO techniques so that it can be found within a search engine.
And it needs to match up with what your intended audience wants to hear. At the end of every article or every video, your audience should walk away feeling that they've learned something new – that they had a reason for visiting your website and feel better informed after listening to what you have to say.
This approach will create a level of trust between you and your audience. Once they begin to advocate for you, they will start to pay close attention to the products you are endorsing.
Only when this relationship has been built up can you start to make money through affiliate marketing.
Step 5. Pay Close Attention to Your Community
Successful affiliate marketers can earn thousands of dollars because they engage in careful dialogue with their audience. They listen to what their readers or watchers are saying, ensuring that their content aligns with their audience's wants and needs.
Your community will be responsible for you making money through affiliate marketing, so their opinion should be more important than anyone else's.
You may naturally find that by engaging directly with them and providing them with content they want to consume, they will be more likely to visit your site regularly. They will recommend you to others. And they will share your content on your behalf.
This will help you to build a bigger audience naturally. It will improve your trust and respect within your community and provide you with organic growth.
Remember that your ability to make money relies on having a large audience. Therefore, the bigger your reach, the more opportunities there will be for others to use your affiliate links and generate your commission.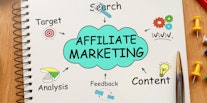 How to Make Money From Affiliate Marketing
Step 6. Research the Different Affiliate Options
Earlier in this article, we mentioned the difference between affiliate networks, affiliate programs and affiliate partnerships.
You need to pay close attention to the differences between each one. Some may naturally align to specific sectors or niche communities better than others. You also want to look into the commission schemes and the terms and conditions of each.
You need to know when you will receive payments – will it be quickly, or will you have to wait up to 90 days?
Once you start making money from affiliate marketing, will your money come through each month or in lump sums?
You should think about these things carefully if you are preparing for your affiliate marketing funds to become your predominant income.
Step 7. Consider Affiliate Management Plugins
We all dream of having an income that takes care of itself with minimal input. If you are serious about monetizing your website, why not consider some affiliate plugins?
These are helpful tools that will automate the process for you. For example, if you are planning on selling advertising space through banner ads/headline ads on your website, signing up with a tool such as Google AdSense will manage all of the hard work for you.
Similarly, if you are building your website via WordPress, there will be various plugins that you can use to automate and streamline the monetization of your website.
An added benefit of affiliate plugins is that if your affiliate link expires or you have an updated link, you can easily update every page simultaneously. This will save you from having to trawl through every page on your website and manually update each link.
Step 8. Focus On Optimization
You could have the best-looking website on the internet. And you could be publishing unique content that promises to give audiences everything they are looking for.
But if your website or your videos cannot be found through search engines, you'll never be able to make money through affiliate marketing. So, your biggest priority should always be SEO techniques.
Whether you are focused on Google or YouTube searches, you need to pay close attention to your:
Search terms
Keywords
Tags
Descriptions
Captions
A top tip is to conduct regular audits of your analytics. For example, can you check what your best-performing content is? Which articles have your visitors spent the longest time reading? Which has the highest click-through rate? You should be paying close attention to these analytics, as they will tell you a lot about what is working and how you can continue to make improvements.
You may wish to upskill yourself with the latest SEO techniques. Numerous online courses will help you to improve your knowledge. Or you could outsource the work to a trusted SEO specialist.
Essential Tips to Help You Get Started With Affiliate Marketing
As an affiliate marketer, you rely on other people to act on your recommendations to supplement your income.
Therefore, you should always put integrity, honesty and trust at the heart of everything you do. Without the goodwill and positive feeling from your audience, you have nothing. Therefore, you must always consider your audience above all else.
Be Genuine
If you're working in the bloggersphere or have a significant social media presence, it's important to remember that your audience can turn on you just as quickly as they can build you up.
Your business (and your income) will rely on them trusting in what you say. If you do something that goes against what your audience stands for, they will soon hold you to account.
With this in mind, you need to be genuine in everything that you publish. Your affiliate links should be relevant, and they should be something that you are proud to endorse.
If somebody buys a product based on your say-so, but they have poor results, they will be more likely to think badly of you rather than the product manufacturer.
So, you should only ever recommend products and take a commission from items that you genuinely believe in.
It can be tempting to chase the dollars and fill your website full of affiliate links to enhance your income. But if that starts to affect the quality of your content, your audience will simply move elsewhere and follow someone else.
Include Disclosures
It is also wise to include affiliate disclosures within your content. If you are making money from a product, that should be made clear to your audience to make an informed decision.
The inclusion of your disclaimer will not only improve your credibility amongst your audience, but it is also a legal requirement. The Federal Trade Commission regulates affiliate marketing.
The regulation ensures that all product endorsements are transparent and differentiate between paid and unpaid content. Therefore, your disclaimers should be conspicuous on your website.
You may wish to have a dedicated page explaining your approach and have a prepared statement that you include on all web pages that feature affiliated links.
Make Sure Your Links Are Relevant
Don't go overboard with affiliate links. It can be tempting to litter your site with them. After all, the more you have, the more money you can earn.
But the reality is that less is more. As we've already mentioned, your audience will be coming to you because they want to hear what you have to say. If they feel that they are only there to be sold to by a salesperson, they will quickly lose interest.
You may find that it's more beneficial to have fewer affiliate links to higher-priced, big-ticket items than lots of links to low pay points. The result may still be the same – the net income from your affiliate marketing may be similar, but you'll regain the trust and advocacy of your audience with fewer, more relevant links.
Know Where to Put Your Links
A few strategies can help you determine where to place your affiliate links to help you make money.
As a general rule, you should include your relevant links near the top of your article. As with any copy, you cannot guarantee that your audience will continue reading to the end. Therefore, you want to have all relevant information near the top of the page, where it is more likely to be seen.
Make Your Content Work Harder
You also want to use your content carefully. If you are referring to a specific product, what search terms are commonly used with that item?
With affiliate marketing, it's not just about using your SEO to direct people to your site. It's about being able to maximize opportunities for people searching for specific products. Thanks to keyword searches and content optimization plans, you can successfully insert relevant keywords into your posts, which will aid your visibility and help you to generate organic traffic.
Get the Experts In
A final tip is to outsource to the experts. Some of the top affiliate marketers make thousands of dollars through a passive income because the very best people manage them. They rely on experts to handle their SEO. They outsource content to copywriters to cope with a high-paced publishing schedule. And they rely on social media teams to keep all channels up to date.
They may even hire a specific affiliate marketing expert to manage any affiliate partnerships or research new opportunities. As you start to make money from affiliate marketing, you should reinvest some of that income into your business.
Think carefully about how you plan to grow and what you want to achieve. With more help, you can scale up your brand and make more money while working fewer hours.
It Is Possible to Make Money, but It Is Hard Work
Earning money from affiliate marketing is one thing. Earning an income from affiliate marketing is very different.
Some people may only make a few cents or a few dollars from their affiliate marketing links. Others may earn enough money that they don't have to do anything else.
The difference between those who make money and those who earn an income is that the latter have treated their affiliate marketing strategies as a business. They've understood that it takes time and dedication. They've focused on building a brand, and they have found a community they can tap into.
Affiliate marketing is an excellent option for those who have a vision and focus on what they want to do. It's not something that requires any specific skills or qualifications.
In that respect, it's accessible to all. But effective affiliate marketing involves an understanding of what today's fickle audiences are looking for. With new bloggers and YouTube stars emerging every day, there is no guarantee that audiences will remain loyal.
We are currently in the 'boom' phase of affiliate marketing.
As a relatively new income stream, it's almost impossible to know how audiences may change in the future. Therefore, it's difficult to predict trends and understand whether this is a long-term income stream or whether this could naturally peter out in the next few years.
As a short-term income stream, affiliate marketing can be extremely profitable. However, any marketers will need to consider their longevity and strategize how they plan to remain successful.
Final Thoughts
It is possible to make money from affiliate marketing, but it takes time and dedication to turn it into an income stream.
Knowing your audience and being able to deliver content that they engage with and find useful is a key first step. Learn about SEO techniques to drive them to your online platform and hopefully they will click on your affiliate links and start to earn you a commission.
---