Capgemini Graduate Scheme – Eligibility, Salary and 2023 Career Guide
All products and services featured are independently selected by WikiJob. When you register or purchase through links on this page, we may earn a commission.
Capgemini is a leading strategic partner to companies worldwide and has a presence in over 50 countries.
It has an excellent two-year graduate scheme that propels recent university leavers into the working world. These graduate schemes offer exceptional career growth, above-average salaries and unbeatable networking opportunities.
As such, Capgemini has developed a rigorous recruitment process for its graduate scheme candidates, which includes an:
Online application
Digital interview
Virtual assessment day
This post will tell you everything you need to know about the Capgemini graduate scheme in 2023, including details about the application process and what salary you can expect.
Prepare for the Capgemini Application Process with JobTestPrep
The Capgemini Graduate Scheme
As you may be aware, Capgemini covers many different industries, including but not limited to:
Retail
Media and entertainment
Banking
Capgemini's two-year Empower Programme focuses on providing graduates with all the skills they need for a long and prosperous career.
The graduate scheme provides recruits with technical knowledge but also hones soft skills such as communication and teamwork.
During the programme, graduates will work within a multidisciplinary environment including regular contact with the executive team.
The graduate positions can be broken down into three specific areas:
Technical Roles
These positions are aimed at those with a technical background and education. The opportunities include:
Technology Analyst
Cyber Security Consultant
Technology Consulting Roles
Capgemini consulting graduate schemes are ideal for those who love working with technology rather than building it.
Technology Product Consultant
Business Analyst
Financial Insight and Data Consultant
Business Consulting Roles
These Capgemini consulting graduate schemes are for those who have a desire to work in the tech sector but have a stronger interest in the business elements, rather than the technical aspects.
Roles may include:
Client Account Manager
Financial Services Business Consultant
Project Analyst
Candidates can only apply for one graduate scheme at once. If you submit an application and then find a scheme that you believe aligns with you better, contact Capgemini directly, who may be able to assist.
Capgemini Invent Graduate Scheme
Those who strongly desire to work in the public sector may wish to pursue the Capgemini Invent Graduate Scheme.
This tailor-made Capgemini public sector graduate scheme is aimed at those who wish to grow in the fields of healthcare, home affairs, policing, justice, defence, education or tax.
The entry requirements for this route are largely the same as the tech, consulting and business channels. However, candidates applying for the Capgemini Invent Graduate Scheme must demonstrate a strong desire to work in the public sector.
The Capgemini Graduate Scheme Eligibility Criteria
Capgemini is an open and inclusive employer, meaning individuals of all ages and backgrounds may apply. However, this graduate scheme is aimed at those who have recently completed university.
International students are also welcome to apply for Capgemini graduate schemes but should be aware that all applicants must have been resident in the UK for five years, with no more than six months living abroad during that period.
Capgemini also prides itself on being a disability-confident employer. This means that it is working to build an inclusive environment. If you need any reasonable adjustments during the recruitment process, be sure to reach out.
Before applying for a position at Capgemini, reviewing its core values and ensuring that they align with yours would be worthwhile.
These values are:
Honesty – Also known as loyalty and integrity, an honest employee is one who values uprightness above all else. An honest individual will never act in bad faith, even if this initially benefits themself or the company.
Boldness – Capgemini describes a bold person as someone who takes considered risks.
Trust – This value should be applied in each direction. The company should trust its employees to work to the best of their ability. In turn, employees should trust that senior management has their best interests at heart.
Freedom – Employees should first and foremost embrace the diverse team surrounding them. Additionally, freedom encourages independent thinking and an entrepreneurial spirit, which are values held highly by Capgemini.
Fun – Capgemini believes every staff member should be happy and proud to be a member of the company and feel a sense of achievement from their work.
Modesty – Modesty is described as being discreet, using common sense and being attentive to others in the workplace.
Team Spirit – Capgemini focuses on working collaboratively towards a common goal. To have a strong team spirit, each individual must accept their responsibilities to work in harmony with their teammates and the wider company.
The Capgemini Graduate Programme Salaries
The Capgemini graduate scheme salary is not advertised on its website. However, they are known to be above average.
The Capgemini graduate consultant salary is reportedly between £30,000 and £38,000, with graduate software engineer salaries ranging between £30,000 and £34,000.
Capgemini also hugely values flexible working and work-life balance. The company has developed a hybrid work programme that allows employees to work abroad for 45 days per year, allowing for a more balanced and inclusive working environment.
The Capgemini Graduate Programme Application Process
There are three sections to the Capgemini grad scheme application. These are the online application, the digital interview and a virtual assessment centre.
If you are unsuccessful at any point in the application process, you must wait 12 months from the date of your initial application to reapply.
Candidates should know that roles will close as soon as Capgemini has enough applications to fill the positions, with candidates progressing on a first-come, first-served basis.
Therefore, you should regularly review the job search page to ensure you are aware of the most recent open positions.
Online Application
The first step to a role at Capgemini is the online application.
As mentioned, Capgemini grad schemes are reviewed on a first-come, first-served basis, so submitting your information early is vital.
You must tailor your application specifically for Capgemini. You should review the company website, appreciating its values and ethics.
This will allow you to craft an application that is thoughtful and relevant.
65% of applicants fail at this stage.
This shows how important it is that all candidates write dedicated, specific applications. Simply cutting-and-pasting information from other applications will not suffice.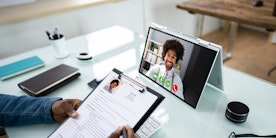 Capgemini Graduate Scheme – Eligibility, Salary and Career Guide
If you need to prepare for a number of different employment tests and want to outsmart the competition, choose a Premium Membership from JobTestPrep.

You will get access to three PrepPacks of your choice, from a database that covers all the major test providers and employers and tailored profession packs.
Digital Interview
The digital interview at Capgemini is a unique experience, as it is conducted via a pre-recorded video. Therefore, the time you sit for the interview is flexible, and you can select an arrangement that best suits you.
During this virtual interview, you will be asked a mixture of behavioural and technical questions. These will enable the hiring managers to establish whether you have the correct skills and temperament for the role.
If you are not used to speaking into a camera, this can initially feel quite challenging.
Therefore, recording some practice clips beforehand can be worthwhile, allowing you to get comfortable in front of the camera.
Digital Interview Tips
Choose the best time – The luxury of a virtual interview is that you can do it any time before the deadline. As such, you should opt for a time when your home will be free from distractions, and you are most energised.

Research in advance – Take time to examine the company and the specific role you are applying for. You can do this through the job description, the company website and anecdotes on forums. It can also be useful to prepare some answers to popular questions, which will help your confidence levels during the interview.

Relax and be yourself – Capgemini is a diverse company welcoming people from all backgrounds. As such, it is not striving for a particular type of person and encourages all candidates to present their own ideas and personality.
Virtual Assessment Centre
Capgemini has switched from a physical assessment centre to a virtual one, which many candidates prefer, as it allows them to go through the process in the comfort of their own homes.
A few weeks before your virtual assessment centre, you will receive a briefing call from a member of the recruitment team. This gives candidates the opportunity to gain a better understanding of what will happen throughout the day, as well as the chance to ask any questions.
The virtual assessment centre is divided into two sections. The first is the group exercise and the second is the one-to-one interview.
As you would expect, the day begins with introductions. The leadership team will introduce themselves, followed by the opportunity for you to present yourself and get to know your fellow candidates.
Virtual Assessment Centre – Group Task
The first exercise of the day is the group task. Candidates will be broken into smaller groups and given a significant amount of information, along with an associated task. The team then has to solve the challenge by working together.
Here, assessors are not just looking for the team that reaches the correct conclusion the fastest.
Instead, they observe how individuals interact with each other and what role each candidate takes on. Capgemini are looking for confidence but not arrogance.
These group tasks are excellent for assessing communication and leadership skills.
Remember, Capgemini is recruiting entry-level graduate roles, and therefore, they are searching for key team players with a willingness to grow and not necessarily fully formed leaders.
Virtual Assessment Centre – Interview
The second part of the virtual assessment centre is the one-to-one interview with the senior management team. Understandably, this is the part of the day that often makes candidates the most nervous.
The questions asked may be technical or behavioural, so remember to have some pre-prepared answers to help settle any anxieties.
All responses should use the STAR method, which will highlight that you not only appreciate the necessary skill or attribute but also demonstrate an occasion when you have utilised it.
Tips for the Capgemini Virtual Assessment Centre
Step 1. Dress Smart
Dress as you would if the assessment centre were in person.
Step 2. Focus on Your Environment
Ensure that you are in a quiet room with good lighting and a strong internet connection.
Step 3. Plan Your Introduction
Prepare a short, concise, engaging introduction to set the right tone for speaking with your future employer and peers.
What Happens After the Capgemini Graduate Programme?
One of the best things about the Capgemini graduate scheme is that all Capgemini graduate trainees are taken on as full-time employees from the start – meaning they do not have to reapply for a position at the end of the scheme.
Instead, graduate roles will organically evolve within the company.
Frequently Asked Questions
Graduate software engineers can expect a salary of between £31,000 and £34,000.
However, salaries will vary depending on the specialist area and location of the role.
The Capgemini graduate scheme lasts for two years. All programmes start with a one-week induction introducing new graduates to the company and their colleagues.
The Ignite Graduate Program is a specialised 12 month education programme that blends self-directed learning, teacher-led learning and team building.
Ignite is not a traditional graduate scheme. Instead, it is a tailor-made programme that transforms the brightest talents into fully qualified consultants.
Capgemini graduate consultant salaries vary depending on the area of expertise and the role's location. However, graduate software engineers can expect a salary between £31,000 and £34,000.
Senior vice president roles unsurprisingly pay the most of all Capgemini degree jobs. However, your salary at Capgemini will depend on various factors, including your area of expertise, seniority level and location.
Capgemini is an excellent company to work for, especially as a graduate. It offers above-average salaries, focusing on flexible working and strong work-life balance.
Another massive benefit of the Capgemini graduate scheme is that individuals do not have to reapply for their role following completion. Instead, they organically grow within the company.
Capgemini became a global leader by prioritising the needs of its clients, hiring and upskilling the best young talent, and constantly focusing on its seven core values.
The success of the company makes the Capgemini trainee programme highly sought after.
Final Thoughts
Capgemini is a successful and world-renowned company providing technical solutions in over 50 countries. It has an excellent two-year graduate scheme that allows recent graduates to evolve from their studies and grow into prosperous careers.
The Capgemini graduate programme application has three main stages: online application, digital interview and virtual assessment centre. Each stage presents unique challenges, but with thorough preparation, there is no reason you cannot excel.
Remember, Capgemini prides itself on being a diverse employer, welcoming various people from many different backgrounds.
As such, you should allow your personality to shine throughout the application process, helping you to secure an enjoyable and successful career at Capgemini.
---