How to Become an Ultrasound Technician
Ultrasound technicians, often known as sonographers, are in high demand within the healthcare industry, and the need for them is predicted to grow by 12% in the next decade.
This is good news for the medical sector.
With advancement in imaging technology, an increasing number of surgeries and medical treatments are looking to use sonography over other choices, as it is less invasive and less expensive.
An ultrasound tech can work in different settings and sectors and there is great opportunity for career development.
Fundamentally, they are needed in the medical sector to work alongside other health professionals to help with diagnosis, confirming new life, and advising on treatment or therapy.
This article explores the role in more detail and will tell you how to become an ultrasound technician.
What Is an Ultrasound Technician?
Simply, an ultrasound technician studies the patient's internal organs and body using an imaging device that sends non-invasive sound waves, instead of radiation, to detect abnormalities in the area being examined.
An ultrasound tech is trained to detect normal functioning in the structure of the body, as well as any abnormalities. They are also trained to interpret images and feed this information back to the physician and other healthcare members.
A sonographer can also keep track of a person's progress (for example, in pregnancy, where they use their equipment to monitor the baby growing), as well as get patients ready for procedures and operations.
Different Types of Specialties
There are many areas where an ultrasound technician is needed within the medical sector.
Here is a list of the specialist areas:
Prenatal scans – A sonographer will use their non-invasive equipment to examine the growth, age, functions, wellbeing and anatomy of a baby growing in a womb. Typically, a pregnant woman will have two or three of these types of scans in any one pregnancy, though more can occur if there are any concerns or issues.

Cardiovascular – A technician specializing in cardiovascular scans will use a transducer on the chest or abdomen of a patient to check any issues or failures with the heart. It can help to not only diagnose any problems but also act as information before any surgery.

Breast – Although different to a radiographer who uses radiation to examine and diagnose, an ultrasound technician will work alongside for procedures such as mammograms. If working in this area, the ultrasound technician will learn to interpret any abnormalities in breast tissue.

Abdominal – A technician can examine the abdominal region with equipment and assess areas such as the liver, kidneys and pancreas and look for problems related to these.

Musculoskeletal – A musculoskeletal sonographer can help diagnose a sports or physical injury by looking at and assessing muscles, nerves and relevant tissues, such as ligaments. These types of technicians may also monitor muscular therapy such as orthopedic surgery to ensure that it is working and progressing.

Neuro – This looks at the brain and its functionality and the sonographer can examine it with their high-tech equipment.

Ophthalmology – This type of ultrasound technician will look at the eyes with equipment and will diagnose any issues with the eyes and the surrounding tissue.
Ultrasound Technician – The Benefits
Ultrasound technicians are always in high demand, as all careers in the medical sector usually are.
It is always a benefit when looking for a career choice to know that there is a constant need for it, as it increases the chances of getting a job.
Here are the top reasons why an ultrasound technician could be a desirable profession:
Growth Area
As well as being in high demand, the area of ultrasounds and sonography is expanding due to constant advances in medical technology and research.
There would be room for career development and working in different settings.
Working in a Team
A sonographer will always be working alongside other healthcare members and the wider teams.
When doing prenatal scans, they will work with midwives, obstetricians, and more.
Within the musculoskeletal setting, the technician will work with physiotherapists and, when conducting mammograms, the ultrasound tech works with radiographers and the cancer team.
It can be varied and interesting to have people to work with.
Helping People
Many people commonly think of sonographers as the people who announce the gender of their impending baby, and this is a great role to have.
Being able to share these moments, combined with helping to detect early signs of medical conditions, would be satisfying.
Many technicians will be able to help people heal after surgery, get treatment to prevent a fatal illness and save people's lives.
Using People Skills and Technical Skills
The role of an ultrasound technician means having the advantage of mixing with people every day and using technical skills to help those people.
Many people may relate technical roles to working alone or in an office, but this role is customer-facing as well.
Competitive Salary
How much does an ultrasound technician get paid?
Salary can fluctuate, but the average salary for a sonographer with a degree is $70,000, and it could be argued this is one of the highest-paying industries for degree holders.
There is a chance to develop in this field and the good thing is that experience means higher pay, so the more knowledge and time spent in sonography, the higher the annual salary. It can reach up to $100,000 per annum.
Salary pay can depend on particular areas and the role itself – for example, people working in outpatient care may get paid more than those working in a GP's office or laboratory.
Sonographers who take on shift work or travel between clinics can also get a higher average salary than those who don't.
A traveling technician is one who fills temporary positions; for example, filling a vacancy while someone is on maternity leave.
They will go from one temporary job to another and may have to relocate at times.
How to Become an Ultrasound Technician
The benefits, salary and output of the role of an ultrasound technician sound appealing, but it is not a job for everyone.
Before looking at how to become an ultrasound tech, it is important to see if your character traits and skills would suit the role.
The job includes discovering and relaying diagnostics to people that may lead to illness and death, so it requires someone who has resilience and the right interpersonal and communication skills, such as empathy, to deliver this information.
That person also needs to ensure they would be able to tackle this role on an emotional level too and stay calm under pressure.
There is also a breadth of knowledge and technical skills that need to be learned, such as using the equipment, having exceptional knowledge of anatomy and being able to recognize abnormalities, however small.
You will also need to maintain an ethical standard, such as confidentiality, and have exceptional attention to detail.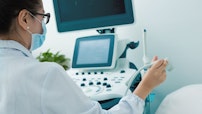 How to Become an Ultrasound Technician
It would be a good idea to assess if academically this role would reflect your capabilities.
Is It Hard to Become an Ultrasound Technician?
Qualifications
Commonly in the US, a two-year Associate of Applied Science degree (specializing in diagnostic medical sonography) is the minimum requirement needed to become a sonographer.
There is also a four-year Bachelor of Science degree that can be taken for career development.
It may be required to do a one-year diploma before the degree, depending on previous qualifications.
This will prepare you for a career in sonography.
The American Registry for Diagnostic Medical Sonography (ARDMS) is the most common accreditor in the US. Once a degree is achieved, the graduate will choose a program through the ARDMS to specialize in, which will include an internship.
However, many states require a sonographer to be qualified in many areas, such as prenatal, cardiovascular, and others.
In the UK, it is required to have a three-year Bachelor of Science degree.
Learning the specialty will most likely involve learning 'on the job' through an apprenticeship in different settings.
It is recommended to research what the training will involve in the area you are interested in.
For example, a breast sonographer commonly requires more hands-on training than other specialist areas.
Most certifications take a year on average, and to maintain the certification, you need to pay an annual fee.
ARDMS requires all certificate holders to reapply every six years. Others such as ARRT (American Registry of Radiologic Technologists) ask for coursework every two years.
Finding a Job
After qualifying, you will need to find a job.
Certain specialties are more in demand at different times, and some are very stable or emerging.
In metropolitan areas, there are generally more jobs available, where the hospitals and population are larger. In fact, many of these larger areas have a shortage of sonographers.
With a predicted baby boom after lockdown, prenatal is a great area to specialize in, and this is always a reliable area for jobs as people are constantly having babies.
Breast technicians are often sought after, with constant updates in technology and the age of mandatory mammograms looking to lower.
It may also be wise to consider jobs in a variety of environments. Ultrasound techs can work in private settings, such as offices, but also in doctors' clinics, hospitals and medical laboratories.
The Career Path
A newly qualified ultrasound technician could expect to find a role with a salary of $60,000.
A typical junior technician's role is likely to include:
Assisting the team with day-to-day tasks
Obtaining the patient's history and examination details
Performing a range of basic and advanced ultrasounds with supervision
Communicating any issues raised in the ultrasound with supervisory staff
With experience and knowledge and more qualifications, there are opportunities to climb the career ladder and become a senior technician.
This could be mid-management or supervisory, depending on the area and job market.
The role of a supervisory ultrasound tech could include:
Managing the team, delegating tasks
Performing more advanced scans, and supervising junior technicians' performance
Giving second opinions on results found in scans
Making decisions on treatment, therapy or results after scans have taken place
Final Thoughts
An ultrasound technician is a sought-after career that has a constant stream of jobs nationally, with the demand set to increase significantly in the next 10 years.
There are many opportunities for progression and career development, and it can be seen as a role that pays well in relation to the time spent training.
It is also a life-long career and with new technologies always advancing, a technician is going to see many exciting changes in their role.
For someone with an aptitude for science and technology, combined with great communication skills and a good listening ear, a career as a sonographer could be the perfect fit.
---