How to Design a Portfolio Cover Page
What Is a Portfolio Cover Page?
You may have perfected the art of writing resumes and cover letters, but for some job openings, you'll also be required to submit a portfolio of work as part of your application. This is primarily for jobs in the creative industries.
A portfolio is usually a digital file that gives an employer insight into your abilities through past projects. These may have been completed:
In previous employment
As part of a college degree
As a work placement
During an internship
As a self-led side project
The problem is that recruiters and HR managers see a high number of applications for any single vacancy – and they don't always have time to properly look through them all.
This means your portfolio has to grab their attention. For this, you need to design an eye-catching portfolio cover page.
This is, basically, your professional shop window. It's the first thing a recruiter will see of your work and will help them decide whether or not to take a closer look.
Exactly what your portfolio cover page looks like will depend on your profession and personal style but, in all cases, it should provide key details and enough of an incentive for the reader to continue.
What Jobs and Industries Use Portfolios?
A portfolio is a way of showcasing talent, typically of a visible or audible nature. As such, they are most commonly used in creative industries.
Professions for which you'll be expected to have a portfolio include:
They are also used in most writing and editing professions, and are increasingly crossing over into the tech space, for example, as a method to assess talent in fields such as app development and UX design.
What Should Be On a Portfolio Cover Page?
The elements that make up your portfolio cover page may vary according to job role.
For example, it's not vital for a writer to add visual elements but they will be integral for anyone in an artistic or design-focused profession.
Remember, though, that the point of your cover page is to make an impact – so it's worth considering aesthetics regardless of whether your job is visual or not.
There are some details, however, that all portfolio cover pages should include.
Name and Document Title
Absolutely critical to your portfolio cover page is your name. The hiring manager should know who the document, and the work inside, belongs to.
You should also consider a title that tells the reader exactly what they're looking at, such as 'Web Design Portfolio'.
To save space, you could combine the two: 'Alison Smith: Professional Portfolio' is perfectly acceptable, as the reader knows what role they're hiring for.
However, avoid this if [making a speculative application](/application-advice/job-applications/speculative-application-email) and stick to a title that makes it explicitly clear what you do.
Your name and title should stand out over any other written content on your portfolio cover page, so use a larger font size of around 18 points.
Contact Details
The recruiter may not have your contact details to hand, so be sure to include your email address and telephone number on your portfolio cover page.
You may also want to include links to your LinkedIn profile, as this gives the recruiter an additional source of information should they want more detail on your professional experience and network.
Other social media links may prove useful too, such as Twitter for writers and Instagram for visual artists.
Stick to platforms that add value, as you want to avoid clutter or a confusing layout. You also don't want to link to social media channels that contain potentially embarrassing material.
Your contact information should be clearly visible, but less apparent than any other details, so place it somewhere discreet and choose your font size wisely.
Academic Background/Current Position
If you're a recent college graduate after your first role, it can be useful to include details of what you studied and where, plus the year of your graduation. This gives the reader more context for your portfolio.
If you already have experience and are currently in employment, you might consider including your existing job title to give more context around who you are and where you're coming from.
If you've submitted a resume with your portfolio, the recruiter will already have access to this information, but it can be useful to jog their memory. You don't want them to have to hunt it down; having to put in more effort may put them off contacting you.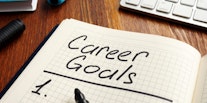 How to Design a Portfolio Cover Page
Career Objective
For written content, include a short paragraph that hooks the reader in and makes them want to look beyond the front cover.
Much like a good resume objective, this should succinctly explain your key skills, motivations and long-term career goals.
Your Photograph
This is optional, but including a photograph on your portfolio cover page adds a personal touch that can make you stand out. It helps the reader feel connected to you, which can really help bring your work to life.
Of course, if you do not feel comfortable with this, you're under no obligation to have one, just as you're under no obligation to add a photo to your resume.
If you do include one, go for a professional headshot that makes you look suited to the role.
Cover Design
This is really job-specific but, as stated, an attractive cover page can help catch the eye of a busy recruiter.
If you work in some aspect of visual art, this should come fairly easy to you; whatever design elements you incorporate should reflect the style of your work.
If you're not a designer, you could opt for stock imagery, provided you have the rights for its use, or you could use a template offered by an online design solution like Canva.
Alternatively, you could pay to have your cover professionally designed. It's a wise investment when you consider your portfolio cover page could help you land your dream job.
Top Tips For Your Portfolio Cover Page
Tailor It For Each Application
You may not think there's much you can do to tailor your portfolio cover page. After all, your name and job/degree title remain the same whatever job you apply for.
However, you can, and should, tailor your short career objective, and try to match it as closely as possible with the person specification provided in the job description.
Develop Your Own Personal Brand Identity
Much like the company you're applying to has an established brand identity, it's beneficial to create your own. It shows consistency, attention to detail and individuality.
Whatever design you settle on for the cover page, make sure it extends throughout your portfolio and matches with other personal brand assets like your website, business cards and social profiles.
You may even choose to create a matching letterhead for your accompanying cover letter.
Keep It Simple and Neat
Consider carefully the layout of your cover page. Written information should be easy to read at a glance and you should try to make the best possible use of white space.
Be consistent in your choice of font and colours, keeping the latter to a minimum for a professional look.
Proofread It
You wouldn't submit your resume without giving it a final check over. The same applies to your portfolio cover page.
Any spelling, grammar or punctuation errors can mark you as unprofessional from the outset, so proofread it until you're absolutely sure there are no mistakes.
Have Someone Critique Your Design
It can be hard to look objectively at something you've designed yourself, so it's a good idea to get a family member, friend or colleague to give their thoughts on your portfolio cover page.
They'll likely be able to spot any mistakes you've missed after looking at it for too long and may well have a little creative input to take it to the next level.
Final Thoughts
Your portfolio cover page is one of the easiest parts of your professional image to optimize – and one of the most worthwhile.
Consider all the hard work you've put into the projects you're trying to showcase and how disappointed you'd be if they never reached a recruiter's eyes because your front cover let you down.
It's well worth investing your time to make sure your cover page is a good representation of who you are, and the skills, passion and creativity you can offer any potential employer.
---