LinkedIn Learning Review
What Is LinkedIn Learning??
LinkedIn Learning is a subscription-based platform that is a part of the more comprehensive LinkedIn network.
Known initially as Lynda.com, a merger between LinkedIn and Lynda.com in 2015 saw the connection between thousands of courses available on Lynda.com become open to learners through LinkedIn in 2017.
Lynda.com directs you back to LinkedIn Learning now.
There are more than 16,000 courses available on the LinkedIn Learning platform on subjects including technology, creativity and business, and more than 700 million people have taken advantage of this considerable offering in more than 200 countries.
Courses are delivered through a series of modules, with audio and video presentations, downloadable information files, and quizzes to check your knowledge and learning.
Upon completing most of the courses available, a certificate of completion is awarded and can be added to your LinkedIn profile.
Like other, Massive Online Open Course (MOOC) providers such as Coursera, EdX and FutureLearn, the education on LinkedIn Learning is designed to be available to anyone.
However, unlike some other MOOC providers, the LinkedIn Learning platform in full is only open to subscribers, with a monthly cost to consider rather than paying for each course.
There is a free trial available, with a $29.99 cost per month after the first month.
With the subscription payment, you get unlimited access to every single course and can complete as many (or as few) as you want or need to.
The subscription works on a rolling monthly basis, which means that you can cancel whenever you like.
If you cancel in the free trial period, you will not be charged.
Having a subscription to the LinkedIn Learning platform allows access to LinkedIn Premium, too.
The Premium Career offers InMail messages to get in contact with potential employers, interview preparation tips, and be able to see who has looked at your profile.
LinkedIn Premium Business also gives company insights.
Who Is LinkedIn Learning For?
As a professional networking platform, much of LinkedIn's offer is geared towards professionals in various industries, and the courses on offer are no different.
The courses can be broadly categorized as business, creative, and technology, and they are designed chiefly for professional development and to add new learning opportunities for those who are looking to move jobs or even change careers altogether.
Courses range from specific software and technology-based programs like Python and Microsoft Excel to essential business skills like effective communication and managing people.
With this focus on work-related skills, it is fair to say that the courses on offer from LinkedIn are about continuous working skills development, making them more appropriate for those looking to upskill or perhaps considering a career change.
This is why there is an Enterprise pricing structure, as some companies get the subscription to offer their employees the opportunity to learn for free.
What Courses Can You Take?
With over 16,000 choices of courses available, there are many courses available, making it likely that there are a few that will suit what you are looking for.
The structure of the LinkedIn Learning platform makes it simple to find the courses that you are looking for in one of three main ways.
When you first create a learner profile, you will be asked to choose some skills that you are interested in learning about.
From these skills, you get shown a selection of courses that match.
You can also use the search function to find courses on a particular subject or software.
LinkedIn also has Learning Paths, which offer a series of courses structured to give a complete education in a particular subject or software.
This is usually a framework of separate courses that give essential knowledge on a subject, perfect for beginners or career changers.
Some of the courses are marked as advanced, although the majority are aimed at beginners and sometimes intermediate.
It tends to be technology-based courses that are more advanced, such as those dealing with software.
Some popular subjects for courses include:
Microsoft Excel
Business Skills
The LinkedIn Learning platform offers suggestions for different courses, and these show how many other learners have chosen that specific option.
Some of the most popular courses according to the LinkedIn blog include:
Strategic Thinking
Learning Python
Excel 2016 Essential Training
Communicating With Confidence
Time Management Foundations
What to Expect When Taking a LinkedIn Learning Course?
Most LinkedIn courses follow the same structure: several modules that contain video and audio presentations, articles and infographics with downloadable files and quizzes to check your knowledge at the end.
Some may take a matter of minutes to complete, where others might be hours, days or longer.
Once you have watched all the material at the end of the course, you will be awarded a certificate of completion.
LinkedIn Learning is not accredited. This means that there is no awarding body that has moderated the course content, and it does not replace industry-standard learning and accreditation.
For example, a LinkedIn Learning Certificate in bookkeeping is not the same as a course that is taught in a university or college and is assessed by an impartial industry body.
With more than 16,000 courses available, LinkedIn Learning accounts for a vast quantity of learning resources; however, the courses themselves are not internally moderated for quality.
Even a simple search for a specific type, of course, could give you potentially thousands of results on courses that might be suitable.
Finding the right course takes some research.
Look for reviews from previous students, look into the instructor's credentials, and check the course content to ensure it covers the specific modules that you want to learn.
It is important to remember that there is likely to be some differences between courses, even on the same subject, both in terms of quality and what it includes.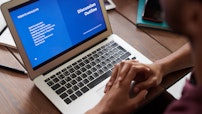 LinkedIn Learning Review
Advantages and Disadvantages of LinkedIn Learning Courses
Advantages of LinkedIn Learning
Free Trial
LinkedIn Learning is a subscription service, and the first month is free, although you need to provide credit or debit card details to get started.
The free trial allows access to all the learning available, and courses can be completed with the relevant certification.
This will give you a good oversight of how the platform works, what courses are available, and how the courses are structured.
If you decide to cancel the subscription, you can, at any time.
Varied Subjects
Whether you have specific career aspirations or are looking for professional development, there is such a wide range of learning opportunities on the LinkedIn Learning platform that it could take months to complete all the relevant courses.
The varied subjects available will give you options of learning things specific to your career direction and interesting courses that you might want to take for the sake of learning something new.
Update LinkedIn Profile
Once you have completed a relevant course, a downloadable certificate becomes available, and you can add this to your LinkedIn profile.
While some courses do not have certification, chiefly those that are regularly updated.
For example, the ones that do have a certificate can be added to your LinkedIn profile, and you will usually be prompted to do that by the system.
Available in Multiple Languages
LinkedIn is a multinational networking site, and with millions of members worldwide, it makes sense that the learning is available in several languages. These include:
English
French
German
Japanese
Spanish
Mandarin
Portuguese
Not all courses are available in each language, however.
Self-Paced Learning
The nature of a MOOC tends to be that it is self-paced, an opportunity to complete the course as and when it suits you best.
This is particularly useful for those trying to balance a full-time role, a family, and a social life with developing new skills.
With LinkedIn Learning, you can choose to study in your own time, and there are no deadlines for completion, either.
Work Offline
There is a dedicated LinkedIn Learning app, and you can download the course material to work on offline if that is easier for you.
Disadvantages of LinkedIn Learning
Variable Quality
Unlike accredited courses, there are no guarantees on the course quality on LinkedIn. This can make it difficult for you to choose the right one.
To give yourself the best chance, check the course content and research the presenter to ensure they have the relevant credentials.
The course reviews from previous users are a tremendous source of information, especially if it is detailed.
Out of Date
Courses that do not end with a certificate are usually the ones that are regularly updated, like the Weekly Tips course; however, some courses are available which might be considered out of date.
They might have been only published in the last few years, but fast growth in technology and software, for example, means that it might already be irrelevant.
Tips for Choosing the Best Courses on LinkedIn
Find Courses by Renowned Industry Experts
Every course on LinkedIn includes information about the presenter, and this can help you decide if the course is worth looking at.
Renowned industry experts will have the most helpful education to offer, and it is most likely to be more up-to-date.
Thoroughly Read Reviews
Reviews on LinkedIn Learning courses are provided by users who have completed them, and that makes the review section an excellent place to learn about the content.
Read these thoroughly to make sure that other users have found the course beneficial.
Read Through the Course Content
In each course overview, some detail about the content is given.
This usually includes information about the modules involved and what you can expect to learn in each section.
With potentially thousands of courses on the same theme, the specific content detail will allow you to choose the right one.
Read Through the Q&A Section
Often overlooked, the Q& A section of the course can help you find out some more details about what you can expect.
If you have a specific question, the chances are that someone else has already asked it!
Compare With Other Courses
It is relatively easy to find any number of courses on a specific piece of software or develop a soft skill on LinkedIn; therefore, you can compare them before deciding.
LinkedIn is not the only place to find professional development courses.
If you want to know how effective the course is on LinkedIn, you can always compare it to something similar elsewhere.
Remember that courses on LinkedIn are not accredited, but they are certified, while some courses elsewhere might be accredited.
Can You Put LinkedIn Courses on Your Resume?
LinkedIn Learning certificates can be added to your LinkedIn profile, but they can also be put on your resume.
However, it is important to remember that any LinkedIn Learning certification does not have the same standing as a college or university degree, and it does not replace accredited industry-standard training.
If you want to include it on your resume, it should not be in the 'education' section.
If you choose to share your extra learning through LinkedIn, be sure to choose the relevant courses and add them to your resume in a professional development section.
Final Thoughts
LinkedIn Learning is an excellent platform for professional development, with a wide range of courses suitable for most industries and business areas, focusing on technology, creativity, and business skills.
It does not replace accredited training or a college/university degree but can be a great way to boost knowledge and skills if you are looking to develop in a current career or change into doing something new.
Courses vary in quality, content, and level of difficulty; therefore, be sure to thoroughly research the modules, what other users have said about it, and the instructor before committing to anything, so you know that what you are learning is relevant and up to date.
The monthly subscription cost covers unlimited access to courses, and in combination with the LinkedIn Premium offering, could help you land a new role.
---