The Best Free Online Courses for Digital Marketing
Digital marketing has become increasingly important to businesses looking to promote their online brand.
Digital marketing includes any marketing that uses the internet or an electronic device.
This includes search engines, social media, website connections and email, all to attract an audience and generate more business connections.
Not only can digital marketing reach a larger market than print or television, but the marketing can also be targeted for specific groups and not wasted on those not likely to be interested.
Digital marketing also allows you to better track who your ads have reached and how many are interested due to clicks on your ads or email openings.
The Best Free Online Courses for Digital Marketing With Certificates
There are many courses out there for digital marketing certificates. We have narrowed down 10 good ones to help you gain the skills you need.
Pros
Study at your own pace
Suits beginners
Offers practical exercises and real-world examples
Includes certificate of completion
Accredited by the Interactive Advertising Bureau
Cons
Course takes around 40 hours to complete, which won't suit those seeking short options
This course is accredited by Interactive Advertising Bureau Europe and The Open University.
The 26 modules are full of practical exercises and real-world examples. All modules are created by Google trainers.
The lessons are small videos that vary in time, from 15 minutes up to an hour, and cover topics such as:
Building a web presence
Planning an online business strategy
Using search engines
The SEO process
Being noticed with search ads
Improving your search campaigns
Getting noticed locally
In the course, you will learn email marketing, content marketing, business strategy, eCommerce, SEM, SEO, social media, among others.
The modules can be done at your own pace in your own time.
There is a 40-question final exam to get certified.
Pros
Learn at your own pace
Covers a variety of topics
Suits beginners
Can be completed in around seven hours, fitting into busy schedules
Cons
Won't suit experts seeking in-depth advanced knowledge
If you are already dealing with a business that needs help with its online campaign, this course will help.
The course looks at using online platforms to reach and engage your audience and maintain your campaign successfully.
Course takers can choose their course, track it with a 'My Learning Plan' page, and learn through tutorials and a quiz.
Course topics range from 20 minutes to an hour and cover:
Search engines
SEO
Keywords
Making web pages search-friendly
The uses of mobiles, social media, video, etc.
The course will teach social media, SEO, using mobile for marketing, content marketing, SEM and more.
Pros
Range of course topics to choose from
Suits those seeking intermediate to advanced learning
Learn at your own pace
Cons
Taking certification exams requires payment
Facebook Blueprint Certification exams award credentials to those who achieve advanced-level proficiency in different aspects of digital marketing with Facebook products.
There are free, self-guided courses that cover marketing skills on Facebook, Messenger, Instagram and WhatsApp.
Different programs are depending on whether you are a small business, a charity, a new student or something else.
You can then choose from nine different exams to write, depending on your area of proficiency. Or you may wish to do more than one.
Pros
Offers hands-on learning in Google Analytics and ads
Study at your own pace
Wide range of course topics to choose from
Certificates of completion available for different courses
Cons
Broad range of topics won't suit those seeking in-depth advanced knowledge on a particular subject area
These courses look at marketing channels such as social media and email, offer hands-on training in Google Analytics and ads, and teach marketing materials design with Adobe suite.
With just over 20 hours of content, the course explores such topics as:
SEO
Google Ads
Content marketing
Social media marketing
Marketing on Facebook and Instagram
Email marketing
Graphic design, and more
Certification of completion is awarded when finished.
Pros
Study at your own pace
Wide range of course topics to choose from
Certificates of completion available for different courses
Cons
May require subscription to access some courses (free trial limited to one month)
These courses will teach you how social media marketing and SEO work, teach you the right tools and techniques, and the best practices for digital marketing.
Courses cover such topics as:
Social media marketing
Social media marketing for Facebook and Twitter
Social media marketing for small businesses
Advertising on Facebook, Instagram and YouTube
SEO
Google ads, etc.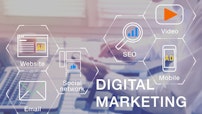 The Best Free Online Courses for Digital Marketing With Certificates
Pros
Study at your own pace
Short course fits around busy schedules
Includes certificate of completion
Cons
May not suit experts seeking advanced content
Aimed at inbound marketing professionals and marketers, the course is under four hours long, with seven lessons comprised of videos and quizzes.
The course will teach inbound marketing techniques, core tactics of inbound marketing, and advancing your skills as an inbound marketer.
The course includes lessons on:
Inbound marketing fundamentals
Understanding social media promotions
Aligning your marketing with sales
Understanding lead nurturing, and more
Pros
Study at your own pace
Course content is just over six hours, allowing it to be completed fairly quickly while still accommodating busy schedules
Cons
May lack advanced content that would benefit already well-experienced professionals
HubSpot's Content Marketing course is aimed at marketing professionals, content producers and inbound professionals.
At just over six hours and 12 lessons, the course is comprised of 54 videos and 11 quizzes.
The course teaches content creation frameworks for producing effective content consistently, becoming a stronger content marketer, and creating and repurposing content for SEO optimization.
Topics include:
Generating content ideas
Blogging
Creating successful video marketing strategies, and more
Pros
Study at your own pace
Short course fits easily around busy schedules
Includes certificate of completion
Cons
Lacks advanced content suitable for experts; better suited to beginner and intermediate learners
This is a short course under two and a half hours long, with six lessons comprised of 24 videos and five quizzes.
The course will teach you how to evaluate and improve a website's SEO, learn the tactics HubSpot's blog team uses to rank number one on Google, and build backlinks to your website to increase visibility on search pages.
Pros
Learn at your own pace
Short course accommodates busy schedules
Includes certificate of completion
Cons
May lack advanced content beneficial for those who are already well experienced
This course will focus on mastering the fundamentals of email marketing and applying what you learn with HubSpot's free email marketing tool.
The course is just over three hours with nine lessons of 28 videos and nine quizzes.
Topics include:
Understanding email marketing
Sending the right email
Analyzing your marketing emails
Creating a high-performance email
Pros
Study at your own pace
Short course takes up to three hours to complete and accommodates busy schedules
Accredited by CPD UK
Cons
Accessing a certificate of completion requires payment
Topics of study include:
Lead generation
Banner ads
LinkedIn advertising
Twitter timeline ads
Facebook ads
Funnel building
Search ads, with practical training to use on the job
An 80% is needed to pass each course module and earn certification.
Why Take an Online Digital Marketing Course?
With almost everything being done digitally these days, it is sensible to investigate online digital marketing as a possible career choice.
There are several benefits to this choice of career:
High Demand – With the explosion of social media and smartphone apps, digital marketers are in high demand, especially those with an abundance of social networking skills. Those that continually keep up with new products and improve upon their skills are even more in demand.

Work from Home – The online nature of digital marketing means much of your work can be done from home or remotely. This can save on travel costs to and from the office, as well as rent if you needed to rent an office previously.

Room for Growth – The internet and social media will only continue to grow, and with that, the demand for digital marketers will too. For those who are good at what they do and continually improve upon their skills, there is room to grow in the field.

Better Pay – With skills come better pay – if you have the optimal skillset for your field, you can demand top dollar.

Full of Variety – The digital world is constantly changing, and programs and apps that we used even a few years ago may now be obsolete. There will always be something new to learn in digital marketing, making your days interesting and never dull.

Build your Own Business or Freelance – Digital marketing can be a great way to start your own business because all you need is your computer. If you want a bit more variety, you can also freelance your services to businesses that need them.
There are many careers and business opportunities that can come out of digital marketing:
Search Engine Optimization is a popular area to work, with more businesses using SEO to drive traffic to their websites.
Working in SEO, you would identify areas of weakness in your website and work to move traffic to it.
If you choose to work in content marketing, you will oversee blogs, videos, articles, and more to move your company brand. You will need to plan and promote your content in the best way possible.
Nothing could be more popular right now than social media marketing. With Facebook, Twitter, Instagram and Snap Chat, the possibilities for reaching target audiences are endless.
Digital managers are needed to manage the social media accounts of their clients.
Email marketing involves digital marketers reaching customers through ads sent out in mass emails. Digital marketing experts can use programs such as MailChimp to reach their targeted audiences and generate leads.
Who Might Benefit From a Digital Marketing Course?
There are many online digital marketing courses out there. You may find it beneficial to take one if you are in any of the following situations:
Business Owners and Employers
An online digital marketing course would be ideal for anyone owning or working at a business that wants to improve sales.
With the appropriate training, you can begin to reach a larger market and get your message to the right people.
School Leavers and Graduates
There has never been a better time to try digital marketing as a career, especially for those just out of school who may not know where they want to work yet. Younger people are generally more in tune with the internet and social media.
You may discover that you like digital marketing or find what you enjoy doing while working.
Employees Preparing for a Promotion
Those looking for promotion should seek to improve their skills and bring something more to the table.
Training in digital marketing offers your company the ability to reach a larger audience and gain contacts.
Career Change into Marketing
Anyone looking to enter the field of marketing would be best studying some digital marketing either first or along with regular marketing.
It is a great area to make a career change into.
Starting a Degree or Advanced Course
For those wanting a bit of training in digital marketing to complement another area of study, a free online course is a good choice.
You can pick and choose the areas you wish to focus on that can best work with your other area of study.
What Should You Expect to Gain From a Digital Marketing Course?
While courses will differ, there are some essential basics that all digital marketing courses will cover:
Search engine optimization – Both search engine optimization (SEO) and search engine marketing (SEM) are essential to all areas of digital marketing. You will learn how to optimize your platform for the appropriate search engine, as well as how to market your business to the right areas on the internet.

Email marketing – For years, email has been a popular method of reaching a large audience. In your digital marketing course, you will learn how to use programs such as MailChimp to run large email campaigns and how to analyze the results.

Content marketing – Content marketing can take many forms, such as social media, emails, videos, blogs, and books, etc. You will learn how to create high quality, SEO compatible content as well as how to effectively get it to the right audience.

Inbound marketing – Inbound marketing is all about bringing the customer to you. It involves building a professional website filled with informative material, blogs, social media channels and having a strong SEO ranking. Essentially the more you can offer, the more people who will come to your business.

Social media marketing – Social media marketing (SMM) uses social media and networks such as Facebook, Twitter and Instagram to market products and services. You will learn how to best leverage social media accounts to engage customers and attract new ones. You will also learn how to attract your platform's success.

Mobile marketing – Mobile marketing involves marketing your business for mobile users. It provides smartphone users with the information they want when they want it as well as ads that will appear on phones and tablets. You will learn how to best get this information out there and what programs are used to do so.
Can You Put Your Digital Marketing Certificate on Your Resume?
Any upgrade to your skills is a good addition to your resume. To distinguish yourself from other job seekers, make the most of what you have achieved.
Be sure to list the following:
Whether your certificate has come from an accredited university
Whether you have specialized in a particular area of digital marketing
Whether the company you are applying to may be affiliated with your certificate
How to Improve Your Digital Marketing Alongside Your Course
To gain more experience while still studying, you can always try interning for a marketing firm to learn some real-life skills.
It may have to be done without pay, but you will still learn some valuable skills you can use in future employment.
If you are already in a career, you may see if there is extra work you could pick up or help within the digital marketing area that could help you learn.
Maybe there is someone in that department who would be willing to give you a bit of training in the area of your choice.
Final Thoughts
Digital marketing is a popular career choice that is likely only going to increase in demand.
As technology advances, digital marketing experts with the necessary skills will have their choice of jobs.
There are many benefits to choosing a career in digital marketing. You can do a lot of it on your own, possibly from home or remotely, and make your hours.
It is a fast-changing field, so the more you upgrade your skill set, the better your pay will be too.
With these 10 great free online courses, you can easily attain the skills you need to find a job you may love.
---