10 Best Online Accounting Courses
Whether you are starting a career in accounting or looking to change careers, online courses are a great place to start.
Online courses can be full bachelor's or master's degrees, foundation programs or focused on specializations. They generally consist of pre-recorded material that the student can work through at their own pace.
Some courses run throughout the year and are referred to as on-demand, while others have set start dates and deadlines.
The on-demand courses allow you to start as soon as you are ready and have the time.
They are also usually more cost-effective than in-person learning as you don't have as much support or feedback and access to additional resources.
Online courses also come in different experience levels, meaning there is always a course suited to your ability.
Becoming an accountant usually requires a bachelor's degree in accounting or finance.
To be CPA accredited in the US, you need 150 hours of semester hours of college coursework – that is 30 hours more than a standard four-year degree.
Taking additional courses may help you reach that target minimum or help with higher education applications.
Why Should I Complete an Online Accounting Course?
Accounting is forecasted to grow 4% over the next 10 years, making it a safe career choice.
While the traditional learning route – bachelor's degree, master's degree, work experience, accreditation – is still preferred, online courses can:
As technology develops, all industries are looking at ways to innovate their products and services. Therefore, it may be essential for you to take online courses to keep up with changing trends.
The latest trend from finance is fintech (financial technology). Top universities worldwide are adding fintech courses and programs to their curriculum, with the majority being online.
Equally, online courses help new learners decide what topics interest them and which don't.
There are two types of accountants:
There are four common specialisms:
Taking an online course may help you decide where and if you want to specialize.
Online accounting courses are also useful for those venturing into entrepreneurship. All successful business owners need to have an understanding of finance, especially in the beginning when there is no budget to hire an accountant.
If you are considering a career change, then an online course is an excellent introduction to that industry. It also shows potential employers or educational institutions that you are serious about your new career and are willing to put in the time and effort to learn a new craft.
What Should I Look For When Choosing an Online Accounting Course?
When choosing an online accounting course, you might want to consider:
Top 10 Online Accounting Courses
The following courses vary in price, length and level. They are not bachelor's or master's degrees but stepping stones to an accounting career or means to level up your knowledge.
The majority are run by reputable universities but do not appear to have any accreditation with accounting professional bodies. However, if you are looking to improve your college application or move into accounting, these courses may help.
Before committing to a course, reach out to the tutors to confirm how it will help with your career development.
Level: Beginner
Duration: Two hours – series of three-minute videos
Price: Included with LinkedIn Premium subscription, free one-month trial or $39.99 one-off payment
The course was created by Jim and Kay Stice. They are both very well-respected professors who teach accounting at BYU Marriott School of Management.
Modules include:
What is accounting
Balance sheets
Income statement and cash flow
Managerial accounting
Income taxes
This course is registered with the National Association of State Boards of Accountancy (NASBA) and provides 3.6 Continuing Professional Education (CPE) credits.
Level: Beginner
Duration: Approximately 14 hours
Price: Free to enroll but various charges for certificate and course material
The Financial Accounting Fundamentals course is taught by a professor from the Darden School of Business, University of Virginia.
It has enrolled over 99,000 students, with 85% giving the course a five-star rating.
Reviews state that the course has a good mix of video lessons, case studies and practical exercises.
All deadlines are flexible, so it fits into your schedule.
The topics covered are:
Financial accounting
Balance sheet
Recording transactions
Income statements
Cash flow
Financial statement preparation
Annual reports
Analysis of financial statements
This course is part of the Entrepreneurship: Growing your Business Specialization program. While it does offer accounting fundamentals, it is aimed at small business owners and entrepreneurs.
Visit Financial Accounting Fundamentals – University of Virginia via Coursera
Level: Beginner
Duration: Six weeks
Price: Free
This course is run by ACCA members and is designed to prepare you for your ACCA Management Information exam.
The course covers:
Spreadsheets
Recording costs
Cost classification and measuring
Source documents and coding
Nature and purpose of cost and management accounting
The primary purpose of the course is to prepare students for ACCA exams. However, it has also been recommended to those:
Starting a career in accounting
Studying business or finance
About to launch a start-up
The course is self-paced but recommended study time is around five to six hours per week.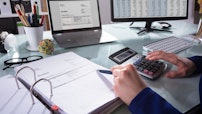 10 Best Online Accounting Courses
Level: Beginner
Duration: 12 hours – fully flexible learning
Price: Free enrolment but added fees for study material and certificate
This course is taught by an associate professor from the IESE Business School, University of Navarra.
The topics covered are:
Introduction to accounting
Income statement
Cash flow statements
Accrual accounting
Past students have commented that this course is easy to follow and offers lots of practical examples. Nearly 86% gave it a five-star rating.
Principles of Financial Accounting is part of two other programs:
Foundations of Management specialization
Think like a CFO specialization
As both programs are specializations, they come with a hands-on capstone project to demonstrate your understanding.
For those considering a career in accounting, the CFO specialization will give a deeper understanding of finances.
Visit Accounting: Principles of Financial Accounting – University of Navarra via Coursera
Level: Beginner/intermediate
Duration: Six hours
Price: Included with LinkedIn Premium subscription or free one-month trial
Taught by Jim and Kay Stice, this course offers MBA-level information.
Part one modules include:
Accounting equations
Assets and liabilities
Owner's equity
Balance sheet and income statements
How financial statements are made
Debits and credits
Accrual accounting
Part two includes:
Ratio analysis
Forecasting
Business valuation
This course is recognized by NASBA and offers 5.4 CPE points.
Reviews state that the course is well structured and has enjoyable practical exercises and case studies.
Visit Financial Accounting Part 1 and Part 2 – LinkedIn Learning
Level: Beginner
Duration: Six months – recommended learning of four hours per week
Price: Free to enroll but study material and certificate may incur additional costs
This course is ideal for managers and entrepreneurs as it covers:
Understanding financial statements
Accounting for business decision making
Fundamentals of accounting capstone project
The course is taught by an accounting professor from the University of Illinois.
The content taught is in-depth with lots of practical information and examples, making it helpful for CPA exam preparation.
For those interested in furthering their learning with an MBA, the University of Illinois offers a competitive iMBA that follows on from this specialization.
Visit Fundamentals of Accounting Specialization – University of Illinois via Coursera
Level: Beginner
Duration: Five hours – on demand
Price: $85
This course was created by an award-winning MBA professor. It is the number one best-selling Udemy accounting course and has received great reviews from Business Insider magazine.
Modules include:
Income statement analysis
Balance sheet analysis
Financial modeling – best practices and how to find historical data
Valuation – best practices, discontinued cash flow, price to revenue, price to earnings, final target price calculations
Assessing financials with formulas
While the course is not accredited with any accounting union or charter, Udemy is widely recognized by companies like Mercedes and Adidas as being reliable and trustworthy.
Visit Introduction to Finance, Accounting, Modeling and Valuation – Udemy
Level: Intermediate
Duration: Nine months – eight to 12 hours per week
Price: $1,300
This course is delivered by the award-winning accounting faculty from Kelley School of Business, Indiana University, and covers 30% of their online Master's of Science Accounting course.
It includes three courses:
Financial reporting
Managerial accounting and corporate control
Taxes and decision making
After completing this course, you can enroll in the master's program without needing to sit the GMAT.
This course is also ideal for those preparing for their CPA exam.
While the MicroMasters course gives you a level of understanding that allows you to quickly get on with your career, it is a long course that can be challenging at times.
The assignments and exams have set deadlines, so there is very little flexibility.
This course is only recommended for those serious about their accounting career.
Level: Intermediate to advanced
Duration: Five hours – on demand
Price: $99.99, but often on sale
This course has been updated for 2021 and is recommended for:
Accountants
Small business owners and entrepreneurs
Those wanting to level up in their accounting career
The instructor has an MBA and is an accredited Chief Financial Officer (CFO).
This course is self-paced, but you can contact the tutor at any time by sending a help message.
Reviews state that the course includes a lot of useful information and is easy to understand but lacks practical examples.
Before starting the course, you need an understanding of financial reporting and the basics of accounting.
The modules covered include:
Deferred revenue
Intercompany transactions
Foreign exchange transactions
Partnerships
Options and warrants
Derivatives
Consolidating subsidiaries
Intangibles
Leases
Visit The Complete Advanced Accounting and Finance Course – Udemy
Level: Intermediate
Duration: Six weeks, self-paced
Price: £2,650
This course is designed to:
Provide you with a working knowledge of financial technology
Help you identify new opportunities in finance
The program was created by Oxford University Associate Fellow and CFTE co-founder Huy Nguyen Trieu, and includes:
Digitisation of money
Digital platforms and mobile financial services
Artificial intelligence and algorithm technology in financial services
Central bank digital currencies
Blockchain and cryptocurrencies
Open banking and data networks
The program carries a heavy workload, but it lays the foundations of an excellent fintech knowledge base from an internationally recognized and well-respected institution.
Final Thoughts
Thanks to technology, online courses are readily and easily available.
While there is still the perception that traditional in-person learning is better, it is no longer the only route to success.
If the course is detailed enough and you put in the effort to learn everything you need, there is no reason why you can't secure an apprenticeship or accreditation in accountancy.
Before investing in a course, make sure:
It is designed for your level of understanding
It is run by a respectable tutor or institute
It covers the topics you want to learn
It suits your schedule
---