Online Learning Platforms: Which Look Good On Your Resume?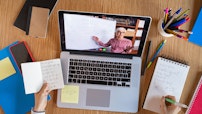 What Online Learning Platform Actually Looks Good On Your Resume?
Google 'online courses on a resume' to receive 12 million results.
There are thousands of online courses to choose from, meaning you have to search through them to find what you are looking for.
So, how do you identify the best online learning platform to put on your resume?
More concisely, how do you know what online courses will help you get hired?
Why Put an Online Course on Your Resume?
There are many reasons why putting online courses on your resume is a great idea.
It shows that you are proactive in your learning and development, and it demonstrates you have learned something new that another candidate might not have.
Also, online courses help address any skill gaps you have and demonstrate to employers you have the technical knowledge for the job.
If two graduate resumes with identical grades and levels of experience are placed next to each other, online learning would differentiate the two.
For example, you could have graduated with a degree in personnel development and desire a career in people analytics. Completing a series of online courses in data analytics and AI will help.
Referencing online courses on your resume will help showcase your unique technical skill set.
You could try an introduction to business analytics course or bolster your soft skills with a leadership course to advance your business skills.
When Should You Put an Online Course on Your Resume?
The majority of candidates add extra courses to their resumes when they need to show they have the skills for a specific job.
It is a great way to bridge a skills gap, therefore, or attempt to begin a new career.
You will know it is an opportune time to complete online courses when you have the chance to put what you have learned into practice.
Consider your timing, though.
It is a good idea to cluster courses so that they depict your unique skill set when you add them to your resume.
Where Do You Put Online Courses on Your Resume?
Including an online learning platform on your resume is still relatively new.
Some employers can be a little hesitant about the value of a course. Including a long list of courses will not be enough.
Do not make online courses the focal point of your resume. You must remember that online courses are not a replacement for practical experience.
Include them, but keep your descriptions short and within a designated area of your resume.
You could name the section 'Personal Advancement', 'Acquired Technical Skills' or 'Professional Development'.
It needs to be separately allocated to your usual qualifications, though.
You will also want to group courses by online learning platform on your resume.
This makes sense as the majority of distance learning platforms have a particular focus, whether digital marketing, data intelligence, coding or core business skills.
Here is an example:
Acquired technical skills – Codecademy

Position: Front-end engineer

Learned how to build dynamic websites that are functional and aesthetically pleasing. Since completing the course, I have created several websites that were developed with the web visitor in mind.

Position: Full-stack software engineer

Deepened learning by discovering how to connect the front-end with the back-end to go beyond landing page creation to master complete web applications.
How to Tell if a Course Is of Resume Quality
Course Reputation
Consider how reputable the provider is. This will have a significant bearing on whether you include the online learning platform on your resume.
LinkedIn Learning, for example, is a good choice as the platform thoroughly vets its courses.
Similarly, Futurelearn takes its course integrity very seriously, and only features programs from reputable academics and subject-matter experts.
Proof of Learning
When including training courses on your resume, it is best to evidence your learning.
After all, anyone could say that they completed a course.
Most free online courses will give you the option of purchasing a certificate upon completion for a small fee. If you have taken a course to reskill, it will be worth doing this.
Scope of Course
Consider whether the course covers everything you expect. Take time to explore the syllabus, watch demo videos and read the reviews.
You should only invest your time in a course where you are confident that you will be able to use your new-found skills and knowledge in the workplace.
What Online Learning Platforms Look Good On Your Resume?
It depends on what your career goals and aspirations are.
Any of the seven online learning platforms below would look good on your resume.
Free to join, Coursera's online classes are provided by over 200 leading universities and companies worldwide, including the likes of Google and IBM.
You can take courses to cover particular skills gaps, or you can earn a degree.
It is a favorite online learning platform for a resume because employers recognize it well.
In fact, 87% of people who take a Coursera course report career benefits such as landing their ideal job or gaining a promotion.
There are 5,100 courses and specializations to choose from, 40 certification types and over 25 degrees.
Self-paced and affordable, Coursera is a good option if you are looking for flexible, distanced learning.
Approximately 600,000 people are registered learners on edX, making it one of the most recognized online learning platforms for a resume.
Those using the platform can choose from courses submitted by over 160 universities.
There are five disciplines to choose from, including computer science, business, data science, engineering and design.
Many courses are free to students at member universities through its Online Campus Essentials solution, making it a good way for undergraduates to boost their resume.
Futurelearn offers 100% learning online with hundreds of universities and recognized experts.
There is a broad range of programs, from short tutorials to masterclasses, where you can earn professional or academic accreditation.
You can also study for an online degree at your own pace.
There are costs to consider, though, since Futurelearn is subscription-based.
Many programs are free if you complete them within six weeks. If you need a little more time and want to earn a certificate, you can do so for a fee of $59.
You may decide to opt for the yearly subscription if there are several courses you wish to complete. This gives you unlimited access for $280.
LinkedIn Learning is a globally recognized online learning platform so it is great for your resume.
Starting at $35 per month, LinkedIn members can access 16,000 courses and earn a certificate for every one they complete.
The courses are designed to be translatable to the workplace. This is why including LinkedIn training courses in a resume is a good idea.
If you want to explore the courses, you can sign-up for a free trial. Remember to make a note of the renewal date if you decide it's not quite for you.
Codecademy has an impressive number of learners, making it a popular online learning platform for a resume. In nine years, 50 million people have taken a course.
If you want to learn how to build a website or analyze data, this is the platform for you.
Each course is structured so that you learn by writing real, working code.
This is the clever part; as soon as you submit your code, it is tested and you receive instant feedback.
At a basic level, some interactive sessions are free.
At $22 per month (billed yearly), the pro-level gives you full access to courses based on real-world projects with certification.
Udacity has a vast range of online courses you can put on your resume. There is a common theme that runs through all its programs, and that's digital learning.
You can choose from hundreds of courses spanning data science, programming, business, AI, autonomous systems and computing.
Udacity claims to be different because its courses have been designed with top-tier industry partners rather than academics.
When you add Udacity as an online learning platform on your resume, you are saying to an employer that you have work-ready skills.
You can access any nanodegree program for free for 30 days.
After the free period, however, your subscription will extend to $462 per month until you graduate or cancel.
FreeCodeCamp helps thousands of software developers land entry-level roles at big tech companies each year.
It is home to 6,000 guides, videos and interactive coding challenges, and a 3,000 hour curriculum, making it the go-to online learning platform to include on a resume.
Best of all, it is completely free to access since it is an education not-for-profit. It relies on member donations to fund the platform.
To put it into context, a donation of $5 helps to provide 250 hours of learning. It even accepts bitcoin and other cryptocurrencies as a donation.
Key Tips for Putting Online Courses on Your Resume
Whether you have mastered coding, gained a deep understanding of food sustainability at edX, or sharpened your digital data analyst skills at Udacity, here are a few tips on presenting your learnings:
Only Include Relevant Online Courses on Your Resume
If you have spent every waking hour completing courses, make sure you only list those the employer will be interested in.
For example, a business management graduate may choose to include courses in business analytics, data engineering or even reference niche courses in growth product management.
List Only Reputable Training Courses on Your Resume
Do your research and be careful not to spend your time on courses that hold no value.
However, don't automatically rule out free platforms.
FreeCodeCamp.org, for example, while accessible to anyone wanting to learn to code, is most credible.
Since 2014, over 40,000 e-learners on its platform have gone on to secure graduate positions at the world's largest tech companies.
Be Careful With Introductory Courses
Try not to reference beginner modules when applying for a job that requires a certain level of expertise.
The only time where this might be appropriate is if you are applying for an entry-level trainee role and want to show that you have a basic understanding of some of the skills.
Show How You Put Your Learning Into Practice
Rather than cutting and pasting the course description, explain how you have already used what you have learned or how it will help you in your new role.
Where Else Can You List Your Online Courses?
If you enjoy online courses, you will not have enough space to list them all, and neither should you.
There are other places you can include them, however, without it feeling forced or cluttered, and LinkedIn is one of them.
If you have completed specific modules in a subject or software, you can include them within the skills section of LinkedIn.
You may even choose to upload certificates and include coursework on your LinkedIn resume.
Another place you can expand on training courses in your resume is your cover letter.
Discussing what you are currently learning can be very topical and shows you are a keen learner.
Final Thoughts
The most important thing to remember when taking an online course is to enjoy the experience. Participating in online learning can be very fulfilling and take you on an exciting new career path.
Remember, if you reference an online learning platform on your resume, you must be able to describe what you learned at the interview.
If you took a course a couple of years back but cannot remember its contents, do not include it.
Reference only those that you know well and are passionate about.
---