Capital One Assessment Test
All products and services featured are independently selected by WikiJob. When you register or purchase through links on this page, we may earn a commission.
Company Background
The American bank holding company specializes in a range of credit cards and loans that extend to a variety of products. Automobiles and leasing programs have become a staple of Capital One.
Today, the company prides itself on technological innovation and corporate diversity.
From the issue of its very first credit card in 1996, it has grown to 755 branches worldwide. Today, the headquarters is located in Virginia.
With Capital One having long-term goals of equality and community engagement, future colleagues of the corporation will be an essential part of these targets.
Those applying for roles at Capital One will be introduced to the progressive culture of the corporation.
This article will outline the benefits of the company and positions at Capital One, the application steps, and the best ways to prepare.
If you are considering starting a career at the corporation, this article will give you the knowledge to succeed.
Why Work at Capital One?
The benefits of working at Capital One are numerous. As an organization, it continues to engage with its employees, ensuring financial, physical and emotional support.
Some of the health incentives of working at Capital One include:
Medical care: Associates of Capital One are provided with options for a three-year medical plan which grants access to hospitals and doctors.
Vision care: Like the medical incentives, Capital One provides options for routine eye examinations.
Fitness centers: To help incentivize a healthy lifestyle, Capital One includes access to 11 on-site gymnasiums.
Retirement and savings plans: Being an employee at the corporation means you will be helped to expand your retirement funds, contributing to your welfare later in life.
There are also various life-insurance and disability schemes, education assistance in regards to reimbursement for non-degree courses and eligibility to participate in the Capital One Associate Stock Purchase Plan (ASPP).
Outside of your own financial and health incentives, Capital One has constructed various programs to cater towards your family.
Associates can take up 18 weeks for maternity leave, and eight weeks for paternity leave.
The corporation also provides alternative care options for your family members in the result of a breakdown of normal care arrangements.
It is not all work either, and Capital One ensures that its employees and their respective families have time to rest. Associates have the opportunity to earn vacation leave on a month-to-month basis.
Roles and Teams
With Capital One being a corporation that operates on a worldwide scale, there are many career paths.
The way in which Capital One organizes its employment practices is through roles and teams.
There are four teams, and in each there is a selection of roles that work towards the overall goals of their selected team.
The four teams are designed to cover all facets of the Capital One Corporation, whether this is customer care or technological innovation.
Customer Advocates
Members of the customer advocates team are often the first point of contact for all customers interacting with Capital One.
They are built upon delivering excellent services to all of those who are wanting to invest or use the products of the bank holding company.
It is also important to note that these roles are often ambassadorial.
If you are interested in interacting with other businesses about Capital One's practices, then you may be interested in joining the customer advocates team.
Members of the customer advocates team deal with the complaints and problems of customers and clients alike.
It is arguably a difficult role to fill, but can prove to be rewarding.
Some of the roles include:
Business banking
Commercial banking
Customer care
Sales
These roles suit candidates with strong communication skills and outgoing personalities.
Once you have constructed a strong resume to reflect upon your experience, you may find that the customer advocate team is the best fit for you.
Technology Explorers
Those working within the technology explorers team will be at the forefront of analysis. The roles are built around the engineering of technological designs that contribute to the streamline efficiency of Capital One.
Employees that are integrated within this team are often well experienced in cyber operations and software design. These roles will suit individuals who may be introverted.
Any potential candidate who has a drive to further or start a career in data-led technology will be suited to this team.
The roles include:
Data software engineer
Cyber management
Process management
Technology operation
Product Innovators
Like the technology explorers, the product innovators often work around data analytics and design. However, the greatest difference for those working within the product innovators team is the customer.
Employees who prioritize productivity within teams and co-operative solutions often find themselves within production innovation.
It is essential that team members have insight into a customer's needs. Additionally, the roles within this team are catered towards finding and designing workable services.
It is likely that employees in this team have consistent communication with all facets of the Capital One Corporation. In this team, you will be talking to customers, data operations and senior colleagues.
Some of the roles include:
Data science and analysis
Digital product manager
Business director
Design management
Company Builders
Employees in this team are focused on the image and outlook of the Capital One Corporation.
Brand design, marketing and strategic analysis are all factored as part of the company building team. In this team, employees are often extroverted and communicative about bold ideas.
They must know Capital One's long term goals like no other team, and they must be willing to incorporate this into their work.
Further, company builders are a key part of the management of the working environment. It is their job to ensure all employees of Capital One are working towards a collective goal.
Any welfare issues are also taken up by company builders. They ensure that workers of Capital One have their voices heard.
Company builder roles include:
Marketing and brand analysis
Project management
Human resource-related roles
Communications specialist
Whatever your skill set, there are a variety of roles at Capital One to help you build a prosperous career. The corporation is designed to cater for multiple levels of experience and personalities.
Hiring Process
Like most leading corporations, Capital One's hiring process is unique to its long-term values.
With this in mind, the bank holding company has an intricate application process.
The candidates chosen to work at Capital One are not only suited to their roles, but also to the corporation's working environment.
Depending on what position you apply for and what pathway you have chosen, the hiring process will differ. For instance, if you are a candidate interested in the graduate program, then the steps you undertake will be different to that of an intern.
However, there are some recurring steps in all of the application procedures that every potential candidate can prepare for. These are:
Initial Application
Capital One includes all of its potential career information on a tailored career site. The corporation refers to it as a 'one-stop shop for information'.
Our advice would be to examine which career pathways you would like a starting role to grow into. Take the time to research the roles available and how your strengths match these positions.
Whichever role you choose to apply for, you will be asked to submit a resume or CV, and you will be faced with some basic questions about the role.
The basic questions will ask you about what you can bring to Capital One. You will also be asked about yourself, your hobbies and why you want to work at Capital One.
Think carefully about your experience and how it relates to the selected role.
To build a strong resume, it is imperative to include your strongest and most relevant attributes. Rather than outline every role you have held, ask yourself what Capital One is looking for and how you can show them this.
Online Job Assessment Tests
The assessments will be based around both logic and creativity.
There are many ways to prepare for a variety of aptitude tests so that these will not come as a surprise.
There is a detailed breakdown of these assessments below, but before outlining the specificities of these tests, it is important to keep a few points in mind.
To revise for these online assessments, you can look towards our own designed assessments to gain an idea of the material you will be presented with.
Further, it is worthwhile considering how you can build a strategy to approach these tests. A tip is to time yourself while practicing the tests.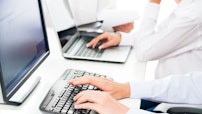 Capital One Assessment Test
Knowing how long it will take to complete the assessments will give you a good idea of how you can break up the questions. It will also give you a chance to organize your day around the assessments.
The questions you will be presented with will be in some way interlinked with the working procedures at Capital One. This may come in the form of logic-based puzzles or mathematical problems.
Remember that these tests are designed to force you to highlight your working methods. If you can, mark down how you arrive at the answers and explain how you have come to your conclusions.
Online Interview and Virtual Case Interview
The online interview is integrated with the virtual case interview.
Both are designed to push you to explain your working methods.
This will take place via Zoom or Skype.
This interview gives you the opportunity to express yourself, meet potential colleagues and present your ideas.
Like a face-to-face interview, it is important to think about who you are presenting yourself to. It may be conducted over a platform such as Zoom, but you are still undergoing examination from Capital One's recruitment staff.
The virtual case interview is outlined further below, but like the online assessments, it is worthwhile building a strategy prior to the case. You can do this through practicing online assessments and with family or friends.
In contrast to the online assessments, the virtual case interview works on the basis of negotiation, and you will have to explain how you have arrived at certain solutions.
What is also important to keep in mind is that there may be a variety of correct answers. The aim of the online interview and virtual case is to allow for suggestion, compromise and the influence of your personality.
On-Site Assessments
Once you have passed your interview, you will be invited to an assessment center to undertake further examinations.
These will be a simulation of the working environment and often group-based.
The examinations that you will undertake at the assessment center may differ, depending on the career you have applied for.
The assessments to likely appear are:
Further case studies
An additional behavioural assessment
Group-related activities
Situational examinations
Each of these assessments will monitor how you integrate into the working environment at Capital One. They will give the chance to cooperate with other potential candidates as well.
The examinations will take place over the course of one day, giving the opportunity of Capital One's recruitment team to observe your strengths in one sitting.
Before attending the assessment center, be well prepared and focused. Make time in your schedule to work around this assessment day, and ensure that you are well rested before heading into the center.
Recruitment teams take note of candidates who are ill-prepared. By being rested you show a degree of respect and seriousness to Capital One's hiring procedures.
Final Interview
At this stage you will be met with a recruitment team who are there to analyze your suitability and long-term goals.
It is at this point where you are given an independent platform to showcase your best attributes.
Differing from the online interview and virtual case study, the face-to-face interview at the assessment center is focused upon presentation.
After these five stages of the hiring process, Capital One will decide if you are right for its corporation. If you succeed, then it is very likely you will be on the road to a prosperous career.
However, don't fear rejection.
The Capital One Corporation is happy to provide feedback on your application, giving you the chance to review what you can improve on for future reference.
Taking constructive criticism and using it to improve is an essential part of finding the right career.
How to Pass Your Online Job Assessment Test
Before entering into interviews and on-site assessments, you will have to pass a collection of tests. These assessments will highlight your strengths.
Such assessments and aptitude tests are integrated into most corporate hiring procedures, but there are some unique elements of Capital One's assessments to look out for.
Psychometric Assessment
Early on in the hiring process, you will undergo a behavioral assessment.
You may feel that this is not necessarily something you can prepare for. This is to some extent true, but it is important to keep in mind what values Capital One wants in the workplace.
The behavioral test will identify how your personality aligns with Capital One's working environment.
You will be presented with a list of questions that are either representative of the working culture or related to a distinct personality trait.
There are no correct answers to these tests, and it is crucial to be honest. If you do not approach the answers subjectively, you may find yourself with a behavioral construct that is not necessarily a fair reflection.
This may seem like a trivial consequence, but it could result in your being placed into a section of work you find intolerable.
The best way to prepare is to practice these tests online.
There are various types of psychometric tests, and each one will give a different set of questions.
Verbal Reasoning Test
The verbal reasoning test is a way in which Capital One's recruitment team can analyse your comprehension skills.
Those who have strong methods of reasoning will perform well.
You will be presented with a passage of text, and from the passage, you must choose to agree or disagree with a select statement.
The statement will be presented in relation to the passage. It is also important to note that the statement may be true or false.
In this case, you will have to declare that you either cannot answer or definitively decide on whether the statement is true or false.
There are many ways to prepare for the verbal reasoning tests. You can take online tests that simulate the tests that will be presented at Capital One.
Further, you can take time to improve your comprehension by creating your own versions of the tests. Doing so will allow the process of emulation.
Numerical Reasoning Test
In contrast to the verbal reasoning test, the numerical assessment will be designed around giving specific answers.
You will be presented with collections of data. This can come in the form of graphs, charts, surveys and calculations.
You will have to analyse the data and come to a conclusion. It is important for you to show your working methods, as there will be no room to negotiate the answers.
The average numerical test takes around thirty to forty minutes to complete, and you will be naturally under pressure to answer all of the questions in the given time. Before starting the test, it is worth breaking down how many questions you have and how much time it will roughly take to answer each question.
Management is key in numerical reasoning tests. A candidate that devises a time-based strategy will avoid rushed answers and stressed responses.
How to Prepare for Your Virtual Case Interview
The virtual case interview may sound like a daunting prospect, but it is not to be feared once you understand how to navigate through it.
We have become used to the prospect of communication through platforms such as Zoom, and Capital One's hiring process is no different.
Once you have built a rapport and communicated with the recruitment team, you will be presented with a virtual case.
This case, much like the on-site assessments, emulates the working environment of Capital One. You will be given a situation in the form of a document, and you will have to discuss with the recruiters how you will come to a solution.
The virtual case will test your problem-solving abilities, and you will be required to think on the spot.
Further, you will have to negotiate with the recruiters on why you have arrived at certain answers.
It is also important to follow the conversation of the interviewer. If they are asking you questions, then do not hesitate to ask for further elaboration. Equally, if you have questions and suggestions, then put them forward.
The tone and clarity of communication is key to success.
To prepare for such an exam, you can practice alone or with family and friends.
Final Thoughts
The Capital One Corporation has worked methodically to create an environment which serves a variety of skill sets. Whether you are outgoing or reserved, there are roles and teams available.
With such a strong ethos around a team environment, the recruitment process itself is built around finding suitable individuals.
It is an intricate hiring process, but one designed to encourage communication. Capital One has a genuine interest in what you can bring to the table. You may have what they are looking for.
---