Benefits of Working for A Small Company: 10 Small Business Advantages
All products and services featured are independently selected by WikiJob. When you register or purchase through links on this page, we may earn a commission.
Small- to medium-sized enterprises (SMEs) offer many opportunities for graduates looking to enter the world of work.
The latest figures from the Federation of Small Businesses state that employment in SMEs accounts for 60% of all employment within the UK's private sector.
If you're looking to start your career within a small company, it is important that you are able to justify why you have chosen this path over the other options available to you.
This article will explore the benefits of working for a small company and provide a list of interview questions for small business positions.
10 Benefits of Working in A Small Company
A smaller firm may want to know why you have made a conscious choice to pursue employment with them. As such, make sure you are able to articulate some of the many benefits of working for a small company:
1. Personable Environment
One of the major benefits of working in a small company is that you are far more likely to build close working relationships with all staff, not just those in your immediate team or department.
This tends to foster a strong sense of camaraderie, with all employees taking a vested interest in the success of both their colleagues and the company as a whole.
2. Varied Workdays
By their nature, small businesses often have to operate in a flexible manner. This means that the daily roles of employees can be highly varied.
Variety helps to keep a role interesting, preventing monotony and resulting in increased job satisfaction.
3. Skills Development
As small companies have fewer employees, they often take an 'all hands on deck' approach in busy periods.
This gives you a great opportunity to dive into roles that fall outside of your own job remit, and broaden your horizons (and future employability) with transferable skills.
4. Greater Involvement in Key Decisions
One of the Mellor benefits of working for a small company is that within a small team, it is likely that the key decision-makers of the organisation will be working alongside you.
Furthermore, owners of small companies often respect and value the opinions of their employees. As such, you are far more likely to be involved in business decisions than if you were working for a large corporation.
This increased involvement gives you the opportunity to showcase your commitment to company success, by offering your own vision for its future.
5. Understanding Your Role in the Business
One of the benefits of working for a small company is that you will be able to develop a deep understanding of the business as a whole, and your role within it.
At a large corporation, you are one of many cogs in a very big wheel, and may have limited knowledge of how the part you play impacts upon the bigger picture.
At a small company, you have the opportunity to really get to grips with the business and understand how your role contributes to its success.
6. Collaboration and Teamwork
In a small business environment, you are likely to work side-by-side with colleagues across all departments. This fosters a level of respect among all employees, and often results in effective collaboration.
7. Increased Recognition
When you work for a large corporation, it can be difficult to stand out from the crowd.
As part of a smaller team, you are far more likely to receive recognition for the hard work you put into the business – and be praised for your achievements.
This recognition can lead to increased job satisfaction and a desire to do well. Ultimately, the more you put into your role, the more you will gain in return.
8. Mentoring and Learning Opportunities
While graduate schemes with large corporations offer great development opportunities, the direct mentoring offered by a small company should not be overlooked.
Small business owners are more directly involved in the development of their employees; the nature of small companies means that your learning experience will be hands-on.
This opportunity for one-to-one mentoring is better suited to some than a structured educational programme.
9. Career Progression
As with development, career progression at larger firms is often structured and for many graduates, it can take years to work up the ladder.
In a small company, your career progression is likely to be a direct result of your efforts and capabilities.
What's more, as your managers will be involved more closely with your work, they are more likely to recognise and reward fairly when it comes to promotion.
10. Innovation and Creativity
Another advantage of a small business is that Small companies often have to adapt quickly and effectively in response to changing market demands in order to thrive.
This can lead to great opportunities for innovation which, as a valued team member, you can play a vital role in.
For creative minds that like to think outside the box, this is one of the major benefits of working for a small company – offering the chance to be involved in pioneering change.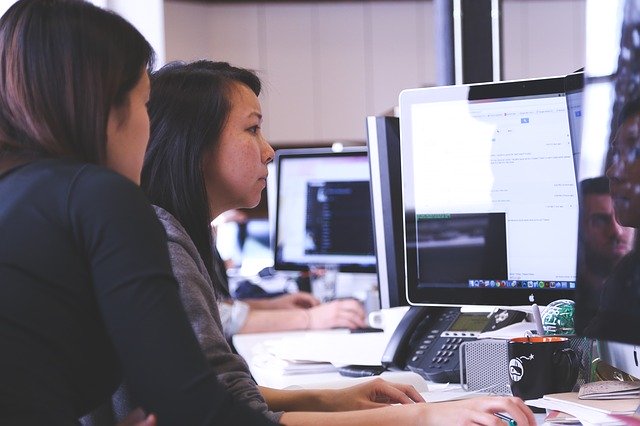 To find out which jobs fit your personality best, visit our partner CareerFitter and take the Career Test for FREE.
Small Business Interview Questions: "Why Do You Want to Work for a Small Company?"
In asking this question, your potential future employer is likely to be assessing if there is a good culture fit between you and the business.
Small companies typically have small teams and, in order for them to operate effectively, it is crucial that all employees share a common set of values and adopt a similar work ethic.
They may also be assessing your level of commitment and enthusiasm for the role in question. Memorable candidates will be those that are able to articulate the relationship between their own career ambitions and the mission, culture and ethos of the company.
They will also be looking to see how well you understand the differences between working for a large corporation and a business of their size.
Therefore, it's important that you can discuss the benefits of working for a small company and how they relate to your personal goals.
As with any interview, you should also be fully prepared and knowledgeable about the company in question, and your future role within it.
Know the company culture – Its website is a great place to start. Social media accounts also offer valuable insight into the culture of a small business.

Know the job description – Understanding the role you'll play in the business will help you explain your motivations for applying.

Know your own goals – Identifying your own career goals will allow you to describe the value you see in working in a small business environment.
Small Business Interview Question Example Answer 1:
"As a recent graduate who has spent the past three years in formal education, I'm eager to put my knowledge to the test and get stuck in. I assessed various graduate opportunities with larger firms, but I felt they were lacking in the hands-on experience that is on offer here.

"The job description really struck a chord with my own ambitions. I'd love the opportunity to put all I've worked for at university into practice from day one."
Small Business Interview Question Example Answer 2:
"Whilst I appreciate the advantages of working for a large organisation, for me personally, I like to be in an environment built on mutual understanding and respect. I want to feel like I'm part of a team that is working towards a common goal."
Small Business Interview Question Example Answer 3:
"I'm looking for a long-term commitment at a company where I can really make a difference. I'm passionate about the (XXX) industry and, whilst I have my own ideas and particular strengths, I want to build on those by learning through the experience of others around me.

"Having followed your company on social media for some time, I feel that you offer the collaborative and supportive environment I'm looking for."
The above answers offer generic examples and are meant for guidance purposes only.
Your own response should be tailored to the specific company at hand and your own career goals.
What Not to Say When answering Small Business Interview Questions
When answering the question "Why do you want to work for a small company?" there are a few areas to avoid:
Don't focus on any of the 'lesser' perks applicable to the role, such as casual dress code, flexible working hours or 'early finish Friday'. These in no way relate to your career goals and are not a valid reason for wanting to work for a small company.

Never imply that you are using the company as a stepping stone for something bigger. Ambition is a great quality, but small business owners are looking for committed employees willing to work hard for the company's success.

Never focus on what you perceive to be the negatives of working for a large corporation. The interviewer is looking for you to explain why you want to work for them, not why you don't want to work for someone else.
Similar Interview Questions
In looking to assess if you are a good fit for their company, the interviewer may use a number of alternative but similar questions, including:
No matter how the question is phrased, remember, its overall purpose is to make sure that there is a good culture fit.
Keep this in mind as you formulate your answer, but be sure to listen to the question word-for-word, and tailor your response accordingly.
Summary
Small companies are a great fit for individuals that like to work in a collaborative environment.

Working for a small company can help you develop key skills outside your area of expertise and broaden your horizons.

Small companies offer great opportunities for further learning, career progression and innovation.

Understanding your own career ambitions – and how they relate to what the business can offer you – will help to explain why you want to work for a small company.
Ultimately, the decision to join a large corporation or a small business depends on how you like to work, what your own personal goals are, and which avenue offers you the best options for career success. Generally, employees of small businesses often have greater job satisfaction.
---