How to Succeed in a Group Interview
What Is a Group Interview?
There's no doubt about it; any interview can be a challenge - and not just for the potential employee. Many employers are asking themselves: how much can a single face-to-face interview really tell them about you?
That's why an increasing number of recruiters are looking for additional ways to test the skills of candidates, including group interviews. These range in format but there are two preferred methods:
Group Discussion. The group will usually consist of seven candidates or fewer, plus one or more interviewers. The interviewers will ask each candidate to present themselves. Afterwards, they will be given a set of questions and it is up to each candidate to make their answers strong, dynamic and memorable.
Group Activity. Typically the group will be assigned a problem or puzzle to solve, although you may also be asked to construct a model or prepare a presentation about the business. The interviewers will be looking to see how each candidate contributes to the group, what happens if conflict or disagreements arise, and how effectively you work together as a team.
If you are new to this style of interviewing, knowing what to expect can give you a distinct advantage over the other candidates. So before you attend any group interview, find out as much as you can about how they operate, what will be expected of you and most importantly, how you can succeed in what is often an unfamiliar situation.
Why do Employers Use Group Interviews?
Some organisations find the group interview a useful means of shortlisting candidates. Usually, if a group interview features in the recruitment process, you will be notified in good time so that you have time to prepare.
A group interview is very different from a typical interview and is often used by employers to assess a specific skill, such as teamwork or interpersonal skills. The way in which the interview is delivered will vary depending on the organisation and to a certain extent the role you are applying for. The process of the interview usually follows the same steps, although the activities can vary considerably.
---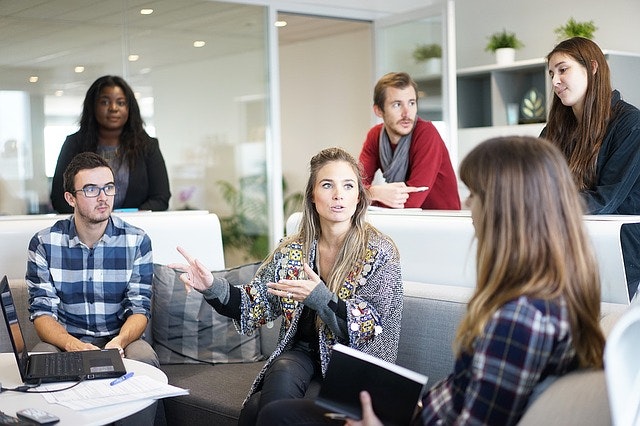 How to Succeed in a Group Interview
The balance with group interviews is between standing out while not blocking other candidates from participating.
How to Prepare for the Group Interview
As always with any form of assessment or interview, preparation is key. As a basic rule, you must research the company. In particular explore its history, vision and values, as well as the products and services offered. Also, find out about its customers and how it operates. These are all valuable pieces of information that you should know, which may prove crucial if the group interview activity is a presentation about the company.
In addition to researching the company you should revisit the job description. Make sure that you attend the interview with a good understanding of how the role fits in with the wider organisation and how your skills and experience match the opportunity that you have applied for.
Reasons why Employers use Group Interviews
For some employers, a group interview is a way to see how candidates deal with unfamiliar situations and people. For others, it is a way to assess how well applicants work collaboratively, or the way that they use certain skills. Other reasons include:
Time-Saving. Holding group interviews is much quicker than spending several days interviewing and recruiting candidates individually. This type of interview can also streamline the recruitment process, particularly in situations where a company is appointing a large volume of applicants at the same time.
Cost Savings. Fewer interviews mean less time spent away from the business, which can result in significantly better efficiency.
Real Time Environment. Group interviews can replicate the everyday working environment and gives employers the opportunity to see how well candidates might work.
Comparison. A group interview allows employers to compare candidates directly, so they can recruit the highest calibre individuals.
Which Businesses use Group Interviews?
Typical businesses that use group interviews include:
Technology organisations. Usually when recruiting in business development roles or sales. A typical interview will include a presentation delivered by the company followed by a group activity, small group presentations and then individual interviews.
High Street retailers. Specifically used in managerial training programmes. The group interview may include smaller group-based activities and presentations followed by an individual interview.
Investment or finance firms. Group interviews are usually based around a controversial subject so that interviewers can assess how candidates deal with conflict.
Classic Group Interview Questions
Once you have completed the activity or discussion, you may be asked a set of questions by the interview panel. These questions can include:
"How did you contribute to the overall performance of the team?"
This question should be addressed by talking up your strengths, such as planning and organisation skills, as well as your ability to solve problems. Enhance your answers with relevant examples.
"How did the team complete the task successfully?"
Candidates should explain how they used the resources, how they overcame obstacles and the way in which the team communicated and encouraged each other to reach a shared objective. Acknowledge the contribution that each member of the team made to collectively complete the task.
Rather than simply relaying what is written in your CV, try to think of something interesting and unique to say. Highlight your skills and try to set yourself apart from the other candidates to demonstrate that you are the most suitable candidate for the job.
"Why did you decide to apply to our company?"
Provide strong examples of why the role and the organisation is of interest to you, though avoid areas such as pay, holiday entitlements or other benefits. Good examples could include something such as career progression or an opportunity to develop your skills.
Succeeding in Group Interviews
Good preparation and knowing the format of the interview are both key elements for success in group interviews. Let's look at best practice for some of the other elements involved:
Arrival. As a basic rule, you should always arrive early, especially for group interviews. Arriving late will certainly make you stand out - but for the wrong reasons. Arrive in good time, not too early and not too late. In a group interview, it is likely that you are being assessed from the moment that you enter the building, so arriving early can help you create a good impression and you can interact with other candidates as they arrive.
Icebreaker. The icebreaker may be your first opportunity to make an impression. It is good practice to prepare something brief before the interview, to avoid the awkward moments of thinking about what you are going to say. Inadequate preparation for an icebreaker introduction can start the interview on the wrong footing and set a negative tone.
Decorum. Your posture and body language say a lot about you. Ensure that you are sitting straight, look like you are interested in what other people are saying, and show that you are listening when interviewers are speaking. Even if you do start to relax as the interview progresses, make sure that you maintain good posture and manners.
Brief Tips for Success in Group Interviews
To recap:
Prepare a brief introduction about yourself beforehand
Dress smartly in clean clothes, with tidy hair and polished shoes
Be approachable and shake hands with fellow candidates before the interview
Speak clearly and confidently during your introduction
Actively participate in the activity or discussion
Demonstrate enthusiasm, ask questions and make suggestions
If the opportunity arises, ask the interviewers suitable questions about the role - such as how many people will be working in the department, or ask them to describe a typical daily routine
Things to Avoid
Not Being Inclusive
Although the way in which you lead may be assessed, it is important not to be overpowering. A good leader will ensure that the opinions of everyone in the group are heard rather than just expressing their own thoughts and ideas. If one member of the group is quiet, it is important to encourage them and ask for their opinion.
Reinventing Yourself
Some candidates in group interviews tend to completely reinvent themselves. The best advice in any interview is to be yourself. Trying too hard can have the opposite effect of what you want to achieve.
Interruptions
Perhaps one of the most common mistakes that some candidates make. As the level of competitiveness increases during the interview, some candidates become overpowering and are inclined to interrupt what others are saying. This must be avoided at all costs.
Being Intimidated
There is a fine line between the previous point and this one. It is very likely that one or two people in the group may take control of the discussion or activity. If this does happen, don't feel intimidated. If you don't agree with what they are saying, by all means offer your own opinion and ask others in the group what they think.
Other General Things to Avoid
Don't refer to other members of the group or interviewers as 'mate'.
Mind your language. Although being controversial is perfectly acceptable, it is crucial that you remain polite and well mannered. Avoid being vulgar, rude or offensive and never swear.
Avoid discussing your social life. As much as you may enjoy drinking or gambling, an interview is not really the place to discuss topics such as these. * Loss of concentration. Ensure that you are alert and aware at all times, maintain eye contact and look enthusiastic throughout the interview.
Daydreaming. Even if you are counting down the seconds until the interview is over, staring out of the window or looking uninterested will not secure you a job.
Mobile Phones. Put them on silent - or better still, switch them off.
Avoid criticising others or causing arguments in the group.
Summary
Although a group interview may be very different from the traditional interview that you are used to, the same basic principles should be applied. Prepare yourself beforehand, arrive early, remain composed throughout and display enthusiasm and interest in the company throughout. Applying these basic principles and demonstrating that you are confident but not overpowering may just give you the edge over the other candidates.
---