Interview Hairstyles for Women
You've got that much-longed-for job interview. You've done your research. You know the company inside and out. And you could recite the job description in your sleep.
In short, you're almost ready for the interview.
You know what to wear to an interview, but you're unsure of how to style your hair.
It may seem frivolous, but considering you have just seven seconds to make an impression on a hiring manager, choosing the right hairstyle could be more important than you may think.
Is it better to wear your hair up or down in a job interview? Should you wear your hair up in a ponytail? Or should it be something more elaborate?
If you wear your hair loose, how should you style it so that it doesn't get in your way or become a distraction during the interview?
Let's find out...
Why Is Interview Hair Important to Think About?
In an ideal world, we would all be judged based on our qualifications and our experience.
But in reality, a large part of the interview process is about showcasing your charisma, building a rapport with the hiring panel, and positioning yourself as someone professional and capable.
Part of this is about how you present yourself.
Culture Fit
From the very first moment you walk through the doors, the interviewing panel will be analyzing you to see how well you fit in with their company.
They'll be looking to see if their first impression of you shows poise and confidence.
They'll want to know that you can be an advocate for their brand and that you can represent them in the way that they want to be represented.
A small part of this will be based on your appearance.
Professionalism and Commitment
Even in the most relaxed of organizations, they'll want to see that you've tried to make an effort. They'll expect to see candidates wearing clean and professional-looking clothes, with good hygiene and an appropriate interview hairstyle.
Taking pride in your appearance means that you are showing yourself to be serious and dedicated to the potential job role. It instantly provides the hiring panel with a belief that they can trust you to represent them professionally.
Choosing the right outfit and the right interview hairstyle can help the hiring panel think far more favorably of you.
If you turned up with unkempt hair or dirty, unprofessional clothing choices, they may feel reluctant to interview you in-depth as you may have given the impression that you didn't care about the position.
Psychological Boost
For some people, their choice of hairstyle can almost be used as a battle shield.
Choosing the right interview hairstyle can give you an extra boost of confidence. If you feel good about yourself, you can surreptitiously project confident energy which the interviewing panel could pick up on.
If you've prepared your hairstyle in a way that makes you feel comfortable (whether it's a simple ponytail or something more complicated) you'll naturally have more self-belief as you answer the interview questions.
Things to Consider When Choosing Your Interview Hairstyle
Before we start to explain the 20 most popular interview hairstyles, here are a few helpful reminders that may be worth considering when you choose how to style your interview hair:
Is Your Hair Clean?
You want your hair to look clean in an interview. Turning up with lank, greasy hair will give a negative impression – hiring managers may wonder about your hygiene if you look dirty.
Some people choose to wash their every day, others like to wash every other day to help with styling (some hairstyles are tricky to maintain with clean, slippy hair).
If you haven't washed your hair on that same day, or the night before, it's worth investing in some dry shampoo.
If you suffer from a flaky scalp (perhaps you are affected by dandruff or psoriasis) then make sure that you wear a lighter color shirt or jacket so that any flakes are less noticeable.
Does It Look Tidy?
Give yourself an objective look in the mirror. Does your hair look tidy and as if you've tried? If you are turning up to a job interview with loose hair, make sure you have a brush in your bag and use it before you walk in the door.
Curly hair and natural hair is beautiful. Do not feel pressured to straighten your hair if you do not want to.
Will it Look Professional and Polished?
If you are someone who loves making a statement with their hairstyle, remember that you do need to look professional in an interview setting.
If you regularly dye your hair bright colors, you may want to consider toning it down for the first interview.
It's a fine balance between showcasing your professionalism and showing your personality. At this first interview stage, you may want to stick with something low-key rather than going all-out with Lady Gaga-esque hair bows.
Is Your Hair Out of the Way?
You may want to consider whether your interview hair could distract from your face.
Do you have long bangs that get in your eyes and could impact your ability to maintain eye contact? Does your long hair frequently get stuck to your lip gloss? Do you tend to fiddle with your hair when you are nervous?
These sound silly infractions, but they can be distracting. You may wish to tuck your hair behind your ears or use some bobby pins/hair clips to keep your hair away from your face.
A pretty hairband could also work to keep your hair away from your face whilst still showing a little bit of your sense of style and your personality.
Will Your Hairstyle Distract You During Your Interview?
A final tip is to ensure that your chosen interview hairstyle doesn't distract you.
If your ponytail is pulled too tight and it's giving you a headache or you are worried that a complicated style will come loose, you will start to get distracted which could hinder your interview performance.
Keep things simple and familiar, your interview is not the time to try out something new.
The 20 Best Interview Hairstyles for Women
Now that you are aware of how you should be styling your hair for your next job interview, here are some suggestions for professional yet attainable hairstyles.
These interview hairstyles do not need an expensive trip to a fancy salon – they are easy-to-do and will help you to ensure that you look great in your next job interview.
We've broken this list down into individual sections for short hair, medium hair, long hair and natural hair which could help you to find the perfect interview hairstyle for you.
The Best Interview Hairstyles for Short Hair
1. Smooth Bob
Possibly the most classic hairstyle, a smooth bob can look professional yet contemporary.
Whether you have bangs or not, this is a low-key hairstyle that isn't likely to cause distraction.
To make the most of your bob, why not invest in good quality serum or hairspray to add a slight sheen to your hair?
2. Pixie Cut
We would all love to look like Audrey Hepburn with a classic pixie cut – there's a reason why she inspired generations of women to go for the chop.
Many women choose to go with the pixie cut because it is easy to manage and maintain.
You can dress it up with an Alice band or some pretty hair clips, or you can remain low-key with a simple brush and style.
3. Textured Crop
This style of haircut requires a little more maintenance. If you're good at styling your hair and you have plenty of practice, you can look fresh and modern and use your crop to highlight your features or show off its color.
You may need to use some styling product to help make the most of your texture to help it look fresh and styled rather than a 'just-got-out-of-bed' look.
4. Short and Wavy
A short and wavy look can add some bounce and body to your hair without looking too over-done.
Whether it's all natural or you are skilled with a flat iron, you can use waves to liven up your hair.
5. Straight Lob
Alternatively, you could go with the straight lob – this is a long-bob, it's when your hair is longer than usual but perhaps too short to tie back.
Using your straighteners or hair product, you can smooth any wispy strands and give yourself a sleek, modern look.
The Best Interview Hairstyles for Medium Hair
6. The Lob
Like the straight lob for shorter hair, the long-bob (lob) is a chosen hairstyle for women of any age because it's almost universally flattering.
It's a low-key hairstyle that has the flexibility to be styled up or down, or even in a half-updo depending on your mood.
For an interview hairstyle, it's important to make sure that the lob looks brushed and tidy. A blast of hairspray could be enough to keep it off your face and away from your eyes.
7. The Classic Bun
A quick and easy way to style your medium-length hair for an interview is to put your hair up in a classic bun.
If you are worried about the length of your hair, you can use tools such as a hair donut or a bun maker to add weight and depth to your bun.
Not only does this hairstyle look professional for all ages, but it will keep your hair away from your face. Just make sure that you haven't got any bobby pins digging in and causing discomfort.
8. Textured Layers
Medium-length hair works perfectly with textured layers. You can show off your style with a curling wand or some loose waves.
This is a style that looks relaxed yet still shows that you've tried with your appearance.
A slick of serum or other product will help you to define any layers and add some sheen to your locks.
9. Up/Down Do
A simple up/down hairstyle is a quick and easy compromise for those who may prefer to wear their hair loose whilst still keeping their hair out of their eyes.
You can use a simple ponytail at the crown of your head whilst keeping the back of your hair loose.
You can use a pretty clip or barrette to add some glamour to the ponytail part of your interview hairstyle.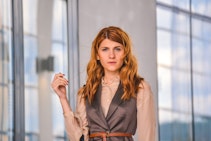 Interview Hairstyles for Women
10. Classic Chignon
The classic chignon looks great with medium hairstyles. Beloved by women of all ages, there is a reason why the chignon has remained in style for generations.
To make the most of this style, use some flat irons first to smooth any flyaway hairs and then style it into your chignon.
A blast of a shining hairspray will vamp up the glamour. Style with a crisp white shirt and a slick of lipstick and you'll look fabulous.
The Best Interview Hairstyles for Long Hair
11. Simple and Straight
Don't be afraid to have your long hair straight and loose in your job interview.
If you use your hair as a talisman, having your hair styled in a way that you are used to will give you an extra shot of confidence.
The best way to make the most of a long hairstyle in an interview is to make sure that it looks brushed and is in good condition. You can either tuck your hair behind your ears or use some strategically placed bobby pins to tuck the front strands back so that it doesn't get in your way.
12. Professional Ponytail
Ponytails aren't just for school children. They can look sleek and professional, worn high or low, or even on the side.
A top tip for making the most of your ponytail is to ensure that your hair is well-conditioned and no frizzy flyaway hairs are trying to escape. Use a small amount of gel or hairspray to tame any unwanted frizz.
To up the glamour of your ponytail, you can wrap some hair around the elastic and secure it with a bobby pin.
13. Side Sweep
With the right haircut, a side sweep can look glamourous whilst still being attainable.
It's a haircut that does require a good amount of styling – whether you choose to have tousled waves or straightened locks.
This is a style that you should feel comfortable with before choosing it as your interview hairstyle. If you're not used to your hair being swept to one side of your face, you may find it slightly distracting.
14. Topknot
You may feel that a topknot is too informal for an interview hairstyle. In some cases, it may be – we wouldn't recommend it if you are an older lady heading into an interview for a C-suite position. But for younger women working in creative industries, a topknot could look great.
A topknot is a bit like a bun, but slightly messier and looser.
It's a bit edgier but there is a line between a messy topknot that looks unprofessional and an intentionally-styled topknot which shows off your bone structure.
This is a style that is better suited to younger women who understand how to make a topknot look stylish rather than unkempt.
15. Braids
Whether you choose a French braid, a Dutch braid, fishtail braids, side braids or a basic three-stranded plait, the humble braid can transform your long hair into a stylish and professional interview look.
This is a great choice for long hair because it's low-key yet shows an impressive amount of effort.
The trick to making your braids look good is to use plenty of products to ensure that your hair has texture and shine whilst still retaining its shape and style.
The Best Interview Hairstyles for Natural Hair
16. Buns
Curls can be styled into stunning looking buns – either worn high or low at the nape of the neck.
This style allows you to keep your hair out of your eyes and is a low-maintenance style that doesn't require much effort.
17. Wash and Go
If you have natural hair, it is important to remember that your hair is beautiful and you should never feel pressured into putting it in a style that you are uncomfortable with.
If your style of choice is to wash and go, then make sure that your hair is in great condition and use a detangling brush to make the most of your curls or your kinks.
You will know how you prefer to style it, but you could consider clips or a pretty hairband to turn your hairstyle into a showstopper.
18. Short and Sleek
De-frizzing serums can help you turn your short 'do' into a stunning look which frames your face and shows off your smile.
19. Natural Twisted Hairstyle
Natural twists, goddess braids or crown braids can showcase your personality and can work for both formal and creative job interviews. We love the way that twists look.
20. Curly Updo
A curly updo is always a winner. Whether you choose to have a half up/half down option, a chignon or something else, the texture of your hair will look beautiful.
You can accessorize a curly updo with barrettes, hairpins or even Alice bands which will up the glamour.
Preventing Discrimination
If you have natural hair, you may know that many states are embracing the CROWN Act which 'prohibits the denial of employment and educational opportunities because of hair texture or protective hairstyles including braids, locs, twists or Bantu knots'.
The CROWN Act, which stands for 'Creating a Respectful and Open World for Natural hair', was launched in California in January 2019.
It is now law in seven states, California, New York, New Jersey, Maryland, Virginia, Colorado and Washington.
The US House of Representatives has passed the bill at the federal level and if it is approved by the Senate and the President, it will soon become law in all 50 states.
Final Thoughts
Whatever hairstyle you choose for your job interview, it's important that you feel confident and feel like yourself.
If you turn up to a job interview with a completely new look that you're not used to, it can feel disarming and you may become distracted. It's why we recommend that you test out a few hairstyles first to see what style gives you confidence and helps you focus on the interview questions at hand.
To help you with any of the interview hairstyle choices we've suggested, you could use sites such as YouTube or Pinterest to help you practice.
It's worthwhile popping a hairbrush and some hair grips into your bag so you're prepared for any last-minute hiccups (who hasn't been caught unexpectedly by the wind or the rain before?).
You may also want to test your interview hairstyle with your chosen outfit and shoes before the day so you can make sure that your whole look works together in harmony to present you as professional and capable.
---