Interview Outfits for Men
Why Interview Outfits Matter
It is easy to assume that men have it easy when it comes to dressing for an interview.
Their choice of clothing, after all, is not as extensive as women's.
However, changing work cultures have led to a more relaxed approach to office dress, making it harder to gauge the right interview outfit.
Back in the day, a man could throw on any neutral-colored suit and look the part, regardless of the organization. Today, with the rise of start-ups and business-casual attire, a pair of jeans could be considered more appropriate.
What has remained the same is the importance of the right interview outfit.
Your appearance is the first impression your prospective employer will have of you. Your interviewer will form an opinion of you based on what you are wearing and how you present yourself.
If you look messy and unkempt, your interviewer may wonder if you can handle multiple projects.

Suppose your role involves presentations or meetings with external persons. The interviewer will be considering if you are presentable enough to be the face of the organization.
Statistically, men are less concerned with their image than women, but that does not mean others will overlook your creased trousers.
It is incredibly difficult to change a person's perception of you after a first impression has been made. Getting your interview outfit right will create the right image and help you through the interview process.
How to Know What to Wear to an Interview
Wearing the correct outfit will help you feel more confident during your interview. But where should you look to find the right inspiration?
Check your confirmation email – When confirming your interview, the person you are corresponding with may give details about whether the interview is formal or casual. Read your emails carefully to see if there are any details.

Use social media – Check through the organization's social profiles and website to see if you can find pictures of employees in the office. Use these pictures as a guideline and mimic that style. However, always remember to smarten up for an interview.

Visit your potential place of work – Depending on where you are interviewing, you might be able to stop by your potential work location, or even walk through. Ensure this visit is discreet as you do not want to create the wrong impression before your interview.

Ask someone who works there – Call the location and explain that you are interviewing and want to confirm the dress code. The person you speak to may not be overly helpful and may only say 'casual' or 'super formal', but at least you will have a base to build on.

Follow general interview rules – If you still cannot decide what to wear, then follow the basic rules – overdressed is better than underdressed, neutral colors, trousers, button-down and a tie.
10 Tips for Choosing the Right Interview Outfits
1. Assess the Level of Formality
The hiring manager may indicate whether it is a formal or informal interview. But just because it is a formal interview, it does not always mean a suit is best.
The level of formality depends more on the job you are applying for and the type of organization. Generally speaking, the places that will have a more formal dress code are:
Law firms
Banks and financial institutions
Teaching and academic places of work
Business consulting companies
Public-service or political institutions
If the role you are interviewing for is a high-level managerial position, then dress for that role. Any executive roles should also be considered formal.
2. Customize Your Suit
Even if the place you are interviewing for has a very casual dress code, you should still avoid wearing jeans for your interview. They may be accepted in the work environment, but you currently do not work there.
Make the more formal choice and work with suit items.
A traditional suit consists of a button-down with a matching blazer and trousers. For the more formal and high-level job roles, this is your ideal choice.
For the less formal roles, you have the option to mix and match and show some of your personality.
Wool or cotton slacks, a button-down shirt and a dark blazer work well for almost every interview scenario. They are staple items that can be dressed up or down depending on your audience.
Some believe that you should start as you mean to carry on, and wear to an interview what you would wear if you already had the job. In some cases – in particular, creative industries – you may wear trousers and a T-shirt.
However, as you are trying to convince someone that you are perfect for their company, it is always better to make more effort and slightly overdress. The alternative is that you underdress and the recruiter thinks you are not making any effort.
3. Consider Textures
Traditionally speaking, tweed is a formal fabric and is synonymous with British librarians and university professors.
However, a tweed jacket can look incredibly stylish and smart.
If your natural style includes tweed or corduroy, then wear it to your interview. Just ensure that the trousers you wear work with the color and texture of your blazer.
If you have never even thought of tweed, then choose a fabric you would typically wear. You want to be comfortable in your interview.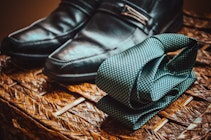 Interview Outfits for Men
4. Choose the Right Tie
Deciding whether or not to wear a tie may be the hardest decision you make when dressing for your interview.
The best advice is to decide how formal the role is.
If you know that you need to wear a suit for everyday work, then wear a tie. If your work does not require you to wear a tie, then skip it.
If you do decide to wear a tie, consider the following:
No novelty prints. Ever.
If your suit is a neutral shade, then pick a tie with a bold color
A simple patterned design is also acceptable
5. Pick a Shirt That Stands Out
If you are wearing a tie, then wear a simple white button-down shirt.
If you decide not to wear a tie, consider wearing a bold-colored button-down under your blazer.
Not only does it give you the chance to show a bit of your personality, but it provides the interviewer with a reference point to remember you by.
They may never refer to you as 'the gentleman in the pale-pink shirt', but in their head, that may be their way of remembering you.
Equally, you could also wear a shirt with a simple pattern.
So long as it is done professionally, there is no reason why your natural style and personality cannot be reflected in your interview outfit.
6. Consider Colors
There is a lot of theory surrounding colors and the influence they have over people.
Traditionally, when asking what color a man should wear for an interview, the answer has always been black or gray.
This rule is still used as a guideline today. However, there is a bit more flexibility.
Black suits can sometimes look a little harsh. They can also make you look like a prom date or a funeral attendant.
It is advisable to choose a gentler color such as gray or navy blue.
7. Select Appropriate Footwear
Open-toed shoes or sneakers are an absolute no-no. If you are wearing a full suit, you will need the dress shoes to match. Loafers are acceptable if you are opting for more business-casual attire.
Whether you choose loafers or dress shoes, your footwear should:
Fit correctly. You do not want to be wincing every time you take a step or be falling out of your shoes
Be clear of any scuff marks
Be clean and freshly polished
8. Take a Suitable Bag
If you are required to bring any documents with you, carry them in a smart, clean briefcase or satchel. Ideally, it should be leather and not look worn.
Even if you don't have any documents to carry, take a bag with you anyway. Your interviewer may give you some documents at the end of the interview.
A bag also gives you space to store your personal items, so they aren't bulging out of your pockets.
You should take a pen and notebook with you to an interview in case you need to make notes.
Ensure that your bag is not over-filled.
9. Accessorize Tastefully
When it comes to accessories in job interviews, less is more.
A belt is mandatory and should be black or brown leather with a discreet buckle.
A watch should be worn as it gives the impression that you are time-conscious and likely to turn up to work on time. It also stops you from checking your phone too often.
Ideally, your watch strap should be metal or leather (without tatty straps), but smartwatches are now the norm. Just remember to mute your notifications before going into the interview.
For more corporate and high-level roles, jewelry should be kept to the absolute minimum, the only exception being your wedding band.
It is not unusual for men to have piercings these days, but keep them discreet. There is nothing wrong with having piercings, and you should not be discriminated against because of them. But if they are too shiny or in-your-face, they can be distracting for the interviewer.
The same can be said for rings, bracelets and necklaces. For the interview, consider leaving your jewelry at home.
Yes, these things are more acceptable today, but you don't know how traditional your interviewer is.
10. Maintain Grooming Standards
Your interview is your one chance to make a great impression. Take the time to make sure:
Your hair is washed and styled appropriately – no messy hair and not too much gel

Your nails are clean and somewhat manicured. This may go against everything you believe, but your hands and nails are a prime indicator of your personal hygiene. You should also consider that if your role requires attention to detail, clean nails are a key sign that you possess this skill.

Your clothes are freshly washed and ironed. Ideally, you want to get your clothes dry-cleaned, but if that is not in your budget, ensure they are wrinkle-free with a good iron and some starch spray.

You have applied deodorant and aftershave. Use a fresh, clean scent that isn't too overpowering.

Your facial hair is tidy. If you like to shave, then shave. If you have facial hair, make sure it looks presentable. If you have some growth, but it looks more like you haven't bothered to shave for a few days, then consider shaving for the interview.
Another tip that may make you squirm, is to consider a little concealer if you look a bit tired, and powder if you have oily skin.
Top Things to Avoid Wearing for an Interview
Clothes that do not fit you properly – If you cannot find clothing that fits you, how are you expected to multi-task or problem-solve? All these details send messages to your interviewer, and ill-fitting clothes do not show competence.

Mix-match clothing – You may not need a full three-piece suit, but your clothes do need to work together.

Super-bright colors – It has already been mentioned that a colorful tie or shirt is acceptable but carefully consider the color. Pale pinks, pale blues and dark blues are all socially acceptable interview colors for men. Anything too bright such as fuchsia, orange, aquamarine or green, is a little too much.
Final Thoughts
Your interview is your opportunity to sell yourself, so you need to be sending the right messages. If deciding what to wear is proving difficult, remember these takeaways:
Good grooming is essential
Your goal is to impress. If you have to remove some jewelry or wear something you usually wouldn't, remember why you are doing it
It is better to be overdressed than underdressed
If in doubt, stick to basic colors and simple clothing
The important thing is that you are comfortable with what you are wearing, and you feel confident.
---