Interview Outfits for Women
Can I Wear This to an Interview?
This is probably one of the most common questions from women when it comes to dressing for an interview. We want to make a good impression, so we put a lot of emphasis on our clothes.
We want to stand out so that we get the job, but we also want to fit in. We wonder whether we can wear flats to an interview, or whether some colors are more appropriate than others.
How we look matters.
You have approximately seven seconds to make a first impression, and you want it to be the right one. You want your future employer to look at you and think, "Yes, I can see her working here".
How to Know What to Wear
So, you know the kind of impression you want to make, but you're not sure how to make it.
The best thing you can do in preparation for an interview is to gather as much information as you can about the organization.
Research the company's culture, values and norms. Are there pictures anywhere of people in the office? The firm's social media profiles and website should have some pictures.
Today, most offices have a business-causal dress code, meaning that things aren't as formal as they used to be.
People are often allowed to wear jeans to the office so long as they look smart. But remember, interviews still have a more formal expectation.
Ask around for advice. If you know someone who has interviewed for a role similar to yours, ask what they wore.
If your budget allows, and if the option is available, book an appointment with a personal shopper at your nearest department store so you can get some advice and try on different outfits.
If consulting a personal shopper isn't a possibility, ask a sales assistant for some help and advice.
The internet is full of forums and sites dedicated to helping women find jobs. Indeed.com is a wonderful resource full of interview techniques and advice.
Following the general guidelines below will help remove some of the uncertainty.
General Guidelines for an Interview Outfit
Your interview outfit may include:
Skirt – Should always be below the knee. Can be high or regular waisted, fitted or loose

Dress – Below the knee, and semi-fitted or fitted

Pants – Not too long, not too short. They can be cigarette-style or bootcut, high-waisted or regular. Wide-legged pants should be avoided for interviews

Blazer or jacket – Fitted or semi-fitted, sitting around your hips

Shirt or blouse – Not too low cut or gaping
How these items are styled or the color you choose depends on the company you want to work for. The more formal the company, the more traditional you'll be. The more casual the company, the more room you have to create your outfit.
Here are some top tips:
1. Choose Something You've Worn Before
Wearing something you've worn before can remove a lot of pressure. You don't have to dedicate time to looking for an outfit. You don't have to worry about finding the right pieces, and you already know the outfit is a success.
If the jobs you apply for are all similar, then having one set interview outfit is handy. Just ensure that the items are dry cleaned and neatly pressed.
2. Be Comfortable
If someone is not comfortable in their clothes, you can see it on their face and in the way they sit. This does not create a good impression and can make the onlooker feel uncomfortable too.
If you don't like high-waisted skirts or fitted dresses because you need to wear Spanx with them and a seated position feels very restricting, don't wear them. Sure, they can look nice, but you won't be able to put your best self forward if you are constantly worrying about being able to breathe.
Likewise, there is such a thing as being too comfortable. Oversized and baggy items are not ideal interview clothes.
3. Pick Colors Carefully
It is often recommended that you wear dark, neutral colors to interviews. For example:
Black
Navy/dark blue
Dark purple/plum
These are all acceptable interview colors. They are all very similar, but if one suits your skin tone more than another, wear that color.
However, there are no rules that say you can't add a bit of color to your outfit. If you look incredible in fuchsia, then add a fuchsia silk blouse under your blazer.
You want to present yourself in the best possible way. Using colors that complement you shows that you pay attention to detail and that you are aware of your strengths.
4. Select the Right Footwear
If you absolutely detest high heels, do not wear them. It is ok to wear a pair of smart flat pumps.
Your priorities when it comes to selecting the right footwear is that they are:
Polished, clean and free from scuff marks
They fit you correctly – you do not want to be limping because of blisters
They look new
If you are wearing a skirt or dress, then flats or court shoes are ideal. If you decide to wear pants, you also have the option to wear ankle boots, which offer more support than court shoes.
There is also the option of wearing any pair of shoes to the location and changing into your heels when you arrive. If you choose to do this, take your bag into consideration.
You don't want to travel in a pair of trainers, only to have them poking out during your interview. Flats usually fit neatly into most bags, and you can even buy specially designed ones that roll up.
Depending on where you are hoping to work, stockings or pantyhose may be worn. A skin-tone pair is recommended, as black can sometimes make an outfit look too heavy.
Stockings may be considered a more traditional item, but they do make your outfit look more polished.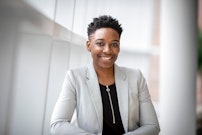 Interview Outfits for Women
5. Use the Right Accessories
When it comes to accessories, keep things subtle:
A simple pair of stud earrings
A delicate necklace if your outfit's neckline allows for it
Maybe a belt to pull your outfit together
Your engagement and wedding ring, or just one ring if you are not married
You don't want to wear too many accessories as it can create an over-the-top, hectic appearance.
Costume jewelry and hair accessories (colorful bobbles, headbands, big clips) are not recommended as they are a matter of personal taste. The person interviewing you may not like those things and could (consciously or sub-consciously) form an unfavorable opinion of you.
6. Choosing the Right Bag
Unless your interview requires you to bring lots of different items, try to keep things simple.
A medium-sized black leather (or similar material) handbag is perfect. You don't want it to look too full, but you also don't want it to look too empty.
Take only the things you need:
Wallet
Cell phone (on silent, non-vibrating mode)
Any documents or ID you've been asked to bring
Copies of your resume
House/car keys
Essential makeup
Compact mirror
If you are bringing documents, make sure they are neatly presented in a clear sleeve or folder and not folded up or loose. If you have a portfolio, match it to the color and fabric of your bag, if possible.
These may seem like strange things to consider, but the overall look you present shows that you are organized, that you take care of yourself and that you have an eye for detail. These are all skills an employer is looking for.
Sidenote – Don't show up with shopping bags or bits and pieces you plan to run errands with.
7. Check Your Grooming
You will want to make sure that you are presentable in every way. Make sure that you have:
Showered and brushed your teeth – Clean face and hands, with no signs of weekend decorating or gardening. Check your teeth for trapped food.

Clean, neat hair – If your hair is long, wear it either in a ponytail or neatly down.

No overpowering smells or scents — If you choose to wear perfume, keep it minimal. Try to avoid heavily flavored food, for example garlic, the night before.

Minimal makeup – Nothing that cakes or can run or smudge. Keep it simple and elegant. However, there is nothing wrong with a statement lipstick, as long as it suits your skin tone.

Manicured nails – Filed, neat and simple. Nude colors or a French manicure work best for job interviews. Try to avoid color as it can chip at any moment. If you can get a manicure the day before your interview, gel polish is an excellent option as it's long-lasting. But only if you apply it close to your interview date, regrowth is not a good look.

Crease-free and freshly washed clothes – Check your clothes for musty odors if they have been hanging in the closet for a while. Dry clean or iron to remove wrinkles.
8. Is a Suit a Good Choice?
Nowadays, there are plenty more outfit options for women as new professional looks have become more acceptable. While a three-piece suit was once the staple for all interviews, it is now acceptable to show some personality or be more feminine.
When it comes to deciding whether or not to wear a suit, it really does depend on the organization you are interviewing for.
If it is corporate and its employees wear suits, then you should wear a suit. If the organization has a more business-casual dress code, then a full suit might be too much.
If you do decide to wear a suit, then deciding between a skirt or pants is a personal preference. Some women feel more confident in pants, while others despise wearing them.
9. Mimic the Office Style
The aim of the interview is to show that you are a perfect fit for that organization. So show them that you fit by dressing like them.
If it is a very formal office, then wear a suit.
If employees are required to wear a uniform, then wear those colors to your interview.
If the company is in a creative industry like media or marketing, you can be more playful. Today, the majority of businesses have no office dress code. If that is the case, check what the other women wear and mimic that.
Midi and wrap dresses are great for business-casual looks; a loose-fitting skirt with a blouse is also an option if you don't want to be so formal.
Interviewers need to be able to visualize you working there, so help them do just that.
10. Show Your Personality
This may seem like a contradiction to what has previously been said, but you are ultimately there to impress. So show your personality where you can.
If it is a very formal interview, switch your cotton shirt for a silk or chiffon one. Add some color or a print. Pussybow blouses look smart and attractive with a suit.
For those in less formal interviews, explore midi skirts and dresses, play with fabrics and patterns.
Your interviewers have probably seen so many candidates wearing the same four colors, giving the same answers. So if you can, wear something a little bit different.
How many times has someone told you a story, and you've said, "Oh yes, the one who wore that cute hat". We remember people by visuals, so give them a good one.
Things to Remember and Avoid
Considering all the previous points, there really is no set rule for interview outfits these days.
However, some simple things to remember are:
Keep it simple and elegant – Nothing too over the top or garish. Keep the color palette simple, with subtle hints of color and patterns.

Make sure everything fits – Nothing too tight or too big. If need be, pants should be altered so the legs don't drag across the floor.

Keep everything coordinated – Attention to detail is important.

Cover shoulders and knees – This sounds old-fashioned, but these are traditional standards across many cultures, and the person interviewing you might be very traditional.

Be comfortable – Your confidence comes from feeling good.

Don't be too casual – It is always better to be overdressed than underdressed.
Final Thoughts
Being interviewed can be very stressful, especially if it is for your dream job. When deciding what to wear, the best thing to do is to see what everyone else in the office is wearing and recreate it.
There are so many different job roles today, and office culture is not what it once was. There is some freedom to wear clothes you feel comfortable in, rather than the standard three-piece suit.
Don't be afraid to ask for advice from others around you. Shop assistants, websites and forums, friends and family, they are all there to help.
One final piece of advice – do not leave it to the last minute. You don't want to panic-buy something or wear an outfit you haven't had a chance to get comfortable with.
---