Virtual/Video Interview Tips The Ultimate Guide on How to Prepare (2023)
All products and services featured are independently selected by WikiJob. When you register or purchase through links on this page, we may earn a commission.
What Is a Video / Virtual Interview?
Put simply, a video or virtual interview is an interview conducted via video, rather than over the phone or in person. There are a few ways that this can be done, each with their own challenges.
There are two types of video interview: a regular face-to-face interview in real time via a video feed, or a pre-recorded interview where each candidate will be given the same set of questions with the same amount of time to respond. The candidate's answers are recorded and watched back later.
All forms of video interview can be nerve-wracking, for many of the same reasons as other interviews, but also some unique ones.
It can be harder to gauge body language and other conversational cues over the internet, which can make it feel a bit stiff and awkward.

With pre-scripted interviews, there can also be a lot of pressure because you have a time limit in which to answer the question, and it's not so much a conversation as a presentation.
This article will give you the essential tips you need to get rid of your nerves and turn up for your virtual interview confident and well prepared.
Why Have Video Interviews Become So Popular?
With the increasing quality and reliability of affordable video conferencing software (like Skype and FaceTime) and hardware (microphones, headsets and webcams), video interviews have become a common method for assessing candidates.
According to the Institute of Student Employers, in 2018 49% of their members used video interviews as part of their recruitment processes. That's basically a one in two chance that you'll need to take one for each job application.
There are plenty of reasons as to why they've risen in popularity so much:
They're cheaper and quicker. Put simply, it's much easier to set up a hundred video interviews than it is to set up the same amount of in-person interviews. They are easier to schedule, cheaper to run and the whole process is much quicker.

They're effective. A five-minute video interview is worth the answers to 200 written questions.

They're fairer, geographically and financially. A video interview can be conducted by any candidate with a computer and an internet connection – or even just access to a local library. This allows companies to widen their search and gives all candidates a fair shot.

Just as an employer's talent pool is widened by a virtual interview, so too is your job search. Traveling a long distance to attend a first-stage interview in person can be impractical, especially if you are unsure of your chance of progression.

A virtual interview can reduce stress by removing the need for travel. It eliminates the potential added pressure of train delays or traffic jams, as well as saving you travel-associated costs.

In the case of pre-recorded interviews, the footage can be rewatched and analysed later.

They allow candidates to take the interview from the comfort of their own home, which can make some more comfortable.

They are a good baseline test of candidates' technological skills. If a candidate can set up a decent video interview without issue, then they at least know a little about working with technology.

It's an effective way of narrowing down candidates for in-person interviews, compared with methods like phone interviews or lengthy aptitude tests.

Unlike a telephone interview, a virtual interview gives you the chance to present yourself in full. Positive body language and a confident demeanor can increase your chances of progressing to the next stage.
With that said, there are, of course, downsides to video interviews.
They can be time-consuming to watch back and analyse, and that usually has to be done manually (rather than, say, a computer looking through test responses). Also, suitable candidates who are unfamiliar with or not suited to video interviews might be scared off.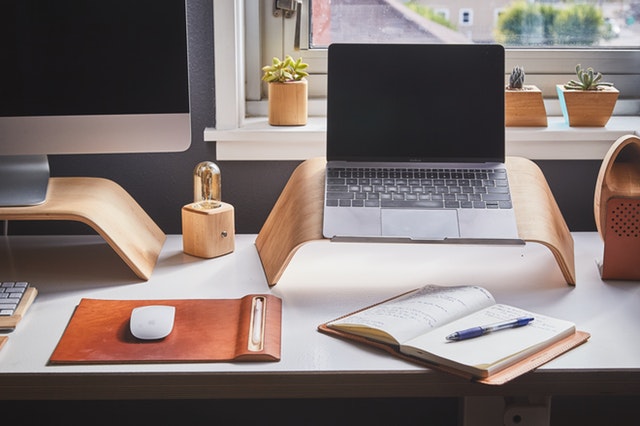 Practice Video Interview with JobTestPrep
Live Video vs Pre-Recorded Interviews
You're very likely to come across either live or pre-recorded video interviews if you're applying for graduate roles at large companies.
Video interviewing has become more popular and live video interviews are now pretty common. Pre-recorded video interviews are a relatively new method but are growing in popularity.
There are distinct differences between the two methods:
Live Video Interviews
This kind of interview is essentially just an in-person interview conducted by video. The employer will ask you questions in real time and you'll answer; the interview will continue like a conversation.
The interview might be conducted via an application you are familiar with, such as Skype, Google Hangouts, FaceTime, Zoom or other video conferencing programs.
If that's the case, then just be sure to clean up the profile you're going to use or create a new professional account.
You don't want to get off to a bad start with a screen name like 'XxBeastSlayer92xX' and a profile picture showing you drunk and passed out.
However, they might also be conducted by business software that has more candidate tracking tools for the employer.
These are provided by companies like Sonru, HireVue and SparkHire.
You probably won't be familiar with these unless you've taken many video interviews, so don't worry too much. They're designed to be simple for the candidates to use – all the extra stuff will be on the employer's side only.
Pre-Recorded Interviews
This type of interview feels much less like an interview and a bit more like an exercise. You're not actually talking to someone and responding in real time. Rather, you're reading or listening to questions and preparing a video response.
Pre-recorded interviews can work in a variety of ways. A question will be delivered as audio, video and/or text. You might then have to answer it straight away and within a certain time limit (say, two minutes), or you might have half an hour to prepare a response. Often, you'll get the chance to scrap your first response and have another go if you mess it up.
Candidates often find that these types of interview feel quite stiff, awkward and unnatural. Rather than a conversation with a human – which feels natural despite the added pressure – this is essentially a series of video exercises.
This means that you really should practice answering questions in this format. You will get no follow-up questions, no responses and no acknowledgement. That can feel very weird, so it's worth spending time getting used to the format so that you can focus on performing well.
Do You Need to Have Advanced Computer Skills to Take Part in a Skype Interview?
One of the benefits of using software such as Skype is its ease of use.
Skype has been around for a long time. It has lasted because it is simple enough for individuals to use while still having an array of attractive features for business use.
Although it is easy to use, you must practice before your interview.
You also need to download the latest update onto your laptop or tablet in advance of the interview.
There is nothing more unprofessional than missing your interview time because your device is scheduling last-minute updates.
Similarly, you need to make sure you know your login details. You do not want to be flustered by the time you log in to your interview.
You may also want to test your microphone and volume control.
You may wish to invest in an external microphone or a new webcam to maximize the clarity of the conversation.
The noise cancellation feature in Skype is also worth using as it minimizes any background noises and provides a more professional experience.
What Are the Features Available Within Skype for a Virtual Interview?
Over the years, Skype has continually invested in and developed its software, providing an array of features that you can use to maximize your video call's professionalism.
As part of your preparation, you may wish to test some of these features so you can use Skype like a professional.
Call Scheduling
This will allow you to integrate the Skype interview into your calendar.
It will provide you with a direct access link, so you do not need to scramble through your inbox trying to find the interview invitation.
Blurred Background
In an ideal scenario, you will be located in a quiet room with a clear background.
If you are working from home, you will likely be surrounded by personal belongings.
In this case, you may wish to use the blurred background feature, which allows you to minimize any intrusion into your home life.
Whether you want to hide away some household clutter or enjoy some privacy, this is a great feature.
The blur function is simple to use:
Next to the camera icon, click on the More menu (the three dots) and click on the choose background effect.
High Definition
You can benefit from HD recordings and audio capabilities with a Skype interview.
If you have the bandwidth to cope with it, it can improve your video interview quality. It can help to provide a great first impression.
Live Recording
One of the benefits of Skype interviews is choosing to record the interview live and watch a playback later.
If you are nervous about your Skype interview, you may wish to record it so you can remind yourself of any questions, and you can review your interview performance.
Regardless of the interview platform you may be using, a recording feature is also useful if you want to set up a mock interview with a friend or family member.
Search for interview questions online or think about questions that will be relevant to the job role you have applied for.
Record the interview so that you can evaluate your performance later. Scrutinize the recording, considering every detail to pinpoint where improvements can be made.
Check the audio and video quality to decide if you need to adjust any of your settings.
Ask your friend/family member to offer honest, constructive feedback following the mock interview. Take this on board and use it to improve your performance next time.
Screen Sharing Capabilities
Suppose you are vying for a promotion or are a freelancer trying to establish a working relationship with a business. In that case, you may wish to use the share screen feature to showcase your portfolio.
In a face-to-face interview, you can easily showcase your work; however, this can be more complex when your interview occurs via Skype.
When sharing screens, ensure you have all of the correct information available at hand so you can seamlessly switch to your work without having to navigate through your filing system.
Taking Part in a Zoom Interview
Zoom offers a clean, easy-to-use interface. The home tab shows an overview of upcoming meetings. From this tab, users can start, schedule or join a meeting.
They can also share their computer or mobile device screen with an existing Zoom Room.
Zoom has a host of useful features:
Screen sharing
Text chat service
Mute function
Record function
Customizable backgrounds
It is possible to switch off the video function; however, recruiters will likely want to see you during a Zoom job interview.
The Zoom app is the most popular way to use Zoom. You can access it from a computer or mobile device. Both Apple and Android are available. You can also use an extension for Firefox and Chrome browsers.
Perform an update to your computer system and ensure you are using the latest version of Zoom. This will avoid having to restart your device in the middle of the interview.
Is Zoom Highly Technical?
Zoom is easy to use. However, it is wise to discover how to use all its features before a pressured situation like a job interview. Therefore, you can use the system with confidence, helping to combat interview nerves.
A quick start guide can be accessed by new users.
There are a few things to learn that could help your interview to run as smoothly as possible.
For example, the personal meeting link and access code for your meeting could end up in your junk or spam folder.
Knowing where to look if the meeting details do not arrive means you won't waste time or energy trying to find them.
Getting to know the text chat function is useful if you struggle to hear or see the interviewer.
You can use it to let them know what is happening and resolve the issue fast and with minimal disruption.
Practice Calling on Zoom
Arrange to call a friend or family member using Zoom. Practice using all the features, including mute, screen sharing and raising your hand.
Ask whether your friend/family member can see and hear you, adjusting the lighting and sound settings as needed.
If they report hearing an echo, Zoom has an audio echo troubleshooting guide. This will guide you through how to fix the problem.
Practice Putting a Background on Zoom
If you do not want the interview panel to see what is behind you during the interview, you can use a Zoom interview background instead.
This will require some preparation.
You will need to set up your Zoom account and activate the feature in advance.
To convey a professional image, choose a plain background that is not too busy or distracting.
If you need to prepare for a number of different employment tests and want to outsmart the competition, choose a Premium Membership from JobTestPrep.

You will get access to three PrepPacks of your choice, from a database that covers all the major test providers and employers and tailored profession packs.
How to Prepare for Virtual Interviews in 2023
Best practices for virtual interviews include the same methods of preparation as any form of interview.
You should conduct thorough research on the hiring organization; be sure you understand its industry, and are aware of its objectives, culture and values.
You should also be familiar with the specifics of the post for which you are applying and prepare for any role-related questions you think you may be asked, as well as rehearsing answers for general competency-based questions.
For a virtual interview, it's important to plan your time accordingly and be ready and waiting to join the call.
If the hiring panel has set up the interview, there will likely be a virtual waiting room for you to join before the interview.
You need to log in a few minutes in advance and wait for the meeting host to let you in.
Try to join a few minutes early to ensure you are on time for your interview.
It is the video interview equivalent of being punctual.
It can be tempting to leave it until the last minute since there's no travel involved but, ideally, you should clear your schedule at least an hour beforehand to focus your mind on the task at hand.
Use the time to go over your research notes, reread the job description and remind yourself of your initial application. This should get you fully focused and interview-ready.
An underrated advantage of video interviews over face-to-face interviews is that you can have your pre-interview preparation notes to hand.
These can work as helpful hints to note any information you want to share or questions to ask.
If you store these to the side out of view of the camera, they can be there to help you manage your answers effectively. Just make sure you keep eye contact and don't rely on them too heavily.
In addition to the basics, there are also some unique challenges to address in your virtual interview preparation. With that in mind, the following offers guidance on how to ace a virtual interview.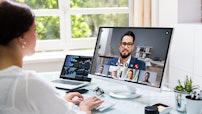 Zoom Interviews – Top 10 Tips

Practice Video Interview with JobTestPrep
Virtual Interview - Setup, Equipment and Preparation
1. Choosing a Webcam, Placing and Lighting
There are two main things to consider here: what webcam you use and how you use it.
These are both important because they will determine how you'll be able to present yourself. A clear, sharp, well-positioned image will make you look professional and presentable.
The webcam you use will largely be determined by your budget and preference. If possible, an external webcam that's a price-point above the cheapest would be good. If you have a very up-to-date laptop, the inbuilt webcam will probably suffice too.
If you're looking to buy an external webcam, then you'll get great value out of the Logitech C900 series (such as the C920), but there are plenty of other brands such as Creative. Do some googling, read some reviews and figure out which you might like best.
Do not use a tablet or phone camera if you can avoid it.
When deciding where to place your camera, bear in mind that the webcam should be looking slightly down towards you. A low placement looking upwards is never flattering. Try and make sure the camera is positioned a little above your eye level.
It's also important to practice talking into the camera instead of looking directly at the on-screen image of the interviewer. Virtual eye contact is a difficult skill to master, but if you can achieve it, you'll make a much better impression.
Also, consider the lighting. If the main light source is behind you, you'll look like a silhouette; directly in front of you and beaming onto your face, you will look incredibly pale (not to mention blinded). Experiment to find the most natural light.
2. Managing the Environment and Background
Be mindful about your surroundings and what's in the camera frame – it's all a part of how you present yourself.
Set up your camera, and then check the frame. Is there clutter in the background? Is it possible for the lighting to change dramatically if, for instance, the clouds part? Are there any potentially embarrassing posters or photos on the wall behind you? A mirror that could accidentally show something awkward? Keep your background as neat, neutral and inoffensive as possible.
3. Test Things Are Working
When working with tech, things can go wrong in unexpected and mysterious ways. Be sure to check your whole setup, both well in advance so you can fix any problems, and on the day so you can be sure nothing gets in the way.
Internet Connection
A slow internet connection can make the image and audio choppy on the video call. There are a few things you can do to improve it.
First, check your internet speed at a website like speedtest.net or Bandwidth Place. You'll receive three numbers: ping, download speed and upload speed. The lower ping the better, and the higher of the other two the better.
Your download speed will determine how the interviewer's image and audio look. You'll want at least 10 Mbps, but 25 and above is ideal. The same goes for upload speed, which will determine how your image and audio comes across.
Check this several times throughout a typical day. If your internet connection is patchy or slow at certain times, try to avoid these if you can when scheduling your virtual interview.
Use a wired ethernet connection instead of Wi-Fi. This will be faster, smoother and much less likely to randomly cut out.

If you can't use a wired connection, make sure your laptop or computer is as close as possible to your router.

Before your interview, close any unnecessary programs and web pages. Also, ensure that you aren't downloading or uploading anything in the background.

If your home connection is poor, consider going to a local library, or the school or university you attend. If you can find a quiet spot where you won't be disturbed (there are often rooms you can book in advance), then the internet there should be faster and more secure.
Everything Else
For everything else tech-wise, have a run-through at least an hour before your interview and check the following:
The internet connection is stable (see above)
Your laptop is plugged in
Your lights are working
The webcam and microphone are working
If you can, make a test call (Skype has an in-built service for this)
All web browser tabs are closed except for your email and the company's website
Downloads are stopped on all your devices. These could include your browser, the Netflix app on your phone, Steam updating some video games, Dropbox syncing files and so on. Also, ask anyone you live with to refrain from downloading or uploading until your interview is over
Your operating system is running on the latest update. Windows 10, in particular, has a nasty habit of forcing your computer to do an update at the most inconvenient times
Using earphones can help you to avoid delays in sound quality, a common cause of echo. If you opt to use these, discreet earphones with noise cancellation are an appropriate choice as they will help you block out background noises while maintaining a professional appearance.
4. Do Not Disturb!
It goes without saying that before your interview you should take steps to make sure you won't be disturbed.
Write a note on the door saying that you're in an interview and are not to be disturbed. It might also be a good idea to write a note on your front door too, in case of any deliveries.

Make sure that anyone you live with knows not to disturb you, make too much noise or start any big downloads.

Ensure any pets are fed, walked, happy and/or asleep and shouldn't need your attention for a while.

Close your windows to avoid unwanted outside noise.

Close down all other applications on your computer and ensure that your phone is on silent (not vibrate).

Make sure you have a glass of water to hand. The last thing you want is to have to pause the interview if your mouth goes dry.
5. Dress and Appearance
Like any first impression, it's important that you look the part. Just because you're at home doesn't mean you don't need to dress smartly.
You need to give an excellent first impression, which can include your dress sense and your hairstyle.
Dress exactly as you would for an in-person interview. If you're unsure how that should be, email or call the company's HR department and ask. If in doubt, go with a suit or other smart, business-like attire. With that said, there are a couple of things that you need to be aware of:
First, colours work a bit differently on camera than in real life. The rule of thumb is that you shouldn't have colours that contrast too much. For that reason, pure white and pure black aren't ideal. The camera will usually over-adjust and end up washing you out or making the white too bright. Navy is a perfect colour.
Stay away from stripes, loud patterns and large jewelry, as they can be off-putting for the recruiters.
You should also be aware that makeup can come across very differently on camera. Buzzfeed has a good article full of tips to help with this.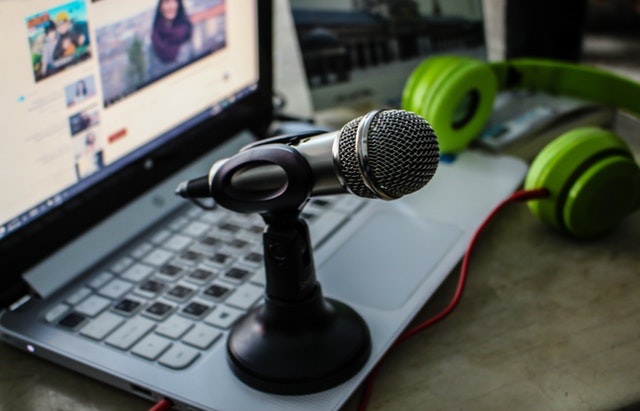 During the Video Interview
1. Body Language
Like in an in-person interview, body language is crucial to how you will be perceived. It's well worth taking some time to work on your body language to ensure you come across well.
First, try to eliminate any tics or fidgeting. Playing with a pen in front of the camera, for example, is really distracting. Fidgeting makes you look nervous and won't display the confidence you want them to see.
If you absolutely need to fidget with something, grab a stress ball and practice playing with it in such a way that it's always out of the frame, maybe underneath your desk. Not doing it at all is ideal but, if you must, keep it out of sight.
Second, work on your posture. Slumping in your chair and hunching over isn't a good look and doesn't make you seem like a competent professional. Sit up straight at all times, but also make sure you look relaxed and natural doing so, rather than stiff and uptight.
The good news is that you shouldn't need to worry about your lower body. Without compromising any of the above, just get your legs and feet in as comfortable a position as possible.
Also, be aware of the interviewer's field of vision. If you're trying to emphasize a point with hand gestures that can't be seen, it can create a disconnected atmosphere.
Try and keep your movement minimal but natural. Don't overly gesticulate, but don't sit too rigidly either.
Show that you are paying attention and actively listening to what the interviewers say. Nod while they are speaking and ask relevant questions at appropriate times.
Remember to smile from time to time.
2. Speaking Clearly and Slowly
A really common problem for anyone who's a bit nervous about speaking – whether at an interview, giving a presentation or just talking to someone – is going too fast. Nerves can make you rush through what you want to say to get it over and done with. Don't let that happen.
This is a skill that will take practice. Get friends and family – anyone who will listen – to practice interviews and presentations with you. Really focus on speaking clearly and slowly.
This will make you come across as more comfortable, confident and professional.
Remember to let the interviewer finish speaking before you begin responding as delays in the audio could mean your response is misinterpreted as rude.
3. No Googling
No matter how stealthily you think you can type, it will always be noticeable if you're trying to google something during the interview. In general, don't do anything that distracts you.
Have all the information you need already on the desk in front of you, or already open in your browser. That's things like your CV, covering letter and the employer's website.
Also, keep any notes you might need in front of you. Don't rely on them too much, but it can be reassuring to have some basic notes about your examples and achievements in front of you.
If you spend time during the interview looking at your screen (rather than into the camera) and typing, it'll just look like you're distracted and, perhaps, ill-prepared.
It's vital to maintain focus. It's far easier to drift off or get distracted in a virtual interview than it is sat face-to-face with another person.
The fact that you are online can prove a big distraction in itself, so be sure to avoid any temptation to browse or check your emails. It's also good practice to turn off notifications as part of your virtual interview preparation.
There can also be the temptation to play around with things the interviewer can't see, like your phone, or doodle on a piece of paper. Just because the interviewer can't see what you're doing, doesn't mean they won't notice you're distracted.
Stay fully focused on the process at hand and what is being asked of you.
4. Sticking to the Question
The key to giving a good interview is to be confident, concise and direct. That means you need to stick to the question rather than talking about something unrelated.
A great way to do this is to practice the STAR technique. The STAR technique is a way of structuring your answers so that all the important information is in your answer and nothing superfluous slips in.
Situation – Give the interviewer some context. Explain the project you were working on, who you were working with and what you were working towards.

Task – Then be a little more specific. Describe the specific task you want to highlight to the employer. This is where you explain what you were doing in particular. What were your responsibilities? What were your goals? What problem were you solving?

Action – Here you go through what steps you took to resolve the problem or challenge you were facing. It's key here that you focus on yourself. What actions did you take? Use 'I' and not 'we' as much as you can here. Teamwork is important, of course, but here you state what your role in that team was and what you did to help.

Result – Finally, describe what the results of those actions were. Be as concrete as you can here. What were the outcomes of your actions?
Using the STAR technique, you will ensure that each of your answers is concise, while still giving the interviewer all the information they need to understand your example and what traits it demonstrates. At the same time, it will also make sure you stay on topic and don't accidentally end up talking about something else.
Practice delivering all your answers with the STAR technique so that it becomes second-nature, and feels comfortable and natural to use.
5. Be Memorable
Finally, when following all this advice, try not to lose your unique personality. Above all, you're trying to convince the employer to hire you because only you can provide what you're offering.
Remember, if you're partaking in a virtual interview it's likely you're one of many candidates being screened for the next round, so you'll need to make an impression.
As it can be difficult to make a personal connection via virtual means, this aspect of the interview will take a little more effort.
Don't feel like you have to stifle your personality and just become a boring business robot. Be yourself. Of course, there's no real way that you can be told how to do this, because if there were then it wouldn't be memorable. Instead, try to think about what makes you unique.
When you use examples (and you should be using as many as you can to back up your points), try to pick your most memorable, interesting and unique examples. Rather than just relying on your jobs, think about what your hobbies or sports have taught you.
A good tip is to do a bit of background research on your interviewer and see if there's any common ground you can build on, such as a mutual interest.
In a face-to-face interview, you give a lot of yourself away through your natural presence; in a virtual interview, there's a barrier, and you'll need to go the extra mile to build a rapport.
Practice Video Interview with JobTestPrep
What Could Go Wrong on a Virtual Interview?
Unfortunately, no matter how well you prepare, there's always a chance that things could go wrong. The interviewer knows this as well, so the important thing is to handle any issues competently and calmly.
Technical Issues
When working with technology, things can go wrong at the worst times. Your audio and/or video may cut out, your connection could drop, you could experience a power cut, or any number of other things.
A good way to prepare is to ask for a phone number before the interview on which you can contact the interviewer if you experience technical difficulties. Then, if something does go wrong, call them to let them know the issue. Tell them whether you'll be able to fix it in the next couple of minutes, if you can continue by phone or if you'll need to reschedule.
Interruptions
Depending on where you live, unexpected noise could interrupt the conversation. If that happens, apologise and ask for a few moments until the noise has subsided. Mute your microphone if it's severe. You might also want to close any windows or doors that are open.
Similarly, you could be interrupted by a room-mate, family member or pet. If this happens, you should apologise, mute the microphone, turn off your camera and secure the room before continuing.
Emergency
As with any scheduled appointment, there's always the possibility of an emergency. If this happens, you should (if possible) apologise to the interviewer, briefly explain what's going on and ask if you can call or email later to reschedule.
Things to Avoid Doing During a Virtual Interview
Alongside everything you should be doing, there are, of course, some things that you shouldn't do. Here are five key things to avoid:
Fidget – This was said earlier, but it bears repeating. Body language is really important. There's a good reason why the interview is being conducted by video rather than over the phone. It's because body language reveals an enormous amount about you.

So, work on getting rid of those nervous tics or fidgeting habits and check your posture. Practice until it becomes second-nature, so that you look calm and collected during the interview.

Repeat rehearsed answers – This is more important for live, two-way interviews than pre-scripted, one-way interviews. But, nevertheless, your answers should be conversational.

Parroting answers you've practised word-for-word is a bad idea. Especially if it's done by reading off a sheet of paper. This will suggest to the interviewer that you can't think on your feet and will make you come across as stiff.

Instead, practise things in note-form using cues. So, for each example you want to list, go through the STAR interview technique. Write down just a few words for each of the four sections to give you a cue, but let the actual words come out naturally.

For one-way, pre-scripted interviews, it's more acceptable to have a rehearsed answer, especially if they give you multiple attempts before selecting your best. The key here is to still make it sound natural.

Begin without having tested anything – It's well worth the time to test everything works beforehand. Don't tempt fate. Although the interviewer will know that things can sometimes go wrong (and that goes for when they've been tested too), it can still look bad for a variety of reasons:

It can make you seem inept at dealing with technology – especially if the issue is one that should have been easily fixable.

If the issue is one that should have been caught in testing (for example, not having the webcam plugged in), you will come across as ill-prepared.

It can disrupt the interview and throw you off your stride.

It takes away time that could be spent talking about why you're the best candidate for the job.

It can shift the interviewer's focus from you.

Be too humble or too arrogant – As with any interview, you need to strike the right balance between humility and arrogance.

If you humbly play down all your strengths and achievements, you run the risk of coming across as less skilled and qualified than you actually are. On the other hand, if you play up your strengths and achievements too much – especially when not supported by concrete evidence – you can come across as arrogant and a bit deluded.

The key is to support everything with evidence and let that evidence do most of the talking. Saying "I'm a great leader" sounds arrogant on its own because it's not backed up by anything. However, saying "I led my team through a rough period of low morale and, by doing x and y, got us successfully to the end of the project" simply describes something that happened, while also implying that you're a good leader without you even saying so.

Turn up looking unprofessional – Take the same approach to your appearance as you would for a regular interview, but take the effect of cameras and lighting into account (colours and makeup are affected by this, for example).

If in doubt, wear a suit or phone the company's HR department for advice. Even if the company is more casual, the general rule is that you should still dress smartly for an interview.

Not letting the interviewer lead – Dead airtime can seem like an eternity compared to moments of face-to-face silence, so there can often be the temptation to fill gaps in the conversation. Avoid this urge and let the interviewer lead the process.

It could be that they're taking the time to jot down some notes, or there may simply be a delay in the transmission. Be patient and wait for a prompt before you speak. Unnecessary chat can derail the whole interview process.

Use a swivel chair or a chair with wheels – You could end up swinging from side to side, or altering your position without even realizing.

Forget to ask questions – Despite being two-way, a live virtual interview can often feel one-sided. Treat it as you would an in-person face-to-face interview and ask insightful questions that demonstrate your enthusiasm.
Virtual Interview - Follow up and Ask for Feedback
As with any form of interview, it is both professional and courteous to follow up after your virtual interview. Thank those involved for their time and for considering you for the role, and be sure to let them know you're open to providing further information should they want it.
If you're unsuccessful in moving to the next stage, be sure to ask for feedback to help your future performance.
If you're new to the video interview process, you could even ask for feedback specific to the virtual element to see if there's anything you could improve on.
Review Your Performance on the Virtual Interview
Take the time to assess what you think went well and what you could have improved on. This is standard practice for any interview format but it is especially important for a virtual interview where there are additional factors to consider.
In some instances, you may even be permitted to record the interview and watch it back at a later date. This will be down to the employer, though, so be sure to seek written permission to do so in advance.
Final Thoughts
Video interviews are like any other part of the application process. Some people are naturally better or worse at them, but those differences can be easily overcome with practice.
They're meant to be challenging. After all, they are used to decide who is the best candidate for the job, and equally, who isn't. So, don't worry if you struggled a little – every other candidate is probably thinking the same.
There's no shortcut. It really is just plenty of practice that will see you through. Prepare the same way you would for any other interview. Get friends and family to ask you practice questions. Prepare examples that you think will demonstrate your strengths. Prepare to talk about the things you're not so good at.
But also do some preparation for the specific medium. Find out exactly what kind of video interview it will be and practice for that. The great thing about video interviews is that you can simply record yourself and watch back the recordings to see where you're going wrong.
Employers are looking for a candidate who's qualified, competent, confident and who seems like someone they'd actually like to work with day-to-day. In video interviews, specifically, they'll also be taking a close look at your body language and how you put yourself across.
With the usual combination of research and diligent practice, you'll give yourself the best chance possible. Succeed or not, you will learn plenty from the process and will come out of it feeling proud.
---