Paralegal vs Legal Assistant
Paralegals and legal assistants are both non-qualified roles in law firms and, confusingly, the terms are often used interchangeably. However, in practice, they are often very separate roles.
If you are interested in working in the legal industry but do not want to be a lawyer, you could consider working as a paralegal or a legal assistant.
You could also choose to work as a legal assistant or paralegal to gain experience before attending law school if you would rather try out your skills in the profession before committing to the time and expense of law school.
In this article, we will look at the two roles and the key differences between a paralegal and a legal assistant.
It should be noted that both these roles can be different from that of legal secretary, although the recent trend is towards referring to legal secretaries as legal assistants.
If you are seeking a role that offers a more hands-on legal experience, you should assess a job description carefully to ascertain whether the role is really that of a legal secretary.
What Is a Legal Assistant?
Legal assistants deal with the more usual office administration that is required by the law firm or team.
For example, typing of routine correspondence, filing, scheduling appointments and so on.
Although the role will include assisting a lawyer or attorney with their admin, it won't usually involve any aspect of the legal work itself.
This role will provide lots of transferable skills and can be a good entry point from which you move to a paralegal role.
What Is a Paralegal?
Paralegals spend most of their time assisting lawyers and attorneys with the legal work required to meet client requirements.
This may include legal research, drafting legal documents, preparing trial bundles or other legal paperwork, and so on.
In short, the focus is on the legal work rather than the admin.
A lawyer or attorney will typically be managing a heavy caseload of multiple clients and will rely on one or more paralegals and/or legal assistants to deliver the required work.
If you have specific ambitions to become a lawyer, you will want to consider what skills and experience you might acquire in each role.
We address key differences in the next section, but, for example, you might find that paralegal roles are often more client-facing than a legal assistant, which provides useful experience.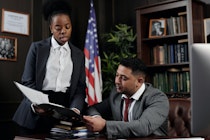 Paralegal vs Legal Assistant
Five Key Differences Between Paralegals and Legal Assistants
Although the terms 'paralegal' and 'legal assistant' can sometimes be used interchangeably (depending on the law firm), in practice, there are usually key differences between the two roles.
These should be taken into account when considering whether you should be a paralegal or a legal assistant, and when trying to decipher a job description.
Here are some of the key differences:
1. Qualifications Needed
Paralegal:
It is usual for a paralegal role to require a college degree and the work is usually aimed more at graduates who might go on to law school.
The precise requirements will depend on which state you are in.
For example, in California, paralegals must undertake specific educational and workplace-based requirements as well as complete an American Bar Association (ABA) approved paralegal certificate program.
Legal Assistant:
Legal assistant roles are often offered across a wider spectrum of qualifications.
You will find roles suitable for school leavers as well as those with more experience.
2. Experience Required
Paralegal:
Paralegal roles often require some experience working in a legal firm or environment, with a typical candidate requiring three to five years' experience.
Sometimes, a successful applicant will have worked as a legal assistant in a broader role before making the move to a paralegal.
It may also be possible for you to secure a paralegal role at a larger firm after completing a summer internship after college.
Legal Assistant:
Less experience is required for a legal assistant role. A legal assistant role may suit a school leaver, particularly as a bachelor's degree is not usually required.
3. Skills Needed
For both paralegal and legal assistant roles, general soft skills are essential, including communication, teamwork and computer literacy.
Paralegal:
The skills required often overlap but in general, paralegals are usually required to have skills relating to the actual workings and technicalities of the law.
As paralegals often provide specific legal assistance to qualified lawyers and attorneys, desirable skills include:
Legal research
Legal drafting
Use of legal case management systems
If you have studied to become a paralegal, you will have gained specific paralegal qualifications, such as the LexisNexis Paralegal Student Certificate which shows the employer you can carry out research using specific platforms.
Paralegals often act as a second point of client contact, so being personable and able to communicate well with clients is an essential skill for a paralegal that can often be overlooked.
Legal Assistant:
The skills and competencies required to be a legal assistant are often broader, with more of an emphasis on data entry, scheduling and providing more general legal support in a team of lawyers and attorneys.
4. Job Responsibilities
Paralegal:
A paralegal may have a more client-facing role, which can provide useful experience if you intend to qualify as a lawyer.
A paralegal will take on much of the same work as a junior lawyer or attorney would, but without the decision making or authority.
Much of a paralegal's time will be spent carrying out research, preparing case analysis, drafting documents and, depending on the area of law, could also involve data rooms and disclosure.
Legal Assistant:
Legal assistants carry out more broad-brush back-office roles so are less likely to be in a client-facing role.
Legal assistants will spend time typing correspondence, scheduling meetings and carrying out the administrative work required to keep the law firm running.
Legal assistants will usually encounter some work that might be billed to the client, such as photocopying trial bundles or assisting with the scheduling of documents for disclosure.
5. Career Prospects
The Bureau for Labor Statistics groups paralegals and legal assistants together when publishing the median annual wage, listing it as $51,740 in May 2019.
That said, paralegals typically earn a higher wage to reflect the higher entry-level qualifications.
Paralegal:
As paralegals usually have a college degree, the paralegal role is often a stepping stone along the legal career path. Paralegals often go on to qualify and practice as lawyers.
That said, it is possible to be a career paralegal, working alongside lawyers and attorneys delivering highly specialized advice and research.
It is also possible to become a certified paralegal.
Once you've carried out the requisite paralegal certificate (for example, from an ABA certified school), as well as completing the specified number of years' work experience, you can apply for professional certification from an accredited agency.
These include the National Association of Legal Assistants (NALA), the National Federation of Paralegal Associations (NFPA) and the American Alliance of Paralegals (AAPI).
Although it will depend on location and experience, in general, holding a paralegal certification can add 15% more to the average base salary.
Legal Assistant:
Career prospects for a legal assistant vary from firm to firm. In the larger firms, there is real career development potential, with the possibility of working first for an associate lawyer and then for the most senior lawyers, or managing a pool of legal assistants.
The role can also be balanced around other commitments and is often attractive to those who enjoy working in a law firm but either do not wish to be a lawyer or do not have the qualifications.
Some legal assistants are aspiring lawyers gaining more broad-brush legal experience before going on to work as paralegals or qualify as lawyers.
Final Thoughts
Deciding whether to work as a paralegal or a legal assistant will likely depend on your ongoing career aspirations as well as the specific firm and job requirements.
Those who have a college degree and/or a desire to continue to qualify as a lawyer will most likely wish to find work as a paralegal.
A legal assistant would suit someone organized who is looking for admin and secretarial work but has a specific interest in the legal industry. You might also be interested in becoming a legal assistant if you are at the start of your career and do not have a college degree.
---