Global Best 100 Law Firms: A List
What Is a Law Firm?
Most larger law firms are now international businesses working across multiple countries and continents.
Each company, although operating on a different business model, is made up of a managing partner/s, law firm partners and associates/trainees. Many firms also work with other agencies and consultants but on a case-by-case basis.
All of the law firms listed here work on corporate law, meaning they work with organizations on their legal matters. This can vary from entering a new market to merging with another company. Smaller law firms tend to work on criminal and family law.
Top UK Law Firms
1. DLA Piper
With over 80 offices in over 40 countries, it specializes in business law, taking the most revenue in 2019/2020 (£2.111bn).
This Magic Circle company focuses on learning and development alongside its international work. It recently advised Pfizer and the UK government on the Covid-19 vaccine programme.
3. Hogan Lovells
Before the Magic Circle days, Hogan Lovells was one of the top firms in London. Its international work focuses on cross-border and emerging countries' expansion.
An established City firm and part of the Magic Circle, it was one of two firms to surpass $1 trillion of deal value. It was also one of the first firms to offer flexible working.
5. Linklaters
One of the largest law firms across Europe and Asia, it has merged multiple times. This Magic Circle firm also has collaborative alliances in Australia and South Africa.
Considered the oldest international firm, this Magic Circle firm was founded in 1743. Newly qualified junior lawyers can expect to earn £100,000, a first for a non-US firm.
7. Norton Rose Fulbright
With a reputation as one of the 'nice' City firms, it chose not to make any redundancies during the financial crisis. It made use of a Swiss verein to start forming global mergers.
8. CMS
A merger between three firms in 2017 led to CMS being born. It owns 17 firms across the globe, with a focus on corporate and tax law.
One of the UK's highly regarded litigation firms, it prides itself on having local and global market expertise.
10. Eversheds Sutherland
Eversheds merged with US firm Sutherland Asbill & Brennan in 2017, giving it a larger global standing. Its roots are in property law and [public sector work][/industry/public-sector/public-sector-government].
11. BCLP
BCLP suffered financially until its 2018 merger. As one fully integrated company, it can now expand in the Middle East and Asia.
12. Ashurst
Previously a UK-centric firm, Ashurst has expanded internationally, with offices across 15 countries. It focuses on mergers and acquisitions as well as structured finance.
13. Clyde & Co
Traditionally a shipping and insurance firm, Clyde & Co is also one of the few firms with alliances in Iraq, Libya and Iran, as well as BRIC countries.
14. Slaughter and May
While having global clients, it has shunned international expansion. This Magic Circle firm differs from the others in that aspect.
15. Gowling WLG
The firm merged with Gowlings, becoming the first Canadian transatlantic merger. It now focuses on global sectors, such as energy, financial services and life sciences.
16. Pinsent Masons
With alliances in China and Australia, it is starting to expand globally, with expertise in manufacturing and technology.
17. Simmons & Simmons
With a clientele predominantly in the financial industry, Simmons & Simmons have always been likened to a smaller Linklaters.
18. Bird & Bird
Its main focus has always been intellectual property, so much so that its department previously had its own building.
19. Womble Bond Dickinson
With Northern England roots originally, the firm was formed in 2017 following the merger of UK-based Bond Dickinson and US-based Womble Carlyle. Its aim is to merge in its domestic markets for future growth.
20. Taylor Wessing
Following a merger in 2002, it has allowed them to expand globally, adding offices in China, Spain and France almost immediately. It has a focus on technology start-ups, hoping to grow with those businesses as they expand.
21. DWF
Starting as an insurance litigation firm in the North West and despite having offices abroad, it still makes 90% of its revenue in the UK, with rumours of expansion of the London office and its regional centres becoming less significant.
22. Fieldfisher
One firm that operates in many fields and industries is Fieldfisher. Since 2012, it has expanded into Europe, the USA and Canada despite not being a specialized firm.
23. Addleshaw Goddard
A merger in 2005 saw two mid-size firms join forces. With offices in Europe, Asia and the Middle East, it is now looking for a potential merger into the US.
24. Osborne Clarke
With an invested interest in technology industries, Osborne Clarke is a Bristol firm not scared of branding and innovation. With offices across Europe and the US (including Silicon Valley), it is looking to head to Asia next.
25. Irwin Mitchell
One of the largest UK firms that runs adverts on TV, Irwin Mitchell has two separate wings to the firm: personal and business legal services. With 15 offices across the UK, it is also a member of First Law International, which allows it to work across borders with its clients.
Top US Law Firms
26. Cravath, Swaine & Moore
Renowned as the number one law firm in the US, it is known for attracting and employing the best of the best. More than a third of its clients are based outside of the US.
27. Wachtell, Lipton, Rosen & Katz
With expertise in takeovers, it is big on innovation and restructuring. It has a reputation for taking on risky and messy cases but is also one of the most profitable firms.
28. Skadden
The first law firm to handle more than $1 trillion of merger and acquisition deals in 2015. Renowned for its innovation, many of its lawyers go on to work for the government.
29. Sullivan & Cromwell
With a more general approach to industry and cases, there is a greater focus on mentoring and development compared to other firms. It has 13 offices across nine countries and offers an extensive training programme, with associates covering a wider range of cases.
30. Latham & Watkins
One of the largest law firms in the world with more than 3,000 attorneys across 30 offices globally. It has a relaxed working environment, with flexible working as part of its make-up.
31. Kirkland & Ellis
The ideal firm for self-sufficient associates, it is thrown head first into cases. There is a real emphasis on diversity and inclusion and tops the lists for bankruptcy and private equity cases.
32. Davis Polk & Wardwell
Specializing in corporate law, it was founded in 1849, making it one of the oldest firms in the US. It maintains relationships with loyal clients, such as JPMorgan Chase and Morgan Stanley.
33. Simpson Thacher & Bartlett
Since the 1980s, it has become one of the leading firms for mergers and acquisitions, but it also covers finance and banking, security and intellectual property, among others.
34. Paul, Weiss, Rifkind, Wharton & Garrison
Pro bono work is at the heart of what it does, with high-profile cases on civil rights and social justice. It is an industry leader in terms of diversity and inclusion, and has been offering assistance to businesses suffering from the effects of the pandemic.
35. Gibson Dunn
Probably most well-known for its impressive litigation work. It has 20 offices across the world, with five in California alone.
36. Sidley Austin
The firm where Barack and Michelle Obama met, it has a wide portfolio of clients, from business start-ups to global powerhouses. It is constantly adapting to the modern world, especially in the pandemic, by helping its clients make and distribute PPE.
37. Weil
With its main focus in banking and restructuring, and offices in six countries internationally, its ethos is based on teamwork. It is a well-rounded company, with emphasis on well-being, pro-bono work and mentoring.
38. Quinn Emanuel Urquhart & Sullivan
A casual workplace with cases across many industries. It is a firm believer in building relationships, not only with clients, but across the company too, by pairing partners and associates together.
39. Cleary Gottlieb Steen & Hamilton
Most well-known for its cross-border work with national governments. Its offices across the world try to hire local lawyers with US experience too.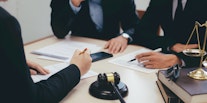 Global Top 100 Law Firms
40. Covington & Burling
While it takes the quieter, more behind-the-scenes cases, it is renowned for its progressive and collaborative approach to work. Clients sit across multiple industries, but it is a world leader in sports law.
41. White & Case
Another firm working across multiple industries and practice areas. It is an ambitious and diverse firm, and internationally based in thirty countries.
42. Debevoise & Plimpton
An industry leader in private equity, it puts an emphasis on mentoring associates and tries to match skills and personality when hiring.
43. Ropes & Gray
It focuses its work on highly-regulated and complex industries, such as health care and life sciences. Another firm focusing on diversity and enthusiasm when hiring associates.
44. WilmerHale
A world leader in intellectual property cases, it handles high-profile cases across multiple practice areas. It also donates to Harvard Law School to allow students to work on real community cases when studying.
45. Paul Hastings
A firm that is famous for its community feel, it likes both employees and clients to be the right fit for the team. It has a strong presence in Asia, with five offices on the continent, as well as a UK office.
46. Jones Day
A big part of this firm is the pro-bono work it does, especially with those seeking asylum in the US. With 42 offices across 17 countries, its work spreads across multiple industries.
47. Williams & Connolly
Presenting oral arguments 17 times in the last five years to the Supreme Court shows just how high profile its cases are. It's a smaller firm with just 300 litigation lawyers in its Washington DC office.
48. Milbank
A friendly firm with a focus on the energy and infrastructure sectors in recent years. With links to Cambridge and Harvard, associates go through comprehensive training but are rewarded.
49. Cooley
Predominantly, its clients are start-ups and innovative companies, and it focuses on technology and venture capital work. The firm is all about creating a good working environment and building on teamwork.
50. Morrison & Foerster
Recently expanding into Europe, it is a relaxed, friendly firm that believes in sustainability. Another firm that focuses on personality on top of experience and schooling.
51. O'Melveny & Myers
Another firm with clients across a wide range of industries. It hires from a range of law schools, not just the Ivy Leagues, promoting a diverse and enjoyable work environment.
52. Hogan Lovells
A huge firm with more than 50 offices. While it promotes a relaxed atmosphere, this does vary between offices. It also has a consultancy wing that works with its lawyers to offer even more advice for clients.
53. Proskauer Rose
With clients across sports, entertainment and employment sectors, this firm offers a diverse portfolio of work for potential associates. It considers its workforce to be nurturing, with most staying for their entire careers.
54. Goodwin
It works with both investors and innovative firms to match them up together across different industries. Each of its 13 offices worldwide specialise in various practice areas.
55. Akin Gump Strauss Hauer & Feld
One of the biggest in terms of numbers of lawyers (around 900) and industries it works in, it still maintains an approachable working environment for associates.
56. Arnold & Porter
Another firm working across multiple industries, it also prides itself on creating a social atmosphere for all employees. It specializes in antitrust and cross-border work.
57. Orrick
Working with predominantly energy and technology businesses, it also values collaboration and teamwork among its lawyers as well as prioritizing their health and wellbeing.
58. Perkins Coie
With a greater emphasis on personality when hiring, it provides a 'holistic' environment, meaning staff turnover is minimal. It has offices in the US and Asia.
59. DLA Piper
It encourages staff to work across industries and practice areas, especially when starting out. With a strong international presence, associates can expect plenty of opportunities to travel.
60. Morgan, Lewis & Bockius
With 31 offices worldwide, it's still proud of its Philadelphia roots. Experience and personality are important to this firm when hiring associates.
Top Asian Law Firms
61. Beijing Yingke Law Firm, China
With more than 12,000 lawyers on its books, it aims to be a one-stop shop for all legal and business services.
62. Dacheng Law Offices, China
Constantly innovating, it operates in more than 70 countries and has been part of the Dentons' group since 2015.
63. Zhong Yin Law Firm, China
With 32 offices across mainland China, it works alongside and operates partnerships with agencies across the world.
64. King & Wood Mallesons, China/Australia
Before merging, it was renowned as one of the Red Circle firms, with each of the four wings being independent.
65. DeHeng Law Offices, China
It has considered a global merger, but, for now, operates its 27 domestic offices, as well as five overseas.
66. Kim & Chang, South Korea
It's considered Korea's largest law firm, with 20% of its staff qualified in international law.
67. Zhong Lun Law Firm, China
Another Red Circle firm with eleven offices throughout the country, as well as seven overseas, including the UK, the US and Asia.
68. AllBright Law Offices, China
The biggest law firm with headquarters in Shanghai, operating exclusively in China, with an additional office in Hong Kong.
69. Amarchand & Mangaldas & Suresh A. Shroff & Co, India
A fairly new firm, it specializes in policy and governmental cases.
70. Long An Law Firm, China
Another firm with offices domestically only, it works alongside agencies and financial institutions on its cases.
71. Jun He Law Offices, China
With specialities in capital markets and banking, this Red Circle firm also has offices in New York and Silicon Valley.
72. Nishimura & Asahi, Japan
The largest in Japan, this Big Four firm has now expanded to the rest of Asia and the Middle East, with cases in multiple practices.
73. Zhong Lun W&D Law Firm, China
The first Chinese law firm to set up in Saudi Arabia and London, it now focuses on private equity and real estate assets.
74. Lee & Ko, South Korea
With more than 40 practice areas, it also has relationships with law firms internationally.
75. Grandall Law Firm, China
It's one of the biggest full-service law firms in China. It specializes in both corporate and commercial law.
Top Australasian Law Firms
76. Allens, Australia
It has been in an alliance with Linklaters since 2012, making it an international force with 40 offices across 28 countries.
77. Ashurst Australia
Following its merger in 2012, it has six offices domestically, as well as in 16 countries globally.
78. Clayton Utz, Australia
Operating solely from Australia, it works across multiple industries, but has formed international partners to work abroad.
One of the largest firms internationally, it has headquarters across the world. It has six offices in Australia, with its Sydney office as its main branch.
80. King & Wood Mallesons, Australia
With a merger in 2012, this Asian-Australian business has its main office in Hong Kong, with five across Australia.
81. MinterEllison, Australia
A firm constantly innovating and expanding its expertise into new industries, it works alongside affiliates in Asia and Europe.
82. Bell Gully, New Zealand
Considered one of the Big 3, it focuses a lot on pro bono and community work.
83. Chapman Tripp, New Zealand
Another of the Big 3, it serves multiple industries, but also has an affiliation with the arts sector in the country.
84. Russell McVeagh, New Zealand
The last of the Big 3, it is considered the most prestigious firm in the country.
85. Buddle Findlay, New Zealand
One of the country's leading commercial law firms, it values collaboration with its clients and global contacts.
Top Law Firms From Around the World
86. ENSafrica, South Africa
One of the Big Five, Africa's largest law firm specializes in African regulations in many industries, as well as firms wanting to trade with Asia.
87. Webber Wentzel, South Africa
With an alliance with Linklaters, this Big Five firm has offices in Johannesburg and Cape Town, but operates globally.
88. Bowman Gilfillan, South Africa
It has offices across Africa, as well as alliances with firms in Ethiopia, Nigeria and Mozambique.
89. Cliffe Dekker Hofmeyr, South Africa
With more than 350 lawyers, it works with governments, agencies and multinational companies.
90. Werksmans Attorneys, South Africa
The latest member of the Big Five, it has offices in Johannesburg, Cape Town and Stellenbosch.
91. Adams & Adams, South Africa
It specializes in commercial law and intellectual property, with branches and associate offices across the continent.
92. Anjarwalla & Khanna, Kenya
With offices in Nairobi and Mombasa, it is also the first African firm to be licensed in the UAE in Dubai.
93. Templars, Nigeria
Within Nigeria's complicated law systems, it works with clients to balance risk and reward, as well as keeping up to date with new laws.
94. Diaz Reus, Latin America
Despite being a global firm, it is renowned as one of the largest in South America, with a focus on international litigation.
95. Ropes & Gray, Latin America
With 100 attorneys in Latin America, its main focus is on anti-corruption and international law.
96. Akin Gump, Latin America
Its 40 lawyers based in Latin America primarily work on mergers and acquisitions, as well as global finance projects.
97. HFW, Middle East
Opened in 2018, its four offices in the Middle East focus on sectors such as aerospace, commodities and construction.
98. Reed Smith, Middle East
Another global firm with a significant presence in the Middle East, opening its first firm in Abu Dhabi in 1978.
99. Fenwick Elliott, Middle East
Its main focus areas are construction and energy law, forming an alliance with Saudi Arabian firm, Hammad & Al-Mehdar.
100. Al Tamimi & Co, Middle East
The biggest law firm in the Middle East, it operates in nine countries and has 17 offices.
---