How Long Does It Take to Become An LPN?
What Is A LPN?
A Licenced Practical Nurse (LPN) is a type of nurse whose primary function is to assist the Doctors and Registered Nurses (RN).
In California and Texas, they are also referred to as a Licenced Vocation Nurse (LVN).
Their duties may include:
Helping patients eat
Bathing and dressing passengers
Keeping detailed records
Helping patients/family members/careers understand procedures and post-hospital care
They are an essential asset in hospitals, doctors' offices, nursing homes and other healthcare facilities.
They can work in public facilities or on-on-one in private care facilities.
LPNs are usually the first point of contact for family members, especially when explaining a patient's care program.
Many LPNs remain in this position for their entire career. However, if your goal is to become an RN or NP, it is a great first step to developing your career and education.
The LPN role is predicted to grow 11% by 2028.
What Skills Does an LPN Need?
Empathy
Emotional Intelligence
Desire and passion for caring for others
Critical thinking
Attention to detail
Multi-tasking
Tolerance for bodily fluids and smells
What Is the Difference Between an LPN and an RN?
The duties of an LPN and an RN are very different.
An LPN is responsible for ensuring that the patients are well cared for. They have legal permission to administer some medications and can perform procedures, such as:
Taking blood pressure
Inserting catheters
Recording vital signs
RNs have more of a managerial role and can offer more support to doctors in terms of:
The medications they can administer
Procedures they can perform
Advice they can give
Second, the education is more specialized for an RN.
Routes to becoming an RN include:
Associate degree in Nursing
Bachelor of Science in Nursing
To become an LPN, you need to complete an accredited practical nursing certificate offered in community colleges.
Following the qualifications, both LPNs and RNs must pass the National Licensure Examination (NCLEX-PN).
The salaries are also different.
The average salary for an LPN is $48,820
The average salary for an RN is $73,330
What Does LPN Training Cover?
To pass your NCLEX-PN, your LPN training course needs to be accredited with the National League for Nursing Accreditation.
As your role is in the medical field, your course will cover classroom education on:
Human physiology
Anatomy
Basic biology
Chemistry
Mental health concepts
Surgical nursing
Pediatric nursing
Legal aspects of nursing
Using essential machines and monitors to measure vital signs
Ethics
Administering medications, injections and vaccinations
Coursework may include:
Maternal and child health
The role of an LPN on a healthcare team
Family nursing
Nutrition
Common diseases
Restorative and rehabilitation nursing care
Leadership principles
Cultural differences in patient care
Medical-surgical nursing
The course will also include supervised clinical hours at a nearby healthcare facility.
You will also need to prepare for your NCLEX-PN exam during this time.
How Long Does It Take to Become An LPN?
There are four different routes to becoming an LPN. With each path, you will need to add on a month for NCLEX-PN preparation if you aim to pass the first time.
1. Standard Full-Time Accredited Course
This is the most common path and involves passing:
An accredited LPN course
Passing the NCLEX-PN exam
The course duration is approximately one year and can be completed at most community colleges.
Most programs include 36-40 credit hours, which is roughly eight to 10 classes.
As this path is full-time, it is only recommended for those without other commitments, such as jobs or infants.
The program is intensive, and you will need to spend a lot of time studying.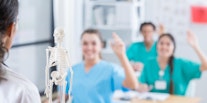 How Long Does It Take to Become An LPN?
2. Part-Time Accredited Course
This path takes approximately two years to complete.
It is the exact same program as the full-time course and is offered by most community colleges.
The only difference is that rather than attending all day Monday to Friday, you have the option of night classes or four to five classes a week.
This path is more suited for those with jobs, children or other commitments that take up a lot of their time.
3. An Accelerated Accredited Course
The accelerated route can be completed within seven months and you are still required to complete the program and pass the NCLEX-PN.
To complete the process quicker, you can study for the NCLEX-PN while still taking the course.
If you are taking the accelerated route, you will schedule your exam either:
Immediately after your graduation
One or two weeks before graduation
This path is intense, and you will be very busy attending classes, doing the homework and studying for your exam.
However, if you manage your time well, have no commitments and are willing to forgo your social life for a few months, then this path is an option.
Those students comfortable with human biology, anatomy, and chemistry will have a higher success rate than those who are not confident learners.
Before enrolling, ensure you are willing to commit to a rigorous schedule.
4. Uncertified Route
The uncertified path involves sitting the NCLEX-PN exam directly because of experience on another nursing course or military nursing experience.
The time it takes to complete depends on how long you need to study for the exam.
Whether you can take this route will depend on the state you plan to work in.
Some states allow those who started but did not complete another nursing program to take the NCLEX-PN as an LPN.
Other states take into consideration your military experience and will allow you to forgo the accredited program.
Essentially, it all depends on the experience you have and if the licensures feel it is enough to fulfill your role.
What Happens After A LPN Course?
Upon graduation from your LPN course, you will need to schedule your NCLEX-PN exam to secure your license and start applying for jobs.
In some states, there is the option to start working on a temporary work permit before sitting your exam.
It is advised that you take about a month to prepare for this exam as you will need to wait 45 days before you can take a resit.
This exam focuses on practical scenarios. The four main subject areas are:
Safe and Effective Care Environment – Accounts for 28–40% of the exam and includes subcategories Coordinated Care and Safety and Infection Control

Health Promotion and Maintenance – Accounts for 6–12%

Psychosocial Integrity – 9–15%

Physiological Integrity – Accounts for 33–57% of the exam and includes Basic Care and Comfort, Pharmacological and Parenteral Therapies, Reduction of Risk Potential and Physiological Adaptation
Most of the questions are multiple-choice, with four options to choose from. Other types of questions include:
Fill-in-the-blanks
Multiple-response
Hot spots
Drag-and-drop
Charts or exhibits
It is also important to note that while you have studied topics separately, the exam may combine different scenarios.
For example, you may get a question regarding the delivery of a baby, but the mother has diabetes.
Once you have received your license, you can begin applying for jobs.
Part of the application process includes background checks and character references.
Again, it varies between states. However, a majority do carry out finger-print based background checks.
These checks can take about a month to complete.
If you have a criminal past, your potential employee will consider the felony and the circumstances before disqualifying you.
You should also ensure that the jobs you are applying for are entry-level LPN roles.
Your license will state what credentials you have.
You also don't want to find yourself in a position that you cannot handle.
Following your licensing, you have the option to transition into different areas and become more specialized. Certifications and specializations include:
IV certification
Advanced life support certification
Patient counseling certification
Long-term and hospice care certification
Emergency Room LPN
Labor and Delivery LPN
Rehabilitative and Gerontology LPN
Oncology LPN
Pediatric LPN
As a final note, your license will need to be renewed at regular intervals, with the average being every two years.
Some states, such as Connecticut, Louisiana and Washington, require a yearly renewal.
Final Thoughts
Becoming an LPN is a much quicker route into a career in healthcare than taking a four-year degree, especially if your focus is hands-on patient care responsibility.
It is also more accessible for those:
Without college funds
Who struggle with classroom learning
Who made mistakes in their youth and are trying to build a better life for themselves.
Most LPNs qualify and begin work within two years and start their career progression after a year or two of experience.
---