6 Best Online CPA Test Prep Courses
All products and services featured are independently selected by WikiJob. When you register or purchase through links on this page, we may earn a commission.
If you have just started to explore a career as an accountant, you may have come across the term 'CPA'.
But what does the acronym mean?
It stands for Certified Public Accountant (CPA).
To become a CPA in the US, you must be licensed and pass all the relevant exams.
There are many different approved CPA education providers.
So where do you start when choosing the best CPA test prep courses?
Do you opt for self-paced CPA courses, or do you favor a more scheduled online CPA test prep program?
This guide will help you explore your learning style and signpost you to the CPA prep classes most suited to your needs.
Why Is a CPA Test Prep Course a Good Idea?
Gaining CPA certification is not just a good idea but a legal obligation if you want to become a US Certified Public Accountant.
The CPA Exam is a requirement for regulatory bodies in all 50 states. This also extends to Puerto Rico, the US Virgin Islands, the District of Columbia and the Northern Mariana Islands.
Whether online or offline, all CPA prep classes are designed to help you pass the CPA exam, maintained and assessed by the American Institute of Certified Public Accountants ACIPA.
At the very least, all licensed CPAs must pass the Uniform CPA examination. This includes four sections:
Auditing and Attestation (AUD)
Business Environment and Concepts (BEC)
Financial Accounting and Reporting (FAR)
Regulation (REG)
You can prepare for your CPA exam by taking your CPA course both offline and online.
The only thing you need to consider now is choosing the right CPA exam review courses which will allow you to study for the CPA exam in the best way.
Are CPA Prep Courses Hard?
The CPA exam is not exactly easy to pass.
Just over half (54.7%) pass it the first time around.
As a minimum, you must score at least 75 on each section.
That is why it is paramount to do your research into the best CPA test prep courses.
You can significantly improve your chances of being within the successful percentile if you find the right combination of CPA prep classes where you can take your CPA exam practice questions.
What Should You Look For in CPA Courses? (And Which CPA Review Course Has the Highest Pass Rate?)
A simple Google search for 'CPA test prep test' reveals nearly 4,000 results.
That is an extremely narrow search result as far as Google goes; however, it is still difficult to wade through the links to find the best program.
The most useful advice we can give is to first consider how you like to learn.
This is important since the best CPA test prep courses tend to build their courses around learning personas.
Some people, for example, prefer self-paced learning through prerecorded lectures.
Others prefer to join a live online CPA test prep course where they have the chance to ask questions.
There is much to consider, and so here is our list of things you will want to consider:
Comparable Content
The best CPA test prep courses replicate the CPA exam experience. Look for CPA courses that offer realistic test exams.
The more comfortable you are with answering questions in the expected format, the easier you will find the test.
Pass Rate
Take the time to consider the CPA exam pass rate of people who have the online CPA test prep.
Explore the statistics on the provider's website and read reviews to discover what other learners liked or disliked about the course.
Learning Approach
Think about previous exams you've aced and consider what it was about that course that made you pass it with ease.
Course content is one factor; however, how it is taught is another.
Be true to yourself when choosing from the best CPA test prep courses.
If you know that you will have some weeks where you power through modules, yet others where you will feel less motivated, self-paced learning could be the best option for you.
The most important thing is to think realistically about your available time. It may be that you have just graduated and now have a few months to find a job.
In which case, a more structured timed approach could work.
Much like a college class, you will have set times that you need to attend the online CPA test prep course.
Beyond this, you will also want to think about how you wish to learn. Is an audio recording or podcast on the go a great option?
Do you prefer to use an app, or would a desktop-only model work for you?
Our advice would be to watch any demos and ask the provider questions.
Cost
The financial outlay for a course should not be the first thing you think about; however, it is still an important factor. After all, the CPA exam costs are not cheap.
The examination fees alone average at $800, and with application and registration fees added you are looking at $1,500.
It is much better to pay for a CPA test prep course that does the job the first time round than going for a cheaper form of study.
If you are lucky enough to be already employed, your employer could pay for the cost as a way of upskilling.
Therefore, talk to your line manager about funding.
If you are self-funding, the average cost for each of the CPA exam sections is between $400 to $700.
You can expect to pay anywhere between $1,600 and $2,800, therefore.
As a tip, make sure you explore any additional costs for extra features, coaching and platform access.
6 Best Online CPA Test Prep Courses
When selecting the best CPA test prep courses, it is a good idea to thoroughly explore how well the course meets your expectations on content, pass rate, cost, learning style and preferred format.
Remember, when you choose your CPA review course, you need to be sure that you have weighed the pros and cons to make the right decision.
Here is our list of the top 6 online CPA test prep platforms (in no particular order) where you can take your CPA course online.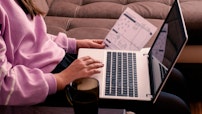 Five Best Online CPA Test Prep Courses
Specifically designed for visual learners, this video-based CPA review course has been created by CPAs to teach CPAs, following the research that suggests that 90% of the information transmitted to the brain comes from visual sources.
There are three levels of package, each at different price points with varying levels of support available. Each is mapped to the relevant AICPA Blueprints, and financing options are available over three to 12 months.
The entry-level package is called the Individual Test Bank, costing $150, and comes with the following:
Multiple choice questions with detailed explanation videos
Task-based simulations, with explanations
Unlimited practice tests
Unlimited access
The Individual Exam package costs $500, and includes the above plus:
Video lectures
Visual study guide
The Complete Package is the top-level combination, priced at $1,850 and comes with everything in the above two packages as well as:
Access to all exams
CPA exam strategy session
This course is a great option for those who feel that they learn better through detailed video information, and with a 14-day free trial, you can evaluate the content before deciding if this is for you.
In 1977, Phil Yaeger began a live, in-person class tutoring 13 students to help them pass their CPA exam. Now, the Yaeger CPA Review program has taught tens of thousands of people with the only course that is fully integrated with the AICPA Blueprint.
With Yaeger CPA, you can choose whether to study just a single part or buy the course bundle. Choose FAR, AUD, REG or BEC for $349 each, or the bundle of all four for $1,199.
The course includes:
More than 120 hours of video lectures
Online, downloadable PDF textbooks synchronised to lectures
Practice questions (multiple choice)
TestBank Quiz Generator and Exam Simulator
Personal service and customer support
24 months of access
Two calls with Phil Yaeger himself – one to discuss your study plan, and one to review your progress.
For students who want a bit extra, there is a PLUS+ plan which incorporates everything in the above plan but with unlimited access, an extra phone review with Phil Yaeger and a final wrap up review known as CRAM (at an extra cost).
The Yaeger CPA Review can be paid for in instalments as the course is partnered with Affirm.
The main differentiation point for this system is that it is a teaching course designed to help students truly understand the course materials, not learn it by rote or memorise it, this depth of knowledge is aiming for a true affinity and understanding of the content, rather than mnemonics and repetition.
Previous students loved the personal level of service, and with more than 50 years of experience, this course is full of quality, varied material.
Learning Style
As one of the best CPA test prep courses, Surgent CPA Review relies heavily on its adaptive learning platform, A.S.A.P Technology, to reduce study time.
An initial assessment of your existing knowledge reveals where you need to focus your learning needs to pass the CPA exam.
The idea is to help you pass it quickly and successfully.
Available Format
The online CPA test prep platform comprises a series of lectures, integrated text and questions designed to teach and test.
Content
Surgent CPA Review claims to have the best CPA test prep instructors in the industry who are experienced and know how to create engaging course content.
Course content spans all four sections of the CPA exam, and there is a custom study plan where pupils can choose from over 7,000 multiple choice questions, almost 400 simulations, textbooks, flashcards and practice exams.
Pass Rate
Surgent CPA Review has a live-linked app on its website that reveals the pass rates of its pupils compared to the national average. At the time of writing, these are as follows:
Auditing and Attestation (AUD) – 87% pass rate compared to 51% national average

Business Environment and Concepts (BEC) – 89% pass rate compared to 57% national average

Financial Accounting and Reporting (FAR) – 85% pass rate compared to 48% national average

Regulation (REG) – 87% pass rate compared to 52% national average
Cost
Surgent CPA Review offers three different levels of CPA prep classes, including:
Essential Pass for $1,599 – Ideal for self-directed learners, access to the A.S.A.P Technology platform, with full access to MCQs, simulations, and videos, including E-books and lecture study notes.

Premier Pass for $2,399 – As above, with the addition of printed textbooks, flashcards and one-on-one coaching with a CPA exam expert.

Ultimate Pass for $2,999 – Again, as above with Premier Pass, with the addition of an integrated test bank, audio lectures, advanced support and Excel Certificate course.
Learning Style
Becker CPA Review combines rigorous coaching systems and some of the best CPA test prep courses to help pupils pass.
Again, there it uses an advanced algorithm to create a personalized learning blueprint.
As a platform, it is suitable for almost any type of learning style, from those wanting bite-sized video lectures to those needing annotated step-by-step guidance.
Available Format
This is a great platform for those looking for structure since you can preschedule virtual LiveOnline CPA classes and individual coaching sessions.
Those opting for the Pro CPA pass can also access a final review capstone course from either desktop or the app.
Content
Expert CPA instructors have prepared the Online CPA test prep content.
The content is trusted by just under 3,000 accounting firms, alliances, universities and government agencies, making it a firm favorite with employers.
If you are applying for a new job and are already halfway through your CPA test prep course content, it is a good one to put on your resume.
Overall, it boasts 7,400 MCQs, 500 simulation-based tasks, 500 master videos, 1,350 digital flashcards and over 200 bite-sized video lectures.
Pass Rate
Becker CPA Review is not quite as bold as Surgent with its pass rates; however, it claims to have a high pass rate.
If you do not pass the first time round, you can repeat any of the CPA classes at no extra cost.
Cost
There are finance options available for all of Becker CPA Review's passes, starting from as little as $99.95 per month on finance or a one-off fee of $2,399.
You can choose from the Pro, Premium or Advantage subscription. Premium is the most expensive at $2,999.
The main difference, apart from cost, is the addition of in-person classroom teaching, additional flashcards, final review capstones and one-on-one coaching.
Learning Style
As one of the most established best CPA test prep courses, Gleim CPA Review has been in business for over 45 years.
It has created a wide range of teaching materials designed to suit all learning styles.
It is excellent for anyone struggling with getting to grips with specific sections of the CPA exam.
It is also closely aligned with over 250 universities, meaning it is a firm favorite with graduates.
Available Format
It has one of the most advanced CPA test prep formats on the market.
Pupils can choose from learning through the app on the go, on desktop, personal counsel or through physical printed textbooks.
Content
Even at the basic level, pupils can access over 1,300 task-based simulations, 10,000+ MCQs, 350 simulations and hundreds of audio lectures and physical books.
They can also receive guidance from personal counselors.
Likewise, you can decide to participate in section-specific online CPA test prep courses.
Pass Rate
Gleim CPA Review is very clear about its pass rate.
It currently stands at 91%, with its CPA course boasting a 99% satisfaction score.
Cost
Individual section CPA courses are available for $459 (or as low as $42 per month).
If you are looking at the best CPA test prep courses for all sections, you have three options:
Traditional CPA Review System ($1,599) – Success all course materials
Premium CPA Review System ($1,999) – All course materials plus digital flashcards, accounting expert assistance, access until you pass, and access to private study groups
CPA Mega Test Bank ($999) – Test yourself only with access to task-based simulations, 2,000 MCQs and physical books
Learning Style
Lambers CPA review CPA courses are "born in the classroom", meaning that they are prepared by accounting professionals who understand how to teach people to pass the CPA exam.
Materials are geared solely towards the self-paced learner, making it ideal for those with other work and life commitments.
Available Format
There is a wide range of course options for pupils to choose from, and you can either opt to prepare for individual CPA exam sections or all four parts.
Lambers' CPA review course material takes a straightforward traditional approach.
It cuts down the information to learning only the elements that you need to know.
Content
The volume of information needed to pass the CPA exam continues to grow.
That is why Lambers takes a proactive approach to course content, constantly updating it at source and in line with the AICPA.
Starting with a Pre-Test Mode, the program establishes your baseline knowledge within each ACIPA section to identify any weak areas.
From there, you advance to the Adaptive Drill mode to test yourself continuously until you no longer have any weaknesses.
Pass Rate
Despite being one of the best CPA test prep courses, Lambers CPA Review is not explicit with its pass rate, although it does offer a guarantee.
If you do not pass (fail the exam twice), you can apply for a refund, although this rarely happens.
Learning Style
Being one of the best CPA test prep courses for first-time success, UWorld states that it is the most effective CPA exam review.
The program is ideal for people learning to master accounting topics on a deeper level.
It promises not just to help you pass the CPA exam, but to enhance your knowledge in related areas.
Available Format
UWorld Roger CPA brings together the highest quality CPA test prep content with intuitive technology.
The SmartPath Predictive technology enables pupils to identify weak areas so that they can focus their studies.
The full-featured app also provides instant learning on the go.
Pupils listen to lectures and flip through digital flashcards on the train or during lunch, whenever they like.
Content
Course content is delivered by Roger Philipp, CPA, CGMA, in bite-sized micro-lectures that are 30 minutes or less.
Mr Philipp carefully breaks down the CPA courses into easy-to-understand concepts.
Unlike Lambers CPA Review, UWorld does not believe in the drill question approach.
Instead, its program is based on learning the reasoning behind each CPA exam question so that they walk away knowing why their answer is correct.
Pass Rate
This best CPA test prep course has one of the best pass rates in the industry at 91%, and has helped more than 2 million students.
Moreover, it claims to help you pass in just three months.
Cost
UWorld Roger CPA is one of the least costly best CPA test prep courses at $399 for a single section and $1,499 for its packaged student subscription.
Final Thoughts
Hopefully, this article has helped you narrow your options in selecting the best CPA test prep courses.
This CPA review comparison will help you choose the one that it most suitable for you.
When analysing each one, take a look at which has the best CPA study materials and good CPA exam study guides to help you to pass the CPA exam.
The majority of the online CPA test prep providers mentioned offer a free trial.
Therefore, if there is one that you like the sound of but are not 100% convinced it will work for your learning style, opt for a two-week trial.
Also, remember that practice makes perfect. Mark out the time in each day that you could apportion to e-learning and then choose the course that suits.
For example, if you spend significant time commuting, identify the CPA test prep course with the best on-the-go app.
---