How to Get a Data Entry Job From Home
Data entry refers to the input of alphabetical, symbolic and numerical information into a system.
Those who input data on behalf of a company are commonly referred to as data entry clerks.
They may also be called:
Electronic data processors
Typists
Word processors
Coders
Clerks
Transcribers
Traditionally, these roles were in-house. As technology has made our lives easier and taken over a lot of our administrative work, the need for in-house data entry clerks has reduced.
However, with the rise of remote working, the same technology that is taking the in-house roles away is also opening up more freelance positions.
So, for the time being, data entry jobs are stable and available for independent contractors.
Can I Earn Money From Online Data Entry?
Companies that process large amounts of data are always happy to outsource work.
Using freelancers means a company doesn't need to provide an industry-standard salary, healthcare, bonuses or incentives.
For you, as a freelancer, the advantages of at-home data entry jobs are:
You get to choose your schedule and work when it suits you – though some companies do require you to be available at certain times of the day

It is an excellent way to supplement your income

Payment is usually per entry, so the faster you type, the more money you can make

It is a low-stress role

It allows you to develop your skills
The disadvantages are:
As freelancing is unregulated, there are a large number of fake companies or scams

You need to achieve an accuracy score of 99%, so you do need to be a skilled typist

Staring a computer all day can be tiresome. You need a good set-up with decent equipment and a strong internet connection

Fees and payment are not structured – you may find the rates low and that you have to wait longer than expected for your payment
For those in countries with a high cost of living, such as America, making an income from at-home data entry is possible with a lot of time and dedication. However, data entry is more common as a supplementary income.
The average hourly wage is $13.67
Assuming you are working eight hours a day, five days a week, every week of the year, your annual income will total $28,433.60
So, while you can make money from data-entry, it is up to you to determine how much you need to maintain a decent level of living.
You also need to deduct your taxes from that amount.
Where to Find At-Home Data Entry Jobs
Finding data-entry jobs is easy. Freelance websites, job database websites and social media are all full of opportunities.
The top sites are:
However, it is important to watch out for scams.
From 2014 to 2019 there were over 100,000 reports of fraud relating to job hunting.
Before applying for a position, run the company through Better Business Bureau or Consumer Fraud Reporting.
As a rule, if a company asks for any money or fees upfront, then it is not genuine. Equally, if a company offers you a higher rate than the average, take extra precautions and investigate the company.
While many organizations value people and the work they do, the ultimate goal is to keep costs down. Most traditional companies will offer the industry average. Fees way above the average should be treated with caution.
If it seems too good to be true, it most likely is.
Flexjobs.com claim that all postings are 100% legitimate and are thoroughly investigated before going live.
Start with that site first so you can familiarize yourself with the job descriptions, fees and requirements.
What Skills Do I Need for a Data Entry Job?
As well as the abundance of jobs available, having the right skill set for data entry is easy. This role requires no special training or education.
If you are a fast typer and comfortable with computers and computer software, you are qualified for the position.
Other soft skills that are useful are:
Organized
Self-motivated
Good communicator – especially if you are communicating via email
Patient (the work is repetitive)
You will also need a working computer or laptop. Depending on the type of data entry, a microphone and headset are needed.
As you gain more confidence and experience, you can apply for advanced or specialized roles such as a legal transcriptionist or medical secretary.
If you are considering advancing to these roles, take the time to learn their standard technical terms or jargon.
If you can show on your resume you have the experience and the industry knowledge, it will help you secure the role.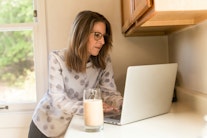 How to Get a Data Entry Job From Home
Top At-Home Data Entry Jobs
There are a considerable number of data entry agencies. Below are five of the most popular and reliable:
AccuTran Global has spent 15 years building its reputation as one of the world's most reliable and efficient independent transcriptionist companies.
Its focus industries are finance, medical and legal. A majority of the work involves transcribing focus groups, conference calls and real-time captioning.
Though the company predominantly hires transcriptionists, scoring well on the application assessment could still get you a job as it does have occasional data entry assignments.
You will be paid per word and there is a bonus scheme for challenging assignments. Payments range from $0.004 per word to $0.0055, depending on your experience.
AccuTran Global pays a 20% bonus for any calls from non-English speaking countries. If you make $200 in your first six months, you will be paid $50 for training.
Axion Data Entry Service prefers to hire long-term, so it very rarely has job openings. However, you should still register for its database as you never know when an opening may appear.
The entry requirements include:
Two to three years of data entry experience
Typing speed of 50 words per minute
No input errors
A nominal fee to remain registered
Traditionally, asking for a fee would indicate a scam. In this case, it is a means to identify those genuinely interested in working for Axion.
It pays per piece or project and expects the work to be done quickly and with 100% accuracy.
ClickWorker is a crowdsourcing site for:
Text creation
Categorization
Copy editing
Proofreading
Research
Surveys
Mystery visit
App testing
Audio recordings
Picture capturing
Video recordings
The tasks can be done at any time.
Payment is usually a dollar or less per task but could be higher depending on the project.
After registration, you need to complete an assessment assignment. Your performance determines how many jobs will be available to you.
Payment is monthly and via PayPal.
There is also an app that you can download and work from.
The Smart Crowd is part of Lion Bridge and allows you to work when and how much you want.
Payment is issued once a month and considered competitive. You are paid according to your productivity.
After registering with The Smart Crowd, it will evaluate your resume and match you to suitable projects and tasks.
While this does not give you autonomy over the roles you pick, it does save you a lot of time.
Working Solutions offers continuous data entry work, as well as ongoing education, resources and community support.
You are paid per project at two-week intervals. Payment is made via direct deposit or a mailed cheque.
On application, you need to complete a series of assessments before applying for tasks and projects.
The entire application process can take up to two weeks. Whether you are accepted or rejected, Working Solutions will contact you.
Working Solutions also offers a referral program, where you receive $200 for every successful referral you make.
Important Things to Consider
Not All Data Entry Companies Are the Same
Entry requirements, payments and industry focus differ between the companies.
Some require you to be available at certain times of the day, others for a minimum amount of hours per week.
Before applying, check the requirements and expectations. Only apply if it is a perfect match.
The application process can be time-consuming. You don't want to spend all that time only to realize you do not want to commit to their hours.
Do Not Expect a Quick Turnaround
The ease of data entry means that each company receives thousands of applications. Despite the work being low skilled and low paid, application processes still apply.
Do not expect to sign up and earn money immediately.
Reports suggest that it could be anything from two weeks to a year before you're accepted.
Always Be Aware of Scams
Research the company before applying.
Legitimate companies should not ask for upfront payments, nor should you pay for any training.
There are some exceptions, and some companies may require a fee to be on their database. This fee should be minimal.
Again, if you are not sure, research the company.
If possible, look up your recruiter on LinkedIn or Facebook to see if they are genuine. It may seem extreme, but some people pose as recruiters for big companies but are actually solo scammers.
Are you looking to do this long term as a way of saving some extra money? How much do you want to save? How much time do you want to dedicate to data entry jobs?
If you are looking to do this full time or long term, what equipment do you need to invest in?
Consider Other Roles as Well
As someone working from home, you have the advantage of working multiple job roles.
If data entry is a way of becoming a digital nomad, then consider adding other positions to your working week.
Several data entry companies also offer copywriting and editing projects.
While exploring freelance websites, look at the other job adverts to see if any roles also suit you.
Final Thoughts
At-home data entry jobs sound appealing. You can work from home under your own schedule. The work itself can be tedious, but it is easy. It doesn't require a specialized skill set.
However, it is not ideal for everyone.
If you want to embark on a lucrative freelance career, then data entry by itself is not for you. You should consider other roles alongside data entry if you aim to have a substantial income.
If you want to earn some extra money or occupy some of your time with easy work, then data entry is better suited to you.
Before making any commitments, remember that this is a low paying industry, and the work is very repetitive. There is also no guarantee when the work will come and how regular it will be.
---