Best 10 Highest Paying Blue-Collar Jobs
All products and services featured are independently selected by WikiJob. When you register or purchase through links on this page, we may earn a commission.
What Are Blue-Collar Jobs?
'Blue-Collar' refers to a section of employment that is usually associated with the working class – manual labor and often hourly-paid roles that tend to be hands-on.
The term originated in the 1920s when those who performed more manual tasks would wear darker colored clothes to hide the dirt accumulated from their work in manufacturing and mining.
This is a stark contrast to white-collar jobs that were typically more office-based roles with no manual labor, where salaries tended to be higher (so staff could wear white shirts and afford to get them laundered regularly).
Historically, blue-collar workers did not require much in the way of education or expertise, usually just a high school diploma or GED equivalent.
However, there is a growing trend of hands-on roles requiring formally educated, skilled and highly paid employees who have undertaken specialized training whether on-the-job or through apprenticeships and/or trade school.
The Bureau of Labor Statistics defines blue-collar work as including:
'precision production, craft, and repair occupations; machine operators and inspectors; transportation and moving occupations; handlers, equipment cleaners, helpers, and laborers; and service occupations'.
There are other color denominations for job areas, including:
Pink collar – Traditional roles for women, including teaching, wait staff, receptionists – all service-based jobs.

Gold collar – Highest salaried workers that have extensive education, like lawyers and doctors.

Green collar – Usually those working in conservation and sustainability.

Grey collar – As trades become more skilled and start to involve more white-collar work, grey collar roles are those where the lines become blurred; like engineers, who need formal education but perform hands-on manual labor.
Demand for skilled blue-collar workers continues to grow both in the US and UK, and salaries are rising, making the trades an often overlooked but lucrative career opportunity that does not need a college or university degree.
Blue-Collar Industries
With the Bureau of Labor Statistics (BLS) definition in mind, the following industries have a high number of blue-collar roles:
Construction
Manufacturing
Catering
Retail
Warehousing
Custodial
Sanitation
Firefighting
Police
Healthcare
Aeronautics
Energy
Installation
How Much Can You Earn in a Blue-Collar Job?
While the salaries are growing in blue-collar industries, there is still a diverse range depending on the industry and experience.
For top earners, salaries can be six figures.
However, it is worth remembering that these are usually for line managers or very experienced workers rather than entry-level positions.
Blue-collar roles do not tend to need any more formal education than a high school diploma or equivalent.
However, the highest-paid roles will involve relevant experience, and in most cases, some form of formal training like a trade school or an apprenticeship as well as any special licenses or certification.
The average salary for all blue collar job roles in the US is $56,310 according to the BLS, and the top blue-collar jobs are above that.
Are Blue-Collar Jobs in Demand?
There is an ongoing expansion in blue-collar roles demonstrated by the increasing salaries on offer for traditional roles that did not need any formal education or a college degree.
This is because there are more skilled roles available that fall under the definition of blue-collar work.
It is also because the lines between blue-collar and white-collar work are becoming more blurred.
Traditionally, there has been a stigma attached to blue-collar work; however, as demand for skilled trades increases, this is less prevalent.
The myth that success comes from a college degree is being dismantled because of the innovation and skill of the working class.
This is demonstrated best in the increasing level of salary offered and the blue-collar employees who are earning six-figure salaries.
Top 10 Highest Paying Blue Collar Jobs
1. Construction Manager
Average salary: $107,260/£45,063
A construction manager has a lot of oversight on various aspects of the construction and maintenance of structures, facilities and systems.
They are responsible for planning, directing and coordinating all the activities and relevant workers, as well as organization, scheduling and budgeting, to ensure that the project is implemented on time and within budget.
Construction managers typically have a lot of experience in various construction industries; therefore, the essential prerequisite is that they have completed relevant training as needed to become experts in their fields.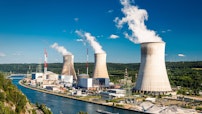 Top 10 Highest Paying Blue-Collar Jobs
2. Nuclear Power Reactor Operator
Average salary: $104,040/£73,458
A nuclear power reactor operator is responsible for operating and controlling nuclear reactors, recording data and implementing emergency procedures when needed.
Although there are a limited number of these positions available, they carry a high level of responsibility and a salary that reflects that.
Although no formal college education is necessary, there is specific on-the-job learning and experience needed to perform this role.
Operators must be licensed by the NRC, pass a medical exam and a plant-operating exam.
3. Power Distributors and Dispatchers
Average salary: $95,100/£34,590
Managing the regulation and distribution of electricity and steam power through transformers and transmission lines, a power distributor and dispatcher is responsible for coordinating and responding to emergencies and failures to maintain power.
Workers need to be calm and collected in an emergency and skilled at problem-solving.
In most cases, a high school diploma or equivalent is enough, to begin with.
However, some additional qualifications and certifications are needed, such as an apprenticeship or vocational training and certification from NERC (for US workers).
4. Criminal Investigators
Average salary: $86,940/£36,884
Working as part of the police service, criminal investigators are also known as detectives. They work to solve and prevent crimes by conducting investigations related to suspected law violations.
These include conducting interviews, assessing crime scenes and producing reports, as well as arresting suspects.
Entry into the police service requires a high school diploma or equivalent, with relevant training and experience to become a detective.
5. Elevator and Escalator Installer and Repairer
Average salary: $86,200/£38,000
A surprisingly well-paid industry looking after electric or hydraulic elevators, escalators and dumbwaiters need workers who can assemble, install, repair and maintain in a safe and fast way.
Almost all buildings have an elevator and many have escalators, whether they are for passengers or freight.
Starting from a high school diploma or equivalent, it is normal that this role comes through an apprenticeship which usually takes about four years. In some places, elevator installers need to be licensed too.
6. Oil Rig Workers
Average salary: $75,511/£75,000
Drilling for oil on an oil rig is a job that often does not require a formal education past a high school diploma or equivalent.
However, it does need commitment, as shifts are usually on a two-weeks-on, two-weeks-off rota due to the offshore positioning of oil rigs.
Work on the rigs can include maintenance, drilling, scaffolding and programming.
Oil rig workers must be over 18 and possess at least a high school diploma or equivalent, plus completion of offshore survival training. In most cases, an apprenticeship is desirable.
7. Electrical Power Installers and Repairers
Average salary: $74,410/£35,294
This is a hands-on role that involves working with potentially dangerous electrical installations and working at height.
You will be installing and repairing cables and wires in electrical power distribution systems, which often involves erecting poles too.
Whether installing or repairing, you will need a good head for heights as you will need to climb (or use a cherry picker) to get to transformers.
A high school diploma or equivalent might be enough to get started, but some post-secondary certification will give an advantage.
Apprenticeships and vocational training are needed, as is certification from the relevant regulatory body.
8. Gas Plant Operatives
Average salary: $73,290/£36,304
Similar to electrical plant operatives, a gas plant operative is responsible for distributing and processing gas for utility companies.
This means controlling compressors so that specified pressures are maintained.
This can be a position with a high level of responsibility because gas is a dangerous substance, and mistakes could cause damage and death; therefore, the pay is reflective of the knowledge, skills and responsibility.
Qualifications needed include a high school diploma or GED equivalent, apprenticeship or vocational course. Much of the training needed will be provided while working, however.
9. Police Officer
Average salary: $70,000/£29,970
The role of a police officer can be quite varied, and often the more specialized an officer is (and how far they advance through the ranks) will affect the salary prospects.
Police officers deal with all aspects of the law to protect life and property, including patrolling, dealing with traffic violations and making arrests.
As with the detective role, no formal education is required for becoming a police officer; however, there is vocational on-the-job training necessary.
10. Aircraft Mechanics
Average salary: $69,040/£36,247
An aircraft mechanic works with plane and helicopter engines and assemblies to diagnose problems, make any necessary adjustments or repairs and even overhaul when needed.
Aircraft mechanics work in a similar way to car mechanics, just in a different industry.
Therefore, the basic qualifications are the same, with different experience and training needed.
To work safely with aircraft, a high school diploma is a good start.
However, those who want to be aircraft mechanics must graduate from an FAA-approved school for maintenance or have considerable experience, which you can gain through an apprenticeship.
Final Thoughts
There is a great upsurge in skilled trades that pay well; however, it is worth remembering that the top salaries come from roles with a high level of experience, seniority and responsibility, not to mention danger.
Although there are no formal education requirements for entry into these career paths, attaining qualifications while working is important to reach the top salary bracket, whether that is through an apprenticeship or from a trade school.
Each industry (and each employer) will have specific entry criteria for employment; therefore, research before making the decision.
Blue-collar jobs are on the rise, and the salaries for top jobs are rising too. This makes them more in demand than white-collar jobs in many industries.
---