Top 10 High-Paying Jobs Without a Degree
Whilst getting a degree can put you ahead in many industries and jobs, and it is even a necessity for many roles, there are high-paying jobs out there that do not require a degree.
You may think your dream job is unattainable without a three or four-year degree program, but in the working world today, there is an increasing emphasis on skills and experience.
Can You Get a High-Paying Job Without a Degree?
You can certainly get a good job without a degree, but expect to start at the bottom of the career ladder and work your way up.
Many people without a degree have started in junior or apprentice roles and progressed this way.
New-Collar Jobs
New-collar jobs are roles that include digital technology knowledge.
Getting a foothold in this industry could involve anything from teaching yourself the ins and outs of a specific tool, program or website, to starting out as a freelancer.
Lots of newer organizations admire entrepreneurship in a potential employee, so setting up your own business is a great way to gain experience.
There may be opportunities in new industries evolving, or in traditional industries looking to make their products and services more up-to-date.
You could learn a wide range of technical skills to appeal to more generic roles or specialize in one particular skill to target more specific jobs.
Becoming an expert in a particular tool, program or website could make you indispensable to some companies. They might be struggling with that piece of technology or planning on implementing it. You could be the exact member of staff they require.
Internships and Apprenticeships
Internships and apprenticeships can be great ways to get your foot in the door.
Internships are work experience placements for a specified time, anything from two weeks to a year or two.
Be aware that some internships are unpaid or very low paid so be sure that it is a career you want to undertake before applying.
An apprenticeship mixes classroom learning and qualification with on-the-job training.
Many apprenticeships offer a day-release system, where you would work for four days a week and attend a college for a day of teaching.
Whilst the wage tends to be lower, you will receive invaluable training and gain a qualification.
Many employers with apprentices choose to employ them on completion of their course, so the apprentice gets a pay rise.
Entry-Level Jobs
Entry-level jobs require little to no experience.
They tend to be minimum wage but many companies have fast-track programs in place to help you move up quickly.
Loyalty, perseverance and a willingness to expand on your skill set and knowledge are highly valued traits in most organizations, so you can improve your salary frequently by taking on new tasks and qualifications.
Some companies have in-house training academies specifically tailored to their organization, allowing entry-level employees to grow alongside the company and earn regular promotions.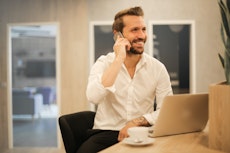 Top 10 High-Paying Jobs Without a Degree
What Are the Top 10 High-Paying Jobs That Don't Need a Degree?
It is worth noting that the jobs mentioned below may not start with the average salary. Most will require you to undergo some training or qualifications and work your way up through the company.
The more skills you learn, the more likely you are to be put up for promotion.
However, this does take time so patience is a key skill to acquire when building a career.
All salaries are taken from Salary.com.
1. Project Manager
Average salary: $80,000 (varies widely across industries)
Of all the roles on the list, this is probably the most varied as to what the job entails on a day-to-day basis. Anything from planning and budgeting to overseeing could be on your daily task list as a project manager.
The main responsibility here is to ensure each project gets completed on time and on budget, so organizational skills are key in this role.
Project management roles span lots of industries so you could choose one that aligns with your passions or hobbies or one that allows you to work across several industry projects.
The average salary is around $80,000 but this does depend on the industry and location of the role.
The more high profile the projects are, the higher this figure will be.
IT project managers can expect a salary of up to $130,000 as their projects tend to require more expertise.
2. Website Developer
Average salary: $64,000 (freelancers could earn more as they increase their client base)
If you have a knack for building and designing websites, a website developer role could be for you.
You might already be doing this in your spare time, so why not get paid for it?
Joining a marketing agency could mean you work on a range of websites for different companies, for a set monthly salary.
Alternatively, you might join a company and be its sole website developer, having the main responsibility for its website.
Setting up your own business providing clients with your expertise could mean you make even more money.
However, you would need to find your own clients and be in charge of your own tax and insurance.
Many developers start off working for a company, honing their technical skills and soft skills, before going it alone.
3. Mechanic
Average salary: $45,000 (can increase if you specialize or start your own business)
The best route to becoming a mechanic is through an apprenticeship, which will usually take two to three years to complete.
This will be a mixture of on-the-job training and college classes, usually on a day-release format.
Whilst an apprenticeship wage will not be a full salary, it does allow you to learn a trade and have your qualifications funded.
Not only will you learn the practical skills for the job, but you will also gain technical knowledge of the industry and how to use the garage's computer system.
On completion of the apprenticeship, you could work in a range of different careers involving cars or engineering, all with the potential of a high salary.
4. Dental Hygienist
Average salary: $75,000
Surprisingly, becoming a dental hygienist does not require a degree.
You would need to complete a General Dentist Council-approved qualification first before getting a job in the industry. However, a two-year foundation degree or higher-education diploma are still alternative routes to a university degree, and much cheaper.
Both a foundation degree and a diploma require a great deal of study, but it is possible to get student loans to help to cover the costs.
On completion of your course, you would be a qualified dental hygienist.
This job is just a step below a fully qualified dentist role, meaning you will be able to perform many procedures. You may choose to work in the dental unit at a hospital or join a practice.
5. Online Marketing Manager
Average salary: $59,000
As a marketing manager, you will oversee the marketing department as a whole and work on general campaigns. You will usually be responsible for a team of marketing assistants, sometimes freelancers.
Marketing managers tend to work on big picture projects, often project managing, and are frequently in charge of budgeting and organizing.
Starting out in a marketing role can be exciting because you see your work come to life as the department works together to promote a new product or service, or builds a website.
Digital skills are important here so candidates will need to brush up on their online skills, such as social media, SEO and advertising. You can gain a marketing qualification via an online course or night classes, or a marketing diploma at a local college.
Experience is often favored here so try setting up your own websites or work for friends and family who own businesses.
6. Photographer
Average salary: $66,000 (can take a while to reach this if you're freelance)
Sometimes hobbies can turn into a job, and photography is a great hobby to turn into a career.
It can be tricky to get started, and building up a portfolio is the best way to begin. Set up a website or social media page and present your work to the world.
You might have to start for free or for a small amount but the more experience you get, the better your skills will become.
Volunteer to photograph school events, get your name out there to everyone you know. If someone needs a free or cheap photographer in exchange for being able to expand your portfolio, do it.
It could also be worth seeing if you can shadow or assist a local photographer to gain experience and find out if the job is for you.
The more events and photoshoots you carry out, the faster you will work out which type of photography is the most suitable career path for you. It could be weddings, live events, studio, outdoors, portraits, landscapes, products or something else; the list really is endless.
Doing a hobby for a job is incredibly satisfying and your passion for the job will be reflected in your work, leading to more bookings.
Many photographers specialize but may offer additional services for a fee, such as photo editing.
You will also need skills including organization and basic online skills to set yourself up, but a photography course, whether it is a Level 3 qualification, a short course or night classes, will help you to hone these basic skills.
7. Sales Manager
Average salary: $118,000
A common starting point is to become a member of a company sales team before working your way up to the position of sales manager. However, in a smaller business, you could be in charge of the sales department.
You could be working with a start-up, working from the ground up to make the business a success. This would be a more hands-on approach to selling as you would influence decisions from the very beginning.
If you would prefer to join an existing team, starting as a sales assistant or representative is a lot of work but can be very rewarding.
Although a starter salary is basic, many companies offer bonuses and/or commission aligned with profits.
It can be very rewarding to see the company grow, knowing you were a part of making that happen.
8. Executive Assistant
Average salary: $70,000 (potentially more as a freelancer)
No longer is an executive assistant seen as someone who merely books travel and manages a diary. They have evolved into often being the right-hand person of executives, which is a huge responsibility.
Many executive assistants offer general personal assistant help, such as scheduling, taking minutes in meetings and corresponding on behalf of their boss.
Some choose to specialize, for example in human resources, travel or communications.
This is a job for a highly organized person, as you may even be responsible for several executives in a smaller firm.
Another route would be to set up as a virtual assistant (VA). It is exactly the same role but done remotely.
It is often easier for an executive to hire a VA for a few hours a week if they do not need an assistant full-time. Therefore, building your client base is a necessity.
Many VAs start off working as executive assistants within a company before going down the self-employed route.
9. Real Estate Agent
Average salary: $74,000 (depending on location)
Working as a real estate agent is a rewarding job as you often help people buy their first and/or dream home.
You can be office-based whilst organizing properties or out-and-about showing homes to potential buyers.
Many agents start by working out of an real estate office, where they could be a general administrator or office assistant before working their way up to becoming an agent.
It is common for people to start as an apprentice in administration before completing their course and embarking on their real estate qualifications.
10. Firefighter
Average salary: $48,000 (more with promotions)
Whilst an incredibly risky job, becoming a firefighter is one of the most exciting jobs there is. When not fighting fires, there is a real camaraderie within the station and crew.
Many firefighters have another job that complements their firefighting role, such as construction, fitness coaching or manual trades.
Working your way up through the ranks requires commitment, leadership and communication skills, as well as a certain level of physical ability.
Before getting a starter role, you will have to pass physical exams, undergo an intense training program and pass tests such as the situational judgment test.
Development happens regularly within the department as you acquire new skills.
How to Get Started Without a Degree
Start a running list of your current skills – Think of any work experience (paid or unpaid), volunteering and hobbies you have or have had previously.

Take online courses in industry areas – There are many cheap or even free courses that can add qualifications or skills to your resume. This shows a potential employer you are willing to go above and beyond to be a success in the industry and the specific job.

Do lots of independent research – In education, many career advisers do not discuss non-degree options with students. This means students will need to do their own research. Find people in the industry online and see if they would be interested in an informal chat, see if local companies can offer you work experience, and visit as many websites as you can that are related to your industry.

Be knowledgeable – You need to be up-to-date on any industry news, which again will show a willingness to learn. Depending on the industry, this could be looking up technological advances, current affairs or government legislation changes.

Be prepared to undergo extra training – Without a degree, an employer may require that you take part in additional training to ensure you are a good fit for the role. This could be anything from adult literacy and numeracy qualifications, certificates relating to your industry or role, physical fitness tests or even industry-specific short-form qualifications, such as for digital skills.

Consider an apprenticeship or work experience placement – An apprenticeship is a great way to get your foot in the door. Many employers will pay for your training and exams (for example, in the fields of accountancy or plumbing), whilst you also receive on-the-job training. If you are intrigued by a change of career, why not see if you can get some work experience in your potential job?
Final Thoughts
Getting a job without a degree can be difficult, but it is not impossible.
Most jobs will require you to undergo some form of training course or qualification as well as on-the-job training. However, being paid whilst learning the ropes is a great way to gain experience.
Whether you are just leaving school, have been made redundant or simply want to try a new career path, having a degree does not guarantee you a job.
Many employers admire hard work, dedication and other qualities over qualifications.
---