10 Best Festival Jobs
Each year, millions of people worldwide attend festivals to see their favourite artists and musicians perform.
The most popular are music festivals, with Coachella and Glastonbury drawing the biggest crowds.
However, throughout the year, you can also attend:
Yoga, fitness and wellness festivals
Arts festivals: literature, comedy and art
Food and drink festivals
Cultural festivals; for example, New Orleans Jazz and Heritage Festival
While you are enjoying the sights and sounds of the festival, there are an array of people who have worked tirelessly to create an incredible experience.
This article will look at what type of people may benefit from having a job at a festival and what types of jobs are available.
What Is a Festival Job?
The main job categories for a festival are:
Food and beverage
Event Planning and promotion
Festival support and management
Retail
Talent liaison
Festivals are usually organized by big companies such as C3 Presents or by the landowners themselves, such as Glastonbury Festivals Ltd.
They may also call in external hospitality and management companies, depending on the size and nature of the festival.
Some of the roles are paid. However, the number of people required to successfully run a festival means that many are volunteers.
Why Do People Want a Festival Job?
Depending on your career goals or interests, working at a festival has many advantages, such as:
You Get to Attend for Free
Working at a festival means you have to be there, so you essentially get to attend without buying a ticket.
You may have to work when your favourite artist is on; however, there could be periods where you can stand in the crowd and enjoy the entertainment.
Depending on your role, you might also get backstage or VIP privileges.
Some festivals have separate campsites for the volunteers and staff with better facilities. However, that depends on the festival and your employer.
It Is a Fun Working Environment
You are outside in the sunshine (or rain if you are at Glastonbury) and everyone is there to have a good time.
While the paid event organizers may be a little bit stressed, the rest of the volunteers are also there to enjoy themselves.
The Work Is Seasonal
As festivals are frequently held outside, the majority happen in the spring or summer when the weather is expected to be warm and dry.
Unless you are working as, or alongside, an event organizer you will not be needed until the day of the festival.
Working seasonally is great for those:
Who want to dedicate term time to their studies and gain experience in the holidays
Who need to live in a different part of the country to get the roles they want
Who want to try out as many different job roles as possible
As festivals are usually only three or four days, you can work them alongside another job.
The Opportunity to Meet People
You may make lots of new friends who have the same interest as you, but there is also the potential to network.
At every type of festival, there is the scope to meet people from the industry or profession you want to work.
For those interested in marketing, PR or event planning, you could have the chance to meet the organizers.
Display your work ethic and skills while volunteering, ask for their contact details and connect with them on LinkedIn.
After the festival, send them a message or email thanking them for the opportunity and that you are available for work/interning/experience.
You should also attach a resume and cover letter for their reference.
It Can Benefit Your Career Plan
Working in a position related to your career choice offers invaluable work experience that you can put on your resume.
It may also result in a paid role and permanent position in the future if you network right and show your value as an employee.
Most of the best entertainment and event planning positions require a substantial amount of work experience.
If large-scale events are the type of events you want to organize, then getting involved with festivals is the best way to learn.
Top 10 Festival Jobs
The following 10 jobs are not the only jobs available at festivals, but they are the most common.
Entry routes vary between countries, organizers and festival types.
Before applying for any position, you should always research the event, event planner, job description and relevant companies to ensure it is the right one for you.
Food and Beverages
1. Bartender
A majority of countries have a minimum drinking age of 18; however, for some, it is 21, like the US.
Before applying for any positions where you will be serving alcohol, check the minimum requirements for age limits.
Most festivals run their bars; therefore, it is best to contact the festival organizers directly. They will have a recruitment page on the organizer and festival websites.
There are sometimes also beverage companies that tour festivals. These are usually more specialized, such as a specific brand or cocktail.
The festival website will list all the vendors so you can consider which companies you need to approach.
As alcohol is involved, there are both paid and voluntary roles.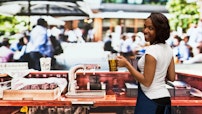 10 Best Festival Jobs

As a bartender you:
Will work set shifts so you know when you can enjoy the festival
Receive free drinks
Work in a busy environment
2. Food Vendor
The growing popularity of food trucks has meant that festival food has come a long way.
For those with a food truck, working at a festival is a great way to earn money and increase brand awareness, especially if your food truck is appropriate for Instagram.
Food trucks working at Coachella are believed to make $50,000 net over the three or four days.
Everybody has to eat, and campsites are often too far away from the stages for attendees to go back for lunch and snacks.
Festival websites usually open vendor registration three to six months before the festival.
Depending on the organizer, there may be an entry fee, and they may want to take a portion of your income from that weekend.
Retail
3. Stall Vendor
Similar to a food vendor, festivals have areas for retail outlets.
If you own a boutique or brand and your target demographic is festival-goers, then securing a spot can be very lucrative.
Again, there may be an entry fee, and the organizer may want a portion of your sales. However, the interest and exposure you generate over that event may lead to more sales in the future.
4. Hair and Beauty Vendor
Fashion has always been part of festival life, from the very British Hunter wellies and denim shorts to the boho vibes of Coachella and the creative looks of Burning Man.
As people have become more conscious about how they look in photos, beauty at festivals has grown in popularity.
Buses or trucks offering braiding, henna tattoos, glitter, false lashes or express manicures make the equivalent amount of money as the food trucks.
Before submitting any applications, research the festival to make sure their attendees are your target market.
You should also check entry fees and requirements and if the festival organizer takes a percentage of your earnings.
Management
5. Site Volunteer
Site volunteers range from ticket and wristband allocation to offering advice and directions or collecting litter.
These roles are not paid; however, you will have lots of downtime to enjoy the festival.
Charities also use festivals to raise awareness about their causes, and they do hire a lot of volunteers.
Check with a charity you support to see if they are touring with any festivals.
Oxfam and Water Aid are present in the UK at every festival, offering help and support while raising awareness.
6. Social Media Manager
Being a social media manager for a festival sounds like a dream job for some: the topic is fun, there are limitless content ideas, and there are plenty of followers and influencers to work and engage with.
While the job does come with targets and expectations, you do get to attend and enjoy the festival while creating content.
You may also get the employee benefits of a separate campsite with better facilities, and food and drink.
The salary for a social media manager ranges from 25,000to55,000 in the US and £25,000 to £45,000 in the UK.
To be a social media manager for a festival, you will need previous PR or social media experience either in-house or at an agency.
Festival communications and promotion roles are usually in-house, so this role is with the festival organizer.
A festival sponsor (for example, AT&T or Virgin) may also send a social media manager to the event for their own coverage.
7. First Aider
To volunteer as a first aider, you must be qualified and licensed.
These roles are voluntary and do not usually come with any training. Your role will include:
Caring and helping those who are drunk or incapacitated
Providing care for sunburns and sunstroke
Attending to wounds
Dealing with victims of abuse
Applying life-saving measures when needed
The UK has a non-profit organization called TTK Welfare that provides festivals with welfare staff. These roles are for emotional support rather than medical advice, so applicants do not need to be medically trained, just empathetic and a good listener.
Being a first aider or welfare provider at a festival, in particular music festivals, is not an easy job. You could have to tend to victims of abuse, drug overdoses, lost children and attendees who are overwhelmed.
All the positions are voluntary, so your priority for applying has to be that you genuinely care and want to help, not that you want to be at the festival.
Music
8. Musician
While the line-up consists of chart-topping artists, support acts are needed as warm-up performances and occupy the various stages around the field.
Watch the social media pages and websites of the festival, its organizer and its sponsors for any announcements regarding unsigned or new musicians.
9. Audio/Visual Technician
Festivals employ technicians to create incredible stages and set for the performers. They are responsible for the lights, sound and displays.
Some festivals may hire freelancers, while others may use a sound company or an agency.
The role also varies in responsibilities and pay.
Technicians responsible for designing the stage and ensuring everything runs smoothly during a performance earn on average $58,257 per year.
Lower-level technicians that provide support to the lead technician are usually volunteers wanting working experience as part of their career development.
10. Artist Liaison
Artist liaison roles are also usually voluntary unless you are part of the artist's entourage.
Depending on your experience, you may be an accreditor who provides various VIP passes to the artists and their entourage, or you may be responsible for their riders and ensuring their requests are met.
You can apply for these positions with the festival organizers.
Final Thoughts
There are many festival jobs that all have different levels of entry.
The paid positions require experience, so starting as a volunteer does have its advantages.
Festivals are also a fun way to gain experience as you are not in an office environment.
Just remember that if you have volunteered, you are there to do that role. People are depending on you to fulfil a job description.
If you are there as part of your career plan, this is the perfect opportunity to show your skills, to network and to prove that you are there to learn.
---