British Airways Recruitment Process
What Is British Airways?
British Airways (BA) is the flag-carrying airline for the UK and is the second largest in terms of passenger numbers and revenue (behind EasyJet).
Known for its immaculately presented staff, amazing customer experience and a wide network of flight paths around the world, British Airways is the go-to choice of airline for passengers who want a journey that is comfortable, stylish and charming.
Composed of several smaller airlines that came together in 1974, British Airways celebrated its centenary in 2001. In 2011, it merged with Iberia to create the International Airways Group, which is the third largest in the world in terms of annual revenue.
British Airways is also a founding member of Oneworld, alongside American Airlines, Cathay Pacific and Qantas.
For those who want to get involved in the aviation industry as cabin crew, pilots or ground staff, British Airways has long been at the top of the list of ideal jobs for many reasons.
British Airways recruits what it describes as the 'best of British', looking for people who can embrace the timeless values, style and charm that Britain stands for around the world.
The roles are fast-paced, covering a business that operates 24 hours a day, 365 days a year – with a competitive salary, flexible benefits, discounted travel and the prestige that comes with working at British Airways, too.
Careers at British Airways are varied – the obvious pilot and cabin crew roles have extensive 'on-the-ground' support from roles like:
Airport Customer Services
Global Engagement Centres
Engineering
Ground Operations and Cargo
Corporate and Support Functions
Experienced pilots and aspiring cabin crew who want to work for British Airways will benefit from the £6.5 billion investment that is being made over the next five years into new aircraft, refurbished cabins for long-haul flights and the aim to trial fully autonomous robots for certain on-board tasks.
Cabin Crew
What Are the Criteria for Cabin Crew at British Airways?
To become a cabin crew member at BA, you need to live close to either Heathrow, Gatwick or London City, and hold a valid passport and unrestricted travel around the world. You need to have the right to work in the UK and the ability to get a US visa.
Other prerequisites for cabin crew include:
Height between 5'2" and 6'1" – this is for comfortable seating and safety
Weight in proportion to height
Able to swim 50m
Have a functional reach of at least 6'7
Fluent in spoken and written English
At least three GCSEs at grade C or above (not including Critical Thinking or General Studies)
No visible tattoos or piercings – one pair of small earrings are allowed, but nothing else that can be seen when wearing the British Airways uniform.
British Airways cabin crew are seen as ambassadors for the brand, which means that the uniform standards require staff to be well-groomed, with a conventional and professional finish.
Salary, Perks and Benefits
To start as a member of the mixed cabin crew at Heathrow, the average salary is between £23,000 and £28,000. This is made up of a base salary, plus hourly payments when you are in the air, bonuses and commissions on retail sales in-flight.
The flexible benefits package includes a defined-contribution pension, cycle-to-work scheme, childcare vouchers, critical illness cover and discounts in the on-site restaurants and gym at the Waterside headquarters.
From the first day, you can qualify for unlimited discounted tickets for flights that can be used by yourself or by friends and family.
After a qualifying period, you can also get access to unlimited standby and premium standby fares. A cargo concession allows you to take advantage of discounted freight, too.
Application Process
Application Form
The first stage of the application process is a simple application form, which accompanies your CV.
This is quite straightforward and simple to complete – just some basic contact information and a few other questions.
Online Assessment
You will also be asked to complete an online assessment, which ensures that you have the right functional maths and English skills that are needed to be successful.
These are basic numerical and verbal reasoning-type questions that are looking for the way you use information presented in text and data in tables and charts to make logical conclusions.
Assessment Centre
Every applicant receives detailed feedback on their performance at this stage, and if you are successful, you will be invited to an assessment centre.
This is a two-part experience, starting with some real-life exercises to complete, like role play and group exercises, as well as some physical tests for height and reach.
Interview
If you perform well at the assessment centre, you will be invited to an interview with two British Airways colleagues, and this is usually the last stage before you receive an offer.
Final Checks
However, there is one more stage in the application process – and that is a thorough vetting to ensure that you have no financial issues, no criminal history and that you do not have any medical conditions that would make you unsuitable as cabin crew. These checks also include a security interview.
Once you have received your offer and the pre-employment checks have come back, all cabin crew start New Entrant Training that includes getting their Cabin Crew Attestation.
What Type of Person Works as Cabin Crew?
British Airways is looking for cabin crew who are warm, friendly and welcoming, able to go the extra mile for customer satisfaction, and ready to work as part of a team where everyone takes a turn to make the tea.
Cabin crew members need to intuitively know how to ensure the best possible customer journey and experience, presenting themselves well and meeting uniform requirements to be an ambassador for the British Airways brand and respect the honour that comes with being a flag-carrier airline.
Corporate and Graduate
What Are the Criteria for Corporate and Support Functions at British Airways?
There are many roles available on the ground for Corporate and Graduate careers, including:
Analysts
Digital
Operations
Finance and strategy
Brands and customer
Communications
HR and legal
Sales
Safety and security
The specific prerequisites will depend on the role that you are applying for, of course.
British Airways is looking for the best-qualified staff with relevant experience, who have the right personality and work behaviour traits to be successful.
Salary, Perks and Benefits
As a member of the Corporate and Support Function team, the salaries offered are market competitive and commensurate with the role you are performing.
Perks and benefits are much the same as for Cabin Crew, including access to the extensive 'street' that has restaurants, a hairdresser and a beauty salon, as well as a Waitrose in the huge Waterside headquarters building.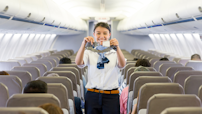 British Airways Recruitment Process: Your Path to Take Off
Application Process
As with cabin crew, the application process starts with an application form.
As well as needing a CV to upload, there will be role-specific questions that need to be answered.
You will be asked to complete some psychometric tests online. The tests you will take will depend on what job function you are applying for, but you can expect to take numerical and verbal reasoning tests, personality assessments and a situational judgement test .
There might be skills tests too, like typing or programming.
If you have performed well with the tests, you will be invited to an interview where you can expect to answer specialist, behavioural and technical questions – depending on the role, there may be more than one round.
Following the offer, there will be similar background checks as for cabin crew.
Graduates
There is a slightly different process for Graduate placements, where you can apply for one of the following programmes:
Data Analytics
Finance
Logistics
Future Leaders
Graduate placements have starting salaries ranging from £28,500 to £33,000 depending on programme, and access to similar perks and benefits as other staff members.
The first stage of the application includes some eligibility questions as part of the application form with a CV.
Then, there are some psychometric tests, including a situational judgement assessment and a cultural test, as well as some ability tests, depending on the programme you have applied for – these are likely to include verbal reasoning and/or inductive reasoning.
The next step is a video assessment, which involves recording answers to some questions in video format. This is not a live interview, and your answers will be assessed later by the recruitment team.
If you are successful here, you will be invited to an assessment centre, where you will take part in group exercises, role plays, a written exercise and an interview.
Once you have completed this, the recruitment team will be in touch with an offer or with feedback if you didn't make it through.
What Type of Person Works in Corporate?
British Airways is all about the 'best of British' – and that means that it is looking for innovative team players, who take a brave approach to a challenge and are inspirational to others.
Applicants should be highly qualified and experienced, whether they are strategists or designers, and at the top of their game to best represent the brand.
Pilot
What Are the Criteria for Experienced Pilots at British Airways?
To be considered for the Direct Entry Pilot Scheme, experienced pilots need to meet the following criteria:
Current EASA Flight Crew Licence
EASA Class 1 flight crew medical
Height between 5'2 and 6'1, with weight in proportion to height
A good level of personal fitness
ICAO Level 6 proficiency in English language
There are other entry points for ex-military and cadet pilots.
Salary, Perks and Benefits
Pilots at British Airways enjoy a competitive salary with additional flying pay and other perks, including:
Industry-leading roster bidding system
Non-contributory Loss of Licence scheme
Up to 42 days' holiday
Excellent facilities at Terminal 5 in Heathrow
Application Process
For experienced pilots, the application process is lengthy and rigorous, with several stages.
First, your application form will be individually screened by the Pilot Recruitment Team.
If you meet the basic criteria, you will be invited to the first part of a two-day selection event, which does not normally run on consecutive days.
On day one, you will complete a right to work check, and take some psychometric tests including verbal and numerical reasoning. There will also be a computer-based capacity assessment.
If you get satisfactory results from the first day, you will be invited back for the second day, where you will complete similar tasks to an assessment centre such as group exercises and will also have an interview with a British Airways pilot and a member of the HR team.
Following this, there will be a simulator assessment so you can demonstrate your skills in flying and dealing with problems in-flight, which is led by a serving pilot.
If successful in these, you will be placed in a hold pool for a maximum of 12 months and allocated a First Officers position when a suitable vacancy becomes available.
All pilots are subject to background checks, including financial and criminal, as well as regular full medical assessments.
What Type of Person Works as an Experienced Pilot?
British Airways looks for experienced pilots who already fly with the highest professional and safety standards, but is looking for a new challenge that involves flying one of the most diverse fleets in the world, including Airbus A350, A320neos, B777 and B787.
Pilots must have superior flying skills, with the mindset and approach that means they deliver amazing service to customers and colleagues.
Pilots with British Airways should be considered as role models and leaders, proud to be a flag carrier and all about presenting the right image for the brand in all ways.
General Tips
Research the Company
British Airways is rightly proud of its history and heritage, but it is also a forward-facing company that is investing in the future – which means that not only is this an exciting time to get onboard, but there is a lot of information available that you can use for research.
Whichever role you go for, make sure that you know what it will entail, what type of person it is looking for and how you can demonstrate your capabilities and competencies.
Research the company and how it fits in the wider market, read news reports to discover what is happening with British Airways and the aviation business, and make sure that you can meet all the requirements to be part of this British institution.
Practice Aptitude Tests
Aptitude tests are used by so many companies these days as part of a rigorous application process, and British Airways is no different.
Through different assessments, the recruitment team can check that you have the right soft skills and aptitudes to be successful in the role you have applied for – and it provides a fair way to compare a huge applicant pool and narrow down candidates to the best ones to take further.
What this means for you is that moving on to the next stage in the application process, whichever role you go for, hinges on your performance in the psychometric tests.
You can give yourself the best chance with practice – especially when you know what types of tests you are taking.
Practice will help you home in on the areas where you need more revision and will also help you to become familiar with the layout and the format of the test, how the questions are phrased, and the way you need to answer. It will also get you used to working against the clock, as many tests are timed.
Practise verbal and numerical reasoning, as well as inductive reasoning for the best chance, and when you are told by the recruitment team what other tests you will be facing, practise them too!
Remember the Uniform Policy and Dress for Success
British Airways has a strict dress code for pilots and cabin crew – and this should inform you whenever you are face-to-face with the recruitment team.
Make sure you have no tattoos that would be visible while wearing a white, short-sleeved shirt. Piercings are not allowed, aside from a single pair of small earrings.
British Airways staff are seen as ambassadors for the brand, which is why it is so strict on these things – and if you can follow the requirements during a video interview, or at the assessment centre, you will be demonstrating that you take the image of the company seriously, too.
Final Thoughts
Working for British Airways is an accomplishment, and all staff are rewarded well for the work they do – which means that the application process is very competitive.
As the pinnacle of British culture abroad, British Airways cabin crew and other staff need to display all the charm and style that are known throughout the world.
If you want to work for this global yet astutely British company, then you need to be prepared for competition – whatever role you are applying for.
High performance, exemplary customer service and a clean, comfortable and relaxing journey are all hallmarks of the British Airways experience, so employees need to be ready to maintain that aesthetic.
Bring your best to the application process and meet the criteria, and you could be taking to the skies with one of the most prestigious airlines in the world.
---