10 Jobs That Require Travel
Why Consider a Travel Job?
Imagine being paid to travel? For many, it is a dream come true. Working behind a desk is not for everyone; therefore, a career with more freedom could be just what you are looking for.
Many jobs involve traveling, and many offer the chance to enjoy being in other locations while making a living.
However, not all jobs are the same or offer similar experiences. You need to make sure the job you are choosing fits with your lifestyle, pay expectations and travel desires.
There are many benefits to taking a job that involves a lot of travel. It is important to consider these benefits before jumping into a job or undertaking the education required.
Seeing more of the world is one way to broaden your horizons. A job that offers you the chance to travel will succeed in doing just that, no matter the location.
International travel allows you to meet new people from different cultures and may bring a new perspective to your life and the way you work. You may also learn new ways of thinking and doing things you had not considered before.
Often, great jobs are easier to land if you know more than one language. Having a job that involves travel can make it easier for you to pick up another language to add to your resume.
Traveling for work can be a great way to gain experience in an area that is tricky to access at home. Traveling to other areas may allow you to work on these skills where they are more in demand.
Most jobs pay most or even all expenses accrued during a work trip. Imagine having the luxury of traveling while also having it paid for.
Be careful to check what is covered, however, as certain things may not be and you could be left with a sizable bill.
Jobs that involve travel can be well paid but may have pre-requisites you will need to consider first.
You cannot become a flight attendant or pilot, archeologist, or touring member of an orchestra without the appropriate skills, experience and training.
If traveling for work is what you want, think your career path out carefully while still in school.
Things to Consider Before Taking a Job That Involves Travel
There are many issues to think about before embarking on a job that involves travel. For instance:
Do you want to travel a lot or a little?
Do you have family that will mind your travel?
Are you ok not knowing where some of your travel will be?
All these issues and more need to be considered before taking the job.
Type of Travel
It is best to decide what kind of travel you are comfortable with before deciding on a job. Do you want to travel locally, within your own country or internationally?
You do not want to face a long trip to the other side of the world when you only hoped to travel close to home.
You may also face a situation where your employer simply wants you to fly in and fly back out. This offers no time to see any of the locations and so may not be what you are looking for.
Length of Travel
Before you accept any job, be sure you understand how much travel may be involved.
If you have family or other commitments, you may not want to take a position where you will be gone for long periods.
Ensure that this is something you have discussed with your potential employer and with your family.
The Downsides to Travel
Before you pack your bags, there are some downsides to a life of travel that you need to consider.
Travel will take you away from your home, family and other personal commitments you may have. It may also make it difficult to plan your personal life if you frequently need to travel at short notice.
Work-Life Balance
Whether you have little ones at home or elderly relatives that need your help, a job with travel will take you away from your at-home commitments.
There will likely be many events that you will miss, not to mention just normal day-to-day activities.
If your spouse works a demanding job, this is something that you both need to discuss before adding the strain of travel to your lives.
Travel as a Graduate
Working a job with frequent travel as a graduate has the potential to be less strenuous than traveling later in life: you likely do not have a spouse or children with demands on your time, nor have you purchased a home and settled into it.
Before you get too settled into the travel lifestyle, evaluate your position and make sure you are gaining the experience and making the appropriate financial choices you may need in the future when you may wish to stop frequent travel and settle down.
Travel Location
You may not always know where you will be going, or get to choose.
Not all travel jobs are stress-free, and there is the expectation you will be heading to locations you might not desire to visit.
For example, you may need to go somewhere cold during the summer, and vice versa. Or perhaps you may need to visit a country you have had no interest in visiting.
Regardless, your job will tell you where to go.
Health and Travel
Consider if your health is good enough to be able to cope with the strain of travel.
If you have a condition that requires frequent visits to the doctor or lots of medication, or could be exacerbated by travel, then you should seriously consider this condition before deciding to travel for your job.
Also consider whether the locations you are traveling to have good living standards and healthcare and that your employer offers sufficient insurance to cover any problems that may arise.
You may need certain vaccinations to travel to certain countries. Is that something you are willing to consider?
10 Jobs That Involve Travel
Numerous jobs involve travel, ranging from a lot of travel to very little.
It is impossible to list them all; however, below are 10 great jobs that offer travel opportunities:
1. Nanny
Average salary: $19/hour
Possible travel destinations: Europe, the Caribbean
Wherever there are people with children, there will be a need for nannies. Nannies take care of their employers' children and generally live with them.
Because you can find nanny jobs anywhere in the world, the choice of location is yours to choose.
More travel could be involved if your employer decides to take the family on vacation and you are needed to work.
You will have days off that will allow you to explore your new location, and if the urge to travel strikes, you can always find a different job in a new country.
Generally, a high school diploma should do; however, some employers might expect proof of childcare studies. Nannies should also possess an up-to-date certificate in CPR and first aid.
2. Pilot/Flight Attendant
Average salary: Pilot 80,000/year;FlightAttendant78,000
Possible travel destinations: Anywhere in the world depending on your flight assignments
Pilots and flight attendants lead the ultimate travel/work lifestyle. Every day they are off to another location.
Depending on the type of airline and flight route they work, pilots and flight attendants may see the world internationally or domestically.
Also, with more seniority, they may begin to work a steady route, simply flying to the same cities and back.
While both jobs allow time off, it may only be a short duration before you are needed on another flight.
Both positions require specialized training and qualifications.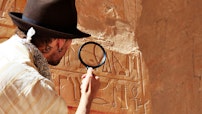 10 Jobs That Require Travel
3. Archeologist
Average salary: $65,000/year
Possible travel destinations: Egypt, Mexico, India, Indonesia, Europe, Africa, USA
Archeologists spend much time examining artifacts discovered from digs or working on the dig themselves.
Other career paths can include working in a university setting or museum as an academic.
If choosing work in the field, an archeologist can work all over the world. Many dig sites may be in remote locations, so a lot of sightseeing may not be on the cards.
Archeologists generally require a bachelor's degree.
4. Travel Writer/Photographer
Average salary: Travel Writer 23/hour;TravelPhotographer60,000/year
Possible travel destinations: Anywhere in the world
Travel writers and photographers get paid to visit near and distant locales and report back on them.
If they already have a contract for their work, most expenses will be covered, if not all. If this is something you are undertaking on your own in the hopes of selling your work, you may have to foot the bill yourself.
If you are assigned work by a publication, you may not have the choice of where to travel. If you are a freelancer, the choice is up to you.
No specific degree is needed for either job, but some good experience and contacts will help.
5. Fruit Picker/Seasonal Agriculture
Average salary: $25,000/year
Possible travel destinations: UK, Canada, Caribbean, Florida
Fruit pickers and seasonal agriculture workers travel where the work is during the picking and harvesting seasons. Often these are during the warm months of summer and early fall.
These workers can be sent essentially anywhere that needs help with their harvesting.
Some training would help and could be provided.
6. Orchestra Member
Average salary: 100,000to150,000/year
Possible travel destinations: North America, Europe, Asia
Orchestra members perform with a large group, and although they are based in one city, the orchestra will travel to other cities to perform.
Getting an orchestra to travel is a big undertaking and can be costly. Most orchestras do spend some part of their year touring destinations all over the world.
If you want a travel experience and you have muscial ability, the orchestra could be it, although you will not get to pick the location or the duration.
You will, however, likely have sufficient time to sightsee between rehearsals and performances.
Orchestra members require extensive musical training.
7. Teach ESL Abroad
Average salary: $50,000/year
Possible travel destinations: South Korea, Asia
Learning English is popular all over the world, and native English speakers can be in high demand.
Many organizations and schools look for ESL teachers, or you could even work by offering freelance services.
Because there is a global demand, you can pick where you want to settle and move on if you decide to try somewhere else.
Your working hours would afford you a lot of time to see where you are living.
While you can teach ESL without a degree, some study would likely help you land a higher-paying job.
8. Truck Driver
Average salary: $63,000/year
Possible travel locations: North America, South America, Europe
Truck drivers are responsible for moving goods across large distances. It is an ideal job for someone who prefers a life on the road to life in an office.
It is a solitary life, however, and because the travel is by truck, the travel would usually be domestic or to countries that are joined without the separation of an ocean.
While you will get to see some of the countries as you travel through, you may not have a lot of extra time to do sightseeing, unless your schedule allows.
Truck drivers require a commercial driver's license and a good amount of training.
9. Academic Researcher
Average Salary: $65,000/year
Possible travel locations: Anywhere in the world, depending on the research topic
Academics typically work for universities doing their specialized research and teaching students. There are likely job opportunities for visiting professors/lecturers at universities all over the world.
Academics can also spend a good amount of time traveling to conferences, giving lectures or working on research.
Becoming an academic begins with an undergraduate degree in a field that excites and interests you, followed by postgraduate qualifications.
10. Bartender
Average salary: $13/hour, not including tips
Possible travel locations: Anywhere in the world
Bartending is a universal skill and is the same all over the world. If you want to travel while working, bartending fits the bill.
While payment may not be great, bartending in a small town, big hotels and resorts could notably increase your income, especially during the high tourist season. It also offers plenty of opportunities to sightsee.
Bartending jobs are always available, so you can choose to move on when the mood strikes.
A basic bartending course is beneficial but may not be necessary.
Other Careers for Travel
There are so many other jobs out there that could involve travel, just not to the extent of the ones listed above.
Book publishers and authors have the option for travel for book tours and conferences. These are likely to be short trips and generally not international.
Being a journalist can also result in travel, depending on what type of story or what beat you cover.
Much of the work of interpreters can be done on the phone or even through email; however, there are instances where your services will be needed in person.
Some nurses work by traveling to locations where they are needed the most. Contracts can be short, allowing you to move on to a new location, and the pay is good.
Web developers can have many chances to travel if they are needed in person by their clients. The work can be undertaken remotely too, allowing for travel when needed.
Many corporate roles require domestic and international travel to offices around the world and to visit clients or customers. These will generally be in management, sales or marketing.
There are also many travel-related jobs for those who are proficient in the digital world.
Final Thoughts
Finding a job that combines work and travel can be the best of both worlds. You can earn a steady income while still seeing places you have not been to before.
There are so many benefits to traveling as part of your work. You get to broaden your horizons, learn new things, learn about other cultures, and possibly even gain work experience in an area you had been trying to break into.
There are many issues to think about before taking a job with travel, such as your work-life balance, the amount of travel you will be required to do and the locations you will visit.
No matter what you decide, there are many jobs with varying degrees of travel you can try.
---