Top Jobs for English Majors
As an English major, you will have acquired many strengths that can translate directly to a wide variety of career opportunities.
Making the most of the skills that you learn during your studies can really help you stand out in job applications across various sectors, from law to marketing.
What Is an English Degree?
During an English degree, you will explore the connection between literature and our culture and history, while studying notable works from playwrights, poets and authors.
As part of the learning process, close reading and analysis are combined with critical writing to understand the wider ramifications of films, novels, poems and other writings on our world.
An English major will learn about creative writing, critical thinking and literary history. English degrees are about more than just reading; they help students to view the world through the knowledge and truth of great writers.
Inventing worlds and situations through language is a creative process that is honed during an English degree. Finding a voice, communicating knowledge and forming compelling arguments to suit different audiences in that creative process is something that can make your career take off.
Many famous people, from Fortune 500 CEOs to US senators, have English degrees. Actors like Emma Watson, Hugh Grant and Martin Scorsese are English graduates.
With over 59,000 English degrees awarded in 2017 (according to Data USA), there are many graduates looking for a career that presents a mix of academic and creative opportunities.
What Are the Top Skills of an English Major?
An English major has many transferable skills that may not be immediately obvious.
A wide variety of career paths call for certain proficiencies that, as an English major, you will have acquired during your degree.
Communication – In many roles, creating a compelling argument is important – whether writing a proposal, marketing copy or sales text. Creativity and confidence in presenting well-researched information is a skill that English graduates have honed. English majors are skilled in communicating both orally and through different forms of writing, and understand the audience they are communicating with.

Criticism – As competent students of language, English majors are used to not only giving constructive criticism but also receiving it. Proofreading and editing skills, critical thinking and understanding texts, concepts and theories make an English graduate adept at finding the details in the big picture. Proofreading, editing and translating texts to suit the reader are learned skills that have many applications in a range of careers.

Creativity – During an English degree, students spend time learning about the masters of the craft, while also honing their own voice. Creativity is an inherent skill of English graduates, and this can be applied in the creation of stories used in fiction writing, advertising, and even summation arguments for attorneys. Creativity is necessary in so many careers – new perspectives, interesting ideas and compelling narratives are useful for obvious career paths in marketing or writing (fiction or non-fiction) – but channeling a creative imagination can also help refresh businesses from manufacturing to public services.

Study skills – Skills honed during years of study can be transferred to the workplace. These include time management and prioritizing tasks – every student understands the need to make sure that they allow enough time to research, create and present their work. Students need to be able to work in teams, take on leadership roles and negotiate to create successful group projects. Independence, problem-solving and taking on responsibility are all learned skills that English graduates have to offer.
Top 10 Jobs for English Majors
English majors are equipped with a variety of transferable skills that can be applied to many career paths.
Careers for English majors can be found in industries such as teaching, journalism and publishing, as well as some less obvious sectors such as law, public relations and advertising.
1. Advertising
Average annual salary: $51,740
Advertising is a great career for English majors, as they can use their creativity to generate profit.
This often leads to higher-paid work as the right advertising campaign can make a brand very successful.
To do well in advertising, applicants need to be tech-savvy and have copywriting skills.
English graduate skills:
Creativity
Persuasion
Negotiation and teamwork
Presentations
2. Editor/Proofreader
Average annual salary: $52,569
A successful editor or proofreader combines attention to detail with in-depth knowledge of English grammar, spelling and punctuation.
Performing quality checks on text before publication is an essential role in publishing and other industries, and can be undertaken in either a freelance capacity or as an employee.
English graduate skills:
Attention to detail
Giving constructive criticism
Understanding texts, concepts and theories
Sound knowledge of grammar and spelling
3. ESL Teacher
Average annual salary: $45,544
Utilizing a solid knowledge of English language, grammar and vocabulary, teaching English as a second language through the public-school system or at college is an ideal job for an English major.
For some schools, further education in teaching might be needed.
There are also opportunities to be recruited by language schools abroad to teach English as a foreign language (TEFL).
English graduate skills:
Articulating knowledge
Creativity
Leadership
Giving constructive feedback
Effective communication
4. Interpreter/Translator
Average annual salary: $52,569
Understanding the structure of the English language, and having the same level of knowledge in a second (or even third) language, could make an English graduate the perfect choice for an interpreter (spoken language) or a translator (written language).
English majors are effective communicators, and this can be applied to interpretation and translation jobs in many industries.
English graduate skills:
Knowledge of spelling and grammar
Good grasp of sentence structure
Understanding texts, concepts and theories
Articulating knowledge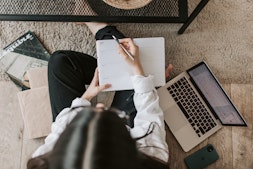 Top Jobs for English Majors
5. Journalism
Average annual salary: $44,477
The field of journalism covers media on a range of platforms, including TV, newspapers, magazines and blogs.
An English major could become a successful news reporter, as they understand the importance of combining a compelling story with effective presentation.
An English graduate could equally find a niche in production, writing and editing, or scheduling and managing a news outlet.
This is a competitive field, and although further study might not be necessary, internships can offer extra knowledge and education.
English graduate skills:
Creativity
Storytelling
Creating a compelling argument
Confident presentation skills
Attention to detail
Receiving constructive criticism
6. Law
Average annual salary: $122,960
This might not be an obvious niche for an English graduate, but writing is a core skill for the legal profession.
Attorneys and paralegals need to compose and create contracts, memos and other documentation, and structure arguments. They also need to have excellent critical-reading skills to understand legal texts and documents when looking into legal cases and precedents.
A legal career will need further study.
English graduate skills:
Writing for different audiences
Critical analysis
Reading and retention
Understanding texts, concepts and theories
Confident presentation skills
Attention to detail
Creativity
Creating a compelling argument
7. Librarian
Average annual salary: $59,050
Reading is a core skill acquired by English majors, so becoming a librarian is an ideal career option.
Not only do librarians have the opportunity to read books to select them for others, but they also use their knowledge to help people with research, writing and many other needs.
A good librarian has strong IT and organizational skills, and an appreciation of literature across all genres.
If you are interested in a career as a librarian, you may need to embark on further study with a master's in library science.
English graduate skills:
Creativity
Organization
Appreciation of literature
Critical reading
Analysis
Research skills
8. Public Relations
Average annual salary: $58,020
English majors can tell a compelling story, a key skill in the PR industry.
Getting a story placed in magazines and newspapers, or on websites, TV and radio is how brands shape their public image.
Crafting the right story and presenting it to be published is the core function of a PR role, but good organizational skills are also essential for success.
As with other advertising-related roles, PR careers are generally well-paid because they are aimed at increasing revenue for businesses.
English graduate skills:
Creativity
Creating a compelling argument
Attention to detail
Critical reading
Analysis
Research skills
Articulating knowledge
Negotiation
Communication
9. Publishing Editor
Average annual salary: $52,403
Similar to the role of editor or proofreader, a publishing editor reviews copy before publication to ensure that it is true, relevant and well-written.
This role might entail rewriting text, verifying data and facts, and evaluating the quality of content to be placed in magazines, newspapers or online. An editor often manages a team of writers, so leadership and negotiation skills are also important.
A passion for well-written text, and the ability to make constructively critical notes and directives are skills that make a successful publishing editor.
English graduate skills:
Knowledge of spelling and grammar
Grasp of sentence structure
Understanding texts, concepts and theories
Proofreading and editing
Leadership
Giving constructive criticism
Understanding the audience
10. Writer
Average annual salary: 40,000–69,850
This might be an obvious career choice for English graduates but it covers so many niches.
You could be a fiction writer, using your creativity and imagination to craft stories.
You might want to be a technical writer, creating complex documents aimed at knowledgeable users (although this might need further study).
For many writers, blogs and articles are a great freelance option that can utilize creative skills and allow graduates to choose their own hours, select assignments that are of interest, and work at their own pace.
English graduate skills:
Creativity
Creating a compelling argument
Understanding the audience
Understanding texts, concepts and themes
Articulating knowledge
Final Thoughts
Working towards an English degree helps create transferable skills that no other graduate can offer in quite the same way.
Understanding how these skills can be applied to different career options is the first step to getting on the career ladder.
The next step is to market these skills effectively to create a strong application for the job of your choice.
Roles that are most suited to English majors rely on skills like creativity and critical thinking.
Applying knowledge of English language, grammar and spelling alongside attention to detail and critical analysis makes an English major successful in roles where the details are integral to the success of the big picture – from editing and marketing to journalism and law.
---