Police PIRT Tests
All products and services featured are independently selected by WikiJob. When you register or purchase through links on this page, we may earn a commission.
A career in the United Kingdom's police force is a respected one, with great opportunity for growth and progression.
The force is not always recruiting heavily, so when it is, it's vital to seize the chance and excel well in the initial recruitment test.
This is known as the Police Initial Recruitment Test (PIRT) in England and Wales, the Police Scotland Entrance Test (PSET) in Scotland and the Initial Selection Test (IST) in Northern Ireland.
The PIRT is essential on the journey to being selected to become a police officer.
Although not too difficult, only approximately 8% of applicants score well enough to reach the next level.
It is highly recommended that you take time to prepare for the PIRT. This article will give you some advice on how you can best do this.
How to Become a Police Officer in the UK
The police forces across the UK are organised slightly differently, depending on whether they are in England, Wales, Northern Ireland or Scotland.
The PIRT also varies slightly depending on the legal system, and may also differ regionally.
However all variations test for similar characteristics, and the rule of entry is the same throughout.
The UK police recruitment system accepts applications from all backgrounds and cultures. It also welcomes those with no experience.
A degree is not necessary but can be an option as a route of entry.
The main two entry routes are:
Having a degree is not a prerequisite to undertaking a Police Constable Degree Apprenticeship (PCDA).
Many forces recruit through this programme, so check with the location of where you'll be applying to ensure this is an option.
With a PCDA, you'll have two years of earning and learning while getting first-hand experience and will also gain a degree in Professional Policing Practice.
Some forces still use the Initial Police Learning and Development Programme (IPLPD) as a route of entry, which has a probationary period of two years.
Degree Holder Programme
If you already hold a degree in any subject, this programme offers two years of work-based training and off-the-job learning.
You will be able to specialise in one of the following areas:
Investigation
Community
Intelligence
Response
Road
On completion, you earn a Level 6 postgraduate diploma in Professional Policing Practice.
Whichever route you decide to take, there are several stages involved in the police recruitment application process.
Police Recruitment Process
Eligibility Check
After deciding which force and location to apply for, the first stage of applying is checking your eligibility.
This may vary depending on your location, so be sure to ask the relevant police force before applying.
Typically, you will need to meet the following criteria (among others depending on region):
Be over 17 years old (though you won't be employed until you're 18)
Be a UK citizen, EU/EEA national or a foreign national with no restrictions
Have lived in the UK for the last three years, though there are exceptions, including being in the military, working overseas for the Government or having an extended gap year
Have at least two A-level qualifications or equivalent, and some forces may require more than this
No criminal record (although some minor offences can be waived, including traffic incidents and parking tickets)
No outstanding county court judgements or have been declared bankrupt
Pass the fitness test and have a decent level of physical and mental fitness (support can be given in these areas)
No eyesight impairments that could affect the job
Not be a member of an extreme political activist group (it is best to check with your local vetting office for more details on this)
Hold a full UK driving licence. Some forces do allow some points on the licence, so check with the area for which you are applying
Complete the Application Form
The application form will not only include the eligibility questions, but also sections on employment history, full personal details, education and qualifications, and financial circumstances.
There may also be extra competency and value-based questions that assess whether you reflect the ethos of the force.
The police application form needs to be sourced from the relevant force to which you are applying.
Take the PIRT
After your application form has been accepted, you will be invited to complete the PIRT.
Previously, the test took place in an assessment centre, but since the COVID-19 pandemic, it is now completed online.
Check with the relevant force for more information on this.
The PIRT assesses several factors that are essential to the role of a police officer.
Basic mathematics and English language are important for writing reports and typing up cases.
The way you react to a situation is also a very telling indicator of how well you would fit the role of a law enforcement officer.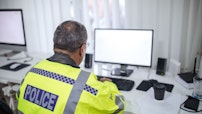 Police PIRT UK – The Application Process
The test commonly covers the following assessment areas:
Verbal Reasoning
Standard verbal reasoning tests assess comprehension, grammar, spelling and analysis of written content.
The PIRT commonly focuses on your ability to spell words and construct sentences, as well as how well you process information quickly and efficiently.
The most common way of testing this last skill is to provide a piece of text to digest and ask several questions with the following possible answers: 'True', 'False' or 'Impossible to say'.
The verbal reasoning test generally lasts one hour.
Numerical Reasoning
The idea of a numerical reasoning test is to assess your competence with problems that involve numbers, graphs, tables and weights.
For the police recruitment process, the force will be looking at your spatial reasoning, deduction abilities and problem-solving skills.
This test is composed of a variety of multiple-choice and direct answers.
Behavioural
This part of the assessment mainly looks to see whether you have the relevant behavioural traits and strengths to become a police officer.
They are looking for people who would remain calm in any situation. A good police officer also needs to be an excellent communicator, honest and hold ethical views.
The behavioural test will be able to tell if you reflect these traits.
This 35-minute test shows several questions in a video format. After each question, you will have one minute to upload your answer.
Situational Judgement
The situational judgement test presents 12 typical scenarios that would be faced by a police officer, and you have to choose the response that best reflects what you would do.
This part of the PIRT typically takes between 30 minutes and two hours.
It may be tempting, during the behavioural and situational tests, to answer with what you think the police force is looking for, rather than how you would respond honestly.
This is not advised as it may become apparent to the examiners. It would also become an issue if you started a career as a police officer but did not possess the right traits.
The Interview
If you are successful on the PIRT, you will be invited to an interview. This will be conducted over video online.
You will be asked several competency-based questions covering topics such as:
Transparency
Integrity
Public service
Ownership
Innovation
Answer these questions based on both work and personal experience.
Fitness Test
The medical and fitness test assesses if you are medically well enough to be a police officer and whether you have a basic fitness level.
The role of a law enforcement officer requires physical strength to be able to restrain people, and the stamina to run at times as well.
There is support available for the fitness test and you have three attempts to pass it. If you fail the third attempt, you need to wait at least six months to take it again.
You can prepare by checking your fitness, working out regularly and eating particularly healthily before the test.
Ensuring you get plenty of sleep and being mentally prepared will also stand you in good stead for the fitness test.
Pre-Employment Checks
At this stage, the police force will conduct a pre-employment check, which will include a drugs test, background check on the candidate and their family, and double-checking criminal convictions.
If you pass this final stage, congratulations! You will be invited to start your career as a police officer.
How to Prepare for the PIRT Test
As this is a hugely competitive test with a very low success rate, it is important to prepare as much as possible to get ahead of the rest.
Some tried and tested ways to prepare are:
Research the relevant police force and find out what is included in their PIRT. Most of the different forces will have this information on their website. You can ask your recruitment contact for advice on the best reading material and resources to help you prepare.

Get guides with insider tips, such as the 'How to Become a Police Officer' guide or the PIRT guidebook. These contain advice as well as sample questions and answers.

Do some online practice tests that will not only give you insight into the type of questions but also a guide on the time you currently take for each section. It might be that you need to speed up your time spent on each question.

Carefully read the questions to ensure you do not interpret them incorrectly. While you're practising, read them out loud a few times and highlight important words.

Get plenty of sleep the night before and have a good breakfast to ensure you are energised.
Final Thoughts
A career in the UK police force is a competitive, sought-after career, with a lengthy but efficient application process.
However, with thorough preparation and knowledge of the process, you have every chance of success.
There are some great guides and online prep tests to help with the PIRT. Ensure you have access to these before the test to give yourself the best chance of passing.
---